"Here she is with yet another quinoa recipe," you may be saying. And you'd be right. I've certainly expressed my love of quinoa both here and on numerous other recipe blogs. This high protein, power packed grain is the perfect addition to salads, can be served as a side dish on its own, tastes delicious either hot or cold, and is quick and easy to prepare. What's not to like?
I eat a lot of salads. A lot of salads. Salads are cool (literally), salads are fast, making a salad doesn't heat up your house. All this stuff in important during the summer in La Quinta, where we generally say goodbye to two digit temperatures from June through September.
Just because they're called salads, don't be thinking that they are some kind of wimpy lettuce and tomato concoction designed to create fast weight loss. My salads have substance. They have oomph. They are hearty. I'd say this is because I have to please a man, my husband, but I'd be lying. I'm the one with the appetite, and my salads satisfy.
Quinoa, Avocado, and Mandarin Orange "Chicken" Salad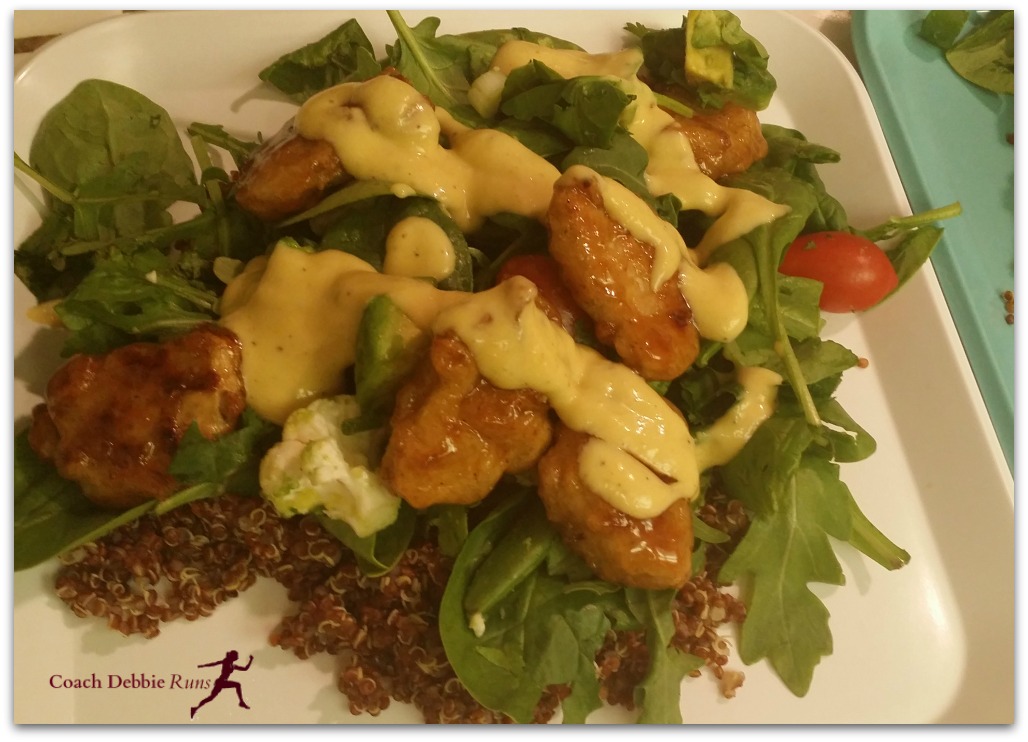 Ingredients
1 package Mandarin Orange "Chicken" (Both Gardein and Trader Joes have excellent choices)
1 cup quinoa, prepared according to package directions, cooled or chilled
3 cups mixed greens
1/2 cup cherry tomatoes, halved
1/4 cup green onions, sliced
8 oz can mandarin oranges, drained and split (half for the salad, half for the dressing)
1/4 cup sliced almonds, roasted
1/2 cup edamame, cooked and chilled
1 avocado, cut into small chunks
Mango/Mandarin Vinaigrette (see below)
Directions
Prepare the Mandarin Orange "Chicken" according to package directions. (In spite of the heat, I chose the baked method because they come out crispier that way). I let them cool a little.
Prepare the quinoa and set aside to cool, or refrigerate for an hour to chill.
Combine all the ingredients and toss together. Serve.
Mandarin Mango Vinaigrette
Ingredients
1/2 cup frozen mango
1/2 can (8 oz) mandarin oranges, drained
1/2 cup sunflower oil
1/4 cup lime juice
1/8 cup agave syrup
1 tablespoon white wine vinegar
1 teaspoon salt
1/4 teaspoon ground ginger
Put all the ingredients in the blender and blend until smooth.
There you have it. Another quinoa/summer salad. Around here we've got another two months of hot weather. Stay tuned, I'll probably be serving up some more.
Are you a salad eater? Do you have a favorite? Isn't quinoa the most awesomest food ever?