I am really excited to be participating in Vegan Mojo again this year after three years' absence. What is Vegan Mofo? It simply means the Vegan Month of Food, and the goal is that for the month of September participating bloggers will write about vegan food and/or lifestyle most days (the goal is 20 days).
This was kind of a last minute decision, since I didn't realize that Vegan Mofo would be held in September this year until I happened to stumble on a post about it a few days ago. That means I don't have a plan or a theme, but will instead do my best to find something vegan to write about for the next month.
Today, since the first of September falls on a Monday, I am also linking up with Tina and Deborah for Meatless Monday! Every Monday participating bloggers will share their creative meatless recipes. Want to join? Here's more info.
I decided to kick off Vegan Mofo and Meatless Monday with my Best Vegan Burrito recipe. I love Mexican food! It is so adaptable to a plant based preparation. Whether it is a plate of rice and beans (with fresh salsa of course), tempeh tacos, or burritos with a multitude of filling choices, you can make delicious and healthy vegan food that is sure to please everyone in the family.
The Best Vegan Burrito Recipe
So, why is this the best vegan burrito recipe? For a few reasons. First, it tastes delicious. spicy and substantial (a word the thesaurus suggests instead of "meaty"), and flavorful. It is also fast and easy to make because I used pre-made seitan and salsa (though feel free to make your own). Finally, it's a healthy combination of the seitan and pinto beans, which provide lean protein, tomato-based salsas, and avocado, which is probably my favorite healthy fat food of all time.
Best Vegan Burritos
Ingredients
One 8 oz package of seitan (I love Sweet Earth), or one cup homemade, cut into 1 inch chunks
1 lime
½ cup medium size white mushrooms, quartered
½ onion chopped and divided
1 teaspoon garlic powder
1 teaspoon salt
1 medium potato, chopped
1 cup pre-made hot salsa (use milder if you prefer)
½ cup water
1 tablespoon oil
Refried beans (see below) or use one can of vegetarian refried beans)
Spicy tomato and cilantro salsa (see below)
1 avocado, sliced
Tortillas
Instructions
In a small bowl, combine the seitan, mushrooms, onion, lime juice, salt, and garlic powder. Set aside while you make the tomato and cilantro salsa.
Preheat olive oil in a skillet over medium heat.
Add the seitan mixture and potatoes. Cook until lightly browned, stirring frequently.
Add the pre-made salsa and the water. Increase the temperature to medium high and bring to a low boil, stirring constantly.
Reduce the heat to low and simmer until most of the liquid has evaporated (about 10 minutes).
Heat tortillas. Layer a large spoon of beans, seitan mixture, tomato and cilantro salsa, and slices of avocado. Roll into a burrito. Enjoy!
Other filling options include rice, vegan cheese, hot sauce.
Refried Beans
One can reduced sodium pinto or black beans
1 tablespoon olive oil
1 teaspoon serrano chili, minced
1 tablespoon onion, minced
Heat the oil in a small skillet over medium heat. Use a slotted spoon to spoon the beans into the pan. Add a little of the bean liquid, just enough to lightly cover the beans. Add the onion and chilis. As the beans heat, stir the mixture and use the spoon to mash the beans. Continue to stir and mash, until the liquid has mostly evaporated and the beans have a fairly smooth texture.
Spicy Tomato and Cilantro Salsa
2 medium tomatoes, chopped
1/2 onion, chopped
1 or 2 serrano chilis, seeded and chopped
1/2 cup cilantro, lightly chopped
Combine all the ingredients.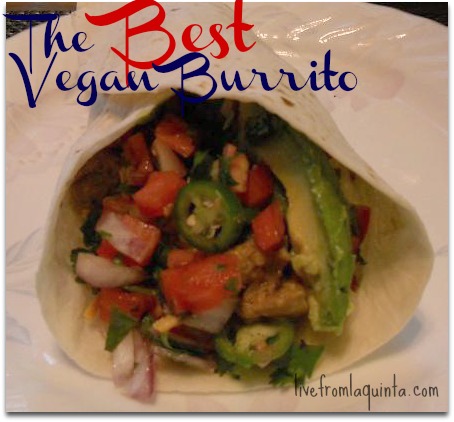 Even though I don't have a theme, I'm framing a little plan for the upcoming month of vegan food. In addition to a few recipes, I will also write about eating vegan on the road, some of my favorite vegan convenience foods, and some resources for readers who are interested in learning more about following a plant based diet. Don't worry, regular readers, I'll still post plenty of my normal stuff: workouts, training programs, family updates, and, of course, dog pictures. In fact, here's one from my Sunday morning run!
I took all three little dogs for a short run, but Lily loves it so much that I took her back out for another mile! I'm not sure what she loved most, the run, being with me, or just not having Olivia and Coco biting at her butt for the whole time.
Okay, pretend you're a vegetarian (or if you already are..hurray!). What would you stuff into a tortilla to make your best vegan burrito?