I can't believe Christmas is only a week away! This entire year has flown by, but the few weeks after Thanksgiving often feel like just a few days. Being the procrastinator that I am, I guess it's time to plan my vegan Christmas dinner!
That's not quite as irresponsible as it sounds. I make something similar to this holiday roast every vegan Christmas. In fact, this was once a sponsored post for Gardein, but I loved the result so much, I'm still making it every year.
Actually, Alan and I usually travel for Christmas. Both my sons, Alan's son, and my niece all live fairly close by, so we will get to spend time with them. And since I stopped preparing meat on holidays it's been easier to get someone else in my meat-eating family to host! That doesn't relieve me from cooking though, since I make sure to bring plenty of vegetarian and vegan Christmas food with me no matter where we go.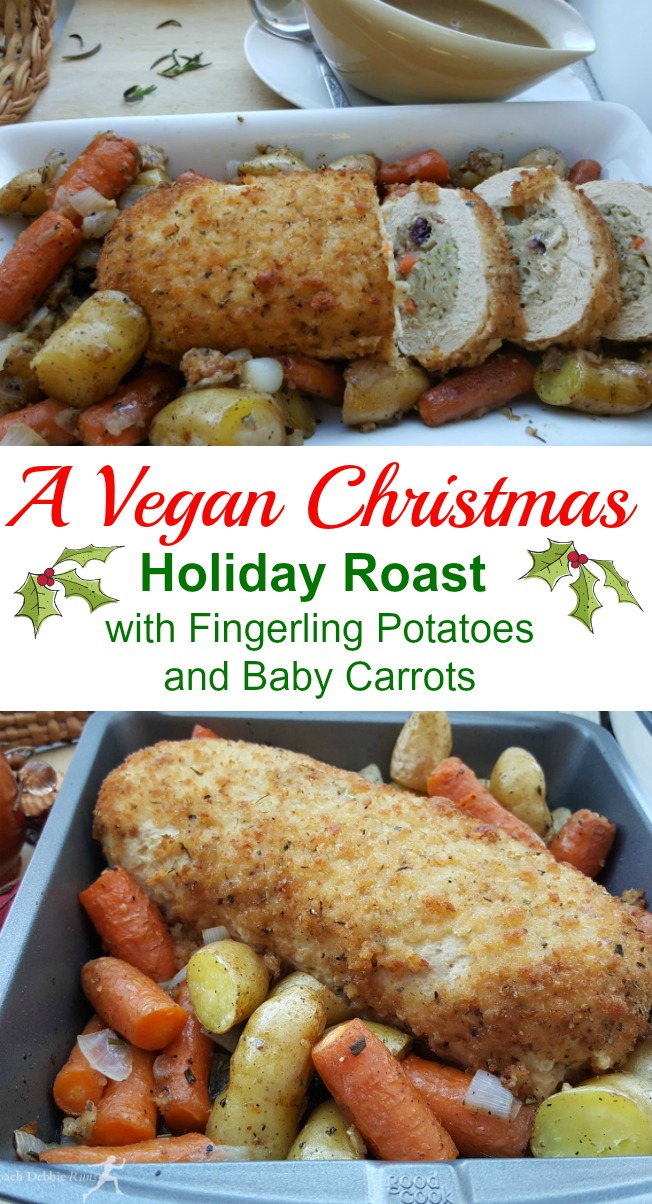 Vegan Christmas Dinner: Holiday Roast with Fingerling Potatoes and Baby Carrots
This year I will be bringing Gardein Holiday Roast with fingerling potatoes and baby carrots as my main course. As you know, I'm a huge Gardein fan, and the holiday roast is as delicious as it is easy. It comes with cranberry, kale, and wild rice stuffing, plus two packets of homestyle gravy, and it is ready to pop in the oven. As always, though, I like to tweak just a few things.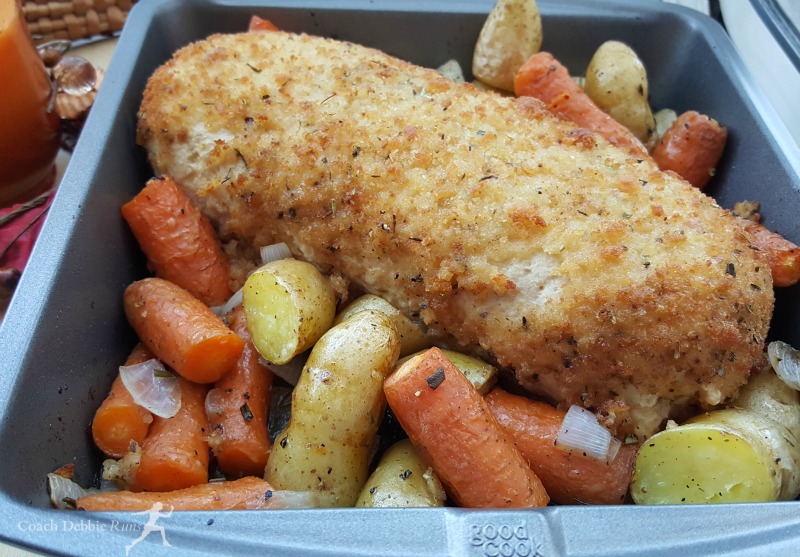 Vegan Holiday Roast
vegan/vegetarian
Recipe type:
Vegan/Vegetarian
Ingredients
1 Gardein Holiday Roast
1 lb baby carrots, cut in half
1 lb fingerling potatoes, cut in half
½ cup onions, chopped into large pieces
1 tablespoon olive oil
salt and pepper to taste
1 tablespoon fresh rosemary, chopped
¼ cup vegetable broth
Instructions
Preheat oven to 425
Place the Holiday Roast in a lightly greased roasting pan and cover with foil.
While the roast is cooking, toss the vegetables together with the oil and seasonings.
After 30 minutes, add the vegetables to the pan and pour the broth over them. Replace the foil and roast for 30 more minutes.
Increase the oven temperature to 450. Remove the foil and roast for 15 more minutes until the roast is a golden brown.
Remove from the oven. Allow to cool a few minutes, then slice and serve with the vegetables.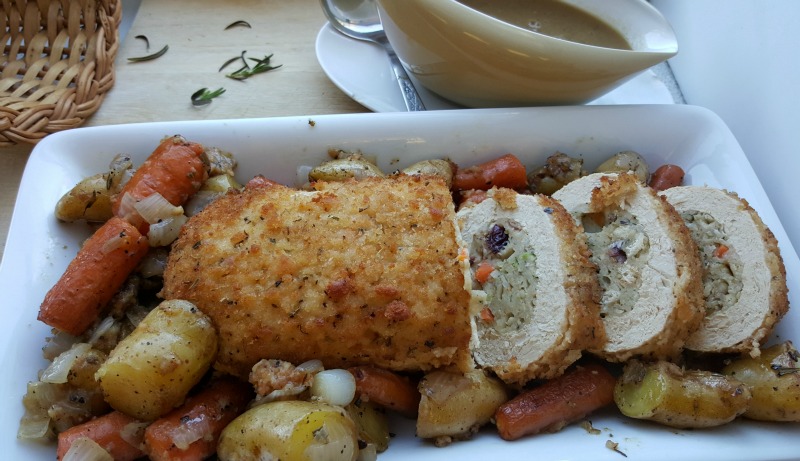 Pumpkin Maple Pie: It's Vegan!
I'll also be bringing my famous (in my own mind) vegan pumpkin maple pie. There's no better way to top off a delicious vegan Christmas dinner than with pumpkin pie!  I'm pretty sure I'd better make two because I know that it is always popular. People don't stop and say, "hey! That's a vegan pie!" Nope, they just gobble it down because it's so good.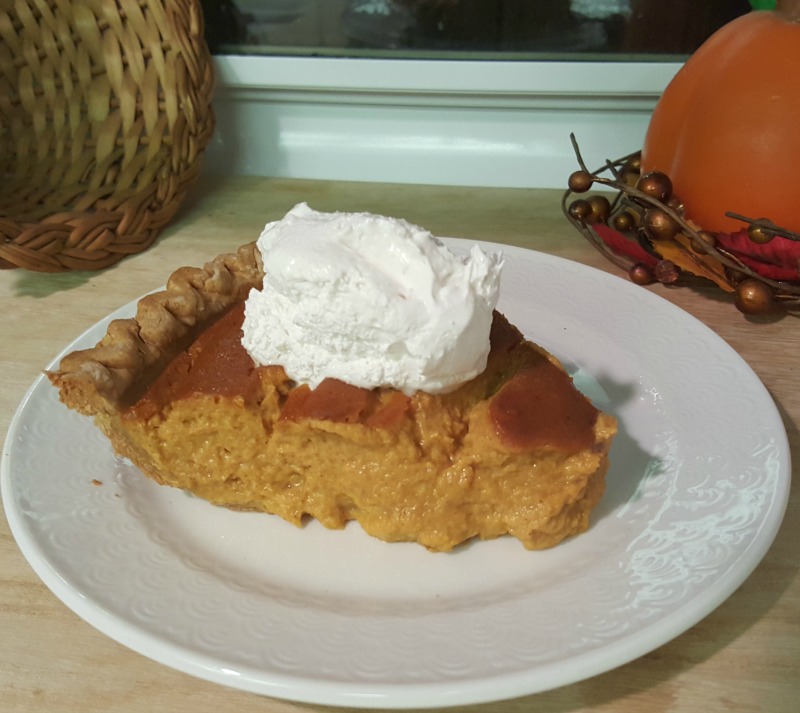 Vegan Pumpkin Maple Pie
Ingredients
¾ lb. silken tofu
1 15 oz. can pumpkin purée
1 teaspoon cinnamon
½ teaspoon nutmeg
½ teaspoon salt
2 tablespoons maple syrup
½ cup brown sugar
1 tablespoon molasses
¼ cup sunflower oil
1 pre-made vegan pie crust
Instructions
Combine all the ingredients except the pie crust in a blender or food processor. Blend until creamy. Pour into pie crust. Bake at 425 for 15 minutes and 350 for 45 minutes.
Chill and serve with vegan whipped cream or ice cream.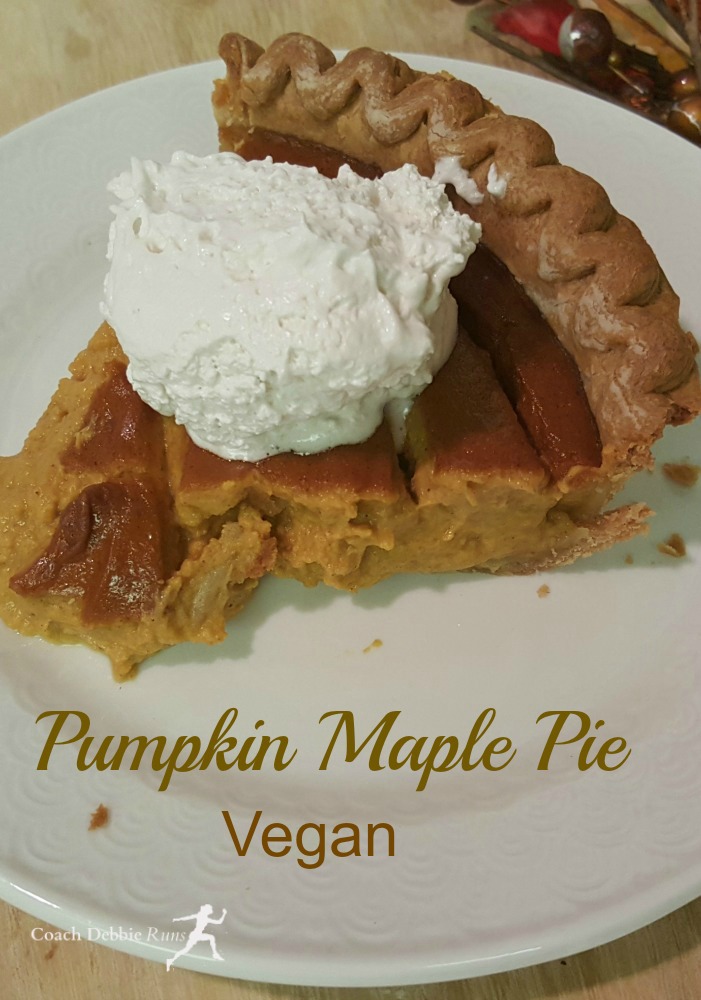 Do you have your holiday meal planned? Do you host or travel to visit family?
---
Weekly Linkups
My weekly linkups! Please stop by and check out all of the great recipes, workouts, and information that all these awesome bloggers share every week!
Meatless Monday with Sarah and Deborah
Meatless Monday with Annmarie  and Dixya
Tuesdays on the Run with Marcia, Erika, and Patty
Inspire Me Monday with Janice
Wild Workout Wednesday with Annmarie, Jen, and Nicole
The Plant-Based Potluck Party with Deborah
The Running Coaches' Corner with Rachel, Suz, Lora Marie, and Me!
Friday 5 2.0 with Rachel and Lacey and Meranda