It's been a busy week. What does that have to do with this vegan chicken soup recipe? Well, a few things. Well, I had plans for a couple different posts for today. I'm working on a Fitness Gift Guide. That didn't happen (stay tuned next Friday). When that didn't pan out, I thought, oh, I can do a Friday Favorites posts. Um, well, I had a couple favorites, but not the time to write about them.
Then, this happened.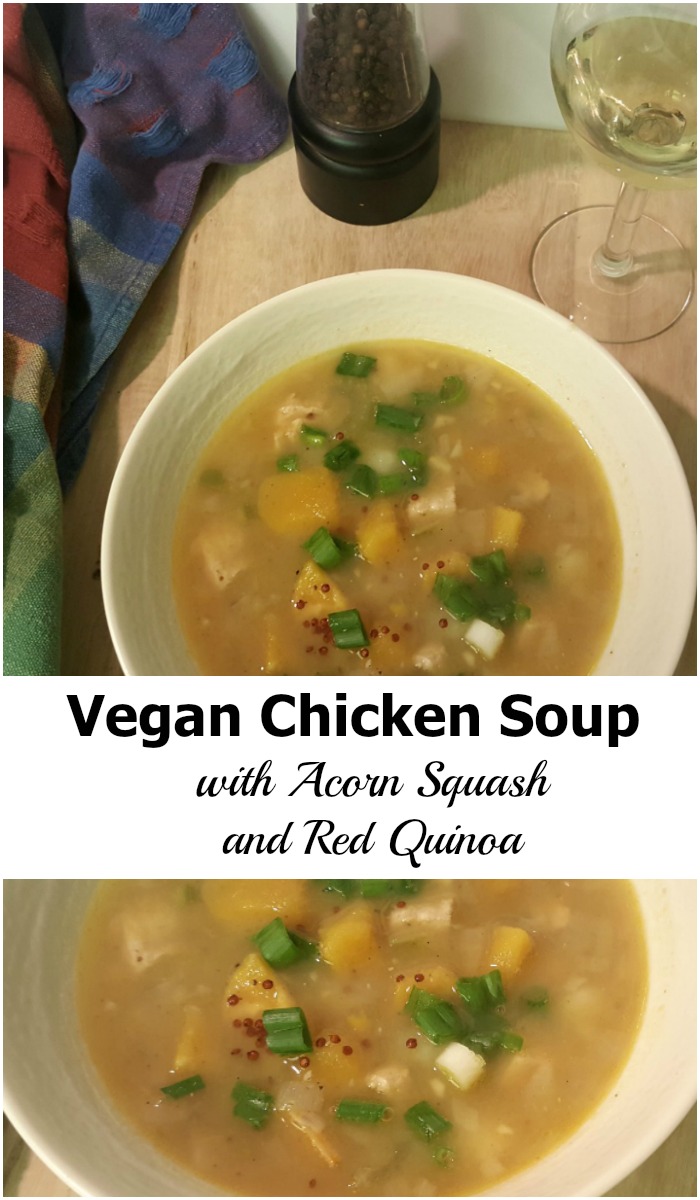 Vegan Chicken Soup with Acorn Squash and Red Quinoa
Sometimes a meal idea gets motivated by small things. With this vegan chicken soup, I had a few inspirations. First, last week my daughter-in-law gave me a basket full of fresh vegetables, including a big, beautiful acorn squash. Second, it's cold here. Of course, that's "desert cold," meaning about 50 degrees tonight. Still, it's cold enough to make soup sound really, really good.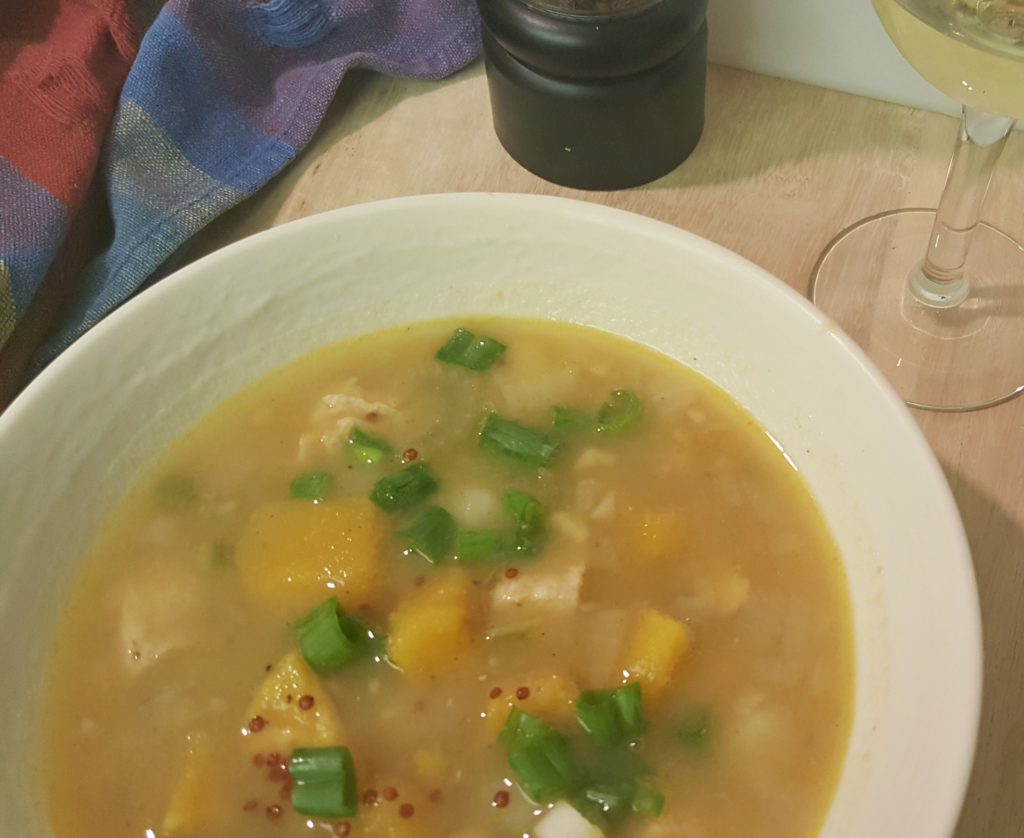 Then, I saw two friends post comments about soup on Facebook. And I thought, yes, soup sounds good. So I decided to put that acorn squash, along with some Beyond Meat vegan chicken and red quinoa to good, warming use.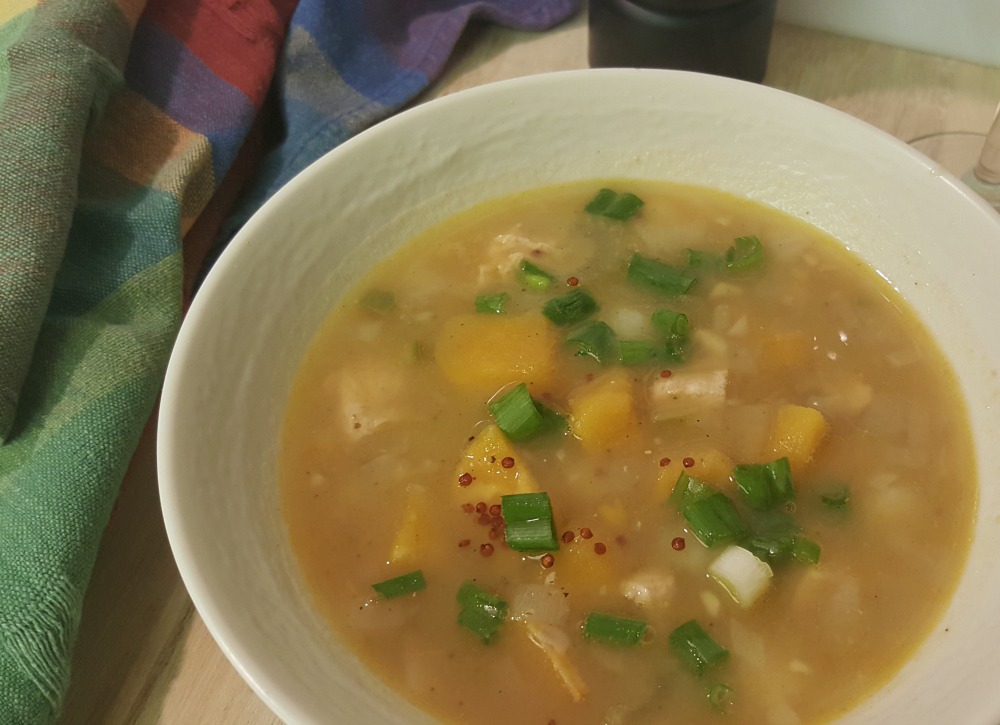 Vegan Chicken Soup with Acorn Squash and Red Quinoa
Vegan Soup
Ingredients
1 tablespoon olive or avocado oil
2-3 cloves garlic, minced
1 small onion, chopped
1 Serrano chile, minced (optional)
1 package Beyond Meat vegan chicken strips, cut into small pieces
2 cups vegetable broth
4 cups water
2 medium potatoes, peeled and chopped
1 acorn squash, peeled and chopped
½ cup red quinoa
Salt and pepper to taste
Green onions for garnish
Instructions
Preheat the oil in a large pot over medium heat.
Add onion and garlic and cook for several minutes.
Add the chile and cook for a couple more minutes until the vegetable are soft.
Add the Beyond Meat chicken and cook for about 5 minutes, stirring frequently.
Add the broth and water. Bring to a boil.
Add salt and pepper to taste.
Add the potatoes.
Return the soup to a boil, then lower heat to medium low and cook for about 10 minutes.
Add the squash and cook for about 5 minutes.
Add the red quinoa and cook for about 10 minutes.
Garnish with green onions and serve.
Okay, so what temperature do you call "cold?" For me, obviously, it's pretty much anything below 60 degrees.  What's your favorite way to warm up?
---
Weekly Linkups
My weekly linkups! Please stop by and check out all of the great recipes, workouts, and information that all these awesome bloggers share every week!
Meatless Monday with Sarah and Deborah
Meatless Monday with Annmarie  and Rachel
Inspire Me Monday with Janice
Anything Goes with Marilyn
Wild Workout Wednesday with Annmarie, Michelle, Jen, and Nicole
The Plant Based Potluck Party with Deborah
The Running Coaches' Corner with Rachel, Suz, Lora Marie, and Me!
Giveaway Roundup and Try Out Thursdays with Smitha
The Blogger's Pit Stop with Kathleen, Janice, Julie and Me!
Living a Life of Fitness, Health and Happiness with Jill
Friday Favorites with Heather