I'm popping in here quickly (seems like I'm saying that a lot lately!) to share this amazing vegan chicken pizza recipe. I spent the weekend in Carlsbad, where I ran the Carlsbad 5000 All Day 20k. I'll share the recap of that on Wednesday, but in the meantime, enjoy this pizza recipe, plus some of the yummy food I enjoyed while on the road.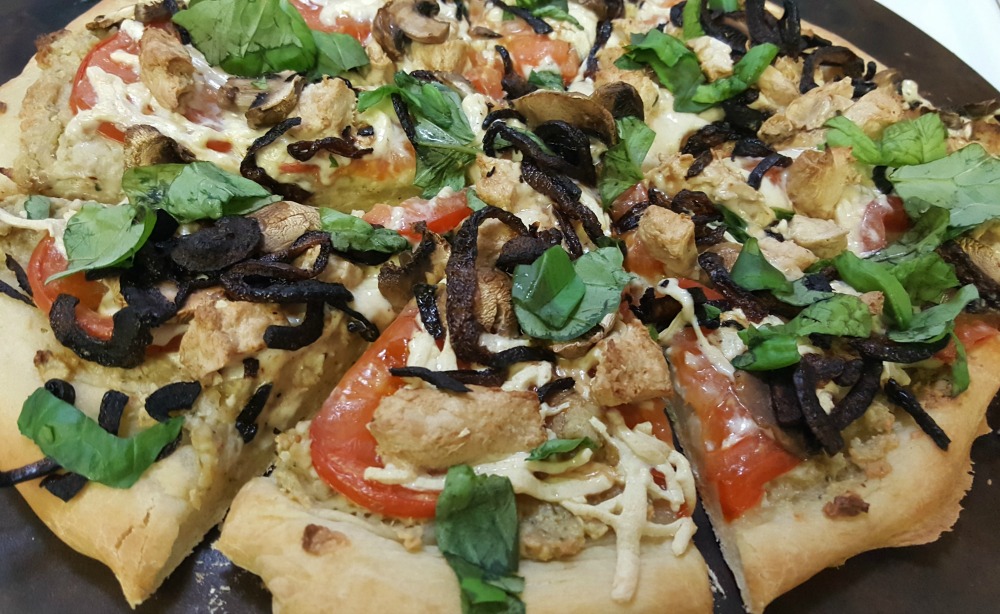 Vegan Adventures on the Road
I was traveling alone, which for some reason made it more difficult to make choices about feeding myself. I ended up stopping by a new little natural food store in Encinitas called Lazy Acres. They had prepared food and a food bar, but I chose to buy some vegan junk food, then head to my favorite restaurant, Native Foods for dinner.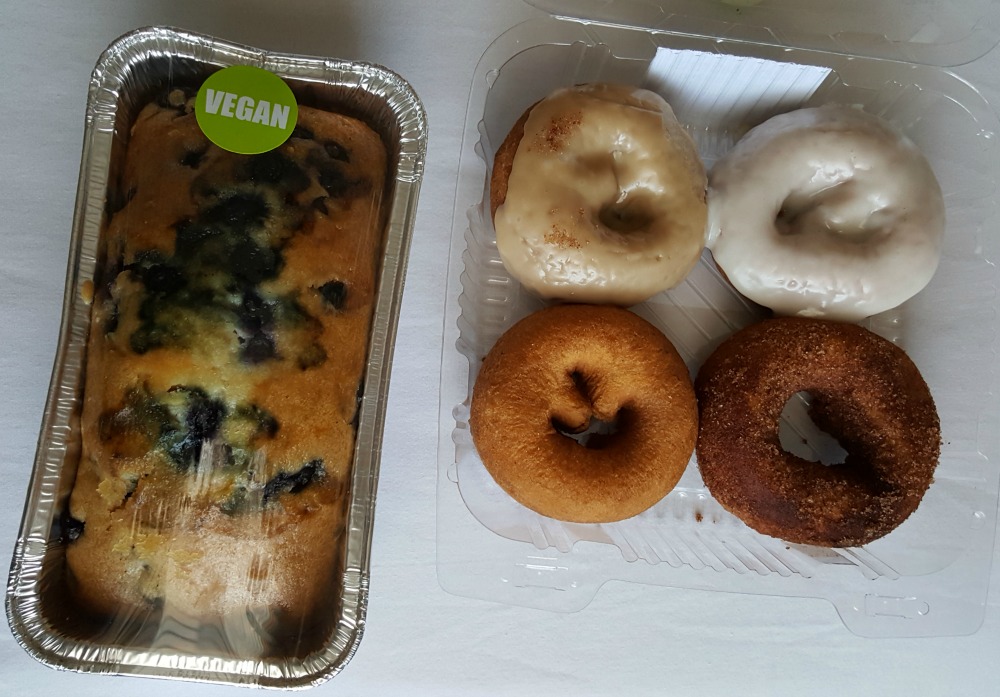 I had an old favorite, the Soul Bowl, and a beer (for some reason this location apparently doesn't serve chardonnay!). It was delicious as always. I enjoyed my meal, then headed down to watch the sunset at Moonlight Beach. It's not quite the same when you're by yourself.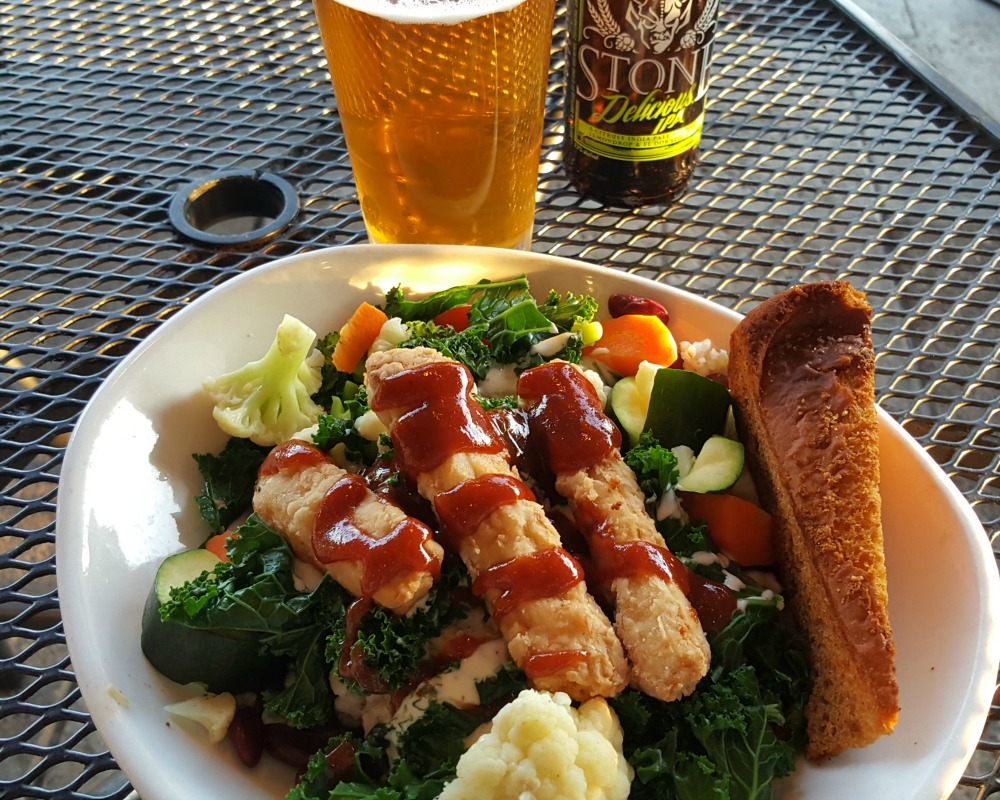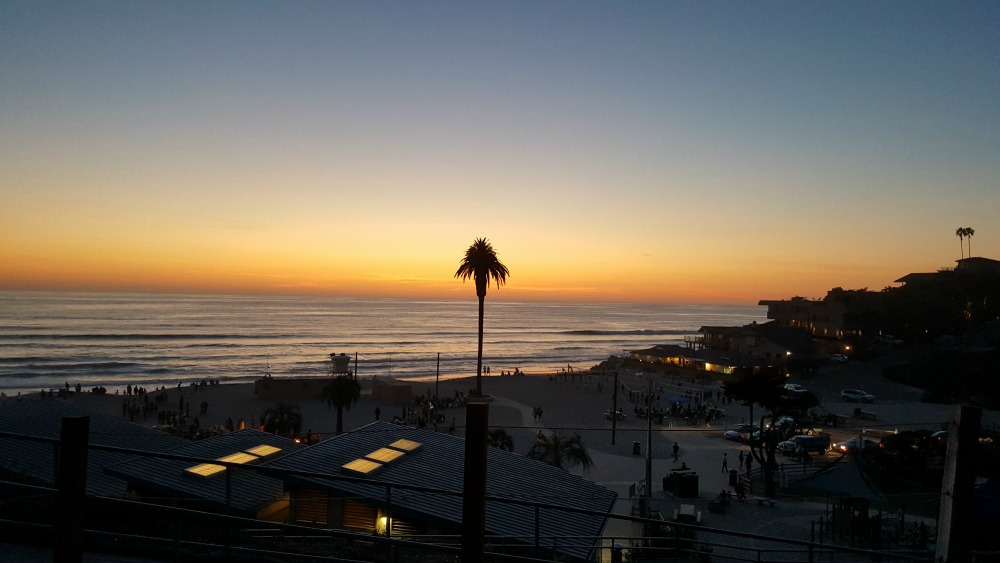 Thanks to input from my Instagram post, I decided to ask for a late checkout and I was really glad that I did. I was able to take a much-needed shower instead of heading straight home after the race. I also took the time to stop for lunch at the Veggie Grill. Perfect timing because I was starving after running four 5k races!
I chose a dish from their spring menu, the Tinga Tacos, which was delicious, but very messy. It held me over for the three-hour drive home, though!
Let's move on to that pizza, shall we?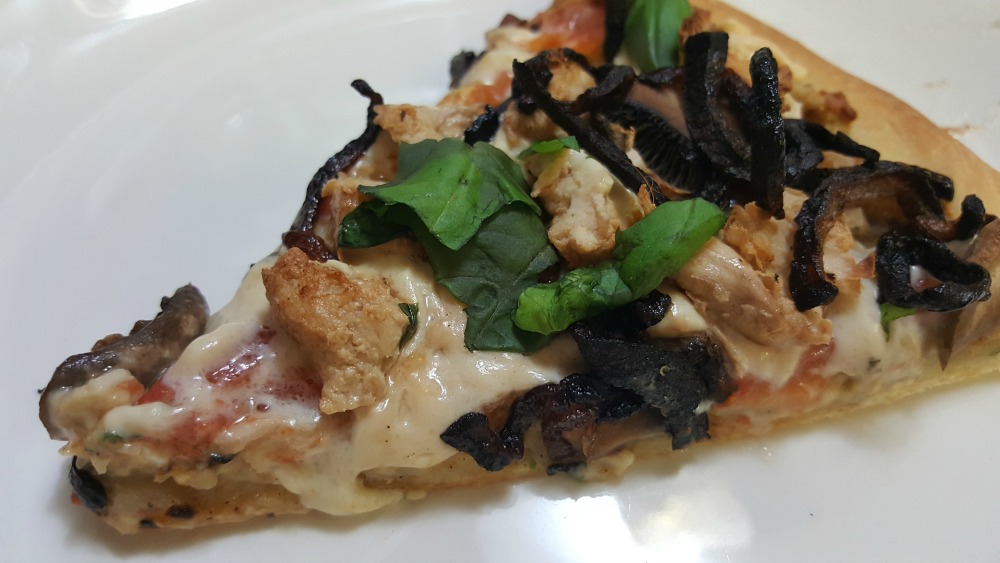 Vegan Chicken Pizza with Cashew Cheese, Mushrooms, Carmelized Onions, and Basil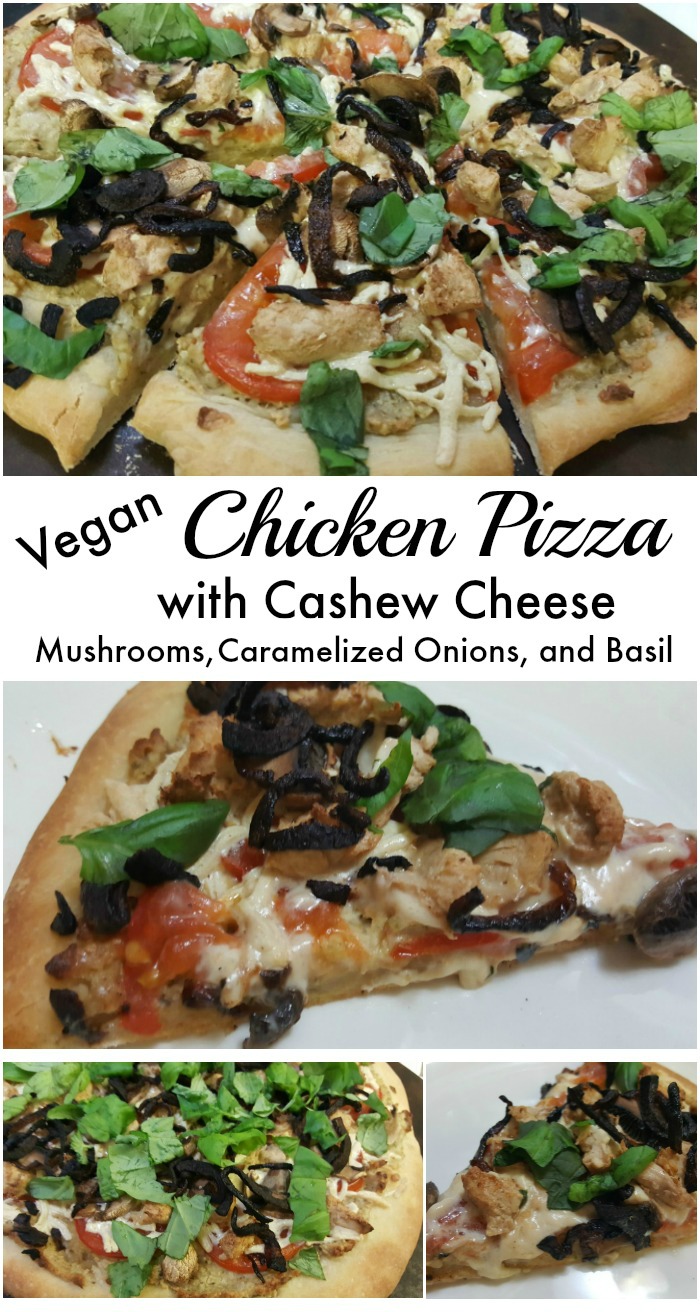 I had planned to make a pesto pizza, which is one of my favorites. When I started to prepare it, I realized that I didn't have any pinenuts, but instead of substituting walnuts or pecans, I decided to move in another direction. And the Vegan Chicken Pizza with cashew cheese was created.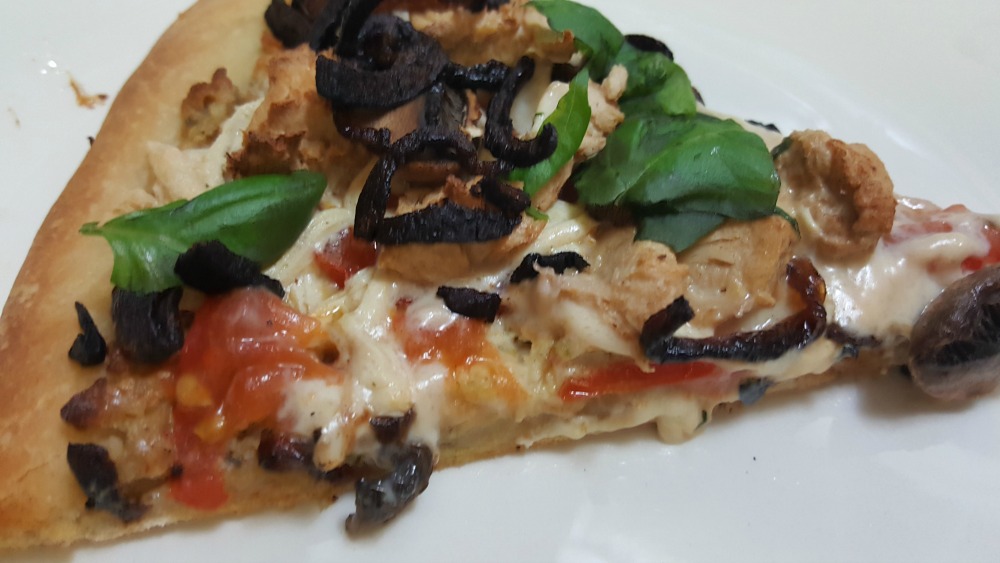 I still had leftover cashew cheese from my Medjool Date Appetizers and I thought that sounded like an amazing base for a pizza. I had some vegan chicken and mushrooms on hand, so those were easy toppings to add. I love caramelized onions, so I took the time to make them, which was the perfect final topping for the pizza. I did add some vegan mozzarella, but that is totally optional. Even though the cashew cheese doesn't melt, it adds a hot, creamy, and delicious flavor to the pizza.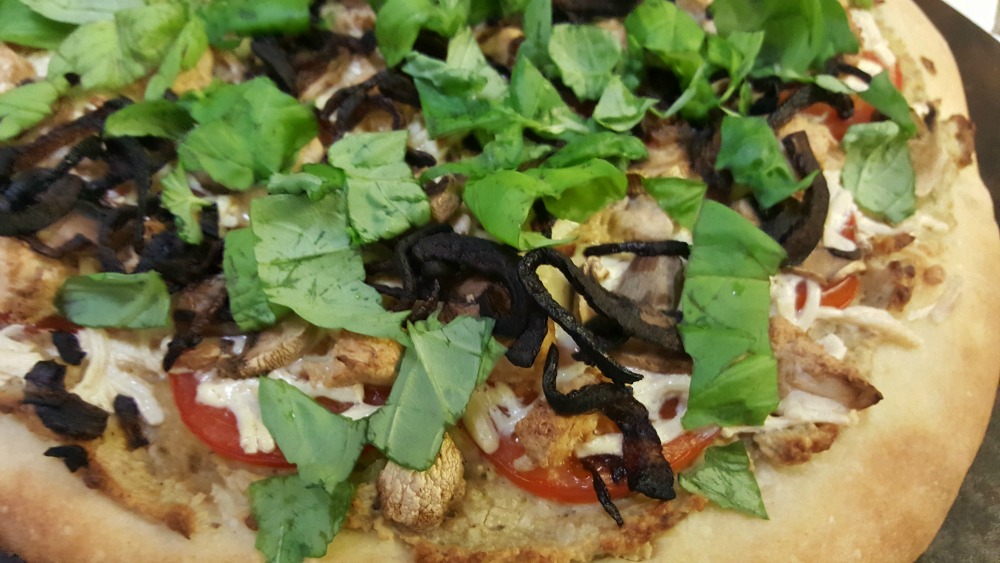 Vegan Chicken Pizza with Cashew Cheese, Mushrooms, Carmelized Onions, and Basil
Vegan, Vegetarian
Ingredients
Pre-made (vegan) pizza crust. I used one from Trader Joes
½ cup cashew cheese (see below for the recipe)
2 medium tomatoes, thinly sliced
½ cup sliced mushrooms
4 ounces vegan chicken, cut into small pieces
¼ cup vegan mozzarella cheese (I used Daiya), optional
½ cup onions, caramelized (directions below)
½ cup fresh basil, chopped
Instructions
Preheat oven and pizza stone or pan to 450
Roll out your pizza dough to desired thickness
Transfer the pizza to your preheated stone/pan
Spread on the cashew cheese evenly
Add a layer of tomatoes
Sprinkle on the cheese
Add the mushrooms, vegan chicken, and caramelized onion
Bake at 450 for 20 minutes or until the crust is a golden brown.
Sprinkle the fresh basil over the pizza.
Allow to cool for 5 minutes before slicing.
The cashew cheese and caramelized onions do take a little time to prepare, but it can be done ahead of time, and both can be used for additional purposes. Totally worth the time!
Cashew Cheese
Soak the cashews in water for at least an hour. Rinse and drain them and place them in a blender or food processor with the lemon juice, parsley, garlic, salt, and pepper. Pulse to chop (about 30 seconds), then add the water and blend until smooth. Find more information about making cashew cheese here.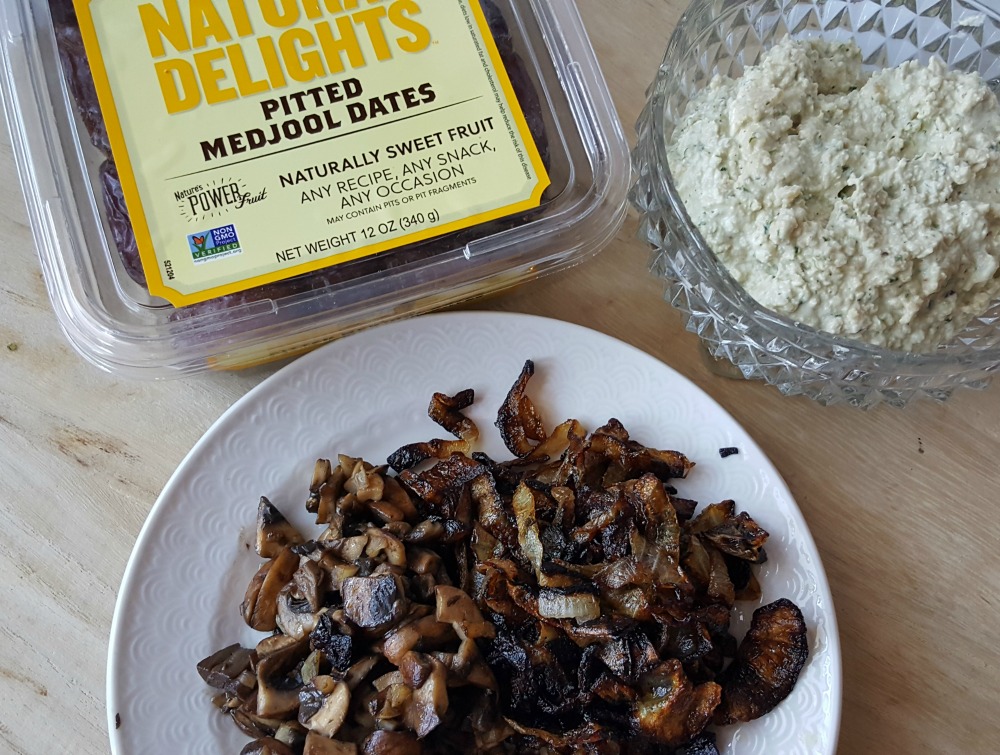 Caramelized Onions
Caramelized onions are very easy to make, but they do take time. Slice the onions, then cut the slices in half. Preheat about 2 tablespoons oil in a frying pan over medium heat. Add the onion and a pinch of salt. Keep the heat at medium and cook, stirring occasionally, until the onion is browned and has a rich, slightly sweet flavor. It takes about 30-40 minutes. If the onions start to cook too fast, turn down the heat a little.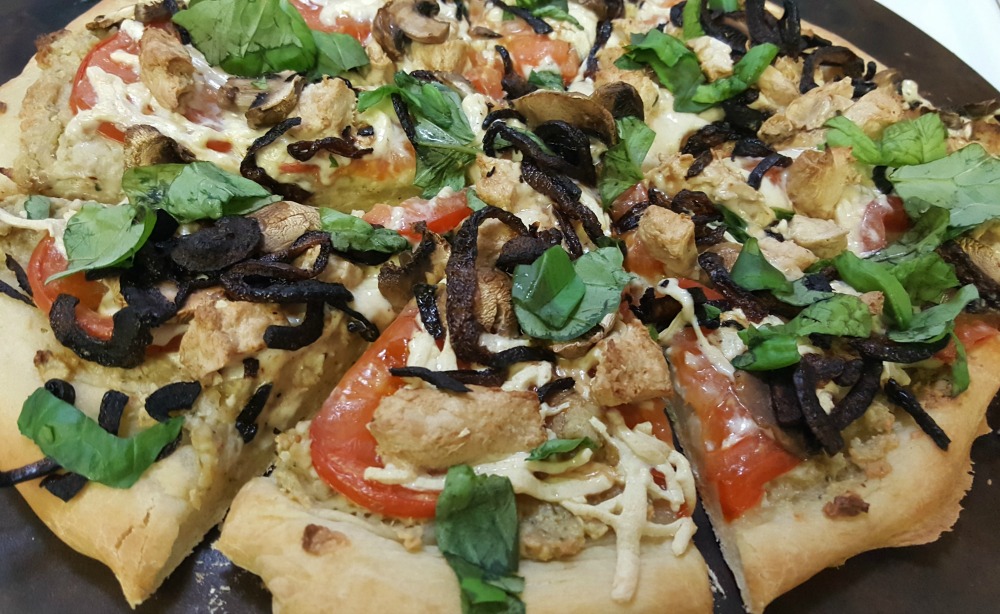 I hope you enjoy! How was your weekend? Any fun adventures or food?
---
Weekly Linkups
My weekly linkups! Please stop by and check out all of the great recipes, workouts, and information that all these awesome bloggers share every week!
Meatless Monday with Sarah and Deborah
Meatless Monday with Annmarie  and Dixya
Inspire Me Monday with Janice
Wild Workout Wednesday with Annmarie, Michelle, Jen, and Nicole
The Plant-Based Potluck Party with Deborah
The Running Coaches' Corner with Rachel, Suz, Lora Marie, and Me!
Giveaway Roundup and Try Out Thursdays with Smitha
The Blogger's Pit Stop with Kathleen, Janice, Julie, and Menaka
Friday 5 2.0 with Rachel and Lacey and Meranda
Sunday Fitness and Food with Angela and Ilka