I (frequently) say that I love a good tofu scramble. I hadn't made one in a while, I think because in my mind I think of it as a breakfast dish and I rarely have time to spend on breakfast prep of anything more complex than oatmeal or a smoothie (and even that's pushing it).
But, I was at Clark's the other day, picking up a few items that are hard to find here in the desert (like seitan, Daiya wedges, and vegan prepared food, just to name a few things), when a package of Soyrizo caught my eye. I had a plan.
On a side note, I got a kick out of the very young lady that checked me out. Gazing at my packages of seitan, Soyrizo, tofu, plus a bunch of kale, a bag of quinoa, and a few other things, she asked if I was vegan. Stifling my inner smart-ass, I said yes. She told me that she was vegan as well and was happy to see more vegans. I think she would have liked to say "older vegans," but I agreed with her, because I'm happy to see more vegans too, young or old(er).
Tofu Scramble. Vegan
Ingredients
1/2 tsp turmeric
1/2 tsp chili powder
1/2 tsp cayenne pepper
1/2 tsp salt
pepper
2 Tbsp Olive Oil
1 cup onion, chopped
1 Serrano chile, seeded and minced
1 med potato, cooked and chopped
1/2 package Soyrizo
1/2 avocado, sliced
1/2 cup vegan cheese (optional)
Directions
Pat tofu dry. In a medium bowl, use a fork to break up the tofu until it has a texture similar to scrambled eggs. Add turmeric, chili powder, cayenne pepper, salt, and pepper.
Heat olive oil over medium high heat. Add onion and chiles and cook until soft, about two minutes. Add potatoes and cook until slightly browned. Move vegetables to the outside of the pan and add the Soyrizo and cook until heated through. Add the tofu mixture and stir, blending the tofu, Soyrizo, and vegetables. Cook until heated through.
Serve with vegan cheese, avocado, salsa, and toast or tortillas if you like.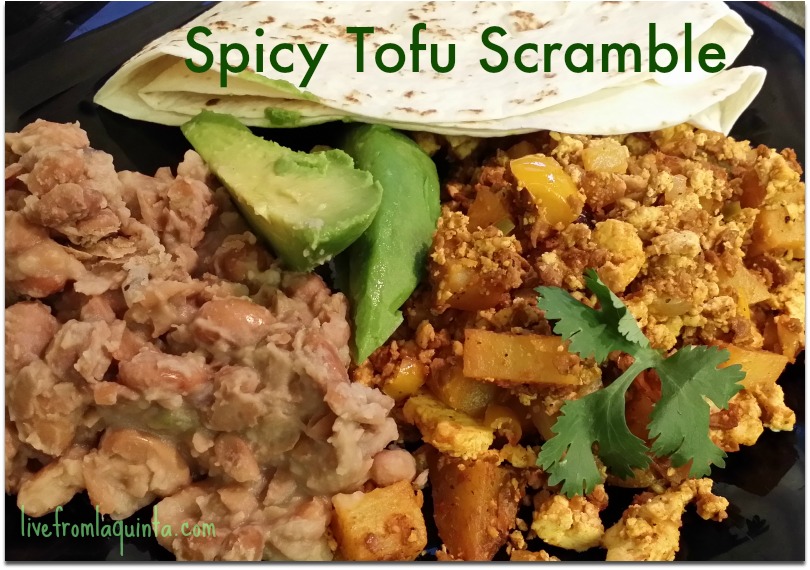 Last week, while I was training my awesome 82 year old client (she still plays and takes tennis lessons a couple times a week!), she told me that she was making a big pot of soup for dinner. With cooling weather finally here in the desert (in the 70s at least), soup sounded pretty good, so I was inspired to make my own.
If you are looking for a traditional recipe for Yucatan Sopa de Lima, you will not find it here. Sorry. But, this easy vegan soup is still delicious, spicy, and warming, and I think you will enjoy it.
Spicy Chick'n & Lime Soup. Vegan
Ingredients
6 cups vegetable broth
1/2 cup lime juice
1 package Gardein chick'n strips
2 medium potatoes, peeled and chopped
2 carrots, chopped
2 zucchini, chopped
1 can pinto beans, drained and rinsed
1/2 cup salsa
1 teaspoon cumin
1 teaspoon salt
pepper to taste
1 tablespoon olive oil
1/2 onion, chopped
2 cloves garlic, minced
1-2 Serrano chiles, seeded and minced
1 lime
cilantro
avocado
tortillas (corn or flour, your preference)
salsa
vegan cheese (I used Daiya)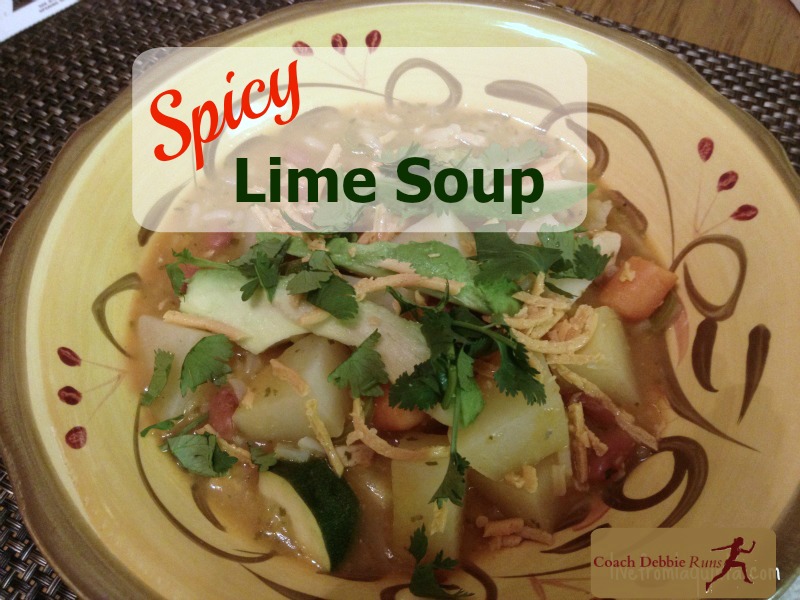 Directions
Combine broth, lime juice, chick'n, potatoes, carrots, cumin, salt and pepper in a large pot. Bring to a boil, then reduce to simmer.
Preheat the oil in a small pan over medium heat. Add onion, garlic, and chiles. Cook until soft, then add to the simmering soup.
Cook soup on low for about 15 minutes, until potatoes and carrots are slightly tender. Add the salsa, beans and the zucchini, and cook for a few minutes more to heat the beans and cook the zucchini.
Garnish with limes, cilantro, avocado, and serve with tortillas, salsa, and vegan cheese.