Thank you Aftershokz for sending me the Trekz Titanium™ headphones to review, and especially for a second pair to give away. You guys are awesome (and all opinions are my own)!
Confession: I don't listen to music while I'm running. Nor, as seems to be the thing these days, do I listen to Podcasts (though I always have good intentions of doing so. Someday). Nope, I, unless I'm running with a group, listen to books. And not books that will educate, enlighten, or inspire me. I read mystery and detective novels. Lots of them. I was actually probably one of the first subscribers to Audible. It's almost embarrassing how many books I have in my virtual library.
Anyway, that's not what this is about. The point is that I do run with headphones, though I have always kept the volume at a low to medium level. I am listening to a book after all, not the Rolling Stones. Whatever your opinion on wearing headphones while running, people are going to do it, and now, thanks to Trekz Titanium and bone conductivity, I'm pretty sure I've found the best and safest way.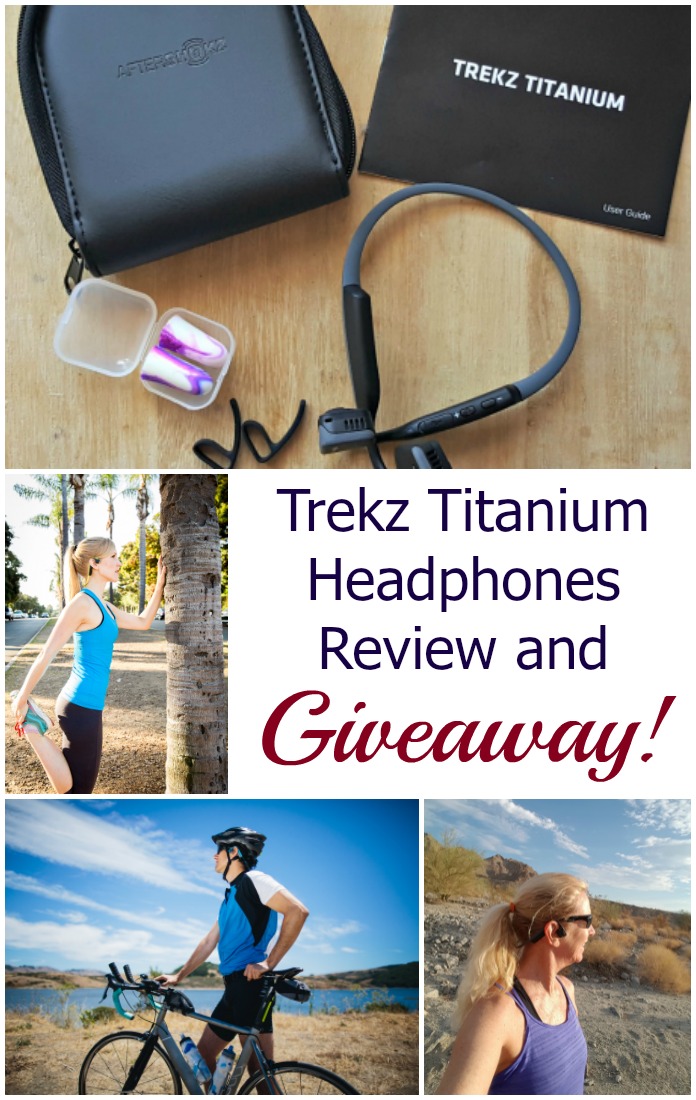 Trekz Titanium Headphones Review
Trekz Titanium headphones use bone conduction technology, which transmits sound via the bones in your skull, bypassing the eardrums completely. This allows you to hear a higher level of ambient sounds which can increase your awareness of what is going on around you. The headphones also use Bluetooth® connectivity, so you don't have to deal with wires, plus you can also make and receive phone calls.
Because most people listen to music instead of books when they run or ride, the first thing I did when I opened the box and easily connected them with my phone, was to turn on the music. I wanted to hear how it would sound with the bone conduction, which hasn't always had the greatest reviews.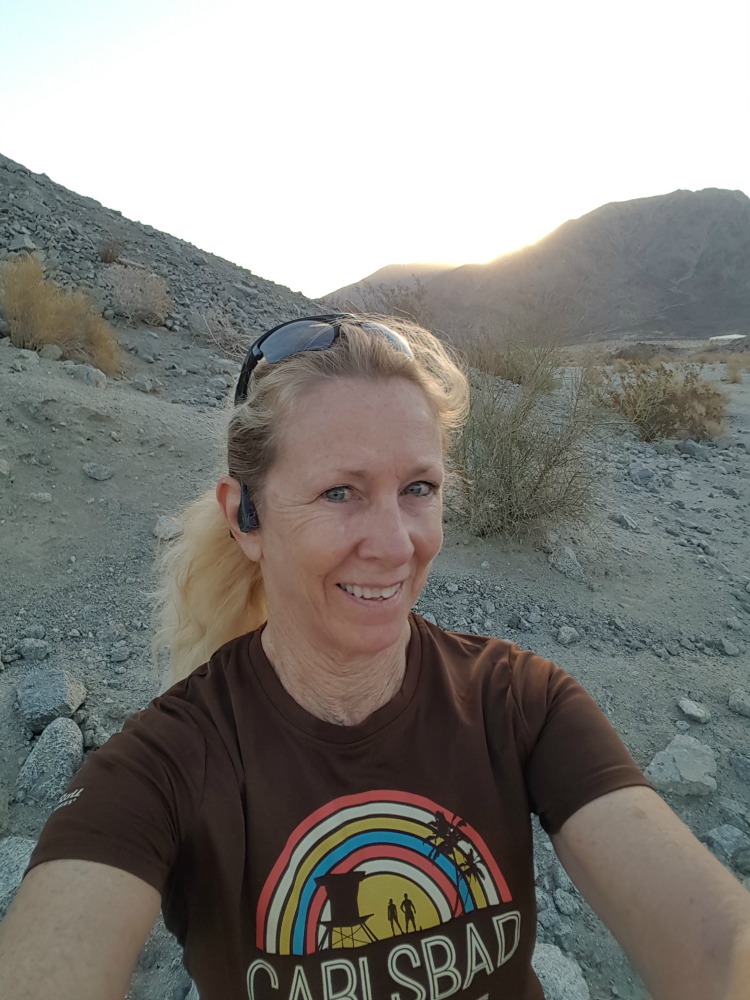 I will tell you that it sounded rich and full, which as a non-music reviewer is the only way I can think of to express it. Let's just say it sounded really good.
According to AfterShokz, the maker of Trekz Titanium headphones, this is because of their Premium Pitch+™ Sound, which maximizes the quality of the sound and includes technology that makes sure the music is directed exactly where it should be.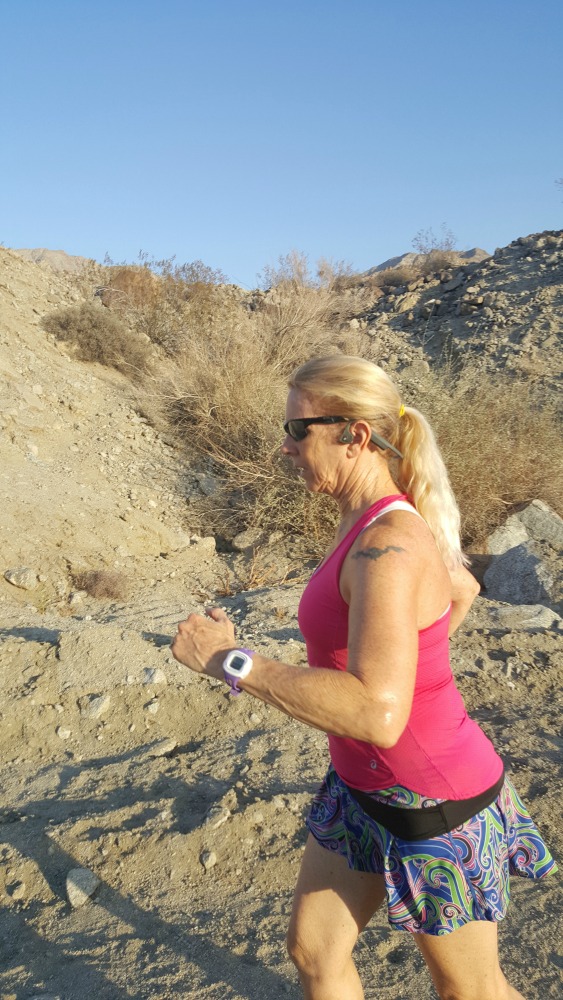 The real test, of course, is in the wearing. I've been using the Trekz Titanium headphones for the last two weeks. If it means anything to you, they are now my permanent headphones. Before using the bone conduction headphones, I'd been using a pair of Bluetooth headphones that wrapped around my ear to keep them in place. It used to drive me crazy because they always seem to get twisted, and while the sound was pretty good, I was constantly having to readjust them to actually hear.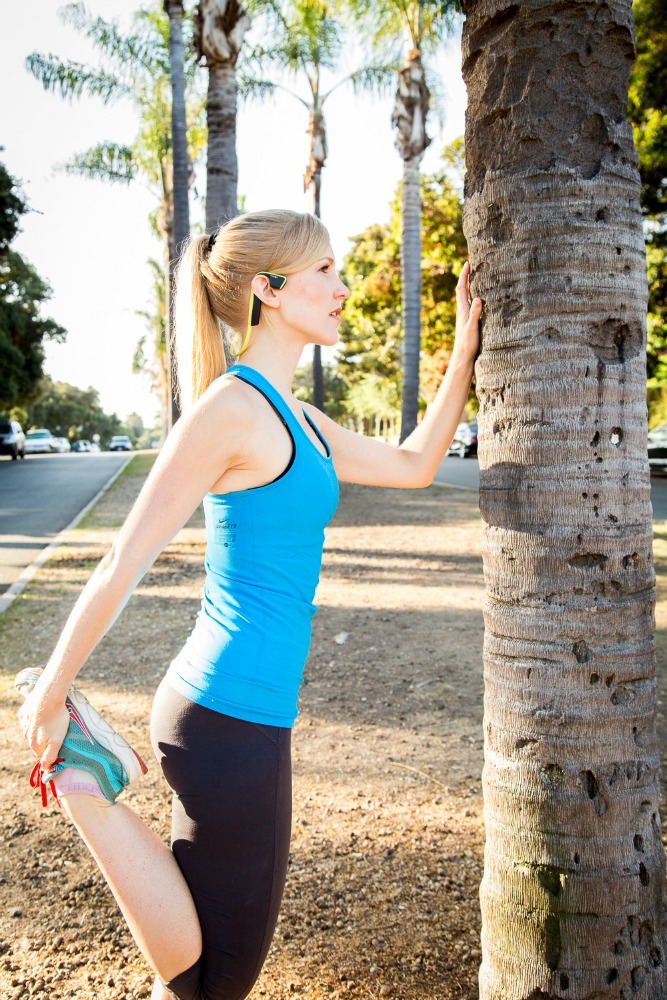 No more problem there. The Trekz Titanium headphones hook over my ears and the speakers simply rest on my cheekbones, right in front of my ears. They don't move around at all, and they're really comfortable. It did take me a couple days to get used to the feeling, but after that, I didn't even notice them. And instead of a wire running between the two sides, which always seemed to get caught in my hair, there is a solid, but thin, flexible band. Much better!
As for the sound, as I hinted above, it is great. It is clear, the volume control is excellent, and because they don't actually go into my ear, I still have a sense of what is going on around me. And in spite of that, general ambient noise does not interfere with what I'm listening to.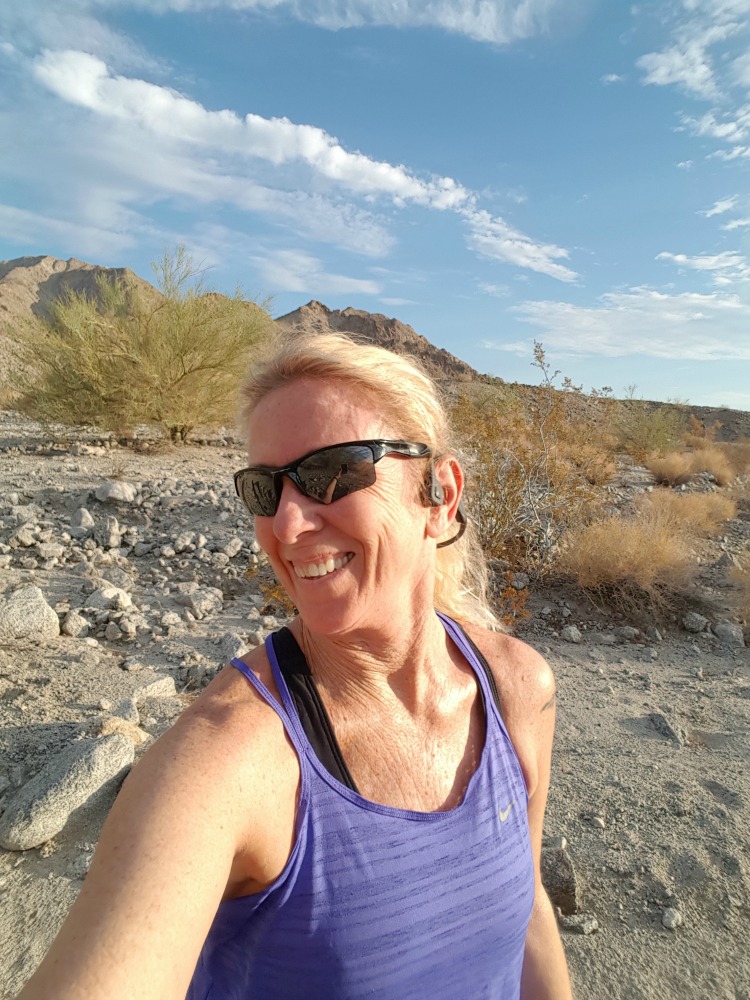 In a nutshell, here are, in my opinion, the pros and cons of the Trekz Titanium headphones:
Pros
Excellent sound with both music and my audiobooks.
Comfortable after a short adjustment period.
Easy to set up and use.
More awareness of what's going on around you. The bone conduction technology means  you're listening to the music through your cochlea and your ears are not blocked like with traditional headphones, your eardrums are still open to hear ambient sound, like traffic or conversation around you.
They make a great wireless phone headset because they do not block out other sounds while you're wearing them.
Cons
When I move my head up or down, the band that runs between each ear moves a little. It doesn't move the headphones, but I notice it. It's still better than a wire.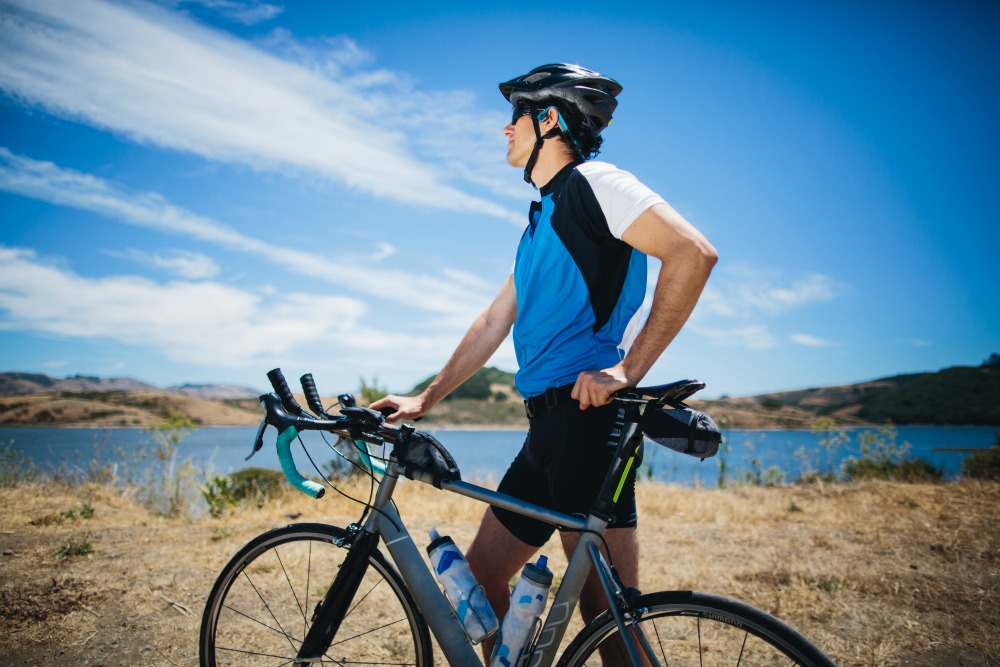 Here are some other features of the Trekz Titanium Headphones:
OpenFit™ – promising uncompromised situational awareness and extended comfort in a revolutionary open ear design. That means you can tune in to your music or a call without tuning out the world around you — vital for staying safe and alert as you move through the day.
PremiumPitch+™ Sound – Bone conduction audio has earned its bad reputation due to a blend of natural sound leakage and weak bass. PremiumPitch+™ technology optimizes the sound and includes additional features like LeakSlayer™ technology, which ensures music is directed exactly where it should be.
Titanium Frame: The backbone of the industrial design is a premium titanium frame, an element chosen not only for its strength and durability, but also for its infinite flexibility, which will deliver maximum comfort, portability, and the very best sound.
Sweat Resistant: Built to power through daily sweat sessions and wicked weather. IP55 rated to repel sweat, moisture, and dust.
Six Hours of Music and Calls: A single charge will reliably deliver six hours of music play and talk time. You can charge fully in 1.5 hours, but a quick 15-minute charge provides enough boost to get you through a long workout or marathon call.
Noise Canceling Mics: Precisely placed dual noise canceling microphones exclude surrounding noise, effectively enhancing speech.
Voice Prompts: Audrey Says™ seamlessly guide you through power, pair, play and talk, and everything in between.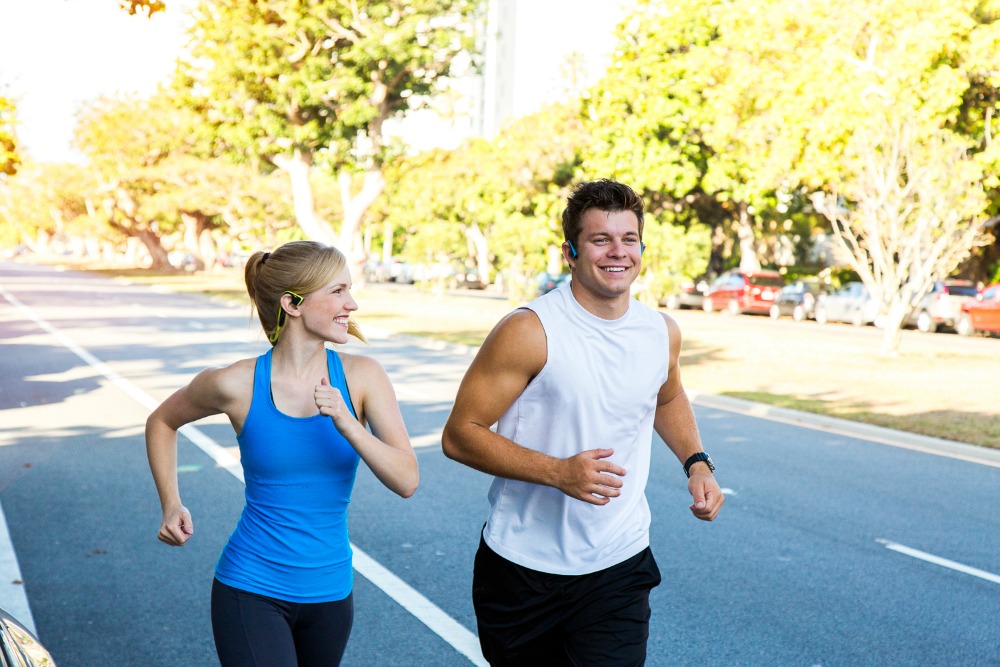 Are you ready to win a pair of your own? Just use the Rafflecopter below. You must be 18 or over and be a resident of the US or Canada.
a Rafflecopter giveaway

Can't wait? Order now and get free shipping on your purchase!
You can find Aftershokz Trekz Titanium Bone Conduction Headphones on Facebook, Twitter, Instagram, and their website. This post contains affiliate links.
Do you wear headphones when you work out? Had you heard of bone conduction headphones?
And Now It's Time for the Running Coaches' Corner!
Loading InLinkz ...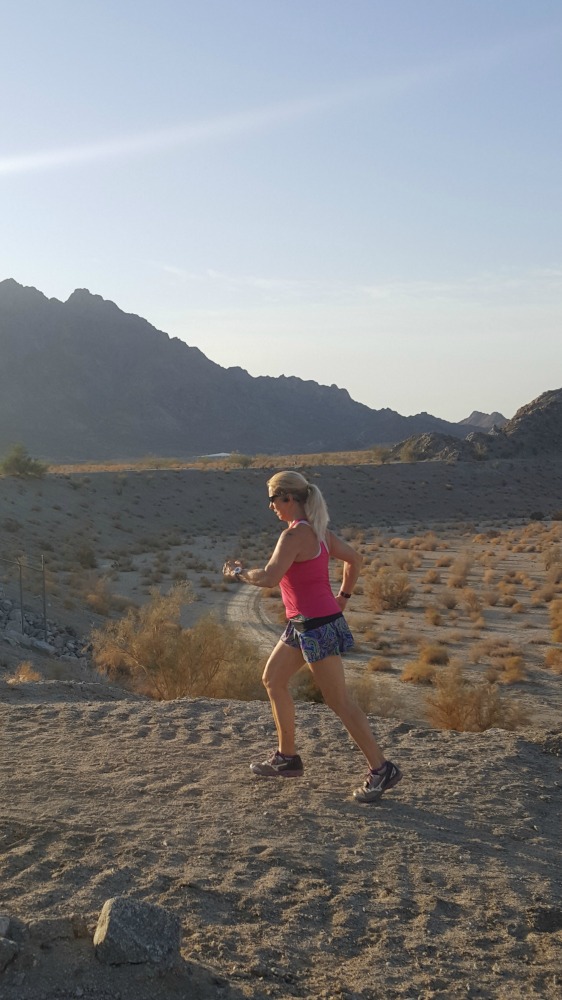 ---
My weekly linkups! Please stop by and check out all of the great recipes, workouts, and information that all these awesome bloggers share every week!
Sunday Blog Hop with Jenn
Meatless Monday with Sarah and Deborah
Meatless Monday with Annmarie 
Inspire Me Monday with Janice
Weekend Snapshots with Erin
Anything Goes with Marilyn
Wild Workout Wednesday with Annmarie, Michelle, Sarah, and Angelena Marie
The Plant Based Potluck Party with Deborah
The Running Coaches' Corner with Rachel, Suz, Lora Marie, and Me!
Giveaway Roundup and Try Out Thursdays with Smitha
The Blogger's Pit Stop with Kathleen
Friday Fitness with Jill