I love me a good tofu scramble.
The problem is, when I want it, like after a long run or bike ride, or a tough yoga class, I want it. I do not want to cook it. I want it NOW!
Since I live in an area that does not have a vegan/vegetarian restaurant and no other restaurants that are progressive enough to think that offering a vegan option for breakfast would be a great idea, I have no one to cook it for me.
So what's a girl to do?
My solution: Make up a big batch of tofu scramble for dinner. Refrigerate or freeze the leftovers, then enjoy later for my favorite meal of the week: Post Workout Breakfast!
I can't believe I never thought of this before. I am the original pizza for breakfast girl (yes, I am). I always keep leftovers in mind when I'm preparing dinner, usually to take to work for lunch.
So anyway, the lightbulb finally when off in my head this week after my hankering for a tofu scramble breakfast went unrequited once again, and I decided to make it for dinner instead. I thought, what if I double it up?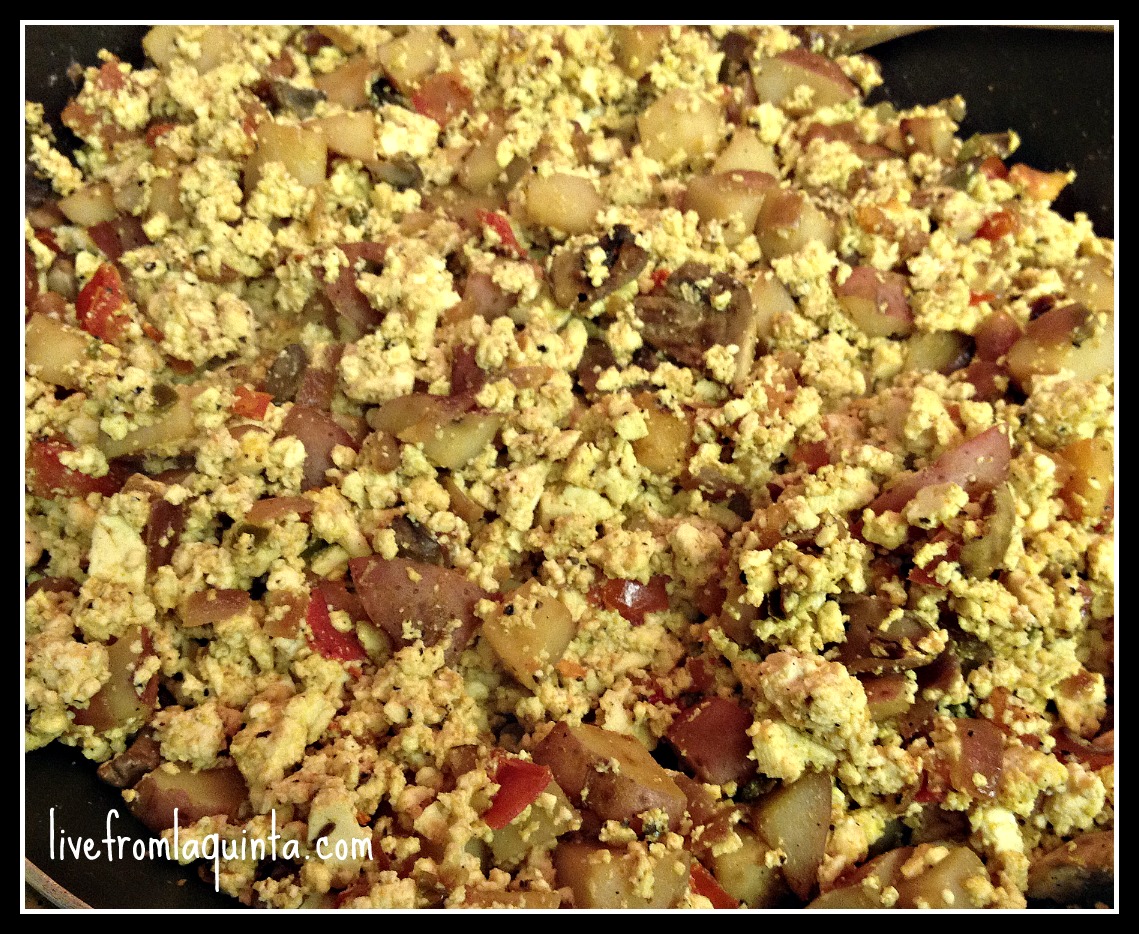 Tofu Scramble Dinner/Breakfast – (makes enough for dinner for two and either one big or two small breakfasts)
16 ounce package of firm or extra firm tofu, drained and pressed.
1/2 teaspoon turmeric
1 teaspoon salt
1 teaspoon onion powder
2 tablespoons nutritional yeast
Pepper to taste
1 small onion, chopped
2-4 small red potatoes, cut into small cubes
1 Serrano chili, minced
3/4 cup mushrooms, sliced
1 medium tomato, chopped
Olive oil (for cooking)
Instructions
Blend your spices, including the nutritional yeast, together. In a small bowl, break up your tofu into small pieces. Sprinkle in the spice blend. You may add a tablespoon of water to help with the blending.
Preheat the olive oil in a frying pan over medium high heat. Add the onions and cook for a couple minutes. Add the potatoes. Cook, stirring occasionally, until the potatoes start to brown. Add the chile and cook one minute more. Add the mushrooms and a little water to the pan, the reduce the heat to medium, cover and let cook until the potatoes are almost tender, about 5-8 minutes. Stir occasionally to keep from sticking.
Remove the lid and add the tomatoes and the tofu. Cook over medium heat, stirring frequently for five minutes. Tofu might brown a little, but don't let it stick to the pan.
Serve with toast or tortillas
Other Optional Additions:
1/2 package Soyrizo
Red, yellow, orange, or green peppers – I am not a big fan, so I don't use them too much, but if you like them, go for it.
Really, any vegetable that you like, spinach, broccoli, etc.
vegan cheese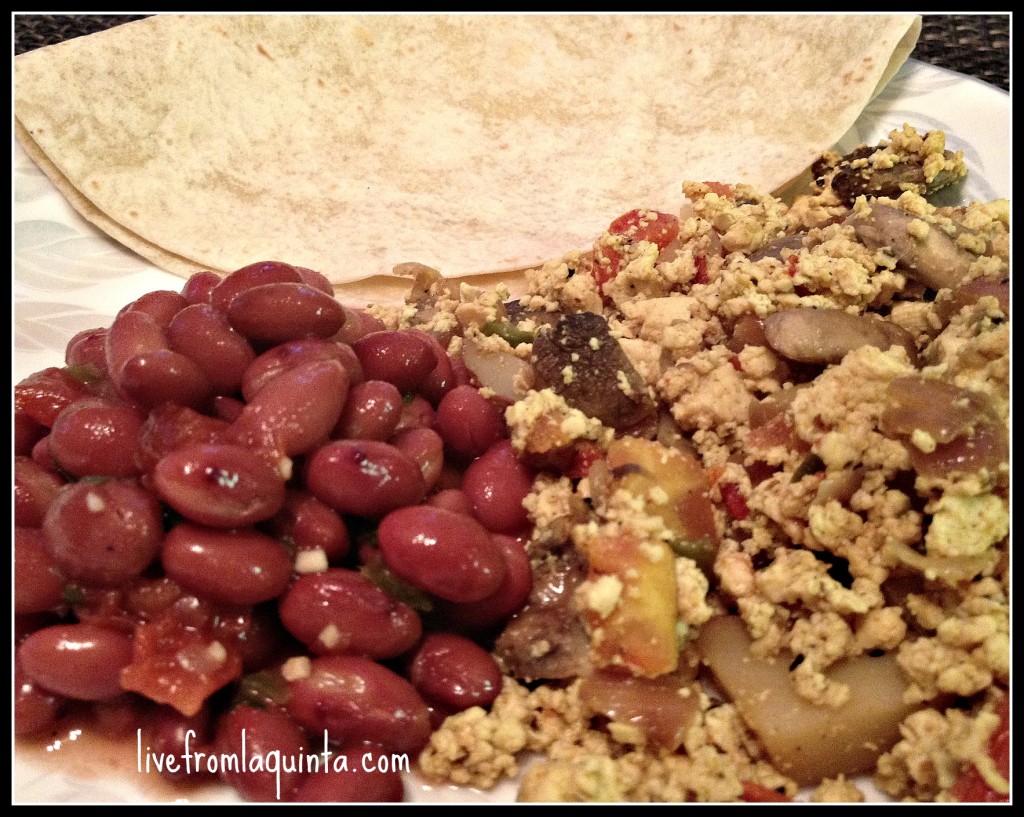 I happened to have a can of cajun style beans that I had bought by accident (don't ask me how because I'm such a label reader. I must have looked at the picture, which looked like red beans). I heated those up, adding about a half of a serrano pepper (yes, I love them), and served the beans on the side, with tortillas.
Then, two days later, I enjoyed my work-free, post-workout, tofu scramble breakfast. Better than going out to eat!
What is your favorite post workout and/or weekend meal?
Do you like dinner for breakfast or breakfast for dinner?
Note: I am definitely getting old. After writing this post, I did a search on my own blog to link to a post I wrote a few months ago when we were in Encinitas and I had a tofu scramble. I found this, which is very similar in content to this post. The recipe is different, though, so I'm going to publish this anyway. I apologize for my memory loss (but at least you get two tofu scramble recipes out of it!).