Stupid exercise induced asthma.
SLO Marathon Training Recap Week 9
With the exception of total mileage, my training week was right on target this week. I got my main workouts done, and finished it off with a half marathon, which was on the schedule, though it was a last minute decision to actually sign up and run the race (more on that below).
On Monday, I ran four half mile intervals (my goal is six, but time is always a factor). After a half mile warm up, I did my intervals on the street near my house. I even had my own coach (Alan) out there! That was nice because he gives me an extra push. Each half mile was around 4:03 to 4:04, which is probably a little too fast for me right now, but it felt good (in a really hard kind of way).
On Wednesday I ran up into the hills behind our house for a hill workout on the trails. It started off great! I found a $20 bill on the road! Everything else was, well, hard. I did 15 repeats on this hill:
It's not super long but it's pretty steep, so it was challenging. So challenging that I didn't trust my exercsie addled brain to remember what number I was on, so I used the "count rocks" system.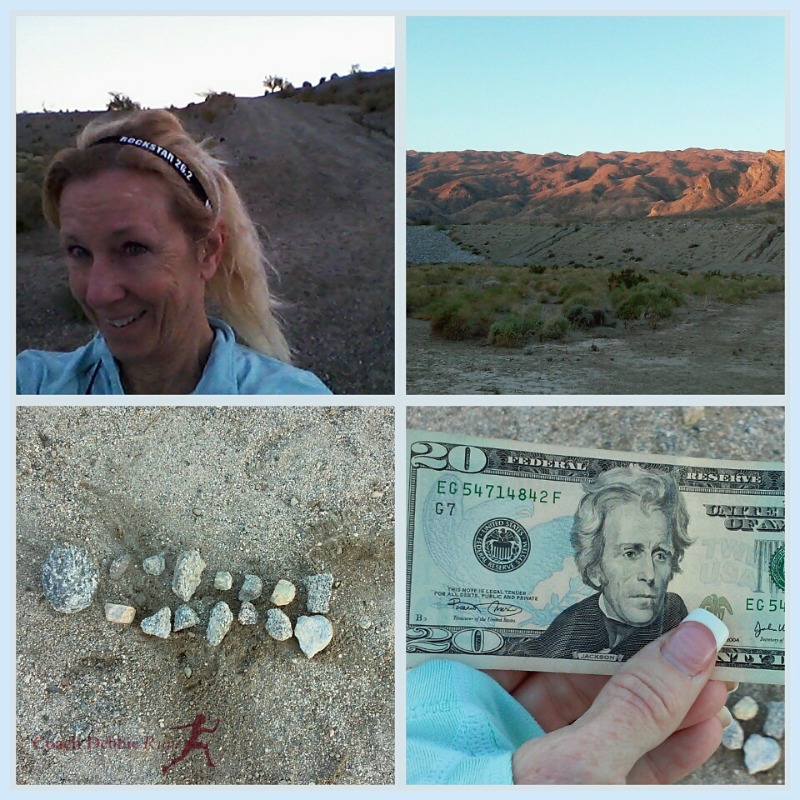 I'd add a rock to the pile after each repeat. I was glad I did because not only could I not remember which one I was on, I had to keep recounting the rocks because I wasn't sure I was counting them correctly!
I had to work on Saturday, just for a couple hours basically to transport a couple of our massage therapists to a golf event where they'd be doing chair massage. I asked for, and got, permission to take a run in between the time I dropped them off and picked them up. Running around the country club where I work is really like another hill workout. Lots of beautiful views though.
Running Through Redlands
On Sunday, Alan announced the Run Through Redlands half marathon, 10, and 5k. This is his fifth year announcing, but this year they moved the event to March 8 (from late April). The race was on my schedule, but I wasn't sure if I wanted to run it. If I had not worked the day before, I probably would have run 18 miles then taken Sunday off. Well, that didn't happen. But I feel like I'm a little behind in my long run effort, so I was hesitant to skip that long run.
We had to be at the event by 5:30, so with an hour plus drive that meant a 3:00 am wake up. And remember that little ol' time change? Yes, we were basically getting up at 2:00 am. Just as the bars were closing.
We arrived and Alan took off to do his announcing thing. I still wasn't sure what I was going to do. Run the race? Do a long run on my own around Redlands? Go back to sleep (which really sounded like the most attractive option)? I tweeted:
Decisions, decisions. #Run a half marathon, run long on my own or go back to sleep on this first day of daylight savings. What would you do?

— Debbie Woodruff (@CoachDebbieRuns) March 8, 2015
@BikingBrian Okay, is you can do it so can I. Better go sign up for the race. (Hubby is announcing so I'm dozing in the parking lot)

— Debbie Woodruff (@CoachDebbieRuns) March 8, 2015
So I made the decision at 6:30 to run the race that was starting in 50 minutes. Because of my lack of commitment, my planning was terrible. Though I had brought along a banana and a Clif Bar, I didn't bring any gels or electrolytes (and they didn't have them on the course either!). Instead I tucked another Clif Bar in my Flipbelt, hoping I could get it down if I needed it.
My goal was to have fun, to see if I could get in some marathon pace miles in, and just to stay occupied while Alan was working. Even though I ran the race last year, I'd forgotten how much uphill there is during the first half. In fact, basically the whole first half is uphill, which should be good training for the hills of the SLO Marathon. So my 9:30 miles slowed down to 10:30 miles after mile two, then picked up at bit after about mile seven as we headed back toward the finish line.
I was almost to mile 12, and looking at about a 2:12-ish finish, not great, but not bad, then WHAM! I started to feel like my vision was darkening around the perimeter and that I might just have a big bear sitting on my chest. I know immediately when my exercise induced asthma is rearing its ugly head, but I kept trying to run for a bit, but finally had to slow to a walk, take a couple puffs on my inhaler (fortunately I had remembered to bring that!), and wait for the medicine to kick in. And wait. And wait. It seemed to take much longer than usual for my breathing to return to normal, but finally I could start running again. Slowly. And keep on going to the finish (where my lovely husband greeted me with his usual "here is my favorite person in the whole world!").
Mile 12 took me almost 13 minutes, giving me a finish time of 2:16:17, which was a little slower than my race last year. But, the good news is this: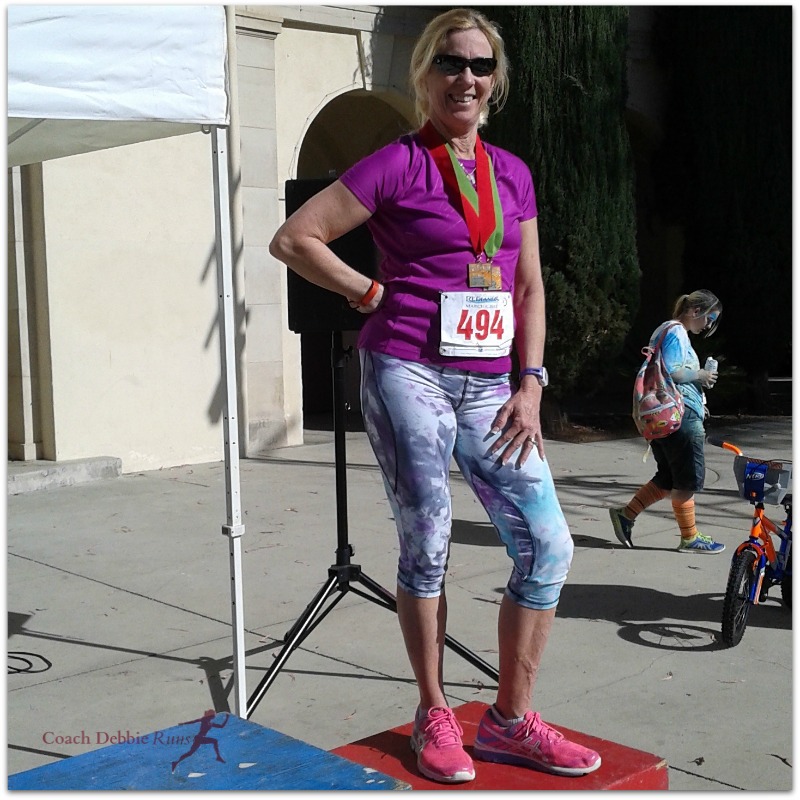 Second place in my division! I was actually lying on a massage table getting my free post-race 10 minute massage (which was wonderful by the way), when I heard them announce my name. I sometimes judge myself a little too harshly, forgetting that I'm not 30 anymore. When you compete against your peers, you come out…second! (Of course I checked out the first place woman's time..just under 2:13. Stupid exercise induced asthma!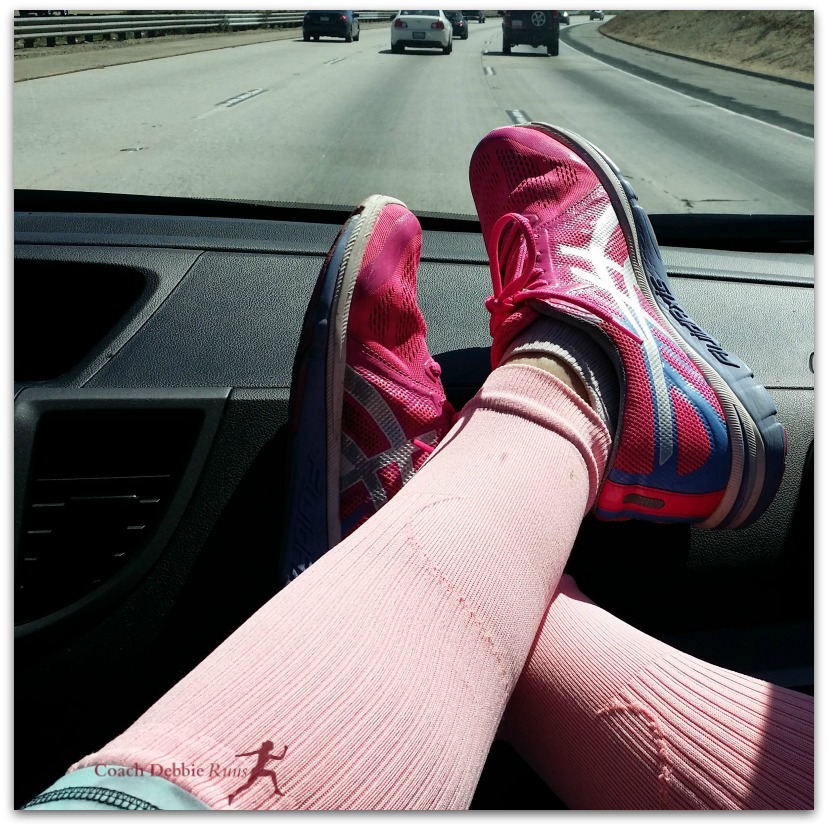 I'm spending a day or so in recovery mode. I was really exhausted after the race, which I think was more an aftereffect of the asthma than the race itself (that and waking up at 2:00 in the morning!). Alan drove home and I put my feet up and took a little nap. Then I took Monday off of running, but I did go to a yoga class (I had two clients cancel, which sucks, but it did give me time to go to the yoga class we offer at my fitness center).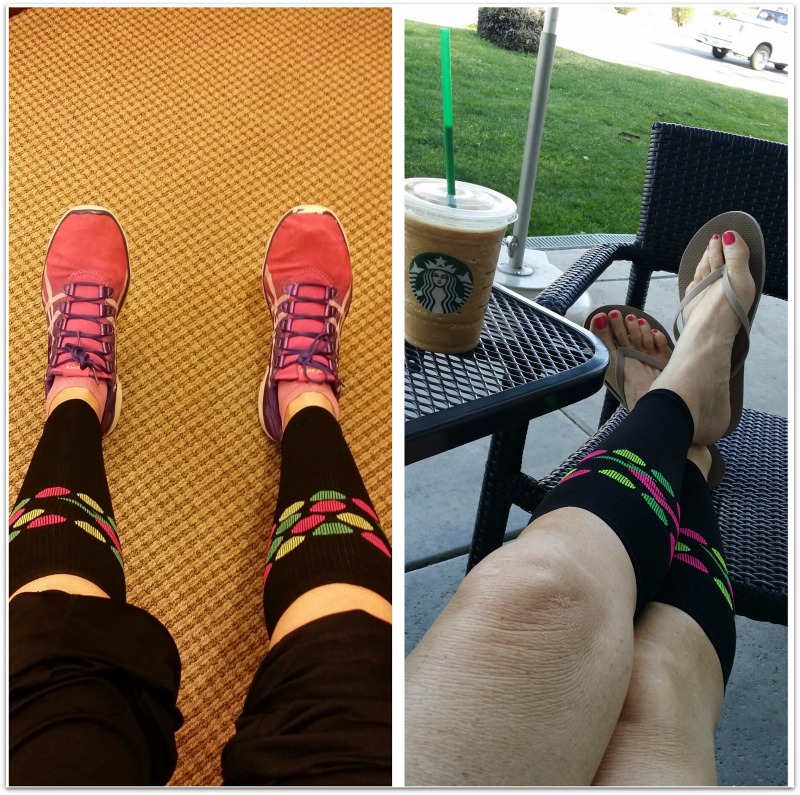 This post has gone on for a long time, hasn't it? So let's wrap the Take the Leap Yoga Challenge in pictures! Well mostly. I am a wordy gal. Let me just say that it was a great experience and I would do it again in a heartbeat. Thanks so much to prAna and Fit Approach for hosting!
Click here to read more about prAna, their beautiful fitness and lifestyle clothing, and their approach to sustainability (plus a 15% discount!).
 Take the Leap Challenge, the Final Week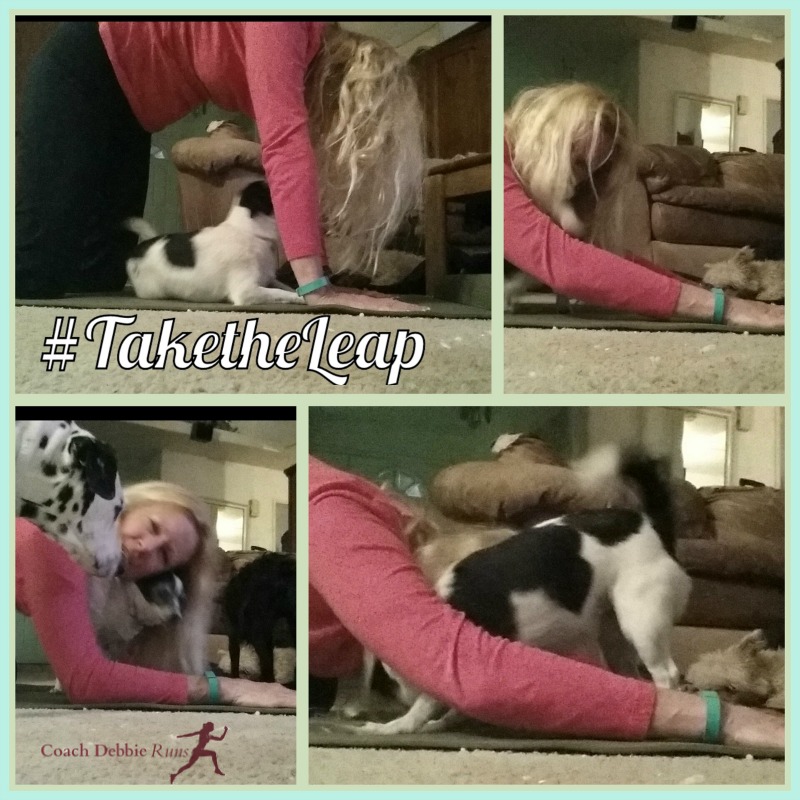 This is supposed to be a simple child's pose. Not so much in my house.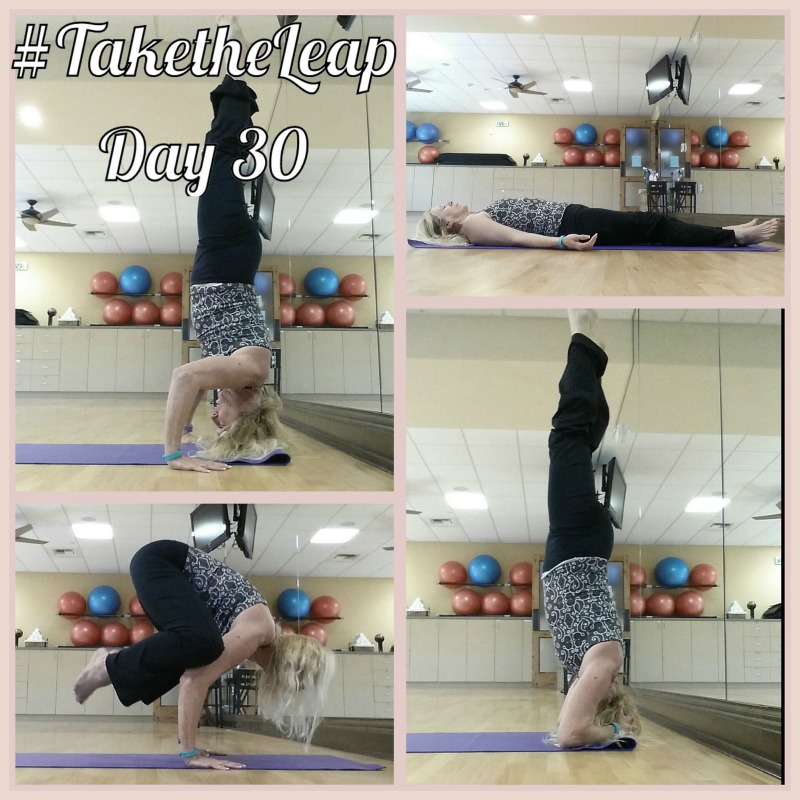 I thought this was the last day of the challenge, so I celebrated with some headstands, a crow, and by wearing a pretty prAna top that I hadn't worn for a while. But, I found out that 30 Days of Yoga was actually 35!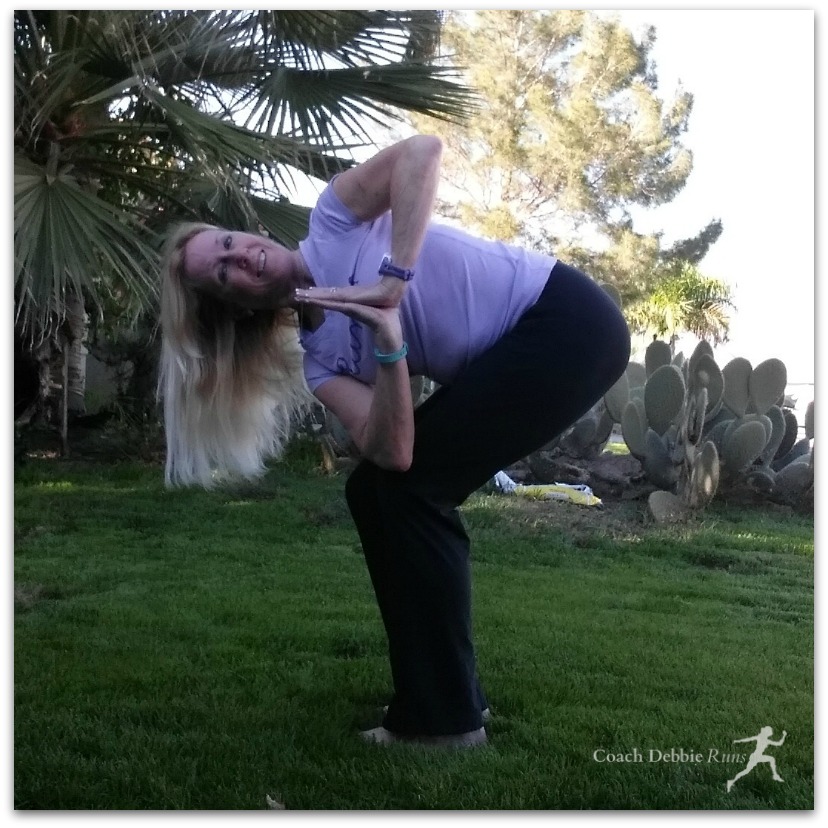 Revolved Chair pose. I love yoga in my front yard.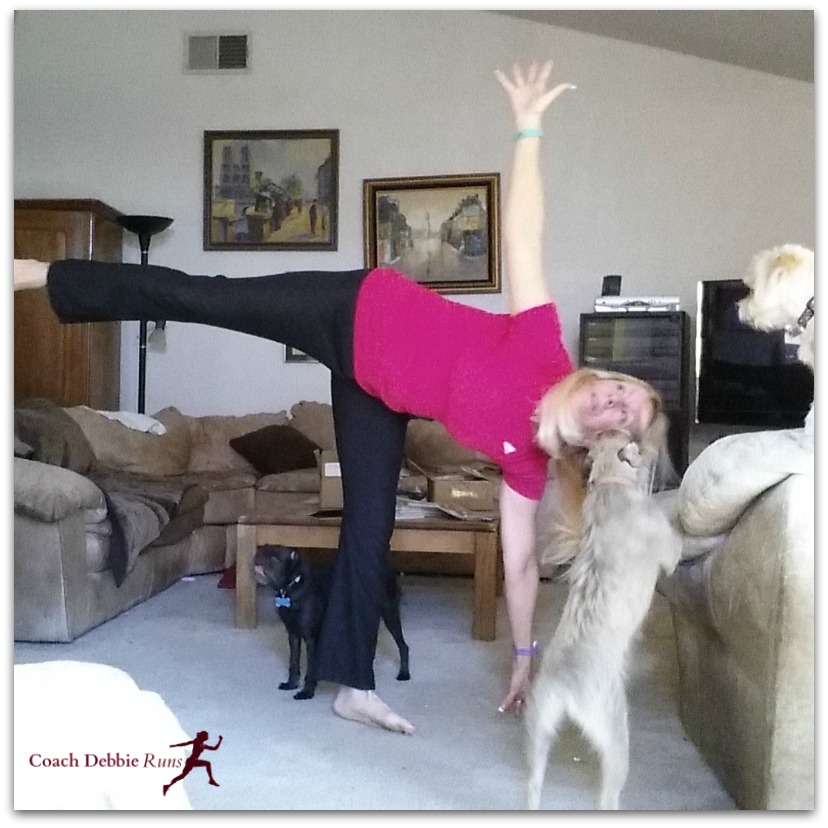 Half moon pose with a little help from the pups. This is me, seconds before toppling over.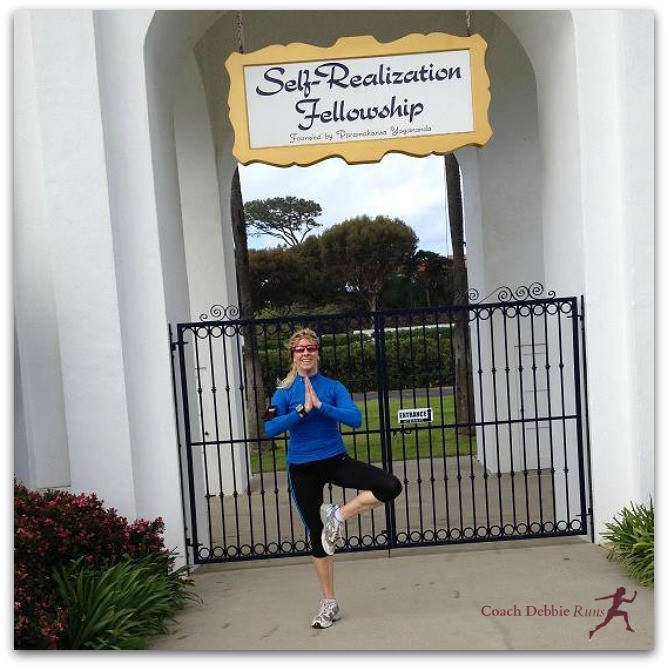 Flashback Friday. Tree pose in front of the Self Realization Fellowship in Encinitas (from about three years ago).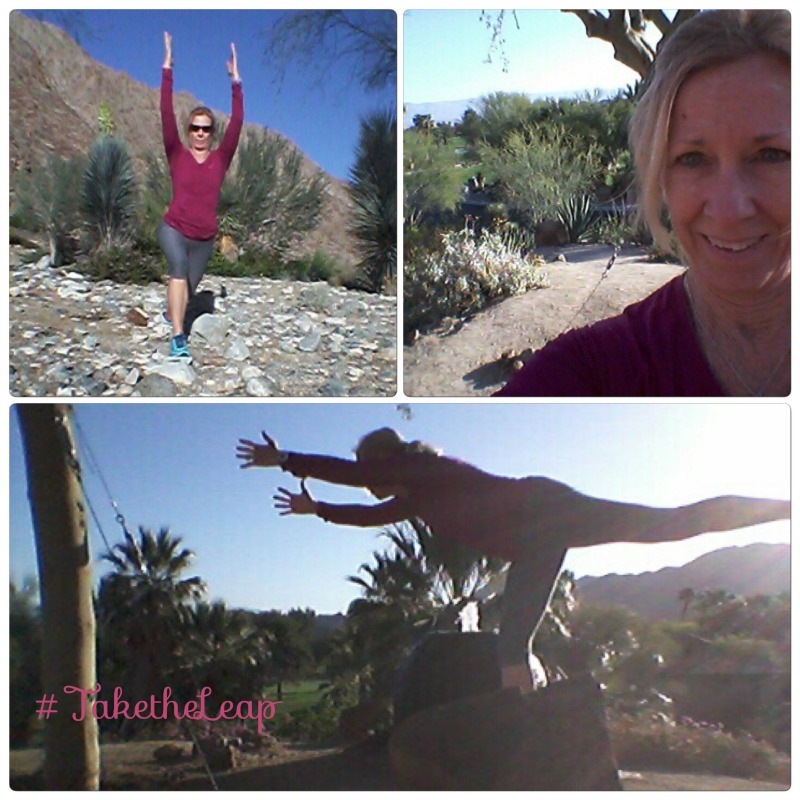 During my run at work on Saturday. Beautiful views, lots of hills for the run.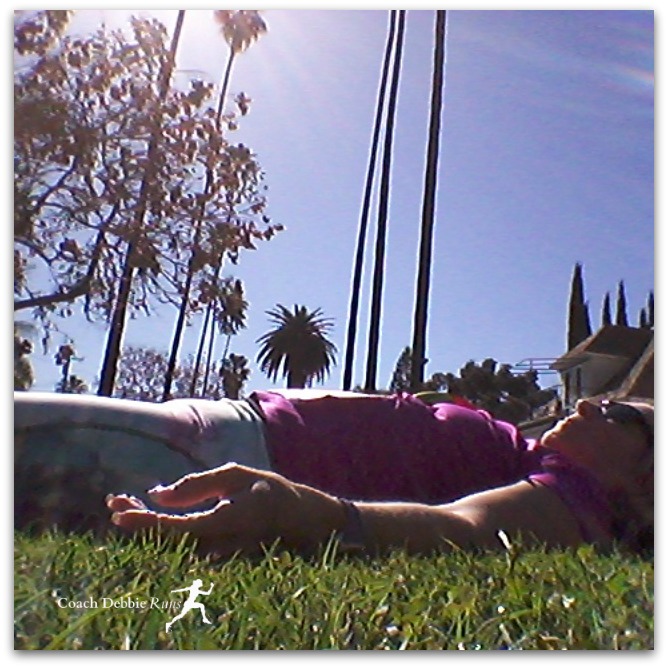 And finally…savasana. The perfect post for the last day of the Take the Leap challenge and for post-race recovery.
How was your week in training? Any races, events or other competitions? Have you signed up for the SLO Marathon yet? Remember, you can save $10 with my code: WOODAMB.