The Super Bowl is over, we're done with the salty snacks (for a while), and it's time to think about Valentine's Day and the sweet treats that seem to go with it naturally. Last week I shared my decadent (yet healthy) Medjool Date Truffles. This week I'm sharing a little romantic treat for your valentine, Sweetheart Chocolate Covered Cashew Date Bites.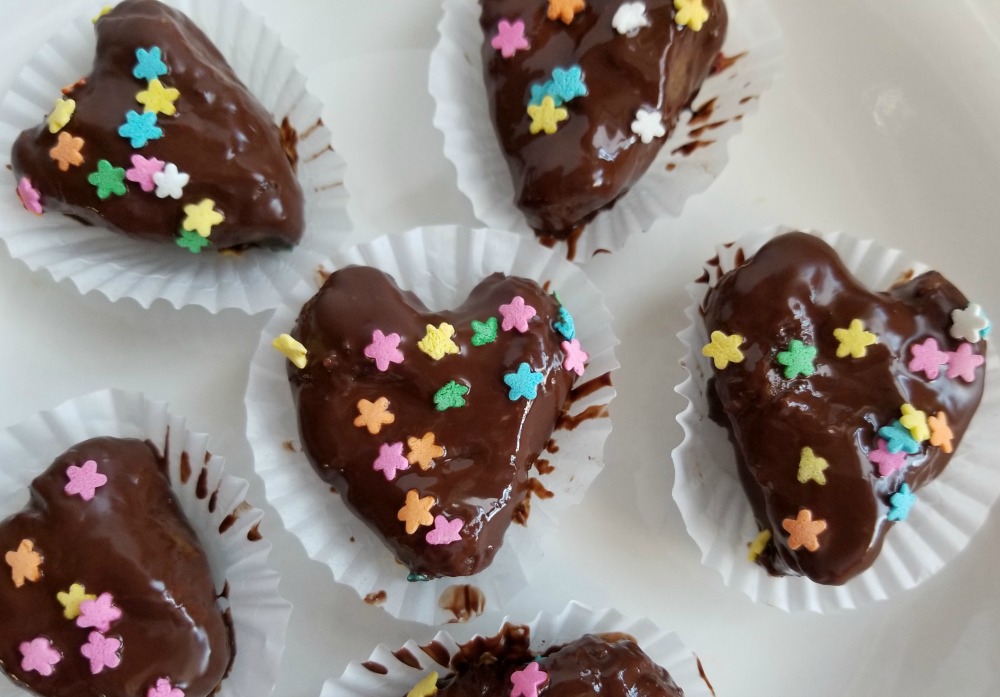 Not only are these Sweetheart Chocolate Covered Cashew Date Bites romantic and delicious, they are also made from whole food ingredients that are dairy- and gluten-free, and are a healthy alternative to candy and other Valentine's treats. They are the perfect indulgent dessert or snack any time of the year.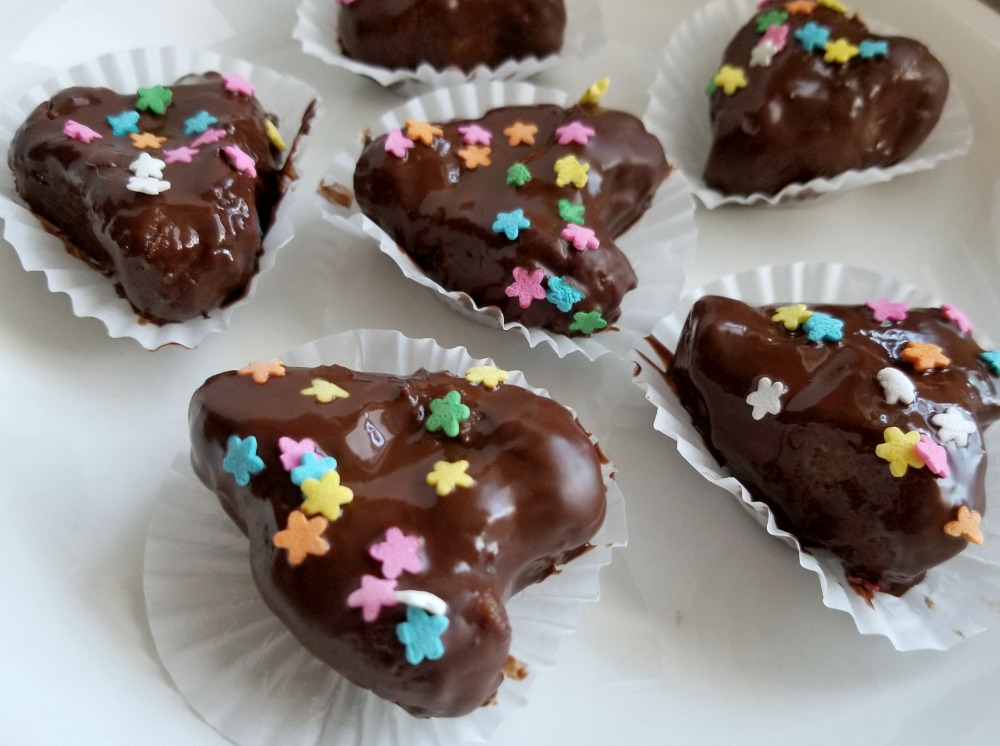 Sweetheart Chocolate Covered Cashew Date Bites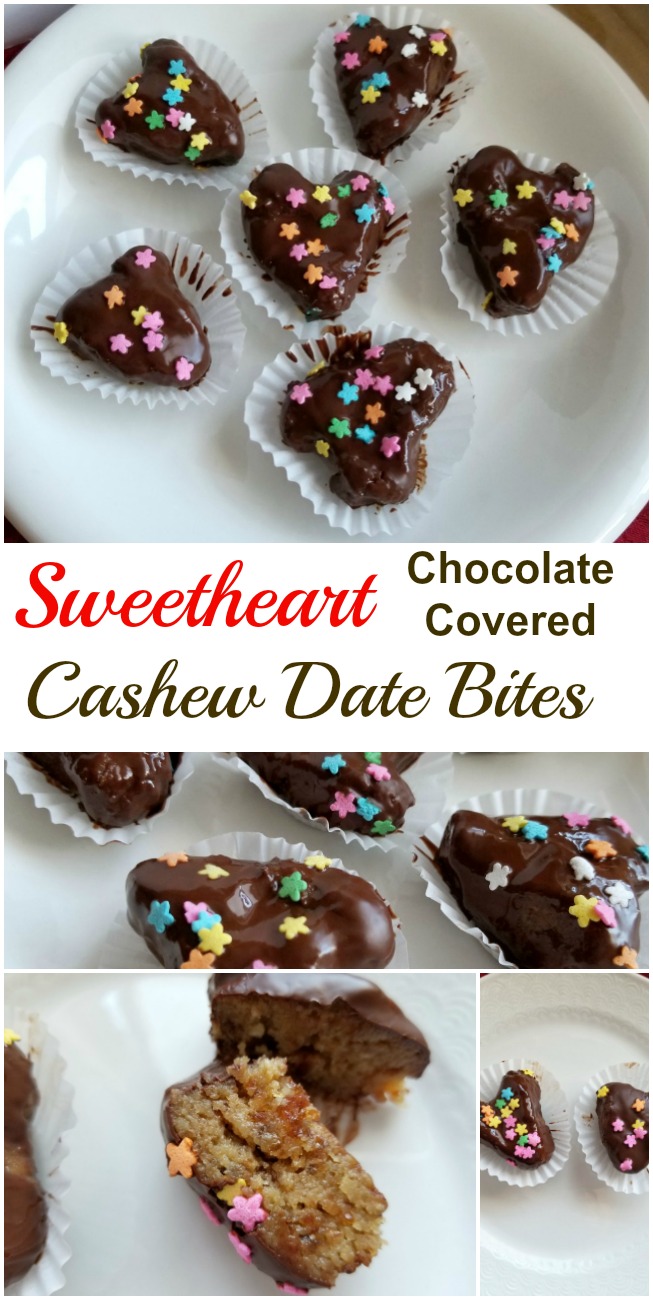 I used Nuzest Vanilla Clean Lean Protein, which is my favorite plant-based protein powder(affiliate link, plus you can save 15% with the code COACHDEBBIERUNS). It is also gluten-free and has no added sugar or artificial sweeteners or other ingredients.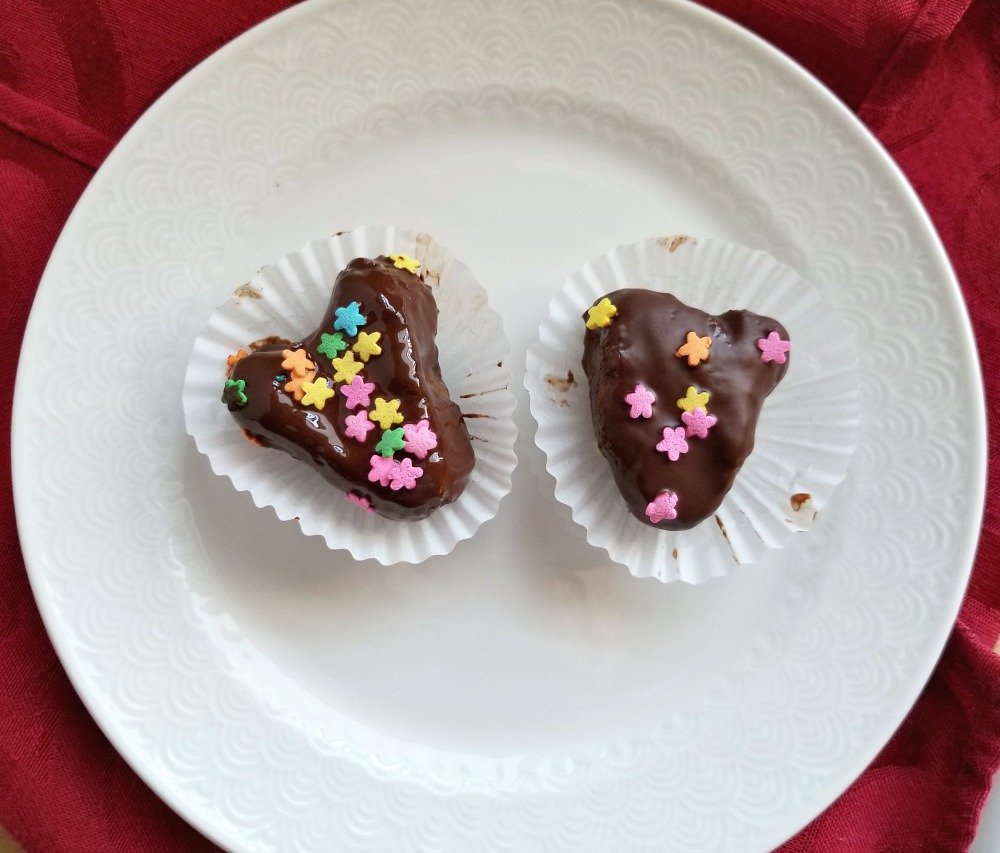 Sweetheart Chocolate Covered Cashew Date Bites
Vegan/Vegetarian
Recipe type:
Dessert, Sweet Treat, Healthy Treat
Cuisine:
Vegan/Vegetarian
Ingredients
1 cup Medjool Dates, pitted (about 12 dates)
1 cup raw cashews
1 scoop vanilla Nuzest Clean Lean Protein powder (about ⅛ of a cup)
1 tablespoon coconut oil
1 teaspoon vanilla extract
½ teaspoon sea salt
1 3.5 ounce bar dark chocolate, melted
Sprinkles (optional)
Instructions
Soak the raw cashews in water for about an hour. Drain off excess water.
In a food processor, process the cashews until they are grainy, but not too smooth.
Add the coconut oil, vanilla, protein powder, and salt to the food processor and process until the mixture is smooth.
Add the Medjool dates and process until smooth. The mixture will be thick. Spoon it into a bowl and refrigerate for about 15 minutes.
While the Medjool date mixture is cooling, melt the chocolate (see notes).
Roll the mixture into balls. They should make about 12.Shape into hearts if you like.
Dip each heart into the melted chocolate and coat thoroughly. Place on wax paper to let the chocolate cool a little.
Optional: Sprinkle with the Sprinkles!
Refrigerate for at least an hour until firmly set.
Notes
To melt the chocolate, I broke the bar into pieces, placed in a heatproof ramekin. I filled a small frying pan with about an inch of water and heated the chocolate over medium heat until it melted, stirring frequently.
Nutrition Information
Serving size:
1 bite
Calories:
132
Fat:
6
Saturated fat:
2
Unsaturated fat:
4
Trans fat:
0
Carbohydrates:
15
Sugar:
10
Sodium:
54 mg
Fiber:
1
Protein:
3.5
Cholesterol:
0
These Sweetheart Chocolate Covered Cashew Date Bites really are the perfect Valentine's Day treat. They are quick and easy to make, taste delicious and indulgent, yet fit right into your healthy lifestyle.
Do you have plans for Valentine's Day?
---
Weekly Linkups
My weekly linkups! Please stop by and check out all of the great recipes, workouts, and information that all these awesome bloggers share every week!
Meatless Monday with Sarah and Deborah
Meatless Monday with Annmarie  and Dixya
Tuesdays on the Run with Marcia, Erika, and Patty
Inspire Me Monday with Janice
Wild Workout Wednesday with Annmarie, Jen, and Nicole
The Plant-Based Potluck Party with Deborah
The Running Coaches' Corner with Rachel, Suz, Lora Marie, and Me!
Friday 5 2.0 with Rachel and Lacey and Meranda