While the official first day of summer may be June 20, we all know that Memorial weekend is the real, if unofficial, kick off to sunny days, warmer weather, and vacation time. For runners that means some changes to our cooler weather routine. It's time to start planning for summer running.
Fun fact: Did you know that in 2017 it will be summer for me here on the west coast the day before it will be summer for the east coast? Actually, it all starts at the same time, June 20 at 9:24 pm PT, which means June 21 at 12:24 pm ET.
I consider myself an expert on hot weather running. After all, living in the California desert for over 30 years, summer running for 25 years, not to mention coaching high school cross country through 12 summers, does seem to qualify me. With average summer high temps around 105 (and lows around 80) I've had to learn smart summer running habits.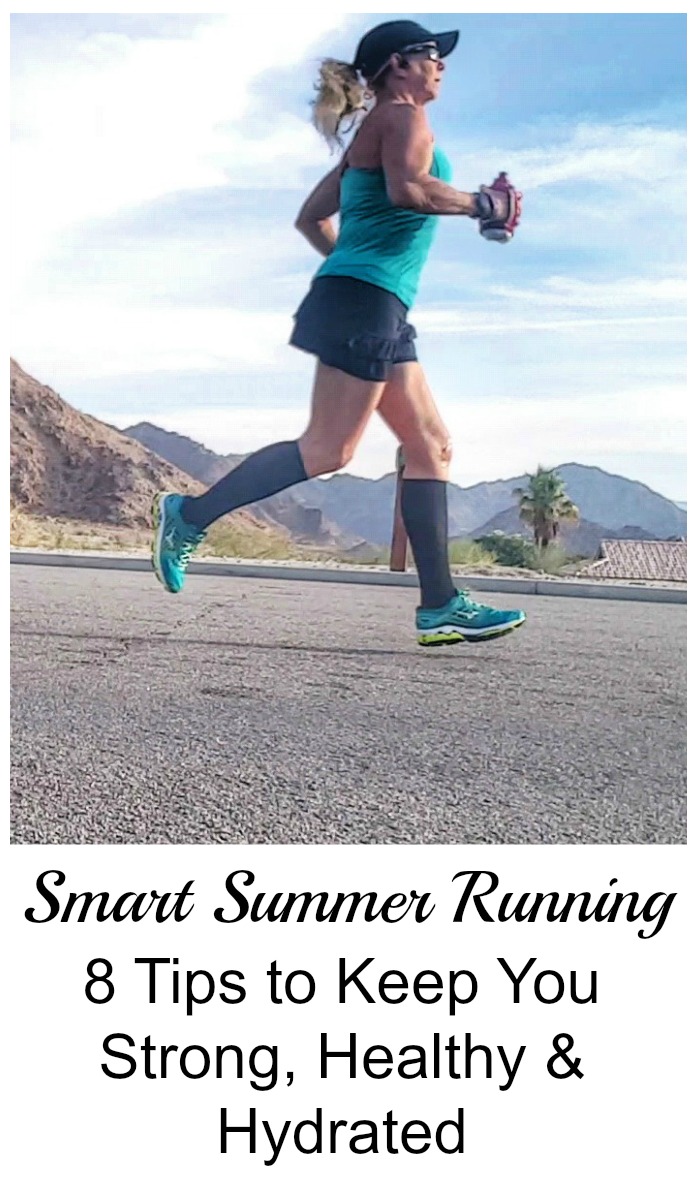 8 Smart Summer Running Tips
Running in the summer can be challenging, but here are a few tips that can help.
Run early or late. Running in the cooler part of the day is smart. The morning hours are usually the coolest, but if that doesn't work for you, waiting until early evening will provide some relief.
Drink before, during, and after your run to stay hydrated. Keep the water flowing! Using a sports drink can help balance your electrolytes to help avoid dehydration. I use Nuun (I'm an ambassador) for my electrolytes, plus they just added Nuun Performance, which has carbohydrates and electrolytes, so it's perfect for longer runs. 
Adapt. Allow yourself 10 days to two weeks to acclimatize to hot weather, gradually increasing your distance and intensity. 
Wear appropriate clothing. While running shirtless may sound cooler, in reality, the direct sunlight can overheat you even more, not to mention cause you to risk a sunburn. Choose a moisture wicking material that is lightweight and comfortable. Lighter colors will keep you cooler. Protect your face by wearing a lightweight hat or visor. 
Adjust your expectations. Running in the heat will take a toll on your training target times. Expect that, but know that as long as the effort is there you are still improving your fitness and your speed. 
Listen to your Body. There are dangers associated with running in the heat, from dehydration to heat exhaustion, to heat stroke. Learn the symptoms and pay attention to how you feel during your run.
Be Smart. On some hot, high humidity days, the smartest runners will move their run indoors or just take a rest day. Watch the heat index, which will let you know the "feels like" temperature, as well as the air quality index, particularly if you have asthma or other respiratory problems. 
Don't forget your sunscreen. I usually use Kinesys or Coola (<–affiliate links). I love that they are light and can be sprayed on. Having a sunburn can reduce your body's ability to rid itself of heat, so the consistent use of sunscreen serves multiple purposes.  
Believe me, I know the struggle of summer running. I have dealt with the frustration of slower times, of feeling like you're losing fitness because you can't train at your pre-summer level. All I can say is, relax. As long as you are putting in the effort you will see the difference when the weather finally cools down.
Tell me. Are you a heat lover or hater? How do you deal with summer running?
And Now It's Time for the Running Coaches' Corner!
Loading InLinkz ...
---
Weekly Linkups
My weekly linkups! Please stop by and check out all of the great recipes, workouts, and information that all these awesome bloggers share every week!
Meatless Monday with Sarah and Deborah
Meatless Monday with Annmarie  and Dixya
Tuesdays on the Run with Marcia, Erika, and Patty
Inspire Me Monday with Janice
Wild Workout Wednesday with Annmarie, Michelle, Jen, and Nicole
The Plant-Based Potluck Party with Deborah
The Running Coaches' Corner with Rachel, Suz, Lora Marie, and Me!
Giveaway Roundup and Try Out Thursdays with Smitha
The Blogger's Pit Stop with Kathleen, Janice, Julie, and Menaka
Friday 5 2.0 with Rachel and Lacey and Meranda