With the end of the year approaching quickly (can you believe it?), this is the time many people take stock of their accomplishments for the year and begin to think about what goals to set for next year. While this applies to many aspects of life: career, family, schooling, etc., this is a fitness and running blog, so that's what I'll be talking about today!
The new year is frequently the time people choose for starting a running program and getting fit. There is nothing wrong with that, something about the new year seems to mean a fresh start.
Sadly, though, many of those running programs don't even last until February. Too many times a new runner will get injured, find it too difficult, and just decide they "hate running."
It doesn't have to be that way! Really. Most times injuries in new runners are due to taking it too quickly, trying to do too much too soon. Not only does that mindset lead to injuries, it leads to that feeling of "this is just too hard!"
Here are some tips that will help you start a running program the right way. They will help keep you from injury and allow you to feel that running is really something that you can do. And who knows? Someday you might even say that you love running!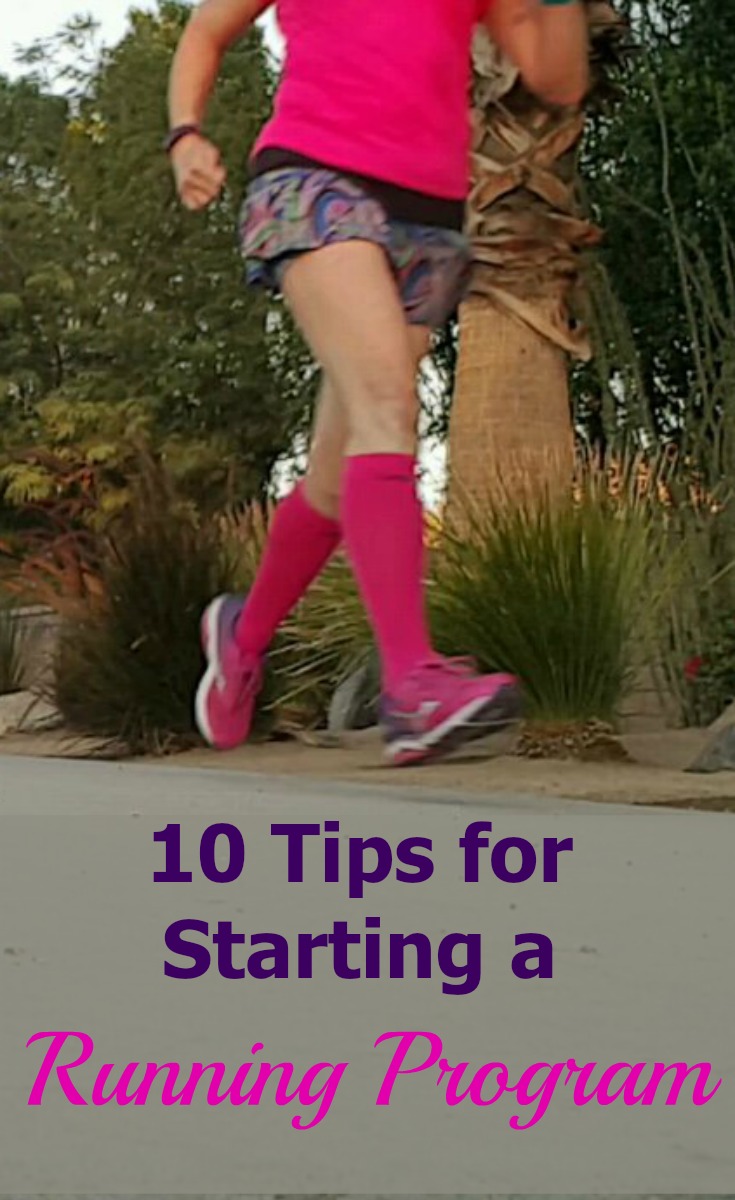 10 Tips for Starting a Running Program
1. Don't run
What? Did I just say not to run? Well, sort of. Here's what most new runners do: They decide they are going to run. They head out and run. Way too far! Like two or three miles that first day! I know that I did!
Then they find that they either can't finish, or they hurt themselves, or, like me, they are so sore that they can't even walk for a few days! Seriously, that happened to me.
Instead, start with a walk/run program. Mostly walking with a little running thrown in at first, then gradually more running and less walking. Before you know it, you'll be able to skip the walking! You can use a program like Couch to 5k or my 12 Week 5k Training Program. Whether or not you choose to run a 5k, both programs start you on your running journey slowly.
2. Invest in Good Shoes
Unlike many sports, running really doesn't take a lot of equipment, but investing in a good pair of running shoes is worth the money spent. Stop by your local running store where you can talk with an expert about what type of shoe will work for you.
3. Find a Tribe
Finding a tribe of other like-minded runners will help to keep you motivated and on track. Check your local area for running clubs. They welcome new runners and will be happy to help with advice (and war stories). You can probably even find a local chapter of national groups like Moms Run This Town (MRTT) or a Road Runner's Club of America (RRCA) running club.
Even without joining a club, it's not too hard to find running partners. You may already have a friend or two who runs (or wants to).  Your gym or workplace are other places to check.
4. Sign up for a race
Many runners never race or even have a desire to. On the other side of the coin, though, a lot of runners find that training for a race gives them the motivation to improve their running. Races are also great places to find your running tribe! Check your local running store's bulletin board (in-store or online) or racing websites like RacePlace to find a race near you.
5. Call yourself a runner
For some reason, new or slower runners don't feel that they have the right to call themselves runners. I say nonsense. And John Bingham, of the Penguin Chronicles, and longtime Runner's World writer agrees. His quote, "If you run, you are a runner."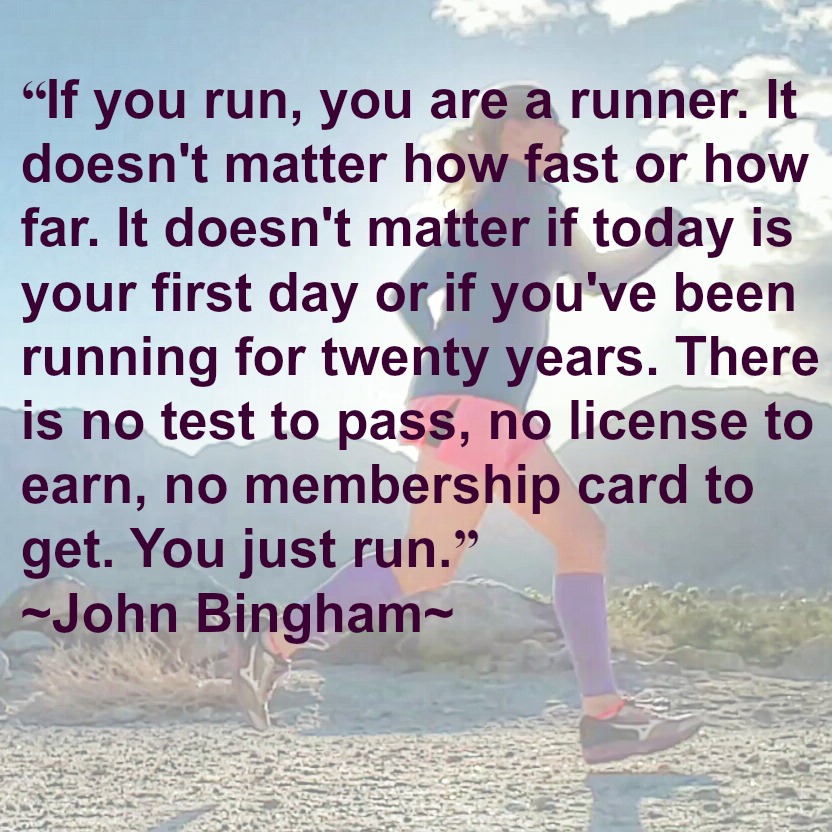 For a little extra motivation for starting a running program, check out the Penguin's short essay "Courage to Start."
6. Don't JUST run
While running is amazing, burns a lot of calories, will get you fit and help you feel great, adding some strength training will help you stay balanced, prevent injuries, and improve your muscle mass. Aim for about 30-60 minutes two or three days a week. You don't even need to go to the gym! Here are 8 Essential Strength Exercises for Runners, which are all body weight exercises that can be done anywhere, to help you get started.
7. Find some written inspiration
Since runners love to talk about running, there are thousands of magazines, books, and blogs about running. Here are a few of my favorites:
Magazines: Runner's World is the granddaddy of running magazines. You will find inspiration, training tips, and reviews of all types of running equipment.
Books: Almost too many to pick, but I'm currently reading my friend Jason's The Inner Runner by Jason R Karp PhD, and enjoying it. And because I love US Olympic marathoner Meb Keflezighi, next on my list is Meb for Mortals. (Those are both affiliate links. If you purchase using my link, I will make a few dollars. Thank you.) There are so many to choose from. Just ask a runner their favorite running book and you'll have a great list to start with.
Running Blogs: Well, happily, you made your way here, so I hope that you are enjoying Coach Debbie Runs. For other great running blogs, check out my Running Coaches' Corner co-hosts, and any of the great bloggers who share their posts in this linkup!
8. Treat yourself like an athlete
Yes, once you start your running program, you should think of yourself as an athlete. That means you should eat, drink, sleep, and train like an athlete. It doesn't mean that you need to be perfect, just that you should consider your food and beverages for their nutritional value, and take care of your body to achieve your best performance. Think of yourself as a fine sports car. Don't you deserve the best fuel and care?
9. If weight loss is one of your goals…
Starting a running program is a great way to lose some weight. There are a few things to remember, though. One is that you will burn only about 100 calories per mile (give or take, depending on your own weight and a couple other factors).
Another is that running will make you hungry. So you will have the urge to eat more when you run, especially at first. It would be very easy to innocently sabotage your weight loss goals.
So if you're starting a running program to lose some weight, you also need to make some changes to your nutrition. And starting that strength training program will help you lose the right kind of weight: body fat, not muscle.
10. Hire a coach
Hiring a coach is a great way to start a running program. Your coach will make sure that you start slowly, help you get the right equipment, help you choose running goals, and design a program that will allow you to advance at the pace that is appropriate for you.
You can find someone local to you using a resource like the RRCA, or use online coaching (usually a less expensive option). Many of the bloggers who contribute to the Running Coaches Corner, including myself and all my co-hosts, are certified running coaches.
Bonus Tip: Don't wait until the new year!
While new year's goals are great, why wait? Start your running program today (okay, or tomorrow), and by the new year, you will officially be a runner! Not only that, with the holidays coming up, it's a perfect time to stock your wish list with lots of running gear. Check out my Ultimate Gift Guide for Runners to give you some suggestions.
New runners! What do you want to know about running? Ask your question in the comments.
Old runners (you know what I mean)! What one tip or advice would you give to a new runner? What is your favorite running book or blog (links are okay!)?
And Now It's Time for the Running Coaches' Corner!
Loading InLinkz ...
---
Weekly Linkups
My weekly linkups! Please stop by and check out all of the great recipes, workouts, and information that all these awesome bloggers share every week!
Meatless Monday with Sarah and Deborah
Meatless Monday with Annmarie  and Rachel
Inspire Me Monday with Janice
Anything Goes with Marilyn
Wild Workout Wednesday with Annmarie, Michelle, Jen, and Nicole
The Plant Based Potluck Party with Deborah
The Running Coaches' Corner with Rachel, Suz, Lora Marie, and Me!
Giveaway Roundup and Try Out Thursdays with Smitha
The Blogger's Pit Stop with Kathleen, Janice, Julie and Me!
Living a Life of Fitness, Health and Happiness with Jill
Friday Favorites with Heather