I have written a lot of posts about blogging, including my Beginner Blogging series, which includes tips for setting goals for your blog, finding more readers, and making money blogging. I have not, however, written a step-by-step procedural for how to actually start a blog. Until now.
Welcome to part two of How to Start a Blog. This week you will learn how to start a blog using WordPress.com, another popular and free blogging choice. In case you missed part one, I showed you how to start a blog on Blogger. Next week, in week three, I will tell you out to start a self-hosted blog using WordPress.org.
How to Start a Blog, Part 2: WordPress.com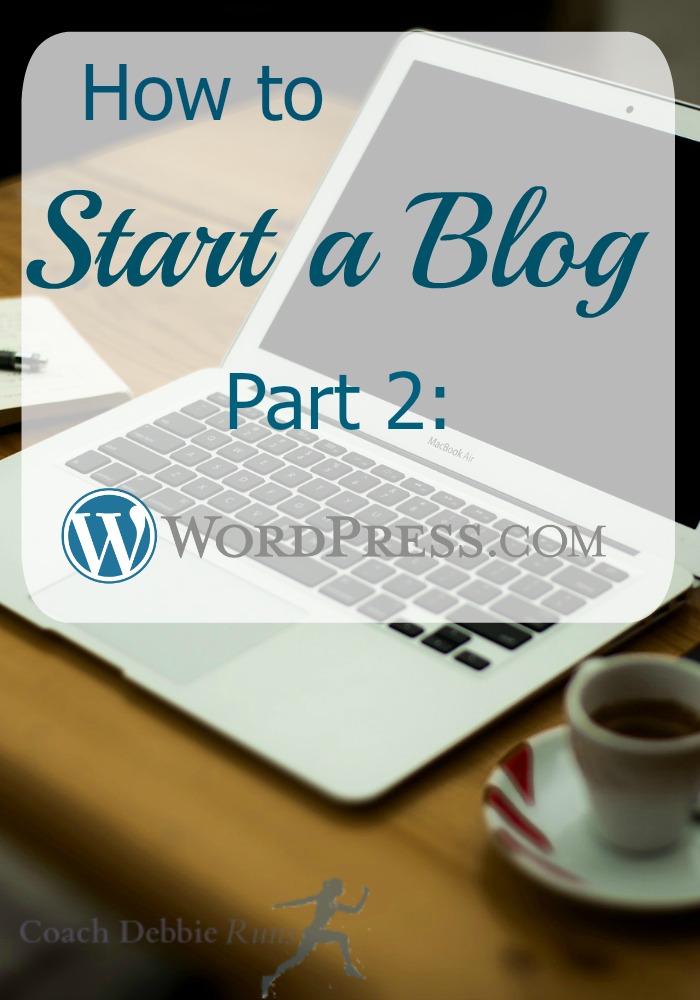 WordPress.com is a free, easy to understand blogging platform. Though it is not quite as user-friendly as Blogger, it is still simple to get started, and I recommend using it if you plan, at some point, to self-host your blog. It has a professional look, but the free version has a lot of restrictions regarding advertising and other money-making ventures. It also has fewer options for plug-ins and individuality than Blogger, but it is a great stepping stone to self-hosting with WordPress.org, which gives you all the freedom you could ever want.
So let's get started! Begin by navigating to WordPress.com. Then click the button to Create Website. (To see larger pictures click on the images.)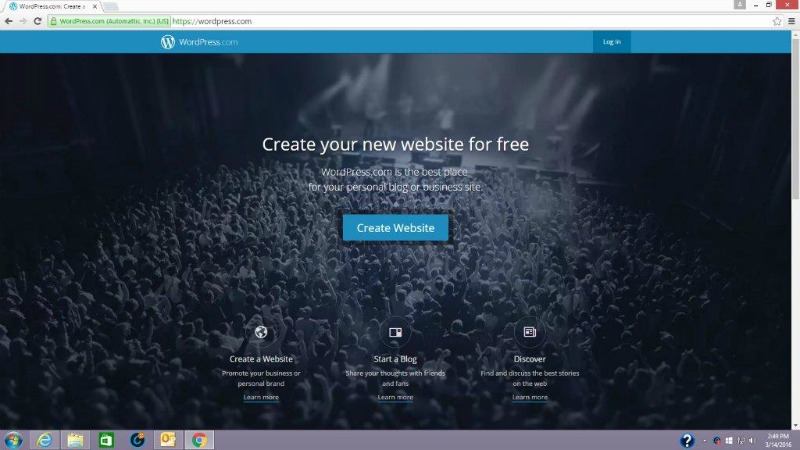 On the next screen select the type of website.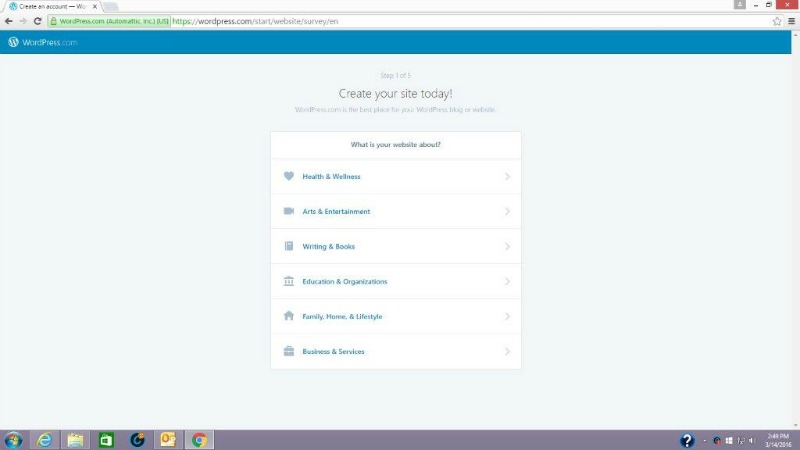 Narrowing it down, click your website topic.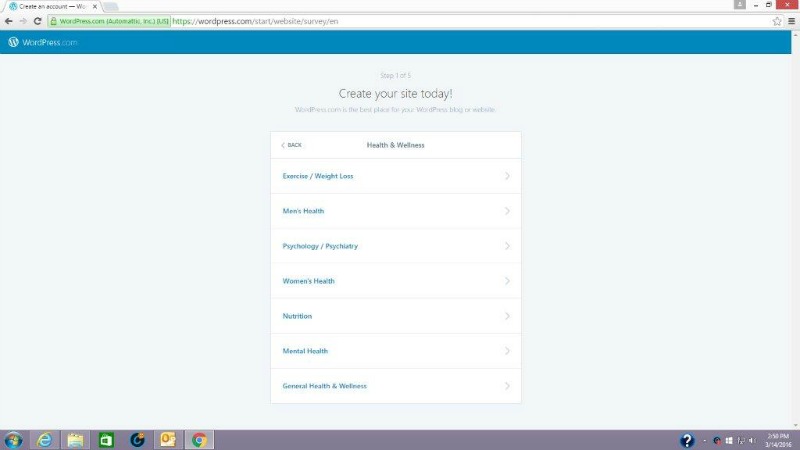 Select a theme. Don't worry, you can change it later if you want to. WordPress has many themes, some free, some premium, to choose from.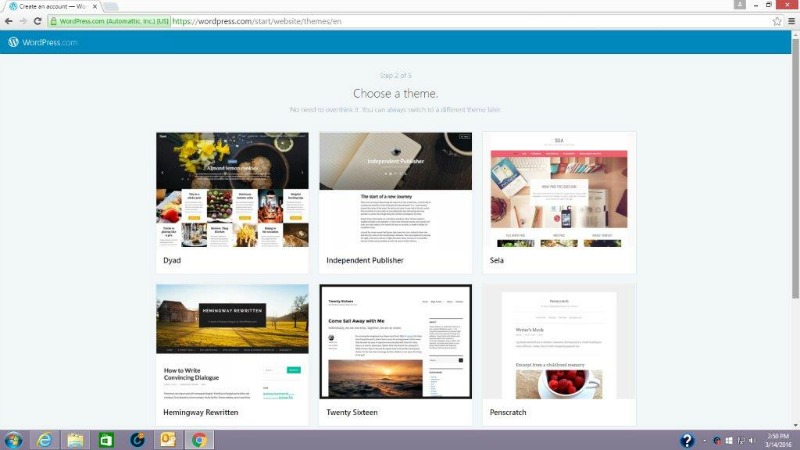 Now you can select your domain. For a totally free version, enter yourwebsitename.wordpress.com. On this screen you will also have the opportunity to purchase your own domain name, or, if you have one already, the opportunity to map it for WordPress.com for $13/year (which basically means your free wordpress domain name will be redirected to your own domain name). I usually recommend that you use your own domain name. This can also be done later if you choose.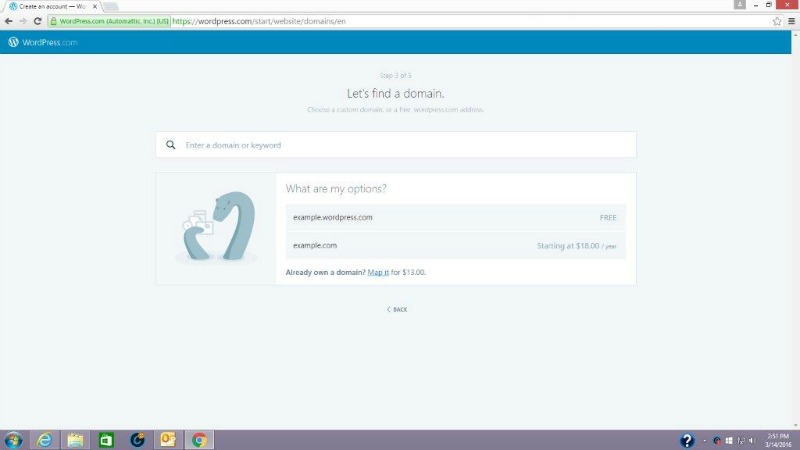 Here is my free choice. I decided on debbielwoodruff.wordpress.com. It was available!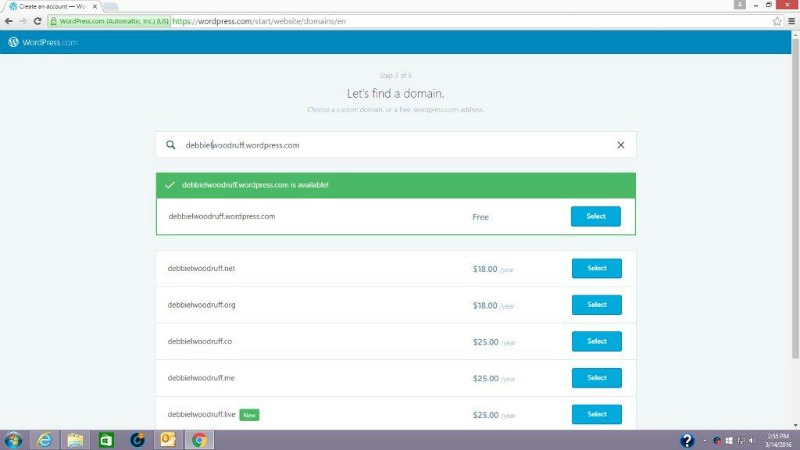 The free plan is adequate for most people who are just getting started. You can always upgrade (or go completely self-hosted) later.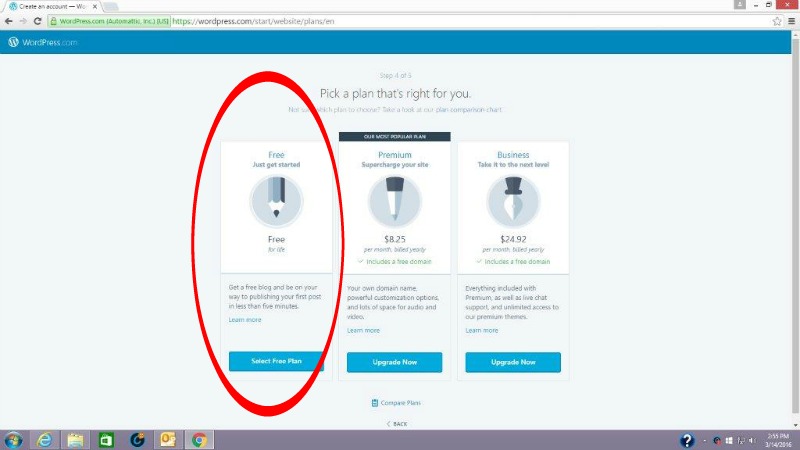 Here is where you create your account. Your domain name is the default username, but you can change it if you'd like.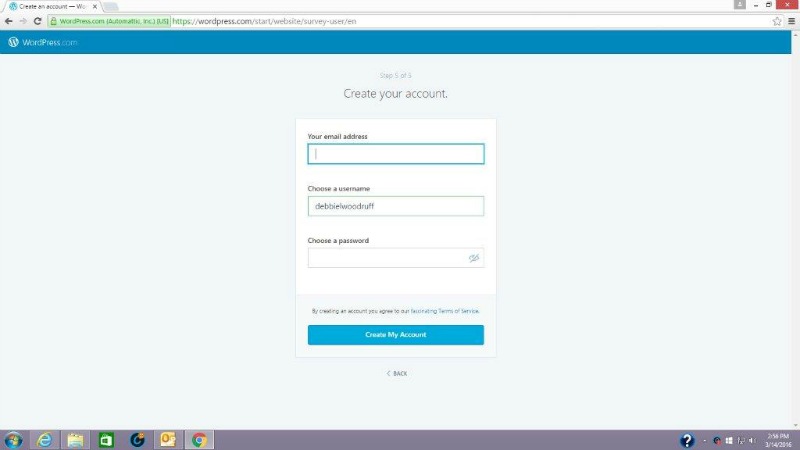 Now you will come to your dashboard. From here you can do most of the work to create your blog. For this post we will discuss the items with the arrows: Blog Posts, Pages, Themes, and Settings. That will get you well on your way with your new blog. First up, click Blog Post.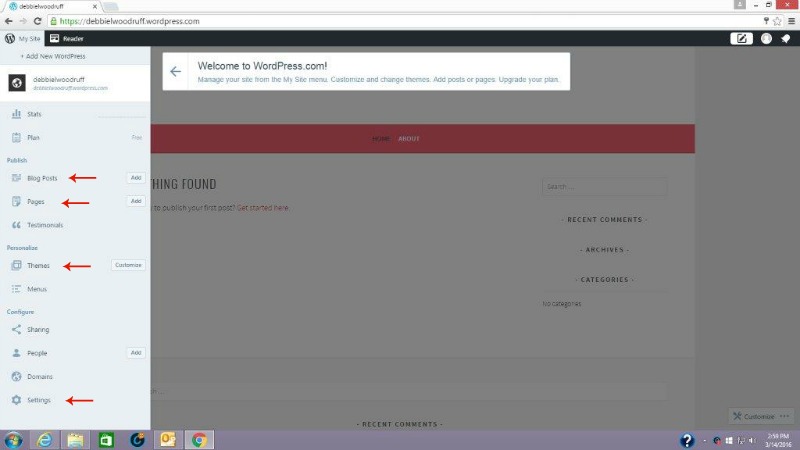 In this screen, you have your standard word processing options. After you've entered your title, click down to the compose window and start writing. It works like a basic text editor, where you have options for font size and color, paragraph justification, list options, and spell checking. To add pictures or videos, click the photo icon (where I highlighted "add media." To add a link to another webpage, click the paperclip icon. And if you prefer to work in HTML, just click that tab.
On the left sidebar you will see other options for your blog post. You can create or select categories or tags, pick your featured image (always a good idea, since that is usually the one that shows up when you share on social media), set up automated social sharing for your blog post, set your format, and create a "slug" and excerpt, which will show up on search engines. Not covered here, but these things can help with your search engine optimization (SEO) and help searchers find your blog post.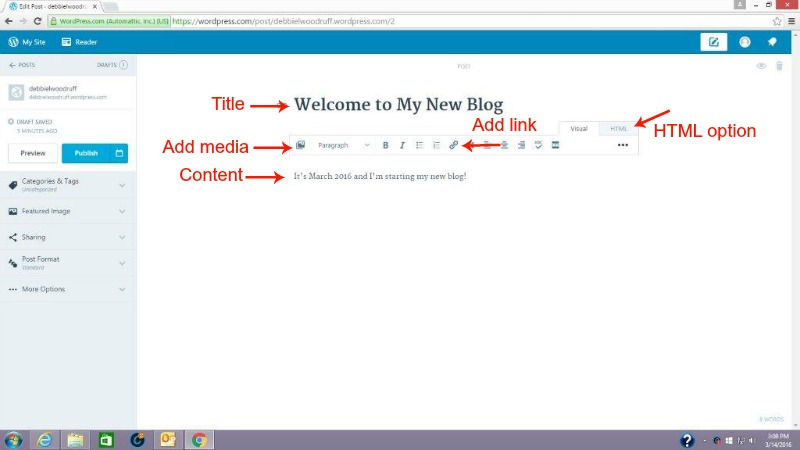 Select a photo location option.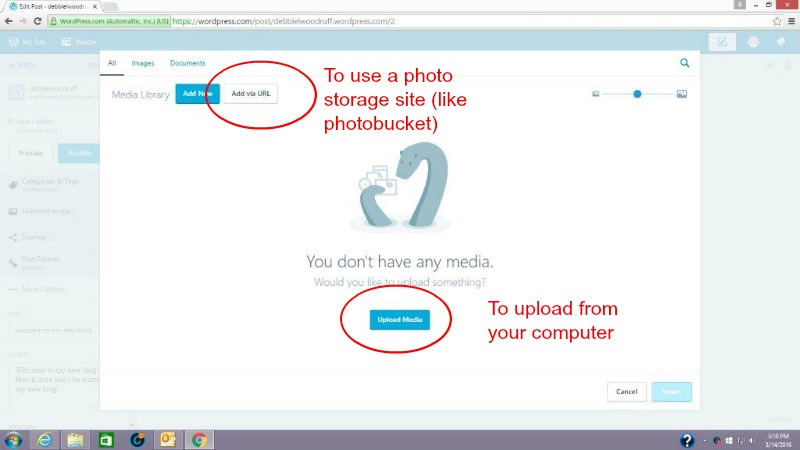 After your pictures are uploaded they will appear on this screen. Click Insert to add the photo to your blog post.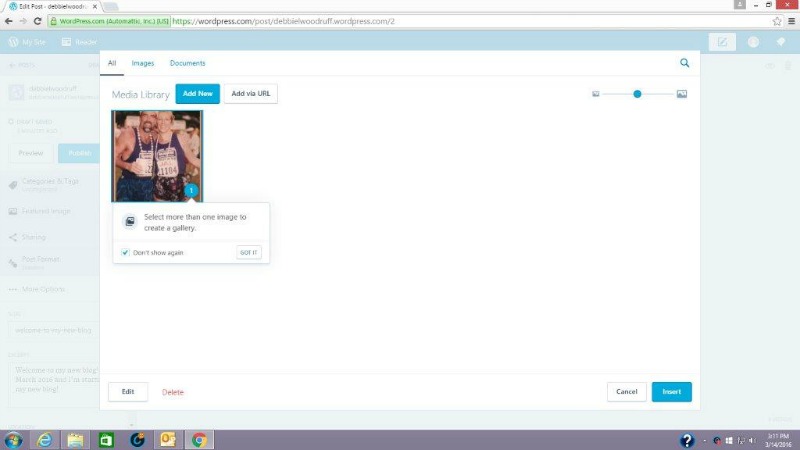 To resize the photo, change justification or add a caption, first click on the photo. You will see the toolbar that is highlighted here.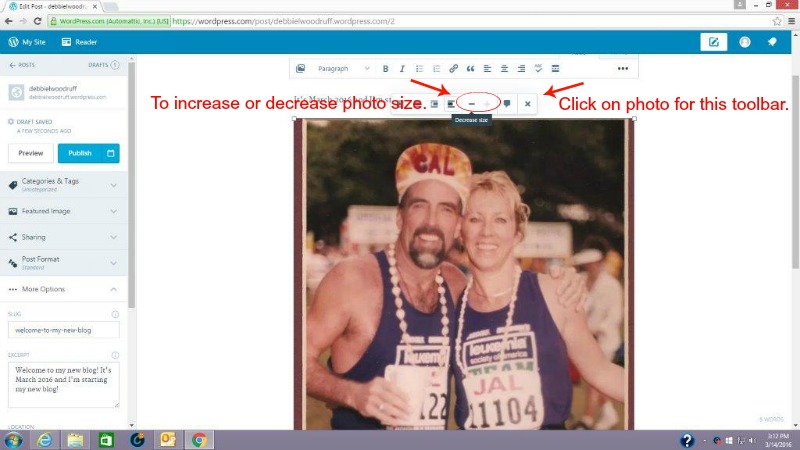 Now that I changed the size of the photo, I want to add a subtitle for my blog post. Simply highlight the words you want to reformat, click on the arrow next to the word Paragraph. The drop-down box will give you several choices. I selected Header 2.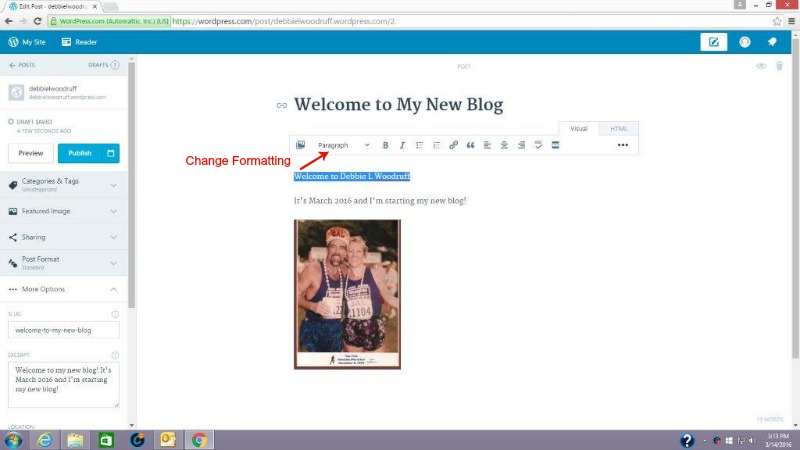 Now I want to create a link to my other blog, Coach Debbie Runs. Highlight the text then click the little paperclip button.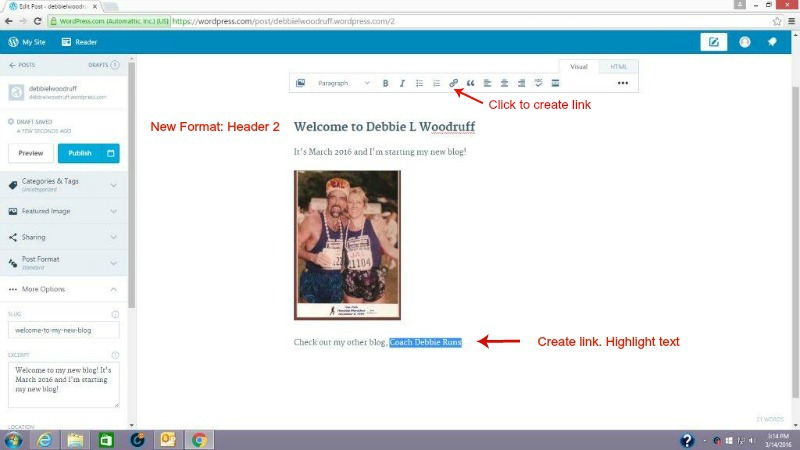 Enter the complete website URL into the popup box, then click Add Link.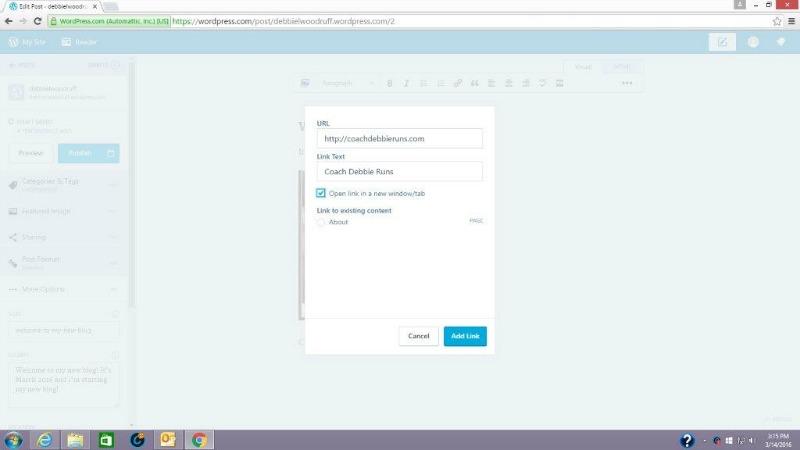 To see what your blog post will look like, click on the preview button on the left toolbar. Then, when you are satisfied, click "Publish." And just like that, you are a blogger.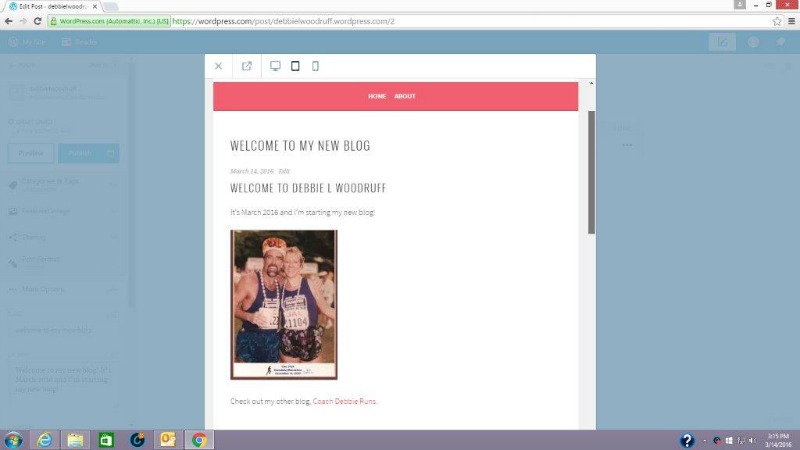 Now on to Pages. Pages are static pages on your blog, where, depending on your topic, you can highlight certain things. For example, on my own blog, my pages include Recipes, Blogging Tips, Workouts and a few others.
First head back to your dashboard by clicking My Site in the top left corner of the page. Make sure to save your draft if you're still working on it. Then scroll down to Pages and click Add.
Your Page screen will look much like your Post screen. Here you can make the permanent pages that can tell people about yourself and your blog. I'd suggest making an "About" page first. Here are some tips.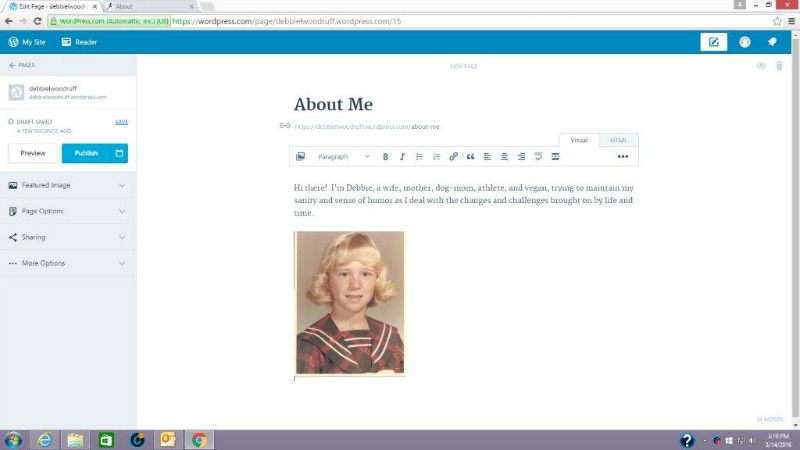 You can add photos, videos and links just like you can on your "Posts" page. When you're happy with your page, you can save, preview, and publish when you're ready.
Now head back to the Dashboard. Next up, Themes, we will take a look at how you can choose new themes, or make modifications to your current them. Click the Themes button and you will see the hundreds of options available. As I mentioned, some are free, but there also premium themes available for purchase.
If you just want to customize your current theme, click Customize either at the top of the page or in the left toolbar.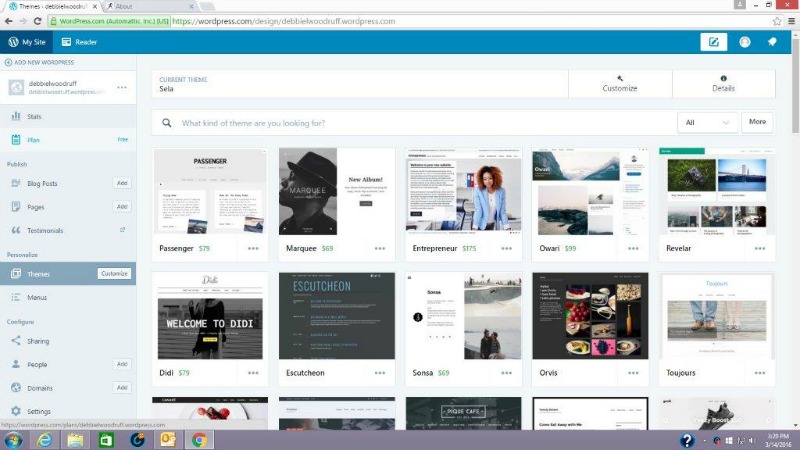 Here you can add a header, change colors or fonts, add widgets, and more. Play around and decide what you like. When you're satisfied, save your changes. You can always go back and make new changes, add widgets, add or remove photos, or completely change themes. It's your blog, make it yours.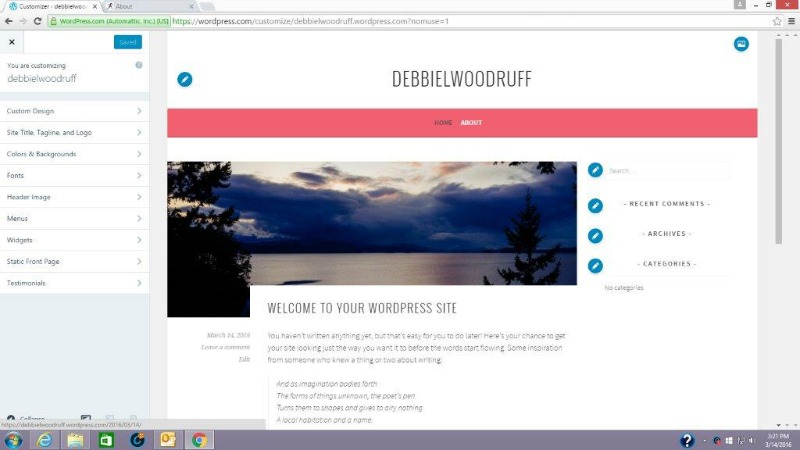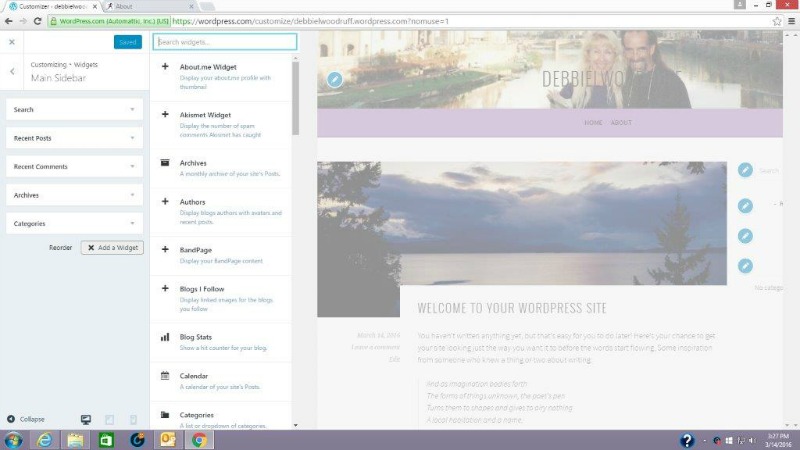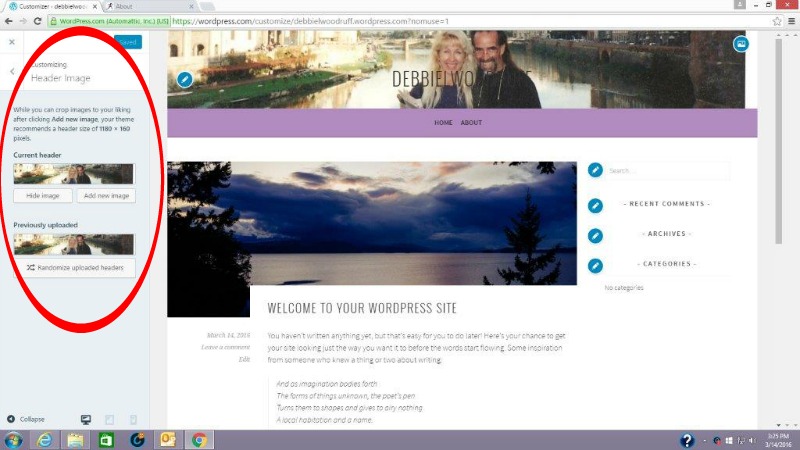 Finally, head back to your dashboard and select Settings. Here you will find (see the tabs at the top) General, Writing, and Discussion (comments) settings, as well as Analytics and Import, which we will not be addressing today.
In General settings, you can change your site title or add a tagline. Your title doesn't have to match your website address, but remember it can be confusing for people if it is very different. But if you have a title that you really, really like, but the domain was unavailable, at least you can title your blog to your heart's desire.
You can also select your language, allow for indexing or non-indexing (which is related to SEO), or even make your blog completely private (invitation only).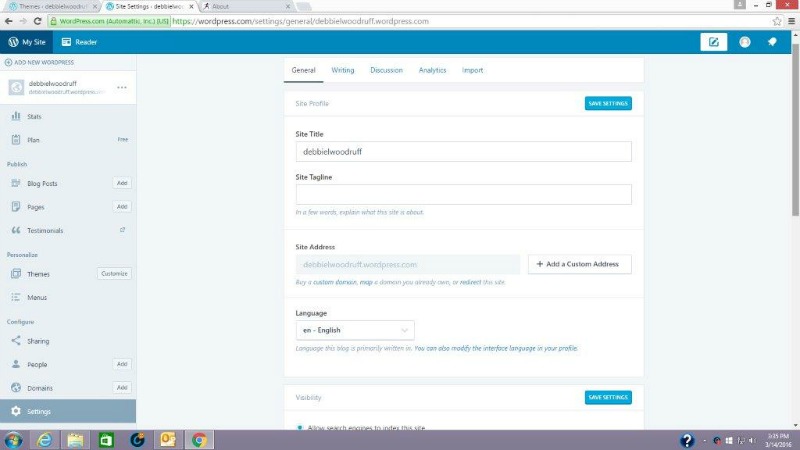 In the Writing section, you can choose your default post catagory and default post format. You can play around later if you like, but for now, keep that set at standard.
In Discussion settings, you can select your comment preferences, including when you are notified about new comments, whether you want pingbacks when someone shares your post, whether and when you want to hold comments for moderation, or block a commenter altogether.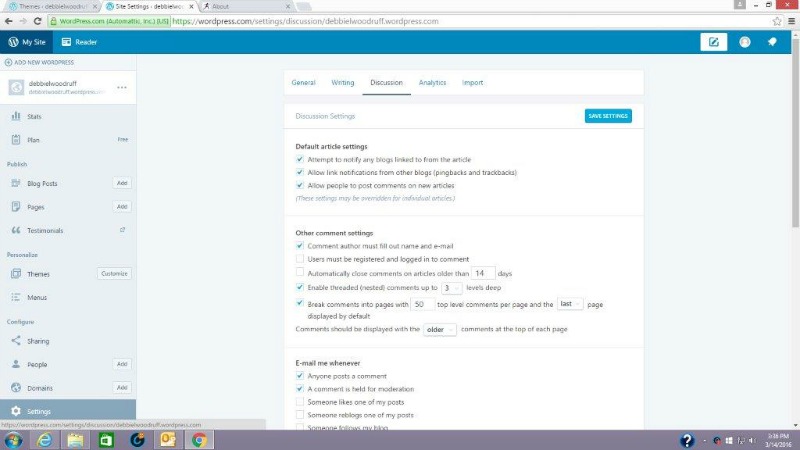 So, there you are. You've created your free WordPress blog! Take a little time to complete your WordPress profile (in the upper righthand corner, click the little silhouette) where you can add a photo and a little information about yourself.
Enjoy your new blog! Remember to check my Beginner Blogger Series for tips on where to go next! Next week we'll discuss how to start a self-hosted blog with WordPress.org.
Questions? Please ask them in the comments. I'd love it if you'd share your new blog in the comments too.
---
My weekly linkups! Please stop by and check out all of the great recipes, workouts, and information that all these awesome bloggers share every week!
Sunday Blog Hop with Jenn
Meatless Monday with Sarah and Deborah
Meatless Monday with Annmarie 
Inspire Me Monday with Janice
Anything Goes with Marilyn
Bonnie, the Pin Junkie
Tip Tuesday with Debbie in Shape
Wild Workout Wednesday with Annmarie, Michelle, Sarah, and Angelena Marie
Wednesday Wisdom with Nanna's Wisdom
The Running Coaches' Corner with Rachel, Suz, Lora Marie, and Me!
The Blogger's Pit Stop with Kathleen
Let's Get Real with Karen.
Friday Fitness with Jill
Fitness Friday with Miranda