I'm so happy to share this updated Spicy Vegan Chicken, Lime and White Bean Soup with you! It's been a long time favorite in my family since it is quick and easy to prepare, and it is always delicious. Plus it is easy to substitute different vegetables, types of beans, or even vegan proteins, and still have a great, tasty, plant-based meal.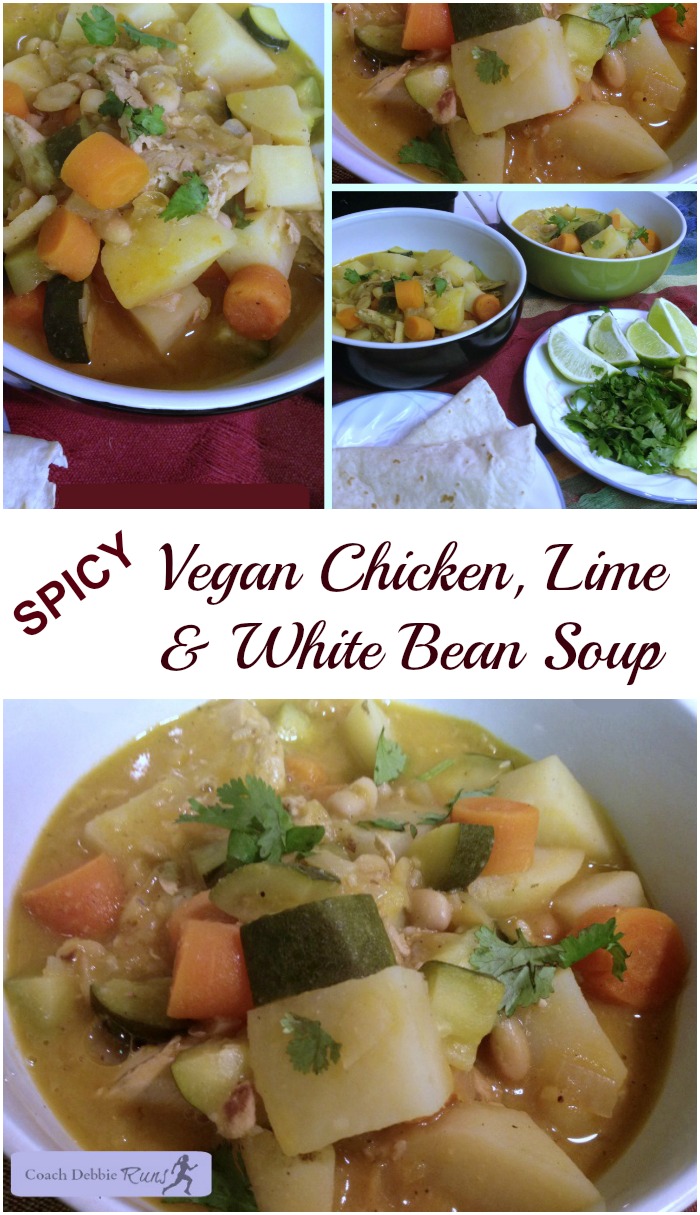 Weekend in Malibu
Alan and I spent a weekend in Malibu, and I barely have a picture to show for it. We were working the Malibu Half Marathon. This was Alan's sixth or seventh year of announcing the race, and my first year of actually working it. I usually hang out (or, like last year, get a massage) while Alan works, but I was asked to help out this year, and I was happy to oblige.
My job started early, at about 4:15 in the morning, at a parking lot about 15 miles east of Malibu. That was the official parking for the race, and all runners were shuttled from there to the start line. I worked with several other people collecting the $5 parking fee, and trying to keep the flow of traffic as smooth as possible. We mostly succeeded.
Once the runners were all parked and loaded on the buses, I took a bus myself to the finish line and helped out with selling the race merchandise. We stayed busy and the time flew by. But I didn't get any pictures. So enjoy this photo from a few years ago.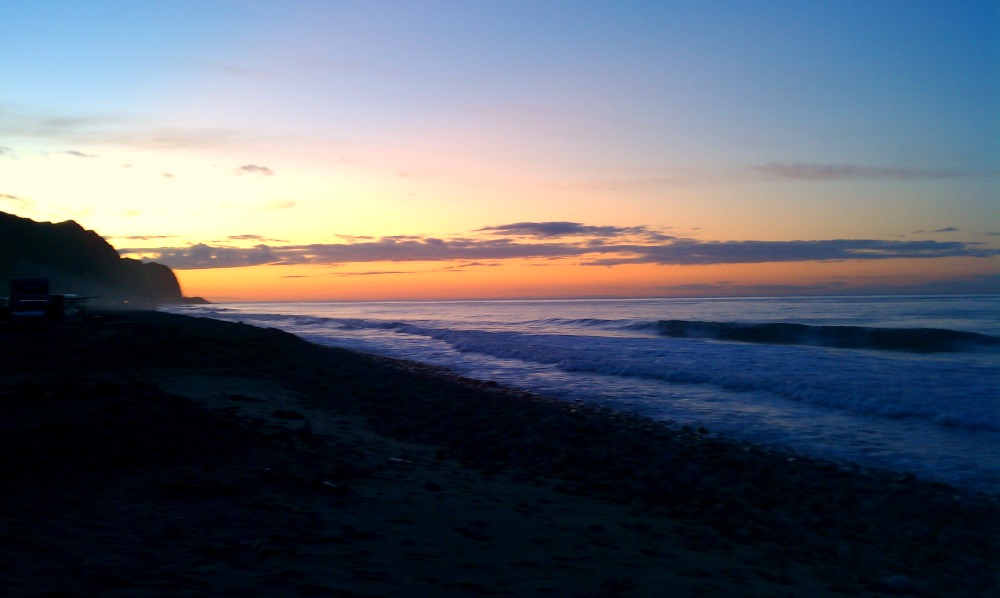 We always eat well when we're in Malibu. Or not Malibu exactly, because we usually stay at the Sheraton in Agoura Hills when we're there. That means dinner at one of our favorites, Hugos, and lunch at the Veggie Grill, another favorite. This time it was made even better because I had a birthday coupon and one of our entrees was free!  I did manage a photo of our food.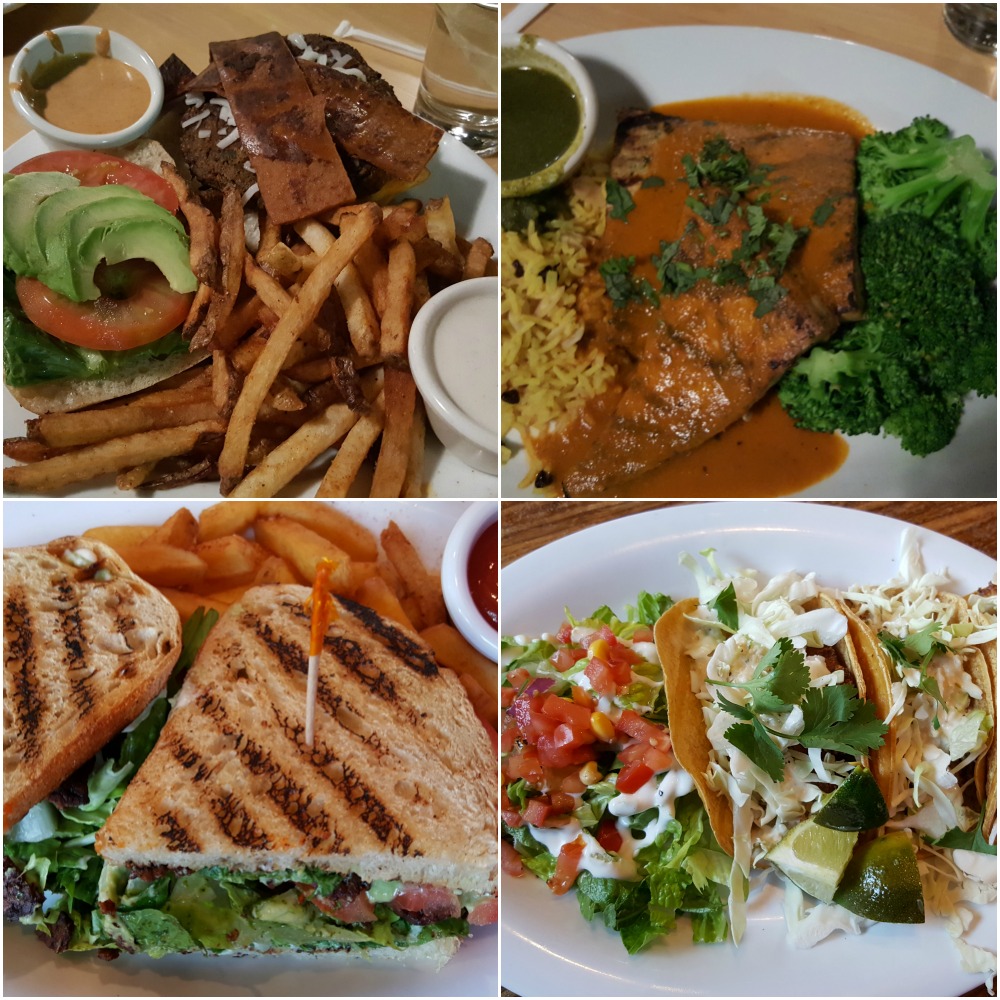 The top row is from Hugo's. I had the veggie burger with vegan bacon, cashew cheese, and avocado, and Alan had the Tikka Masala. Hugo's will make almost any dish vegan (or gluten-free, if that is your need). They are so versatile and the food is always good.
The bottom row is our lunch at the Veggie Grill. Alan had the Bacon, Lettuce, Tomato, and Avocado sandwich, and I had the Tres Fish Tacos. All vegan, of course!
Spicy Vegan Chicken Soup
While the weather outside is certainly not anywhere approaching cold, we are finally getting the desert version of fall weather. It was only about 88 degrees today, with lows in the 60s. Yes, I know. Brrrrrr.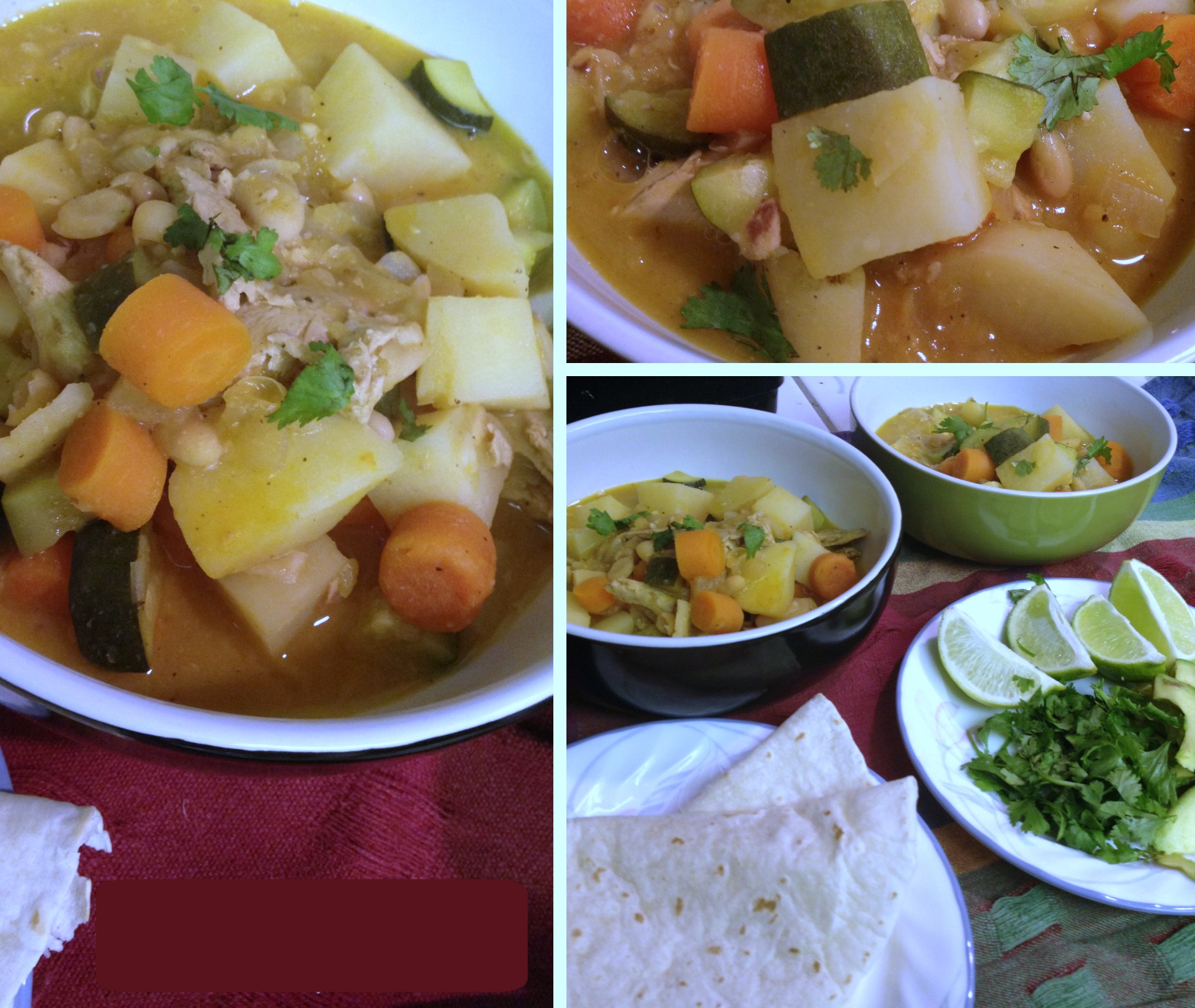 I've been in a soup mood lately. I shared my Creamy Butternut Squash Soup a few weeks ago, and my vegan Soyrizo and Chicken soup has become one of my favorites. This one, though, dates back long before I was vegetarian. It was easy and delicious to veganize, though, so it has stayed part of my repertoire for years.

Vegan Mexican "Chicken" Soup
vegan
Ingredients
2 tablespoons olive oil
½ cup onions chopped
1 cup carrots, sliced
2 potatoes, cut into cubes
1 cup vegan chicken (or your favorite plant based protein)
1 cup zucchini, chopped
chili peppers, chopped, to taste
2 cups vegetable broth
¼ cup lime juice
2 cups water
1 can white beans, rinsed and drained
Salt and pepper to taste
Optional:
Tortillas
Avocado
Cilantro
Lime slices
Instructions
Preheat the olive oil over medium high heat
Add the onions and cook until soft (about 5 minutes)
Add the carrots, potatoes, and vegan chicken
Cook and stir for about 5-8 minutes
Add the zucchini and chili peppers, then add the broth, lime juice and water.
Bring to a low boil.
Add the beans then reduce the heat and simmer until the potatoes and carrots are tender.
Serve with tortillas if desired
Other condiments: Cilantro, Avocado, Lime, Salsa
Honestly, this soup will make you happy that the weather has finally cooled off!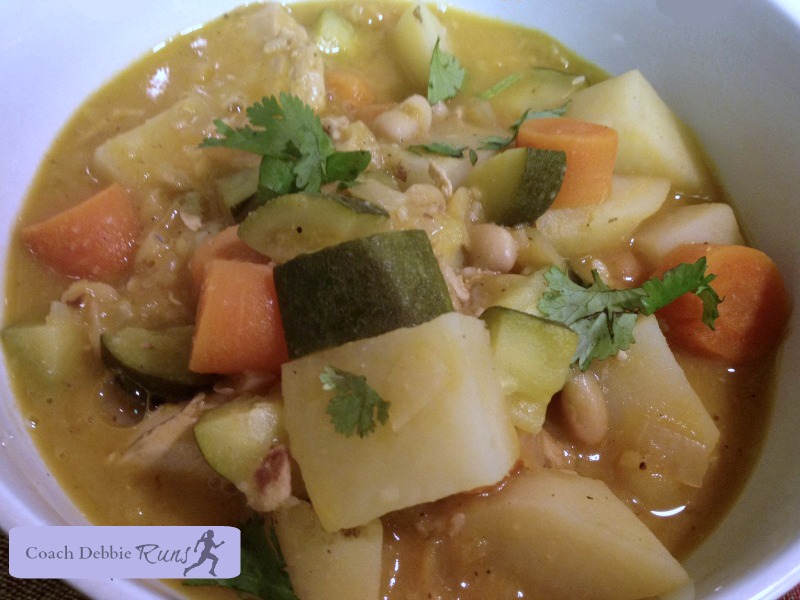 How was your weekend? Any travel or adventures? Congratulations to anyone who competed, including those who ran the New York Marathon on Sunday!
---
Weekly Linkups
My weekly linkups! Please stop by and check out all of the great recipes, workouts, and information that all these awesome bloggers share every week!
Meatless Monday with Sarah and Deborah
Meatless Monday with Annmarie  and Rachel
Inspire Me Monday with Janice
Anything Goes with Marilyn
Wild Workout Wednesday with Annmarie, Michelle, Jen, and Nicole
The Plant Based Potluck Party with Deborah
The Running Coaches' Corner with Rachel, Suz, Lora Marie, and Me!
Giveaway Roundup and Try Out Thursdays with Smitha
The Blogger's Pit Stop with Kathleen, Janice, Julie and Me!
Living a Life of Fitness, Health and Happiness with Jill
Friday Favorites with Heather