I'm so lucky that I grew up in California! That's true for many reasons, but one of the most delicious is that avocados grow here. Year round. They are plentiful, (relatively) inexpensive, and almost always available (even if they sometimes come from Mexico these days!).  In fact, I've made variations on these Spicy Vegan Avocado Boats for years!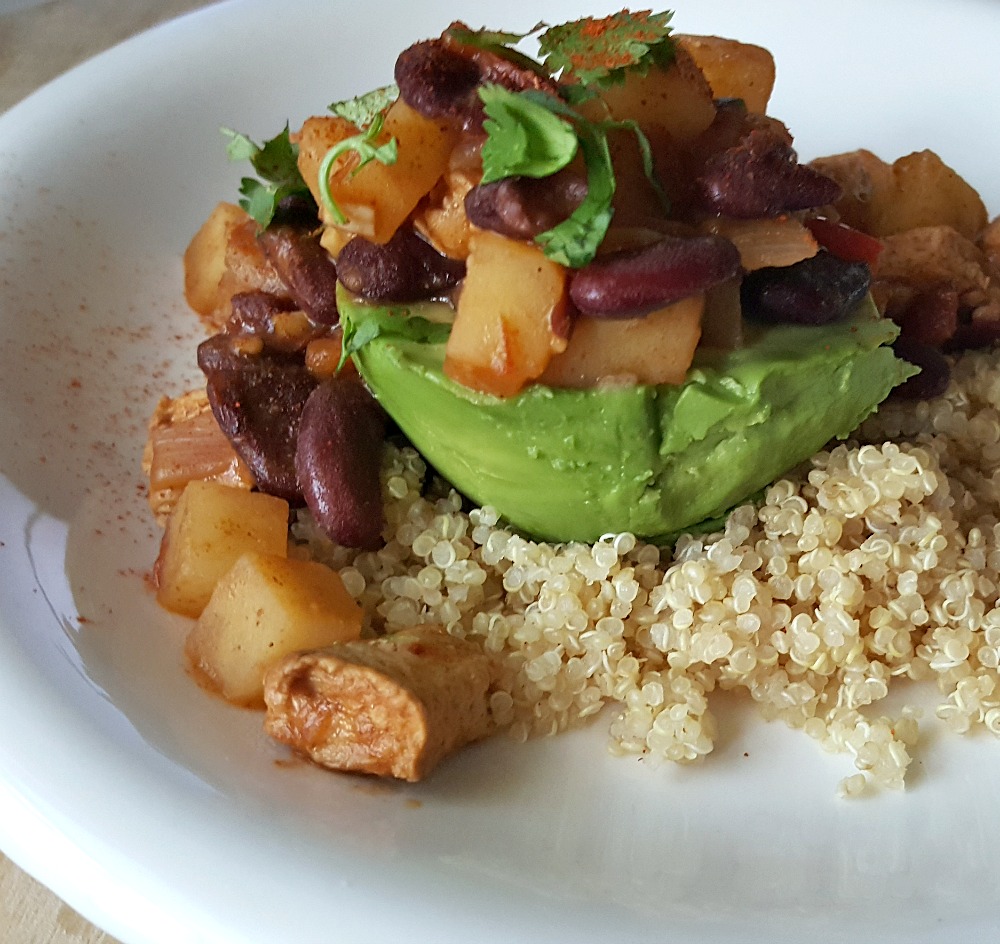 One of my favorite cookbooks is an old paperback I picked up at the grocery store about 30 years ago for a quarter. (It is still available on Amazon for $9.95 or less! <–affiliate link) It's called The Avocado Bravo and it has some amazing recipes, all of which have avocados as the star ingredient. I doubt that any of them are vegan, but my current plant-based curry recipe was based on the memory of one of the Half Shell Entrées, as they are called in the book (minus the butter, shrimp or chicken, cream, and chicken bouillion, of course!).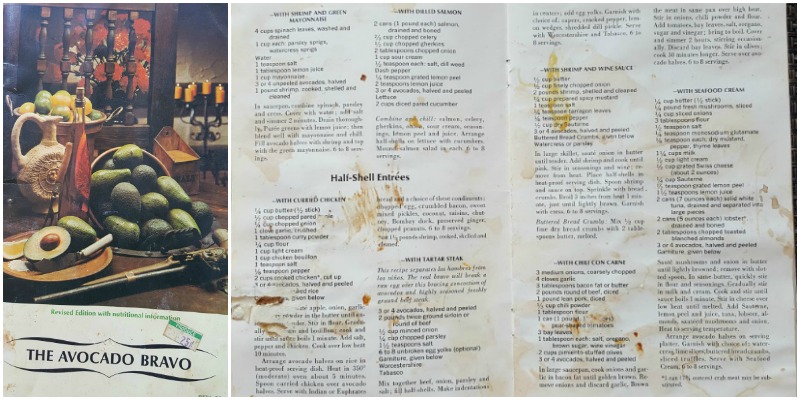 As you can see, it has been well-loved, especially the half-shell page (or avocado boats as we call them now!). The Avocado Bravo was published by the California Avocado Commission, which still exists today (and even has a website, something that was not possible in 1978).
The book and the website also give you a little avocado history, as well as a breakdown of its benefits, which are many. Avocados are one of the most nutrient-dense foods available. Yes, they are high in fat, but it is monounsaturated, the "good fat." They are high in potassium, Vitamins A, C, E, Niacin, Folic Acid, and Magnesium. That's a whole lot of nutrition in a small package!
Spicy Vegan Avocado Boats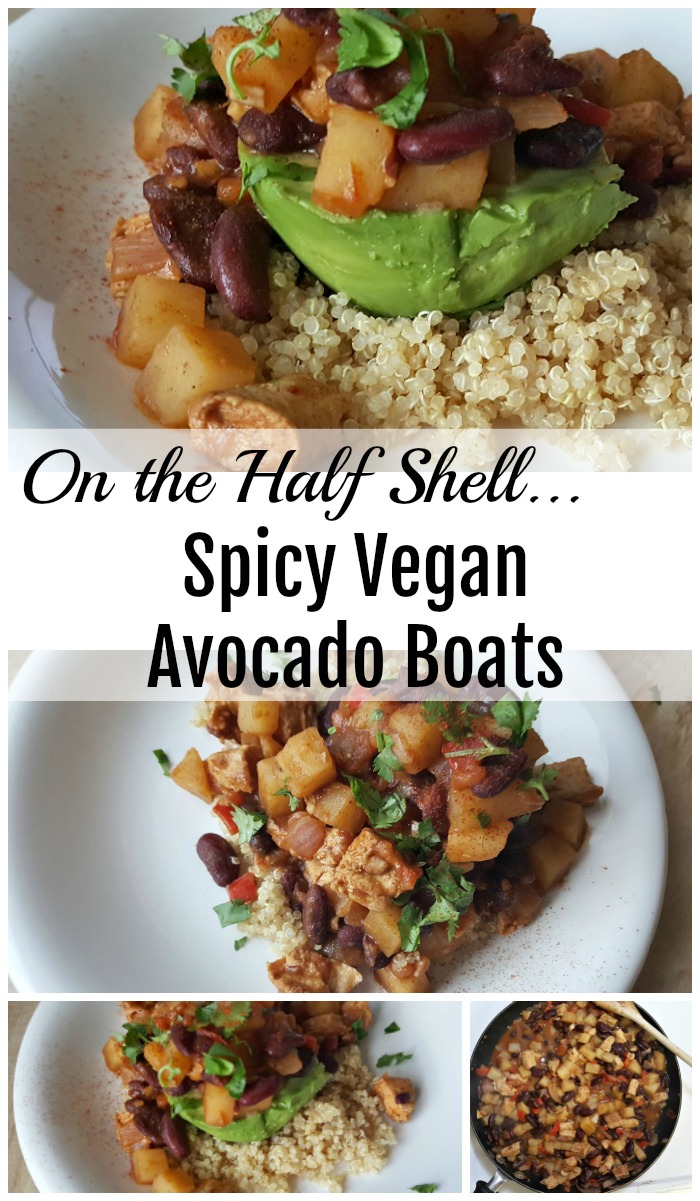 This recipe, as many of mine are, was created spur-of-the-moment, based on what I had in the fridge. It turned out so good I knew I needed to write it down! I used Beyond Meat Grilled Chicken Strips, which are gluten-free in addition to being vegan. Feel free to use your favorite vegan protein, or even to skip it altogether, since the kidney beans supply plenty. Mushrooms would be a great substitution, too.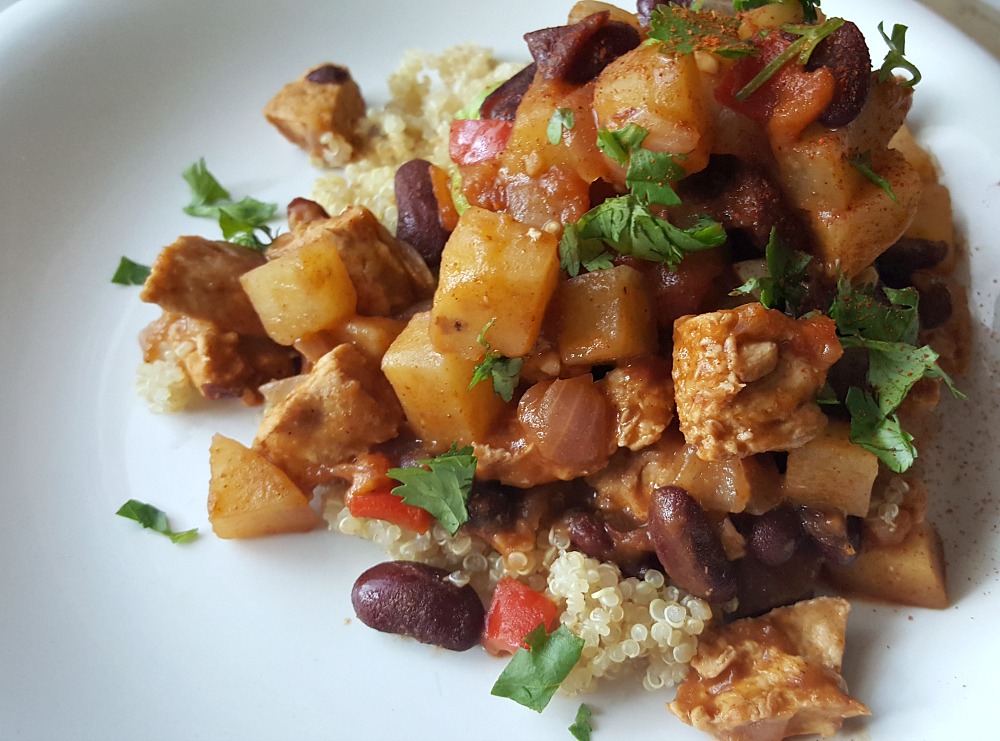 Spicy Vegan Avocado Boats with Beans, Potatoes, and Quinoa
Vegan/Vegetarian
Ingredients
1 cup Vegan Protein of choice (I used Beyond Meat Gluten-Free Chicken Strips)
2 tablespoons olive oil
1 medium onion, chopped
3 cloves garlic, minced
½ cup red bell pepper, chopped
1 potato, peeled and chopped
1 can kidney beans, drained and rinsed
2 tomatoes, chopped
1 teaspoon chili powder
1 teaspoon cayenne pepper
½ teaspoon cumin
1 teaspoon salt
½ teaspoon pepper
¾ cup vegetable broth
Tabasco or Sriracha to taste
2 avocados, halved and scooped out
2 cups quinoa, prepared.
1-2 tablespoons cilantro, chopped, for garnish
Instructions
In a saucepan, preheat one tablespoon olive oil over medium heat.
Brown your vegan protein for a few minutes, then remove to a plate and set aside.
Heat the other tablespoon of oil.
Add onion, garlic, and red bell pepper, and cook until soft, about 5 minutes.
Add potatoes and cook and stir until lightly browned.
Return the vegan protein to the pan, then stir in the tomatoes and beans.
Stir in the chili powder, cayenne pepper, cumin, salt, and pepper.
Add the vegetable broth. Increase the heat to high and bring to a boil.
Reduce the heat to medium-low, add the Tabasco or Sriracha.
Simmer for about 10 minutes, stirring occasionally, until the liquid is reduced and the potatoes are tender.
Place a serving of quinoa on each plate with a half avocado (room temperature or slightly warm is best). Spoon the spicy mixture onto each avocado boat.
Garnish with a sprinkle of red pepper and cilantro.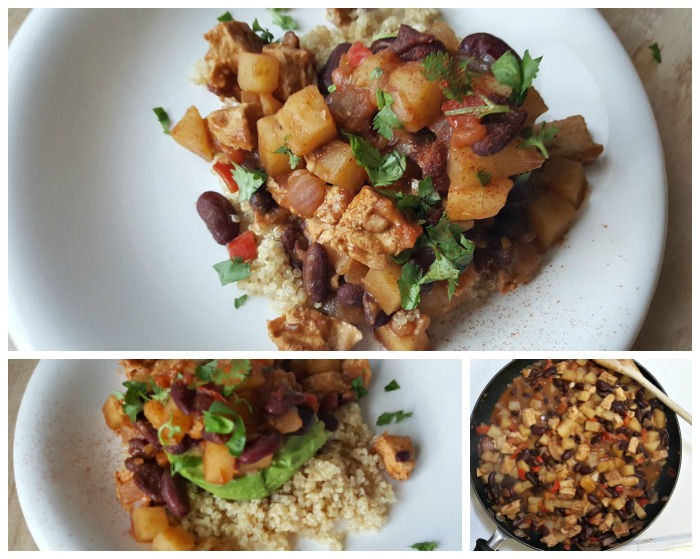 Do you love avocados? It's hard for me to imagine, but I know that some people don't!
---
Weekly Linkups
My weekly linkups! Please stop by and check out all of the great recipes, workouts, and information that all these awesome bloggers share every week!
Meatless Monday with Sarah and Deborah
Meatless Monday with Annmarie  and Dixya
Tuesdays on the Run with Marcia, Erika, and Patty
Inspire Me Monday with Janice
Wild Workout Wednesday with Annmarie, Michelle, Jen, and Nicole
The Plant-Based Potluck Party with Deborah
The Running Coaches' Corner with Rachel, Suz, Lora Marie, and Me!
Giveaway Roundup and Try Out Thursdays with Smitha
The Blogger's Pit Stop with Kathleen, Janice, Julie, and Menaka
Friday 5 2.0 with Rachel and Lacey and Meranda