For the second week in a row, I haven't been able to finish up the recipe post that I've been planning. Between household DIY, the return of my cold/flu, things keep happening. And it's a good one, I promise you. (Think Bard Valley dates, cashews, chocolate chips…) Hopefully, I will get it done (and photographed) by next Monday!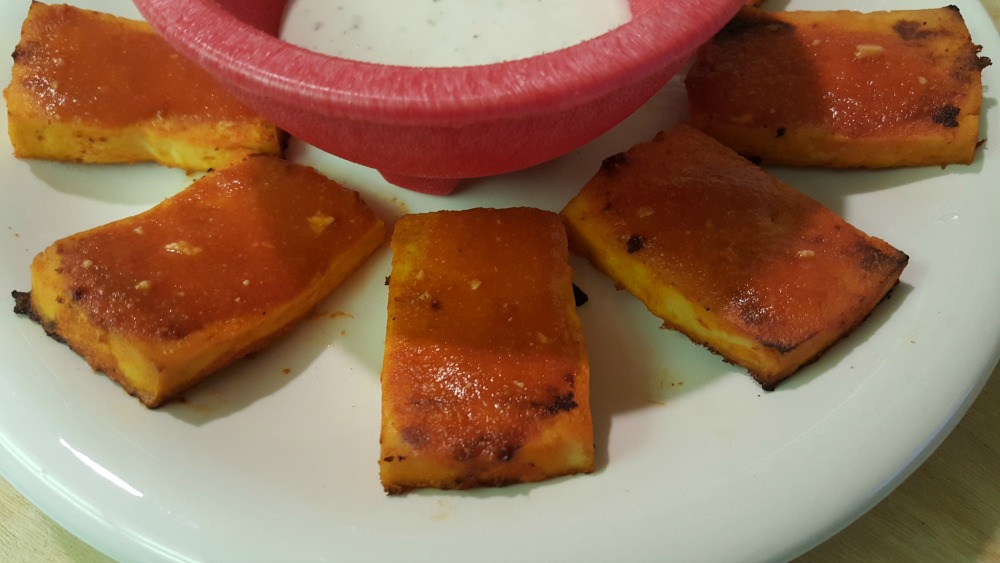 Instead, since it is finally playoff season, I'm sharing an older recipe for spicy tofu hot wings. They are really easy to whip up and perfect as an appetizer or side dish at any playoff or Super Bowl Party.
Not only that, because they are very low in fat and calories, you can enjoy them anytime. They are great on salads, sandwiches, or all by themselves.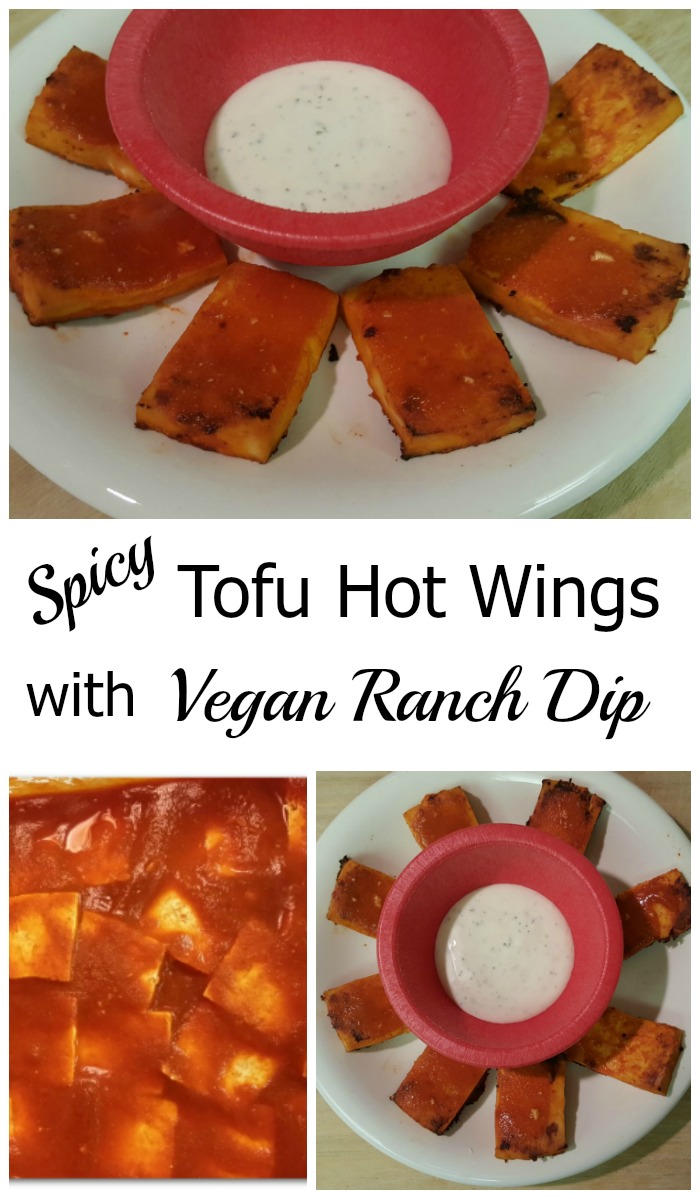 Spicy Tofu Hot Wings
I love cooking with tofu. It is so easy to use it as a meat replacement in a variety of recipes. It has very little flavor on its own, so it absorbs the flavors of the seasoning or sauces that you use to prepare it.
One of the keys to preparing tofu is to make sure that you press as much water out of it as possible. A tofu press
 (<–affiliate link) works best, but wrapping the tofu in paper towels and placing something heavy on top works too. The more water that you press out of the tofu, the more flavor it will soak in from the sauce or marinade that you use.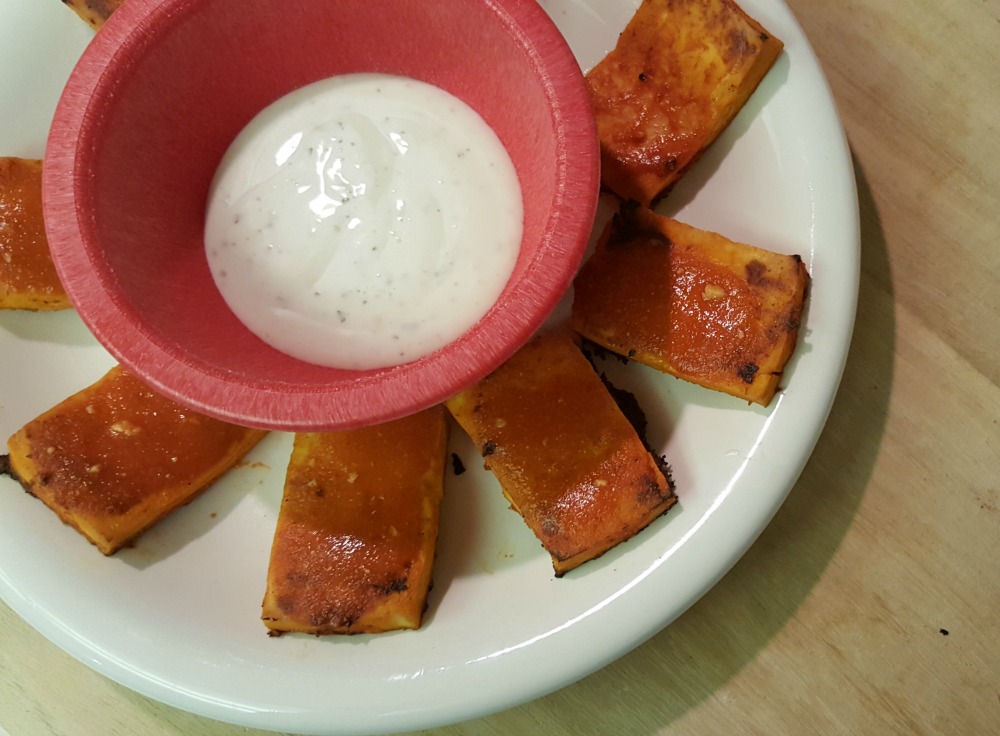 For this recipe, I wanted to press as much water as possible out of my tofu, so I wrapped it in paper towels, then wrapped a clean dish towel around it, and weighted it down with several bowls. I changed the paper towels a couple times, then I left it overnight in the refrigerator. If you don't have the time, at least leave it to press for an hour or so.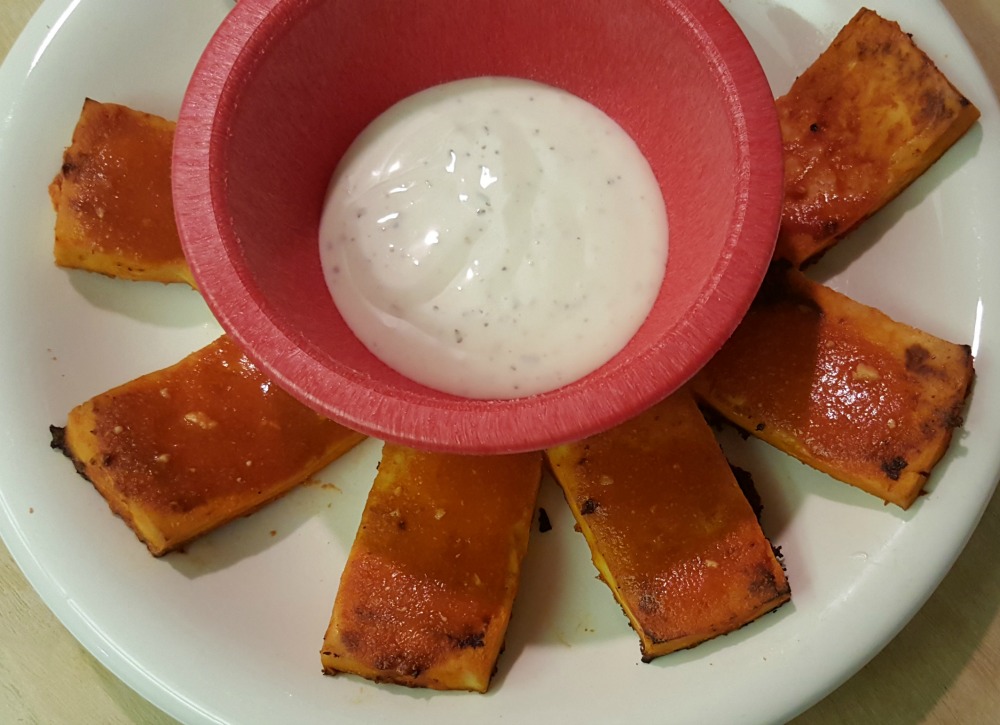 I also wanted to give the tofu lots of time to soak up all the spicy goodness of the sauce, so I soaked it in the marinade for about five hours. Again, if you don't have the time, try to give it at least an hour. It's worth the extra time, though.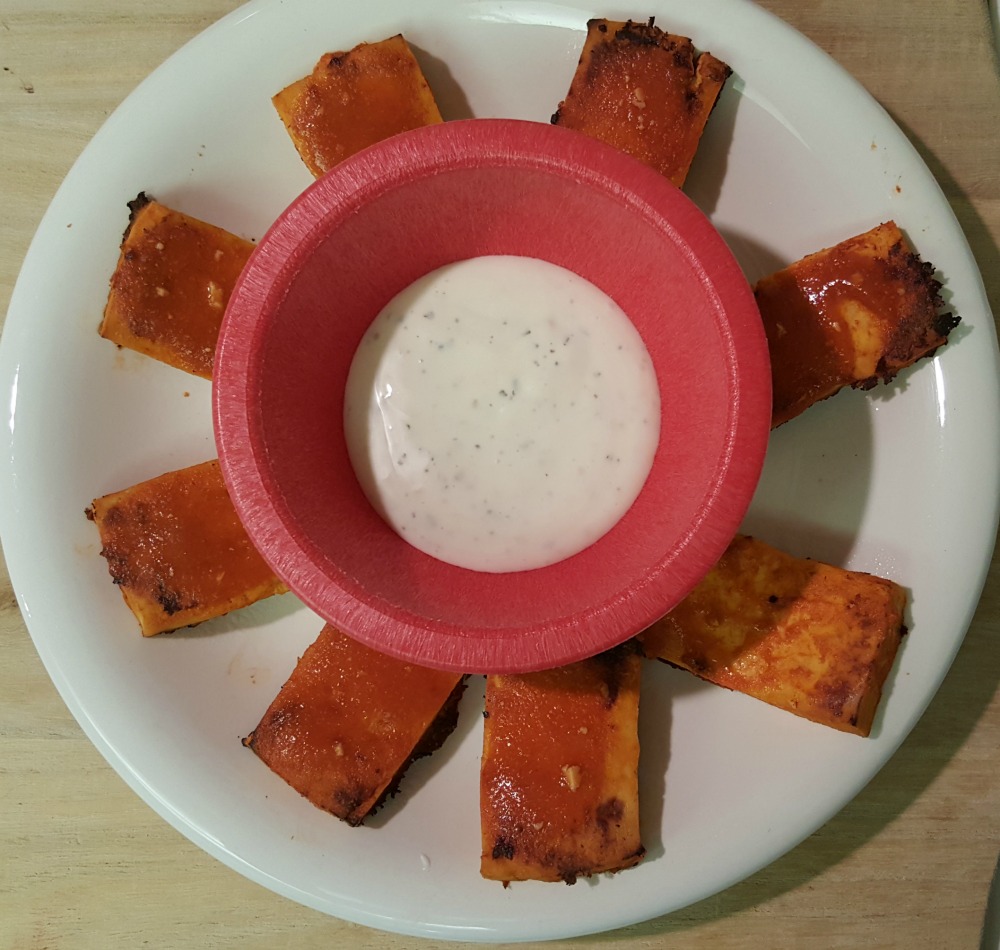 It's also important to preheat your oven for at least 10 minutes before baking the tofu. You want that baby hot! Speaking of hot, if you like your "wings" really spicy, you can baste them a couple extra times while they're baking.
Spicy Hot Tofu Wings with Vegan Ranch Dip
Vegan
Ingredients
Spicy Tofu Hot Wings
1 package extra firm tofu, drained and pressed.
1 cup hot sauce, either Frank's or Sriracha works best.
⅛ cup lemon juice
1 teaspoon garlic powder
1 tablespoon agave syrup
Cooking spray

RANCH DIP:
¾ cup vegan mayo
¼ cup cashew milk
1 clove garlic, minced
1 teaspoon parsley, chopped finely
1 teaspoon dried minced onion
½ teaspoon Bragg's Liquid Aminos
¼ teaspoon ground pepper
½ teaspoon fresh dill, finely chopped
½ teaspoon celery salt
Instructions
Spicy Tofu Hot Wings
In a flat covered container, mix the hot sauce, lemon juice, garlic powder, and agave.
Cut the tofu into small slices, about 2" x 2" by ¼"
Add the tofu to the marinade, making sure to cover every piece.
Cover and refrigerate. Marinate for 1-4 hours, shaking occasionally to make sure the tofu stays coated.
Preheat oven to 500 for at least 10 minutes
Spray a cookie sheet with the cooking spray
As you pick up each piece of tofu, shake it gently to remove excess marinade. Lay it in a single layer on the cookie sheet.
Use a pastry brush to spread a little marinade on each slice.
Bake for 20 minutes, until starting to brown slightly.
For spicier "wings," spread on a little extra marinade after 10 minutes. For spicier still, add a little more after about 5 more minutes.
Cool slightly and serve with celery and vegan ranch dip.

RANCH DIP
Combine all the ingredients until smooth. Add a little extra cashew milk if needed.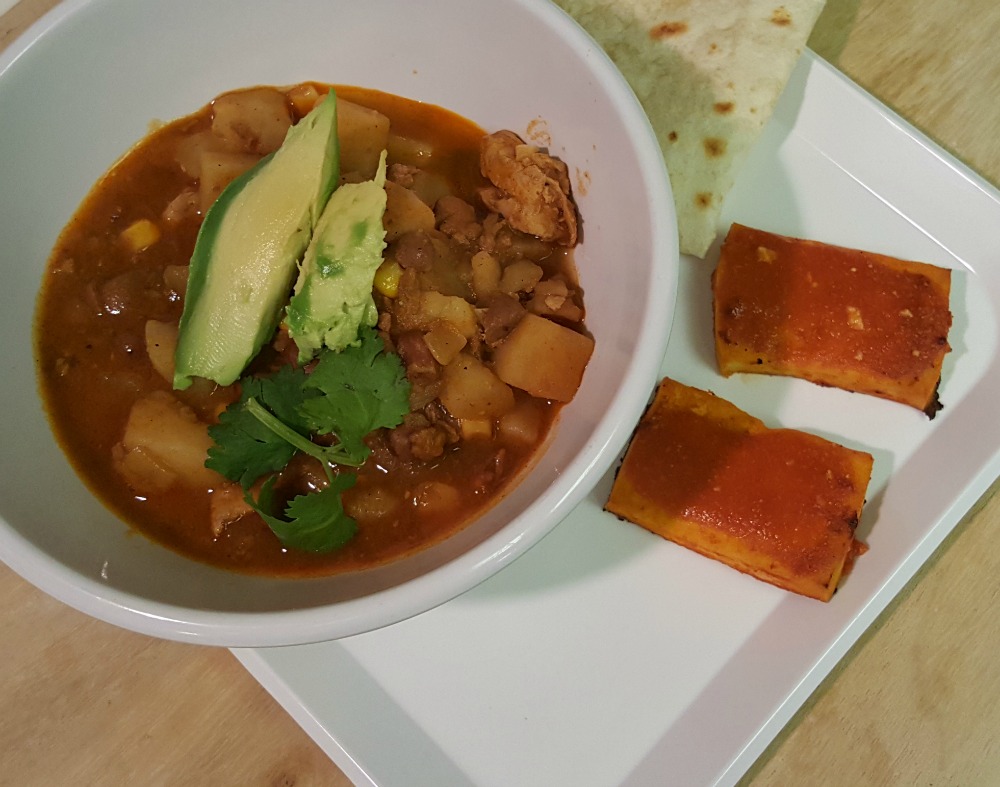 I needed new photos for this recipe to I made them and served them with leftover Soyrizo and Vegan Chicken Soup. Yum!
So, do you watch the Superbowl for the a) Game b) Commercials c) Halftime show 4) Food 5) What Superbowl?
---
Weekly Linkups
My weekly linkups! Please stop by and check out all of the great recipes, workouts, and information that all these awesome bloggers share every week!
Meatless Monday with Sarah and Deborah
Meatless Monday with Annmarie  and Rachel
Inspire Me Monday with Janice
Anything Goes with Marilyn
Wild Workout Wednesday with Annmarie, Michelle, Jen, and Nicole
The Plant-Based Potluck Party with Deborah
The Running Coaches' Corner with Rachel, Suz, Lora Marie, and Me!
Giveaway Roundup and Try Out Thursdays with Smitha
The Blogger's Pit Stop with Kathleen, Janice, Julie and Me!
Living a Life of Fitness, Health and Happiness with Jill
Friday Favorites with Heather
Sunday Fitness and Food with Angela and Ilka