Whenever I use the word "snapshots" in my title, my plan is to tell my story (mostly) in pictures. I know that I can get a little wordy (ha! Understatement! My Carlsbad 5000 race report last week was about 3,000 words!). Anyway, I'll try to stick with the snapshot theme for this recap of running, fitness, and life from the week.
This, That, and the Other. Snapshots from the Week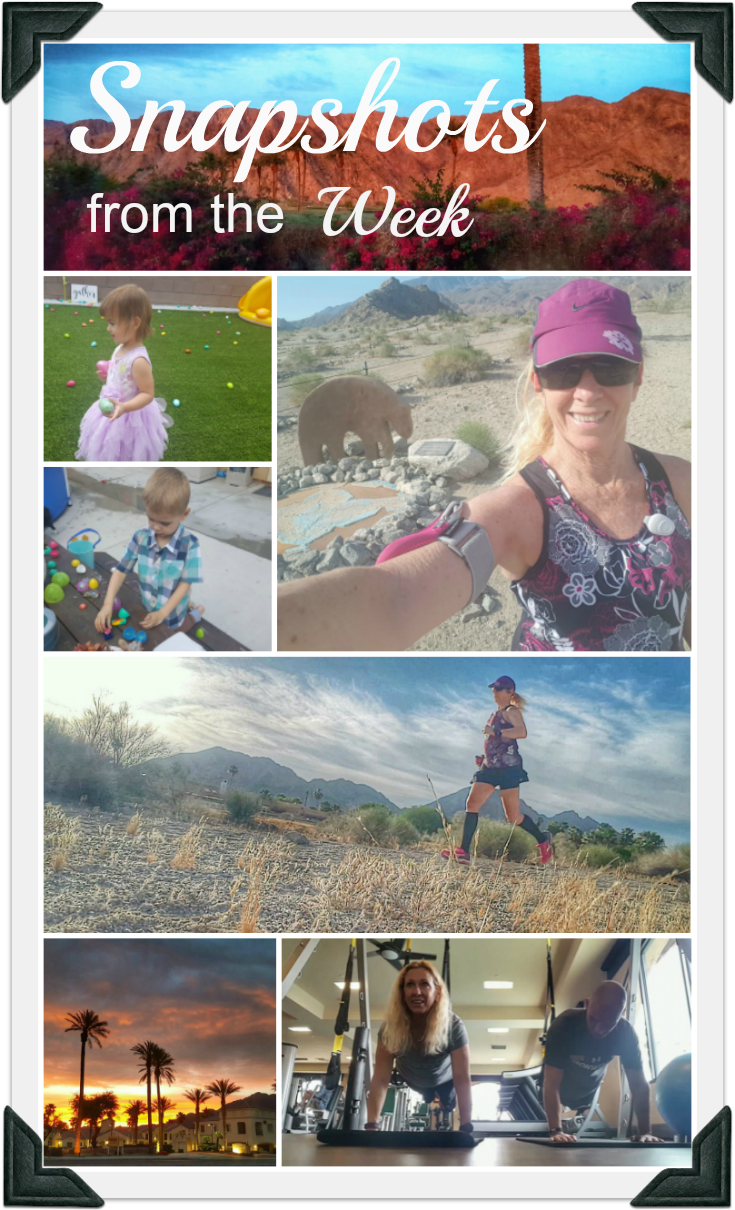 Running Snapshots
Let's start with running, shall we? I think I was a bit more tired than expected after the Carlsbad 5000 All Day 20k last week. I don't know why. I mean, I hadn't run 12 miles in about 10 months, I just barely had a chance to increase my long run mileage, and, well, I'm a bit older that I'd like to admit.
I took Monday off on purpose, then had to skip my Tuesday run when a client wanted to change to an earlier hour. So I had two days off, which is good, then ran a short three miler on Wednesday. I felt okay but slow and a little tired.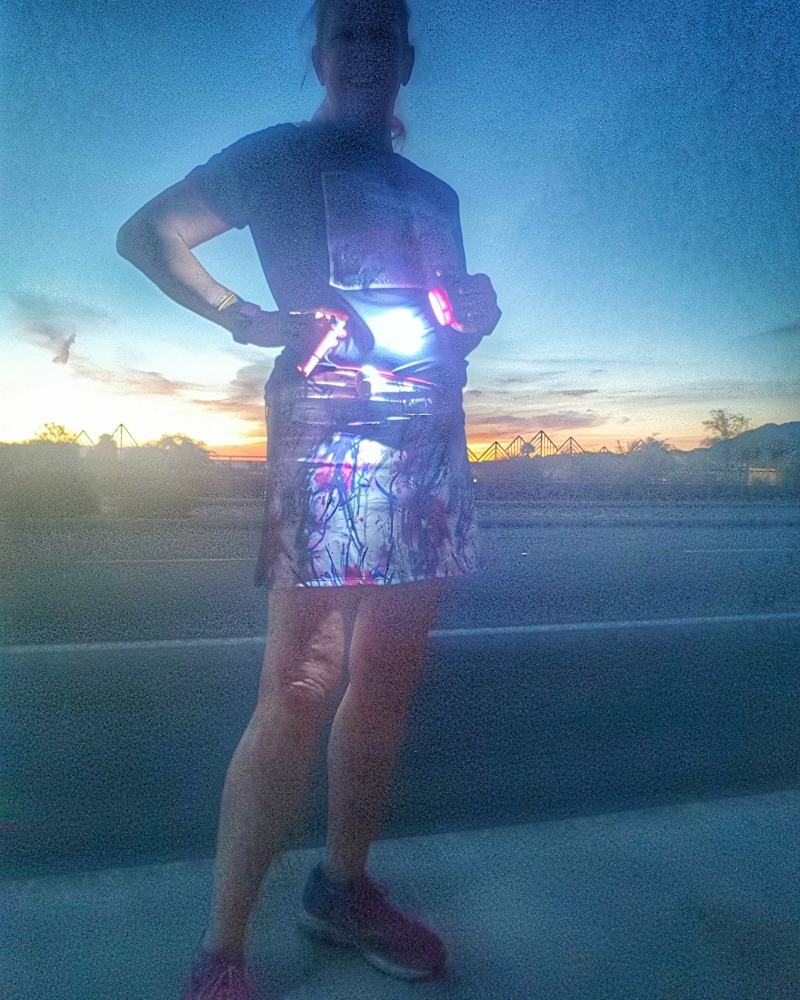 Thursday is a regular off day because of my work schedule, so I decided to push to run five miles on Friday. That went okay, mostly because I scrapped the idea of a tempo run and instead just took it easy, with plenty of stops to take pictures of the sunrise.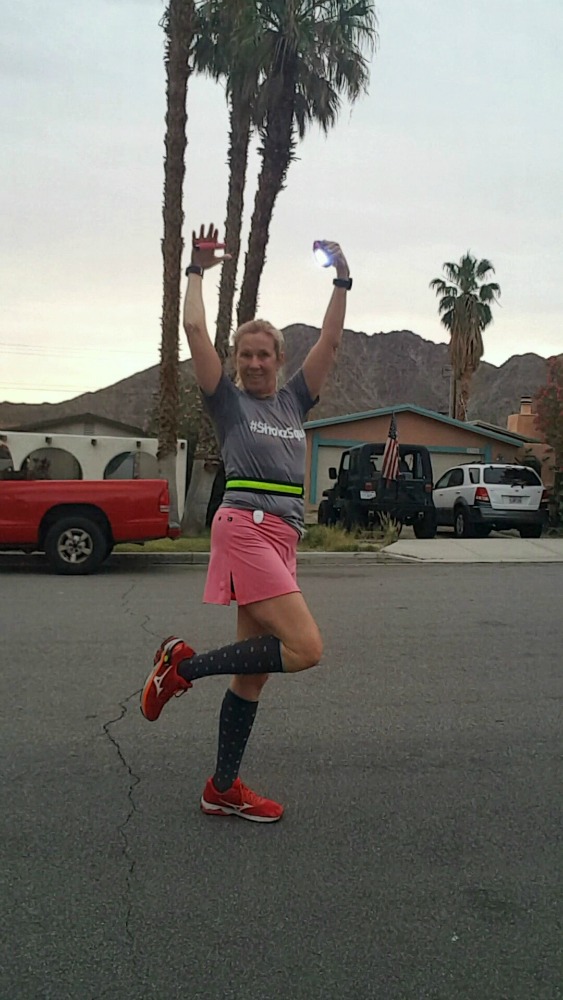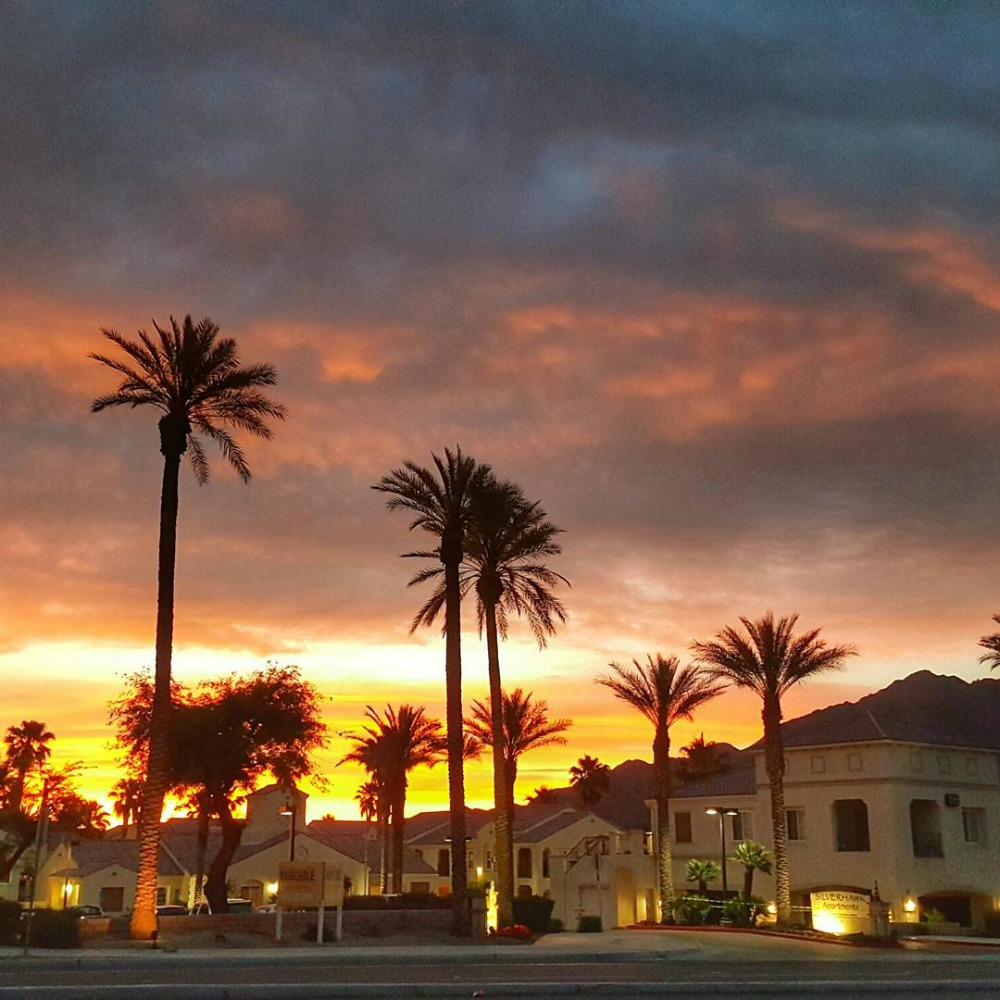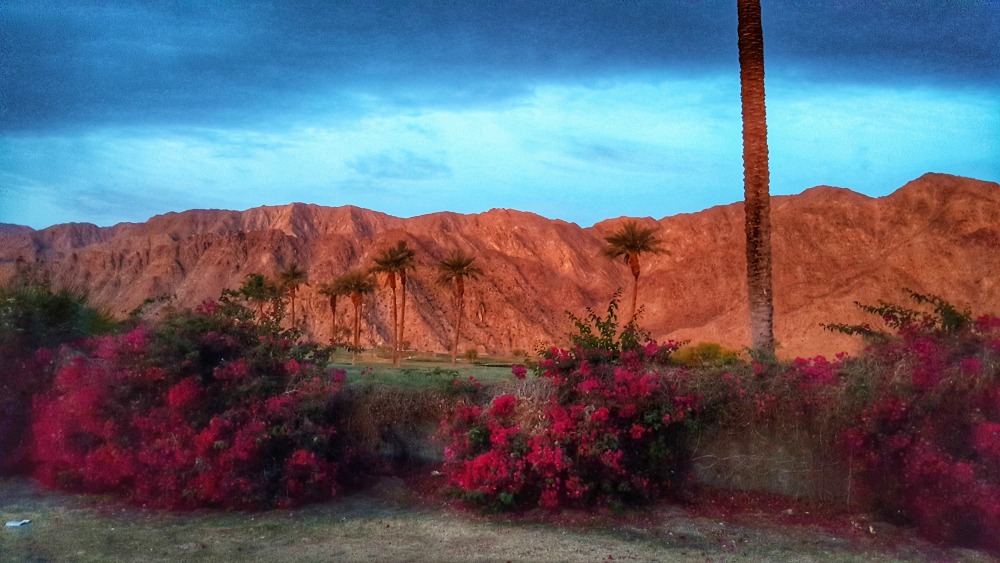 Saturday it all caught up with me. After two nights of poor sleep (something up with my tummy and sleeping with dogs), I had an awful run. I felt bad because I was running with my husband, but I just couldn't pull it together and ended up turning around at about a mile and a half. My stomach was still upset, so even though I needed badly to be home, I had to walk!
I felt so bad I didn't even take pictures!!!!
On Sunday I wanted to run 10 miles. The Rock 'n' Roll half marathon is in two months and I have a couple of longish runs under my belt, so it's time to start actual training.
I have to admit I was a little nervous about it because I'd felt so bad the day before. And I wasn't feeling super motivated either. For those reasons I chose a route I call "around the cove."
The area where I live is called the La Quinta Cove, and a full circle around it is about seven miles. Another little perk is that my house is about halfway up and halfway in, so I'm never more than two miles away from home just in case I wimped out.
Fortunately, I made it. I actually felt good! At one point, it is uphill for about 2.5 miles, not super steep, just a 4-5% grade or so, but I began to doubt myself. Once I peaked and started downhill I felt much better.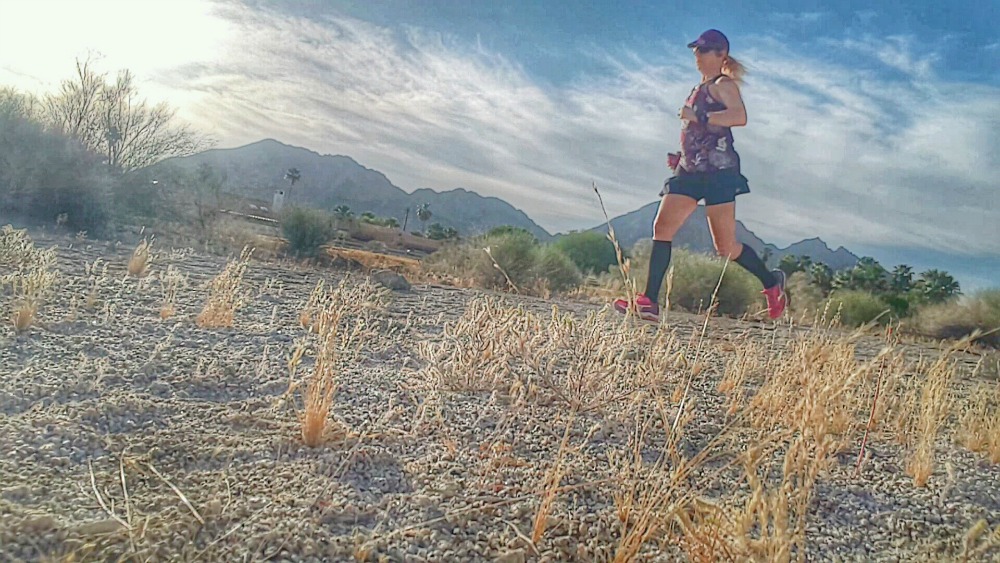 The challenge point is when I had to either turn toward home, making it a seven-mile run or continue on for another 1.5, knowing that the final part would be uphill again. I passed that challenge with flying colors, thank you very much!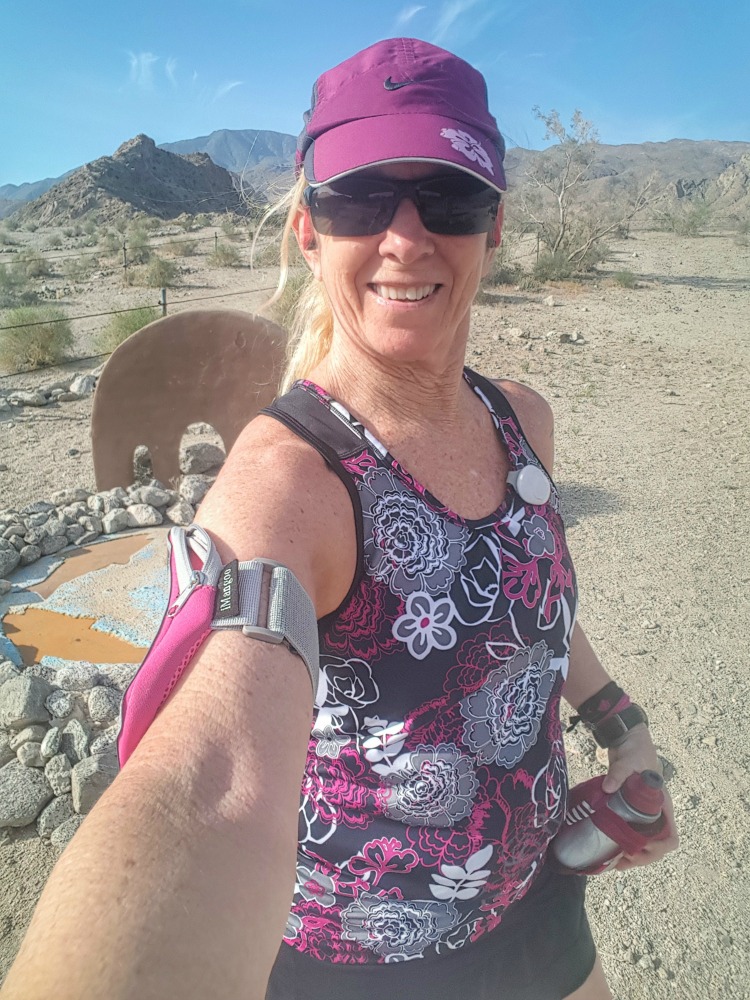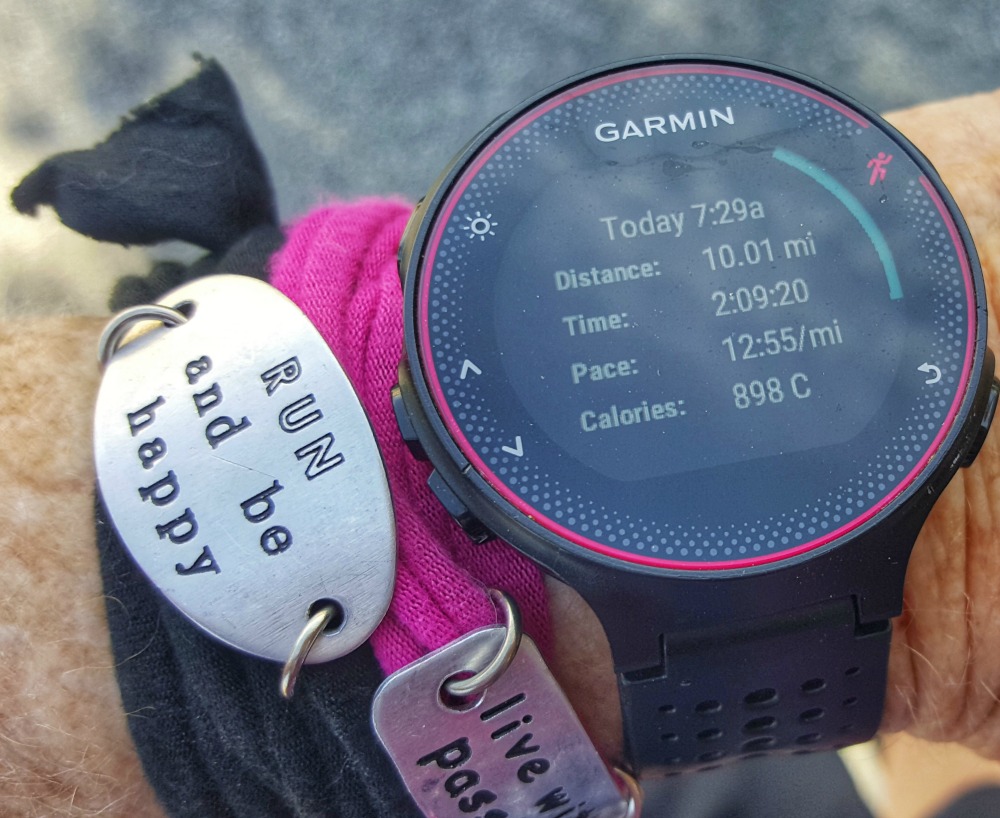 All told, I ran 21 miles last week, down a little from the last two weeks, but that's okay. Life, recovery, and work happen.
Fitness Snapshots
Kind of a funny category because I don't usually write about or photograph my own workouts. But I had a couple things of note this past week, so here you go.
On Monday, the day after Carlsbad, I subbed a circuit training class. I contemplated taking the easy way out and just directing the class, but in the end, I did the workout along with them, wincing only slightly. I didn't photograph the class, but I brought my medals along (and only showed them off a little bit!).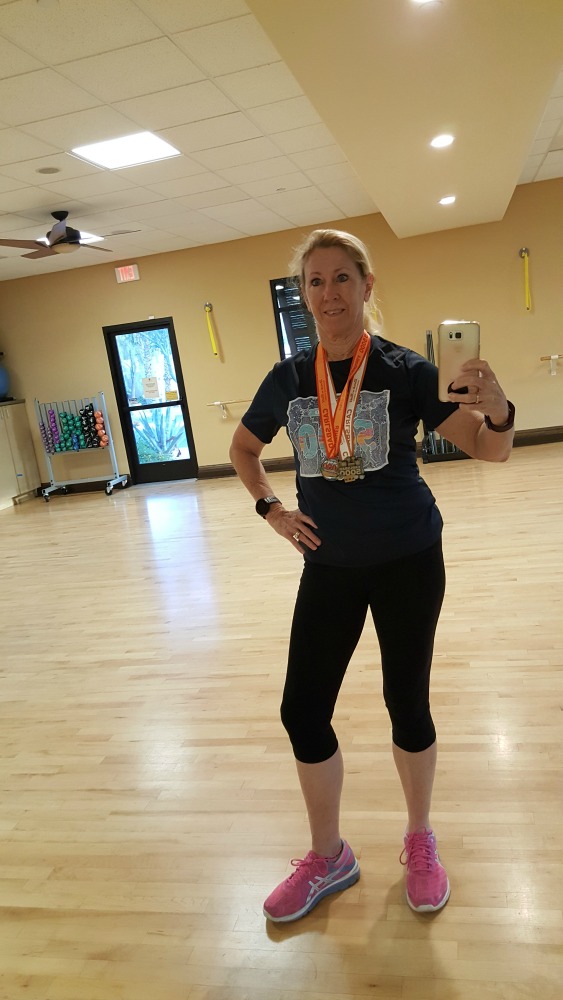 Our club currently has an intern working with us. He's originally from Sweden and is going to school at the local community college, working on his Associates Degree in Exercise Science. He's been working in all aspects of the fitness center, including attending the various group exercise classes and following the trainers as we worked with clients.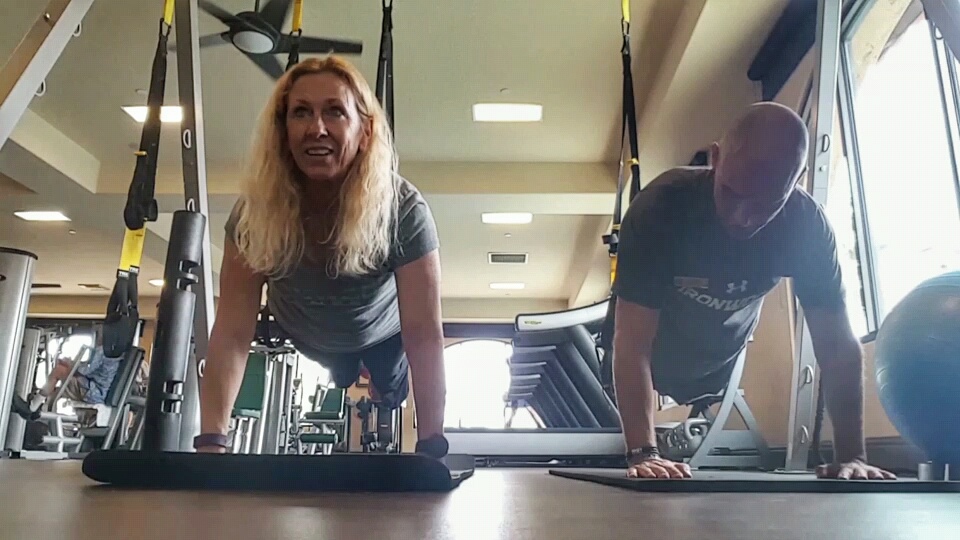 This past week he had a day where he was leading free training sessions. Of course, a certified trainer stayed with them while he created a workout. I was scheduled to follow along for two afternoon sessions, but when one of his "clients" canceled, my boss suggested that he should train me. I was game!
He did a great job on the training part, but I'm pretty sure he pulled out all of his hardest stuff for me! It was fun though, and since I had pre-warned him that training with me means selfies, I shared this video on Instagram.
Life Snapshots
Obviously, I haven't kept to my "few words" promise, but I will do much better from here on out. On Saturday we headed out to Murrieta for an early family celebration and Easter egg hunt at my son's house.
In addition to Alan and me, my daughter-in-law Sarah's brothers and sister were there, plus their kids, and one of my son's co-workers with his kids (and his vegan wife! yay!). We had fun, the kids ate candy, and my son barbecued (though we prepared our vegan version on the stove). The snapshots are pretty much all about my grandchildren though!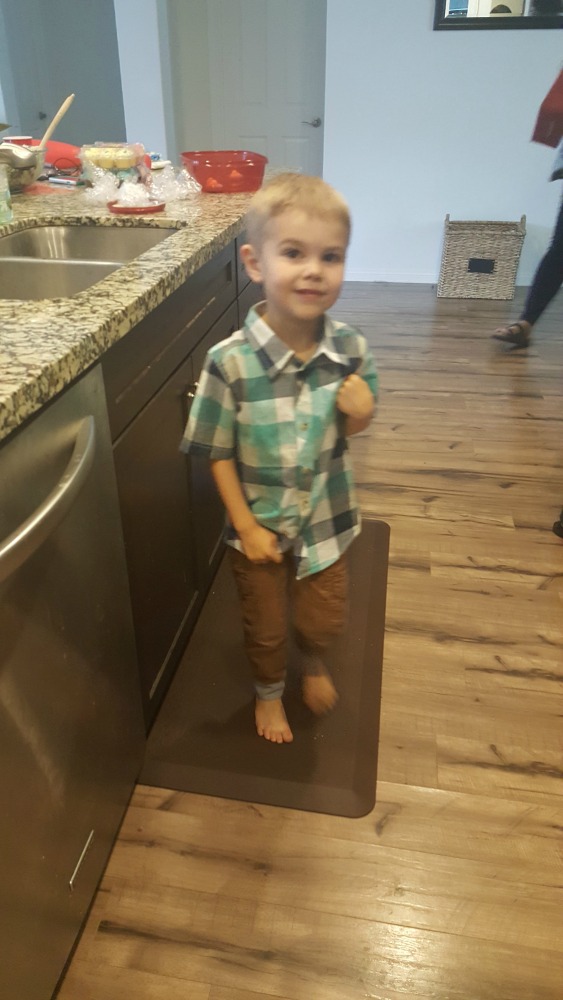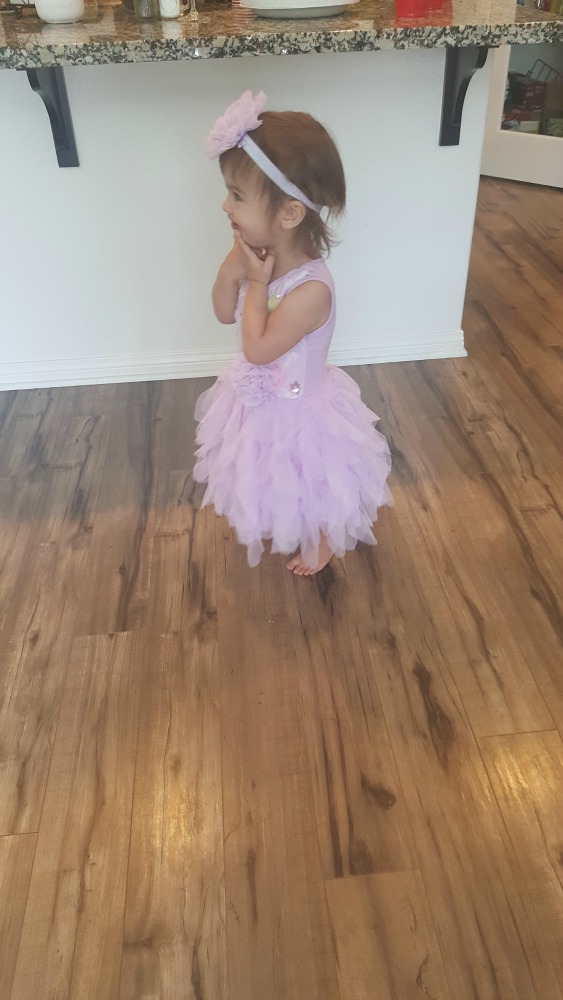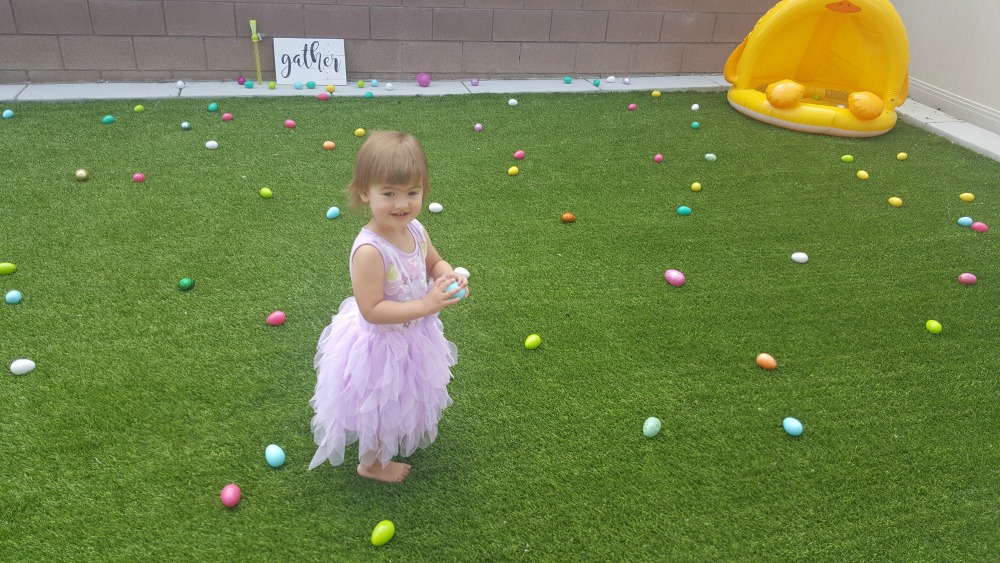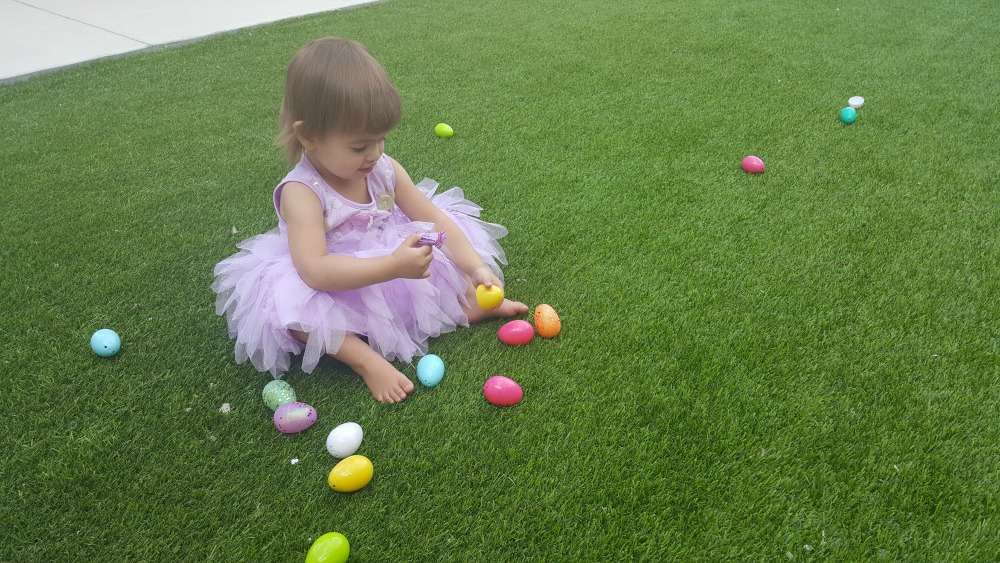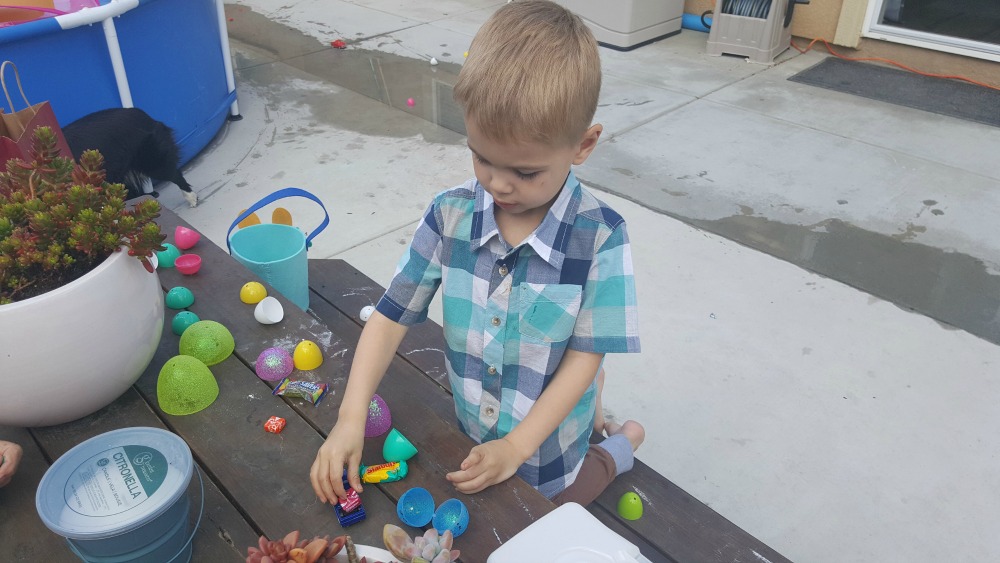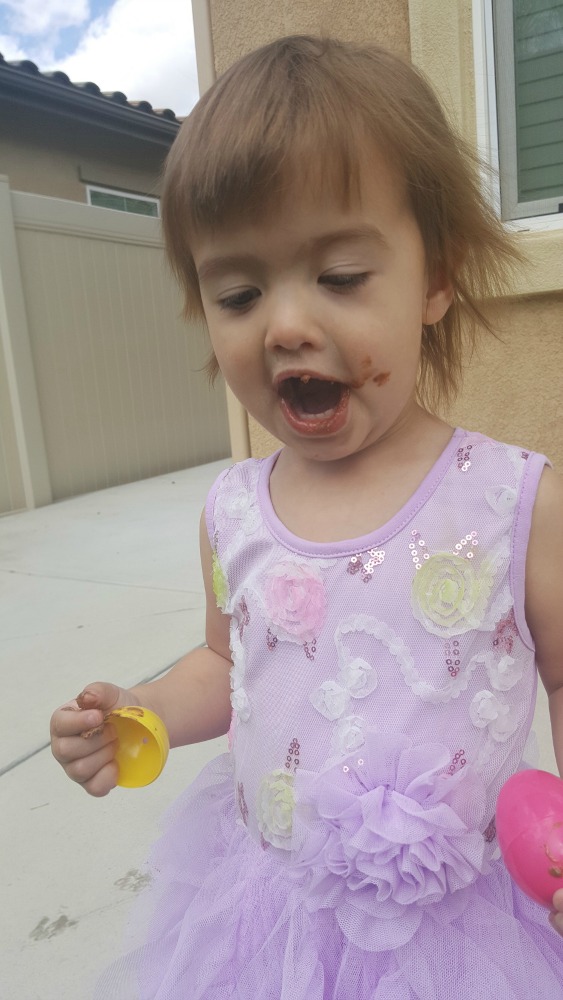 And the granddoggies too, of course!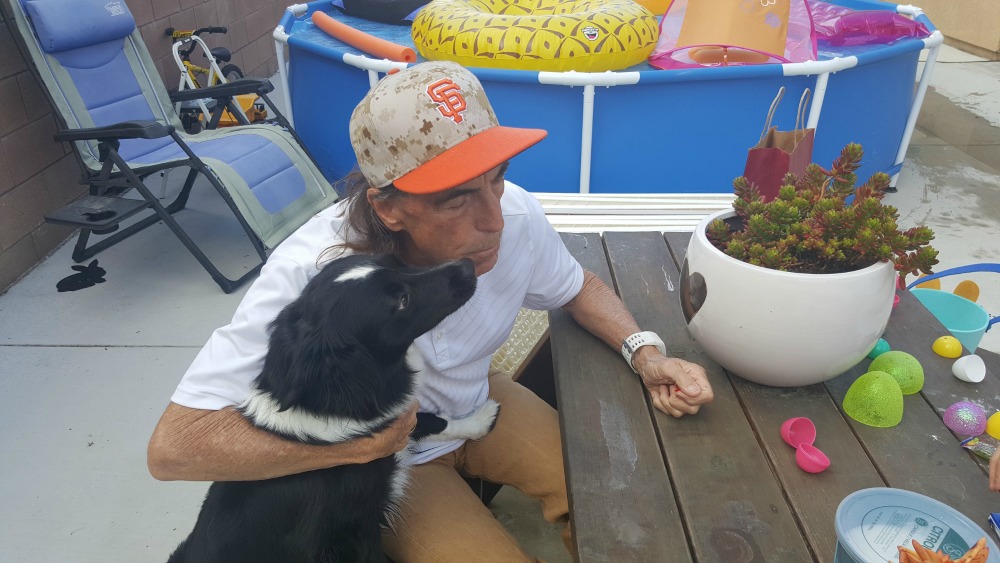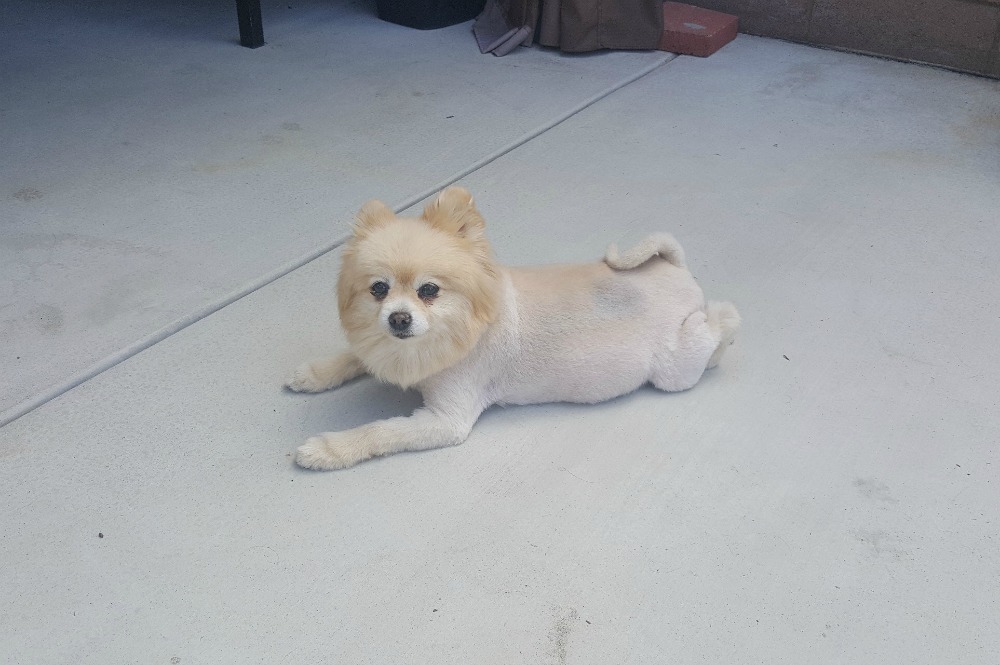 Well, while I didn't exactly live up to my promise of just a few words, I hope you enjoyed my week in snapshots. This week I'll be getting serious about training and possibly visiting the other set of grandchildren next weekend!
How was your weekend? Any events, celebrations, races or other fun? Share!
---
Weekly Linkups
My weekly linkups! Please stop by and check out all of the great recipes, workouts, and information that all these awesome bloggers share every week!
Meatless Monday with Sarah and Deborah
Meatless Monday with Annmarie  and Dixya
Inspire Me Monday with Janice
Wild Workout Wednesday with Annmarie, Michelle, Jen, and Nicole
The Plant-Based Potluck Party with Deborah
The Running Coaches' Corner with Rachel, Suz, Lora Marie, and Me!
Giveaway Roundup and Try Out Thursdays with Smitha
The Blogger's Pit Stop with Kathleen, Janice, Julie, and Menaka
Friday 5 2.0 with Rachel and Lacey and Meranda
Sunday Fitness and Food with Angela and Ilka