This was another 'what's in the pantry' meal, but it was so delicious I decided I'd better write it down as soon as possible. I frequently create a dish with what's on hand and it often turns out really good, but I quickly forget what I did to make it special. This dish was so yummy that I am inspired to put pen to paper (so to speak), so that I can actually make it again. It reminded me of Martha Stewart's and Twitter co-founder Biz Stone's Seitan Bourguignon, mostly because of the richness of the flavor, because the only common ingredient is the seitan. This recipe is very simple, fast and delicious. It makes enough for two large portions.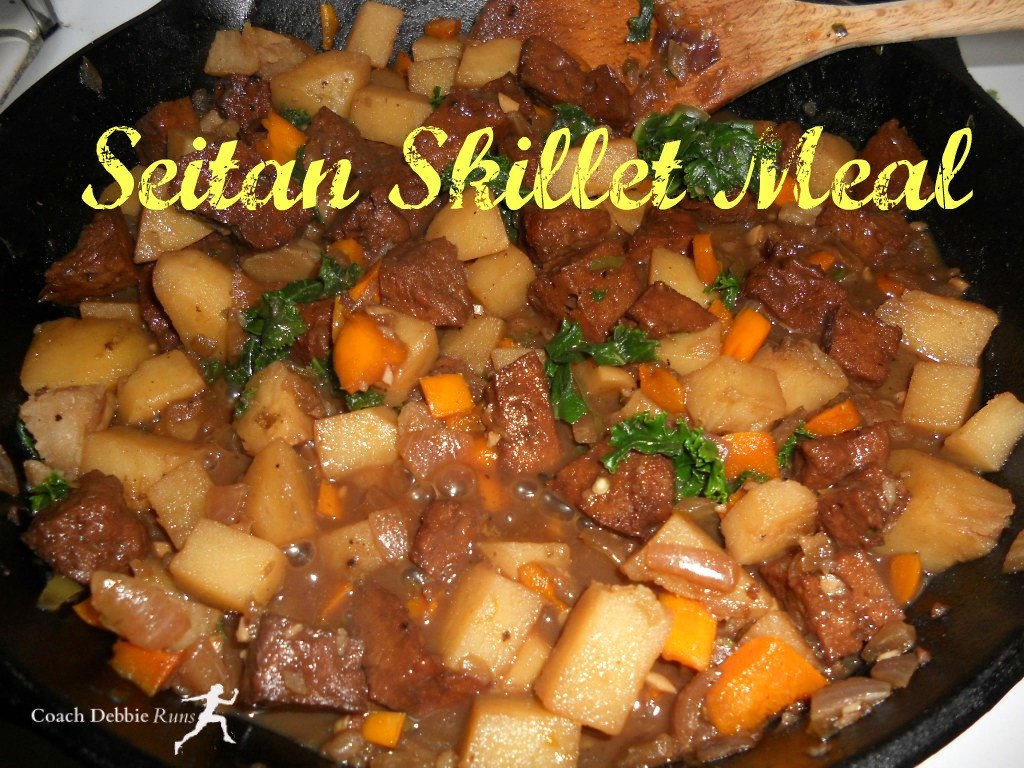 Ingredients
2 tablespoons olive oil
3 cloves garlic, minced
1/2 cup onion, chopped
1/2 yellow bell pepper, chopped
1 Serrano chile (optional), chopped (I didn't seed it, because I love the hotness, but you can if you prefer a little milder spice)
1 cup (or one package) seitan, cut into 1 inch cubes
1 potato, cut into 1 inch cubes
1 cup vegetable broth (I used the remaining broth from reconstituted dried mushrooms and it was perfect)
1/2 cup red wine (optional, you can use more broth if you'd like)
1 teaspoon sea salt
pepper to taste
1 cup kale, chopped or broken into bite size pieces
Directions
Preheat the oil in your skillet over med-high heat.
Add the garlic and onion. Cook and stir for two minutes.
Add the yellow pepper and serrano. Continue to cook for several more minutes until the veggies are soft.
Add the seitan and potatoes, and cook until both are slightly brown (about five minutes).
Add the broth, wine, salt and pepper. Bring to a boil.
Reduce the heat to simmer, cover and cook about 10 minutes or until the potatoes are tender.
Remove the lid, increase the heat to medium.
Add the kale and continue to cook until the liquid is reduced by about 3/4 and the kale is tender.
Makes two large portions if served as a complete meal.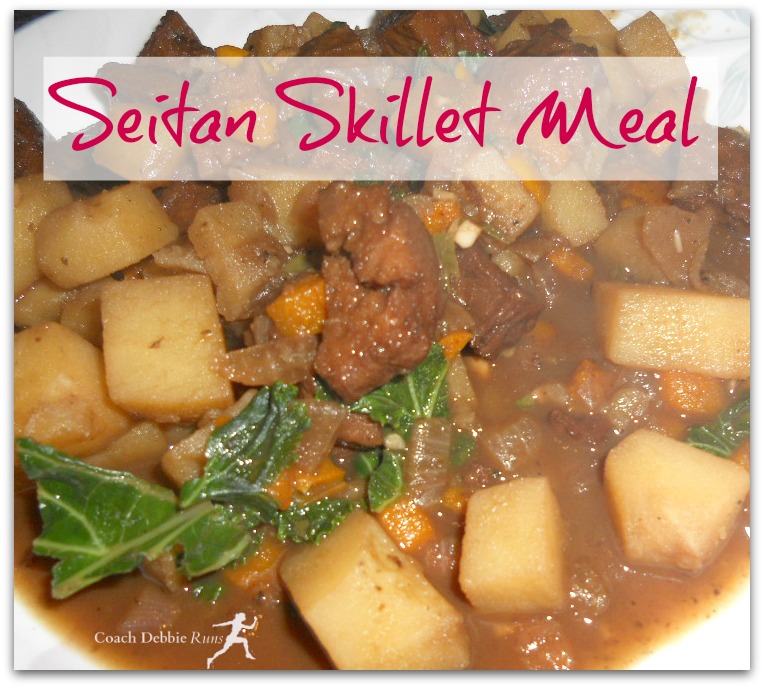 I didn't use a thickener for the sauce and it came out just perfect with the reduction. One thing I didn't have when I made this dish was some kind of bread or roll. It would have been perfect to soak up the juices.