As you read this Saturday Special post, I should be on my way to the Sway Social, a one-day Blogging Bootcamp, put on by the Sway Group! I went to one a couple years ago and learned lots of great blogging information, so I'm hoping this year will be the same. I'll be sure to report next week!
The Saturday Special
I don't usually post on the weekend, but I got so caught up writing my post about our Dog and Cat Rescue activities that I didn't have the time to cover the other topics I'd planned to write about. So for this Saturday Special post, I just want to share some fun and (hopefully) interesting things going on.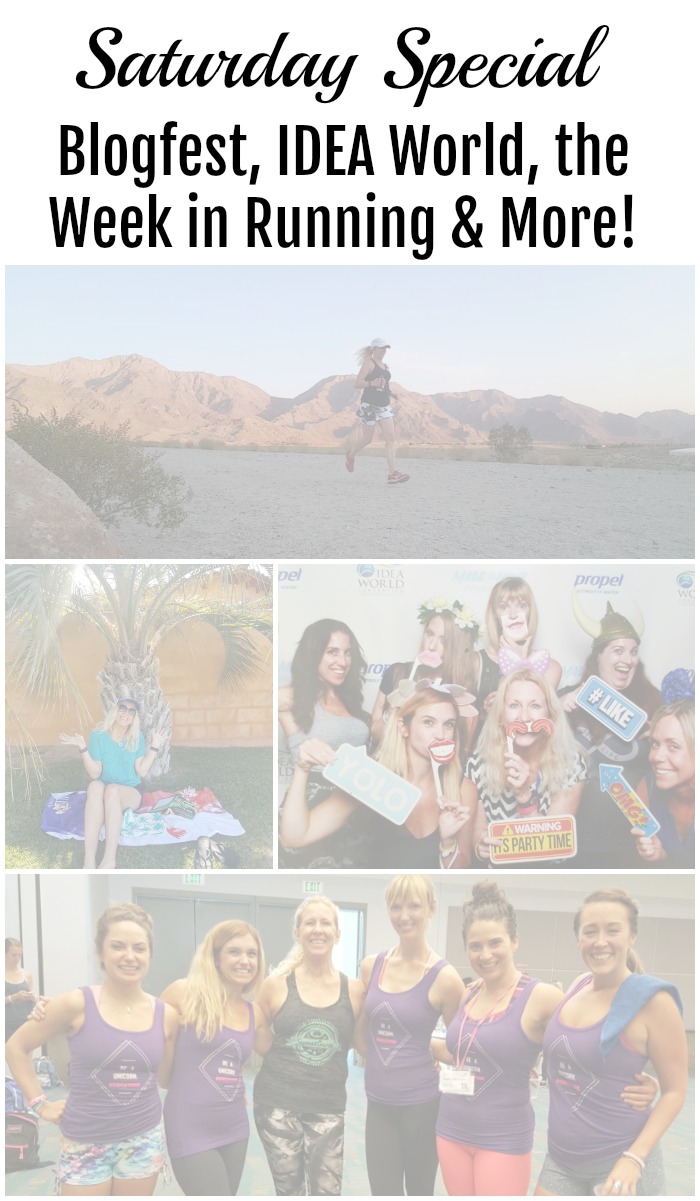 Sway Social
I will write a full report next week, but I want to say now that I am really excited about the Sway Social. For one, I will be driving with a local desert blogger, Candi, who I haven't seen since our last Bloggy Boot Camp, so that will be fun. And of course, I know I will learn a lot of great blogging information and have the opportunity to meet and network with many other bloggers.
But mostly, I am excited about the Sway Social because I will finally have the opportunity to meet Danielle Liss! When I first joined Fitfluential over five years ago, Danielle was the Chief Marketing Officer and General Council, and she did a lot, both for the company and the bloggers who were a part of the organization. She was also a blogger as well as an attorney, so she had the answers to most of our questions. She left a couple years ago to start her own businesses, and she has been missed.
She will be speaking at the Sway Social and I'm so happy that I'll finally get to meet her!
Running this Week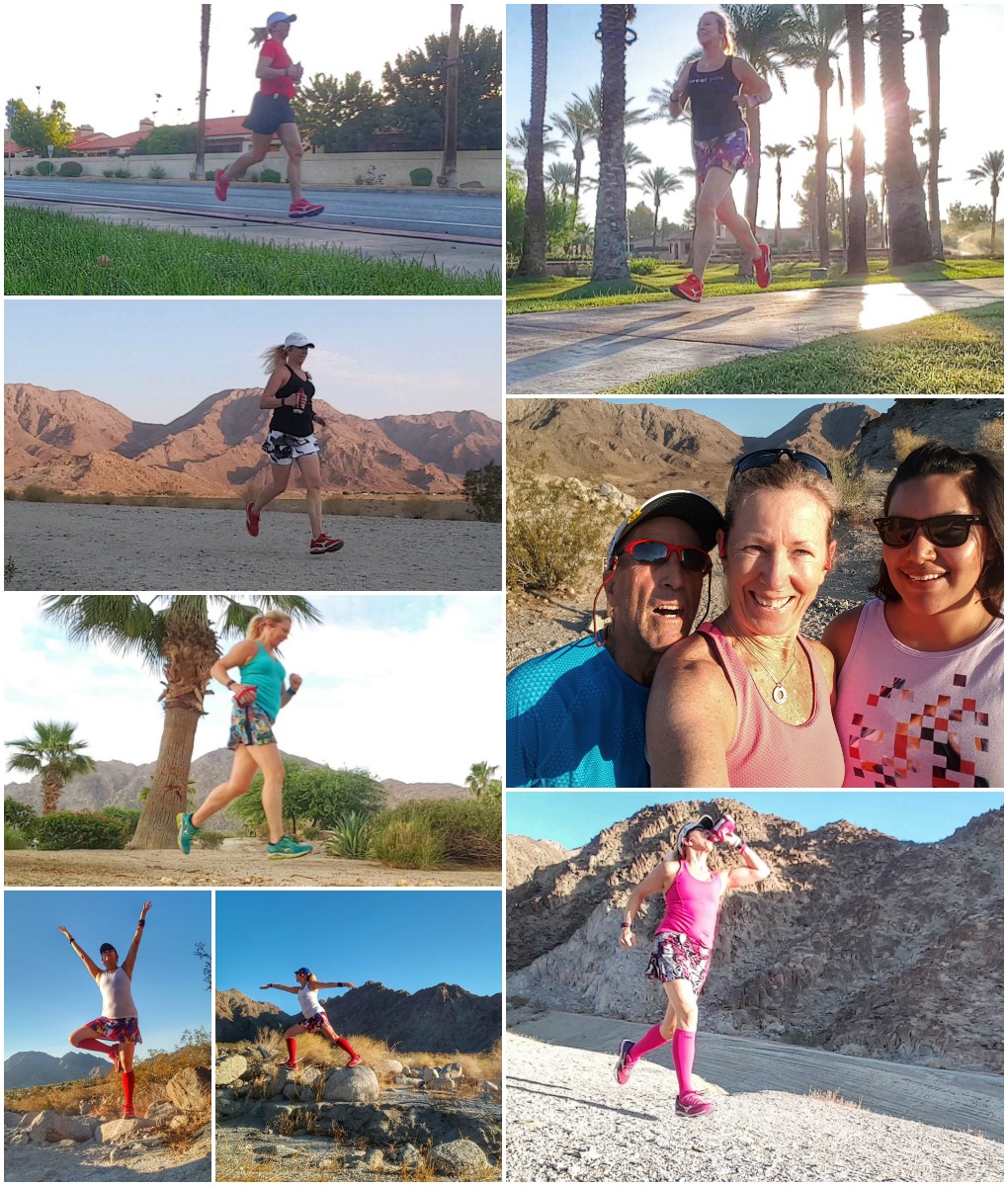 Clockwise from top left:
Thursday, June 29: Two Miles Tempo/Cadence Practice within a six-mile run.
Saturday, July 1: Eight-mile long run. It was hot, especially the last couple miles.
Sunday: An easy four-mile trail run with a couple of Alan's clients.
Monday: Four miles, mostly on the trails. Showing off my running and drinking at the same time skills.
Tuesday: I did not run on Independence Day but I needed a good patriotic photo so I walked a couple mile and took these yoga selfies.
Wednesday: This was fun and challenging. Six miles total with three one-mile intervals at tempo pace, focusing on shortening my stride and increasing my cadence. With a half mile recovery between each one.
Thursday: I'm so lucky that just a four-mile recovery mile can bring me to this beautiful outlook point!
Blogfest and the IDEA World Fitness Convention
After many months of waiting, Blogfest is finally here! This will be my fourth time and this year we're in Vegas, baby! Blogfest is a two-day healthy living blogger conference that is put on by Idea and Fit Approach. It will feature knowledgeable speakers, workouts, lots of networking, and the opportunity to speak directly to sponsors. This year the keynote speaker is Todd Durkin, MA.
Every single time I have been to Blogfest I have come away with more knowledge, great memories, and new friends. This year I'm staying at an AirBnb that is walking distance to the convention center, so I'm hopeful I can park my car and either walk or use the monorail and avoid dealing with the Las Vegas traffic. Though I'm sure I'll take a run or two on the strip. That's always an experience. Remember this?
Blogfest starts on July 20. I'm heading to Las Vegas on Wednesday the 19th. While I'm not looking forward to the drive, it is only four hours, and I'm excited that I'll be meeting up with some of my fellow Momentum Jewelry ambassadors for dinner on Wednesday, plus joining some of the Blogfest attendees for a group run on Thursday morning before the conference starts.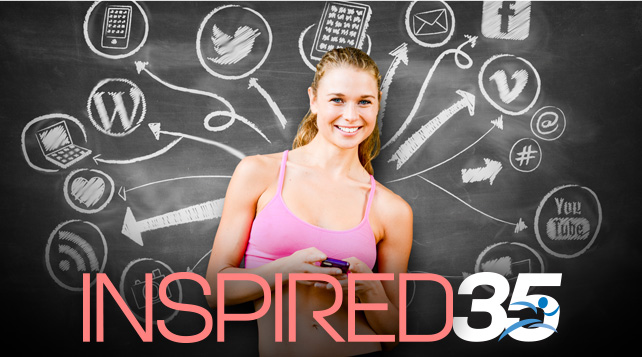 Also included with the Blogfest registration is access to the last two days of the IDEA World Fitness Convention.  It is the largest fitness convention in the world and brings in thousands of fitness professionals and enthusiasts from over 60 countries! I'm signed up for some great sessions on Saturday and Sunday.
We also get to go to the Opening Ceremonies on Thursday. The keynote speaker is Darren Hardy, the former publisher and editor of Success Magazine.  And the Jack LaLanne Award will be presented to Todd Durkin (yes, our Blogfest speaker!) by none other than Elaine LaLanne, Jack's widow. At 91 and still going strong, I always hope that she will once again demonstrate her health and fitness by dropping and giving us a few pushups!
Blogfest attendees are also invited to the IDEA World Opening Party. The theme this year is Viva IDEA, and with Idea celebrating its 35th birthday, the party should be a lot of fun. My fingers are always crossed for at least a few plant-based options in the buffet! And I hear that Marilyn Monroe and Elvis Presley will be showing up, plus a few Vegas showgirls!
Are you going? Don't miss my packing tips!
Popsugar Must Have Box
I was sent my Popsugar Must Have Box in exchange for sharing my review. All opinions are my own.
I guess the best way to show you all the cool things in the June Must Have Box is to share my Instagram post.
Other goodies in the Must Have Box included So Rich – Mermaid Tears, which helps keep your cuticles soft and healthy in spite of the chlorine and salty challenges of summer. I love these so much! My nails after years of wearing acrylics are in sad shape and So Rich is already helping them. Also a Starbuck Caramel Frappuccino coffee drink and a package of Meri Meri blue and white party straws!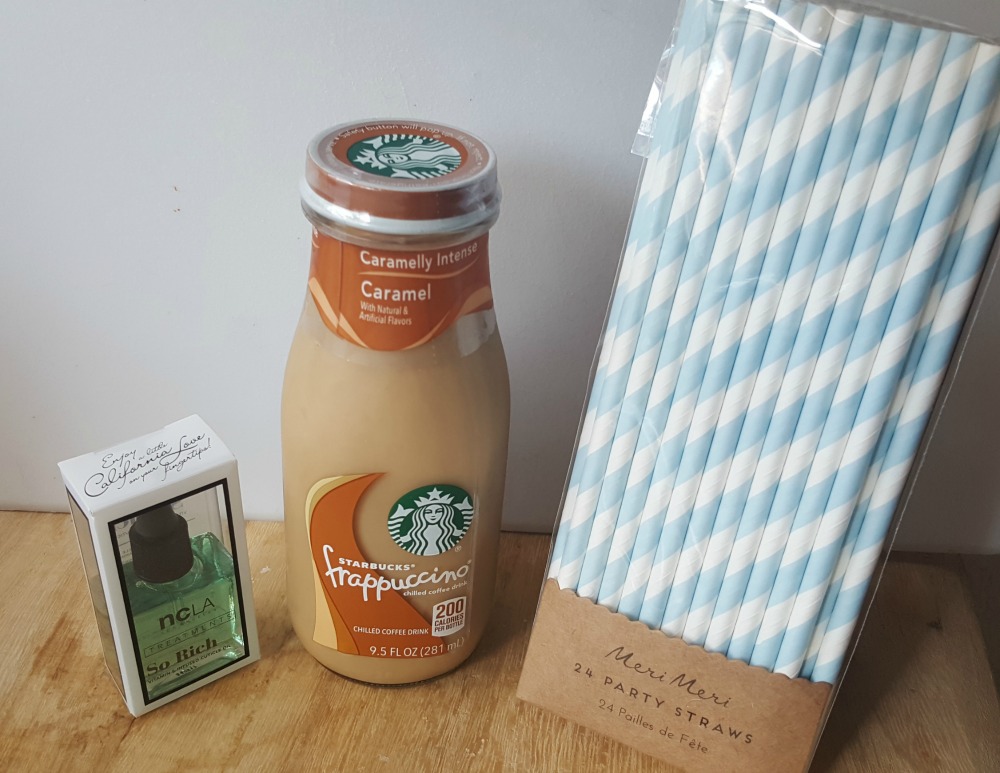 What is not shown? Well, that would be the Mini Cookie Stash from Belgian Boys. I tried, I really did, but the cookies only lasted a few hours after I received my Must Have Box.
As always, you can save $5 on your first Must Have Box with the code SHOP5!
Have you ever been to a fitness convention? What's your favorite thing to do in Las Vegas? Will I see you at Blogfest?
---
Weekly Linkups
My weekly linkups! Please stop by and check out all of the great recipes, workouts, and information that all these awesome bloggers share every week!
Meatless Monday with Sarah and Deborah
Meatless Monday with Annmarie  and Dixya
Tuesdays on the Run with Marcia, Erika, and Patty
Inspire Me Monday with Janice
Wild Workout Wednesday with Annmarie, Jen, and Nicole
The Plant-Based Potluck Party with Deborah
The Running Coaches' Corner with Rachel, Suz, Lora Marie, and Me!
The Blogger's Pit Stop with Kathleen, Janice, Julie, and Menaka
Friday 5 2.0 with Rachel and Lacey and Meranda