Nathan Sports provided the gift pack for this post about Run@Work Day, plus sent me items to try out and review. All opinions are my own.
Friday is Run@Work Day!
This Friday, September 15, is the 12th Annual RRCA Run@Work Day! It has also been expanded to include the fifth annual Run@School Day in order to incorporate potential runners of all ages.
The concept is not necessarily to actually run to work, though you certainly can if you like. The whole idea behind Run@Work Day is to encourage friends and co-workers to get out and run or walk or participate in some kind of physical activity for 30 minutes during the day.
Because work (or school) is such a big part of most people's day, helping people understand that just 30 minutes before, during, or after the work day ends is essential to helping them get active and healthy. The Road Runner's Club of America would love to see businesses, schools, parents, and co-workers spread the word that incorporating daily exercise into your routine can have a big impact on your overall health.
Run@Work Day: Help Your Co-workers (friends, students, children) Get Active (without nagging)
While it may be a little late to start a full-fledged Run@Work program, there are still things that you can do to help your co-workers, friends, students, or children find their way to exercise. Here are five things you can do to get them started on the road to better health.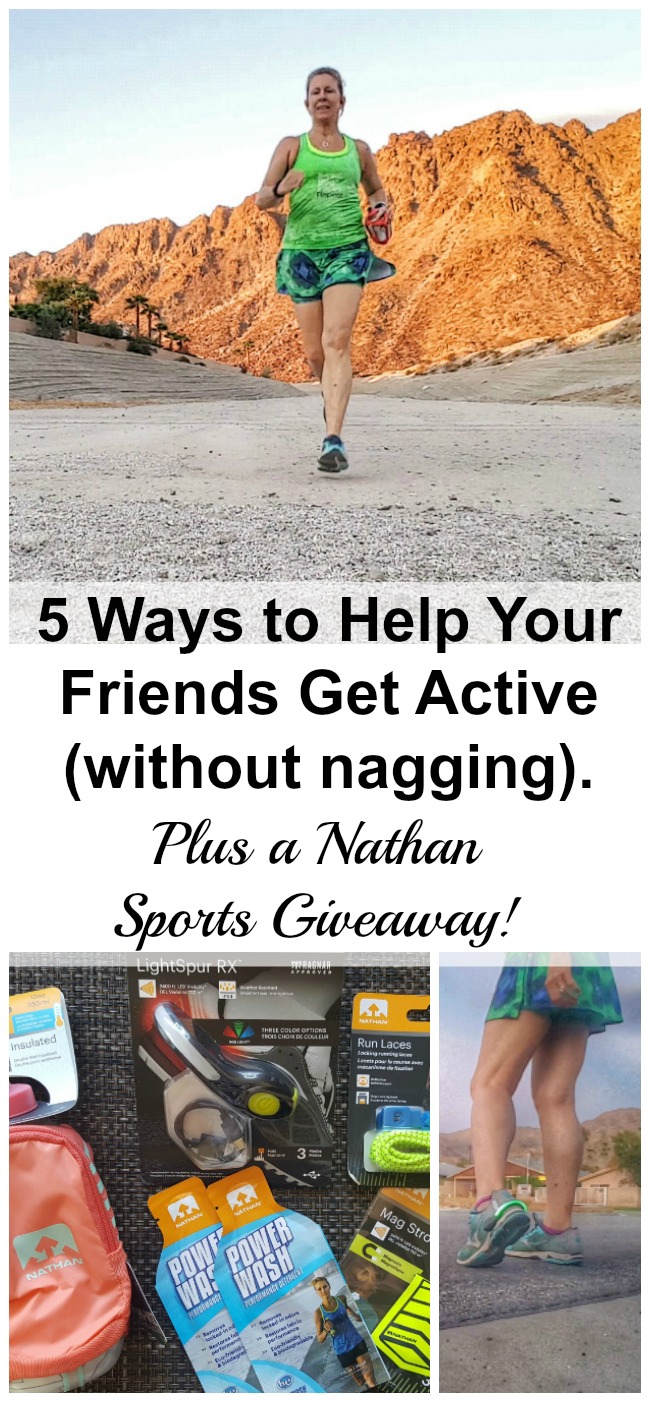 Be Supportive
Probably the most important thing you can do to help your co-workers to begin a healthy lifestyle is to be supportive. Remember that, even though you have found a way to add daily exercise to your life, it may be a new concept to those you are trying to help. Show some empathy when they tell you they are tired or sore, but make sure to let them know that passes and that they'll feel wonderful after a short while.
Be Enthusiastic
Think of the best coach you can imagine. They are probably there, on the sidelines, clapping and yelling positive reinforcement. Be that person. Celebrate your co-worker's accomplishments, however small. Each one is a step toward becoming a healthier, more fit, human being.
Be Knowledgeable
While you are not a coach, you still have some knowledge about starting a running program. Afterall, you were there once too. You learned through experience that you should start slow, buy the proper shoes, or join a running club.
Here are some resources for new runners: 
14 Useful Things to Know When You Start Running
Asked and Answered: Your Top 10 Running Questions
10 Tips for Starting a Running Program
The Top 16 Running Tips for Beginners
Your co-worker will have questions.  Answer the ones you can answer, lead them to the answers you don't know, and…
Know When to Refer Out
One of the first things that trainers, coaches, and stretch therapists learn is that there are things that are beyond our scope of practice and that is when we must refer out.
It is the same for you as a running friend/co-worker. Yes, you know the simple stuff about running, you can encourage, celebrate, and be supportive. But there some things, like potential injuries, increasing mileage, or specific training plans that are beyond your scope of practice.
That is when it is time to refer out to a coach or trainer who can help your friend continue their fitness journey. At the same time, you will know that a good part of their journey so far is thanks to your support and enthusiasm. Good job!
Show Them All the Cool Fitness Stuff!
Runners frequently say that running is such a simple sport that all you need is a good pair of running shoes and you're good to go. While that is true to a certain extent, there are a lot of cool running tools that new runners will probably enjoy. From cute running skirts or shorts, sweat-proof running tops, and colorful running shoes, to heart rate monitors, GPS watches, and all the different running apps, there is something for everyone from the fashionista to the techie.
There are some great but simple running tools that no one should be without, including an insulated bottle, safety lights that protect you in the dark, and laundry detergent that makes sure to get the stink out of your running clothes. And guess what? Nathan Sports and I are giving a few of those away today!
Giveaway! Win this Cool Package from Nathan Sports!
Nathan Sports also wants to help support Run@Work Day! They recently sent me a great package of goodies to try out PLUS an extra package to give away to my readers! Yes!!! Here are a few details about what's in the package, then enter using the Rafflecopter below. US only please.
Here's What You Can Win ($162 value)
I've been using the SpeedShot Plus Insulated Flask for a couple years and I love it! I've been running in the desert all summer long and it keeps my drink cold! Not only that, but its size and ergonomic shape work perfectly for my arthritic thumb. You can keep your hand relaxed which is so nice. The storage pocket easily fits several gels, a key, or in my case, an inhaler.
The LightSpur RX LED Foot Light is a great way to make sure that you're seen from behind. You simply slip it onto the heel of your shoe, choose your color (blue, red, or green) and your flash mode (solid, fast, or slow) and you really light up the night from behind.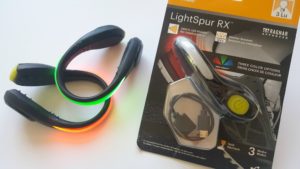 This cute little magnetic Mag Strobe LED Clip Light puts out 2 lumens worth of light to really make sure that you can be seen. Because of the magnet, you simply clip it on your clothing and it stays put. It has three modes to ensure you get the best visibility and battery life.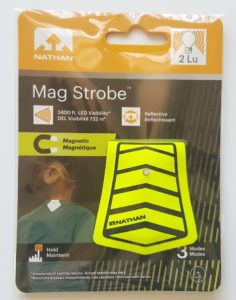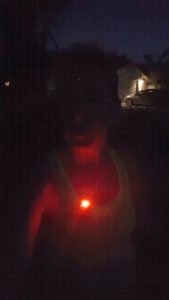 I think that these locking Reflective Run Laces™ were made especially for people like me who tend to just take their running shoes off without untying them after a run (drives my husband crazy!). You set them up one time and from then on you simply slip your shoes on and off. They're reflective too!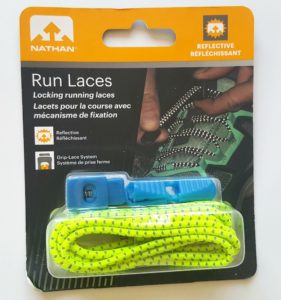 I was really happy to learn that Nathan now has Power Wash which is made to dig in deep to clean the bacteria that regular laundry detergent does not reach. You know that bacteria that cause you to be embarrassed to be seen (or smelt) after a run? Yep, Power Wash will take care of it. The prize package contains two sample packets for you to try.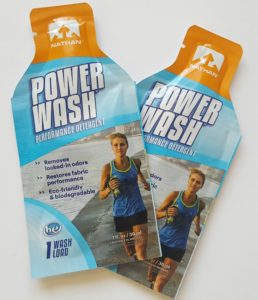 Just Added to the Prize Pack!
I just received notice from Nathan Sports that I would be receiving two more items to pass on to the winner of the giveaway!
The Streak Reflective Vest is ultra lightweight, has 1200-foot visibility, and 360-degree reflectivity to optimize performance and safety.
The Neutron Fire RX Runners' Headlamp is lighter than ever. Thanks to a powerful USB-rechargeable battery, the super-light Neutron RX Kicks out 200 lumens of crisp RUN-Right Light™ on roads, trails, paths, and everywhere in between. It also features red, green or blue strobe strips up front, and as an added bonus, the entire head strap is made of reflective material!
These two additions to the giveaway bring the value of the prize to $162!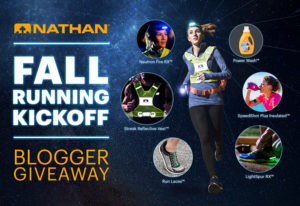 That's it, your prize package worth about $80 $162! Enter below.
Have you ever introduced a friend, co-worker, or significant other to running (or other fitness activity)? Did they stick with it?
And Now It's Time for the Running Coaches' Corner!
Loading InLinkz ...
---
Weekly Linkups
My weekly linkups! Please stop by and check out all of the great recipes, workouts, and information that all these awesome bloggers share every week!
Meatless Monday with Sarah and Deborah
Meatless Monday with Annmarie  and Dixya
Tuesdays on the Run with Marcia, Erika, and Patty
Inspire Me Monday with Janice
Wild Workout Wednesday with Annmarie, Jen, and Nicole
The Plant-Based Potluck Party with Deborah
The Running Coaches' Corner with Rachel, Suz, Lora Marie, and Me!
Friday 5 2.0 with Rachel and Lacey and Meranda