A couple weeks ago I shared my favorite pure speed workout. Intervals are great for increasing VO2 Max, improving form, and working on specific speed related issues, like your finishing kick and leg turnover. Today, we're talking about lactate threshold runs. They are also called tempo runs.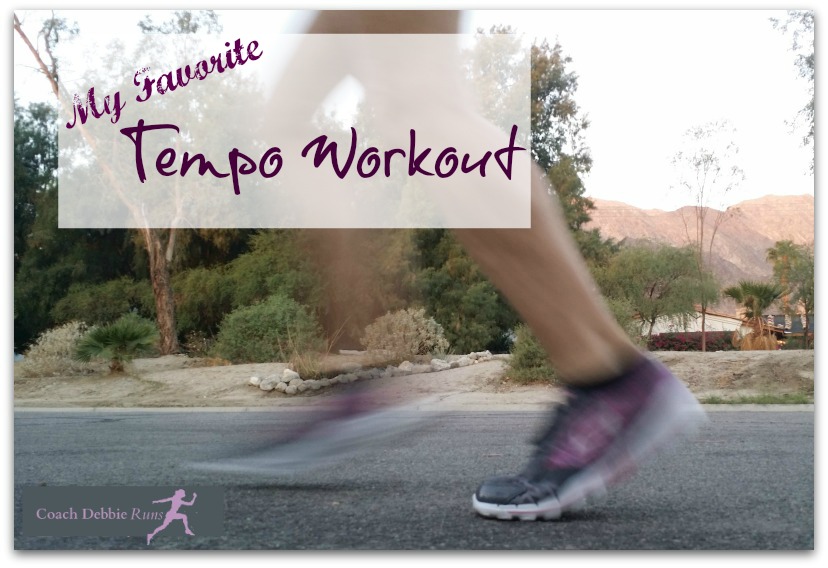 Your lactate threshold is the point at which your body cannot keep up with processing the lactic acid it produces during hard exercise and responds by needing to slow down. This type of workout usually involves slightly longer intervals than the VO2 Max workouts, run at a slightly slower pace, your lactate threshold pace. This is a little slower than your 10k pace, or about 85-90% of your effort level. You'll find a more detailed description in this post.
Steady Pace Tempo Workout
My favorite workout of this type is a Steady Pace Tempo run. After warming up by running moderately for about a mile, pick it up to your Lactate Threshold pace. Sustain it for two-six miles. Finish with a moderate to slow mile.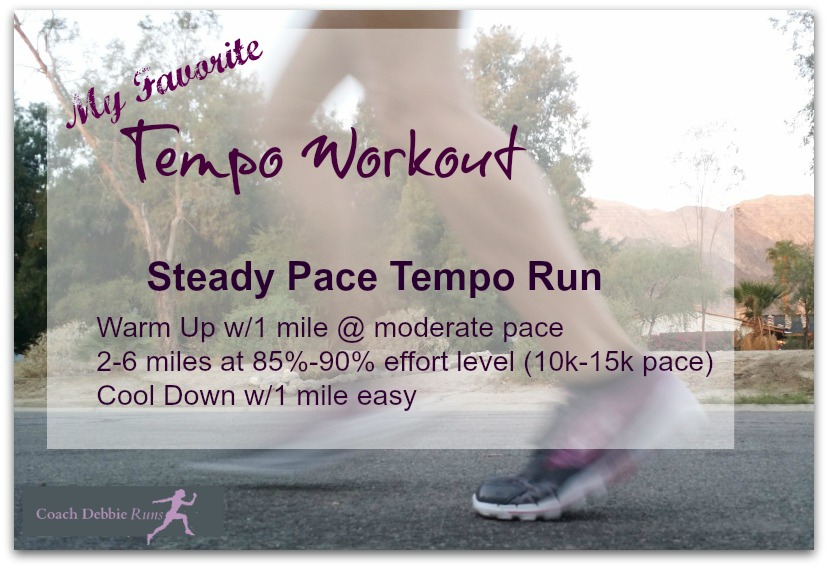 Why I love it: I sounds kind of boring, doesn't it? No fancy pick ups, run this at one pace that at another. Which is exactly why this is my favorite tempo run. To me it simulates race conditions. You don't stop (hopefully) in a race, you try to keep a fairly steady pace throughout the distance of the run.
Tempo Run Variations
Depending on the distance for which you are training, you may want to change up the tempo run a little bit. For example, if you are training for a marathon, complete this workout at about your half marathon pace and effort, and sustain it for five to eight miles. Likewise, if you're training for a half marathon, run at your 15k pace, for three to six miles.
Another variation for marathon or half marathon training is a race pace run. In this type of run, you will run the middle portion of a longer run at your goal race pace. For a marathon, this could be the middle 12-15 miles of a 20 miler. For the half, run six to eight miles at race pace in your 10-12 mile run. This will really help with pacing during your race.
Tempo runs can help you run faster, and help you sustain that speed for a longer period of time. Which is what we want when we're racing, right?
Disclaimer: Although I am a certified Coach and Personal Trainer, I am not YOUR Coach or Personal Trainer. Always adapt workouts to suit your body and fitness level. Always consult your doctor before beginning a new exercise program.
Do you do tempo runs? Do you have a favorite workout?