The weather is warming up here in the California desert after a really nice May and early June. Last weekend the highs were about 90, which, while it probably sounds pretty hot to most people is actually a great temperature for this time of year. Compare that to the 120 we're expecting next Monday and you get an idea of how much I enjoyed running this week, knowing what was coming.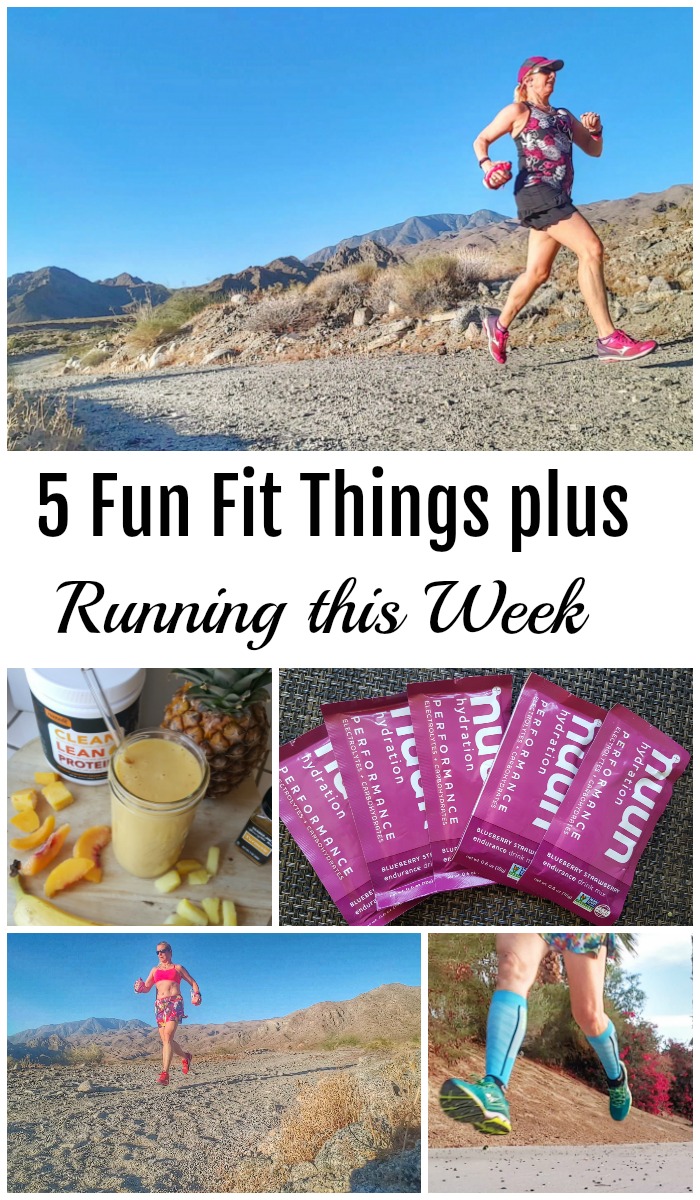 The mornings have also been wonderful, with temperatures in the 60s, which allowed me to get away with sleeping in a little. Not anymore. On that 120-degree-day the low is forecast to be around 85. Of course, it's a dry heat as they say. Like an oven is what I say.
Need Tips for Running in the Heat from a pro?
I rarely do a weekly running recap, so I thought I'd occasionally throw one in on Friday when I'm usually just rambling about this and that anyway. I'll keep it brief (I can hear those who know my wordiness thinking "sure you will!").
Running this Week
Somehow I ran six days in the last seven, not something I really want to do. All were relatively short runs, but still I was sure to schedule two days off in the coming week. I don't really have a training plan right now since my next goal race is not until Rock 'n' Roll Los Angeles on October 29 (though I may pop into a 5k or two along the way).
Many years ago I felt comfortable running in just a sports bra. Heck, I even ran marathons wearing just shorts and bra. Not so much anymore, but this Handful Bra was so pretty I wanted to show it off. Friday: 4 miles, mostly on the trails.
It really wasn't too hot for this run, but finding shady paths is always a good idea in the desert. I'm loving my new Wearsafe Ambassador tank! I was planning on running five miles, but my ankle started hurting at about mile four. In a weird place, too, on the outside, right around my lateral malleolus, almost feeling like it was coming up from my heel. I ended up walking the last part because it hurt so much to run. I did three cycles of icing when I got home, wore supportive shoes for the rest of the day, took a couple Aleve before bed. Amazingly, the pain was entirely gone the next day. Saturday: 4.75 miles, mostly on the trails.
We went to Huntington Beach on Saturday to see our grandsons play in a baseball tournament. The next morning, one of the twins, Dane, went to play golf with his dad, while the other, Cash, asked if he could run with us. What a great feeling (and a great run)! Sunday: 3.4 miles on the beach path (with no ankle pain AT ALL).
Back home in the desert, throwing in a little Warrior I. Monday: 5 miles, mostly on trails.
Trying to get back into the habit of getting out early. This wasn't intended to be a tempo run, but something about running in the dark makes me run faster. Wednesday: 3 miles on the road.
Forgetting all my own tips about getting out early (plus needing to take the dogs for a walk before it gets too hot), I switched my goal from six to four miles. Perfect timing, I got home before it heated up too much (it's 108 outside as I write this). Thursday: 4 miles, mostly on trails.
So that was my running this week. In the last seven days, I ran 24 miles and some change. Not bad!
If you followed me on Instagram you'd already know all this!
5 Fun Fit Things I'm Loving Right Now
As a healthy living and running blogger, I often get the opportunity to try out new products for free and share my opinion with my readers. I also get asked to be an ambassador for products that I truly love and believe in. I frequently have discounts to share. Here are some of the fun fit things I've been trying lately.
Nuzest
I was recently asked to be an ambassador for Nuzest (<–affiliate link).  I had loved this plant-based protein powder for a while, so I eagerly accepted.  Clean Lean Protein uses premium European golden pea protein, which is allergen-free and low in carbs. And, yes, it's delicious, both simply mixed with water or non-dairy milk, or in smoothies, baked goods, or other recipes.
I have some great ideas for some recipes that I want to create, but in the meantime, try this Tropical Sunshine Smoothie to start your day off right! Use the code COACHDEBBIERUNS to save 15% on your purchase!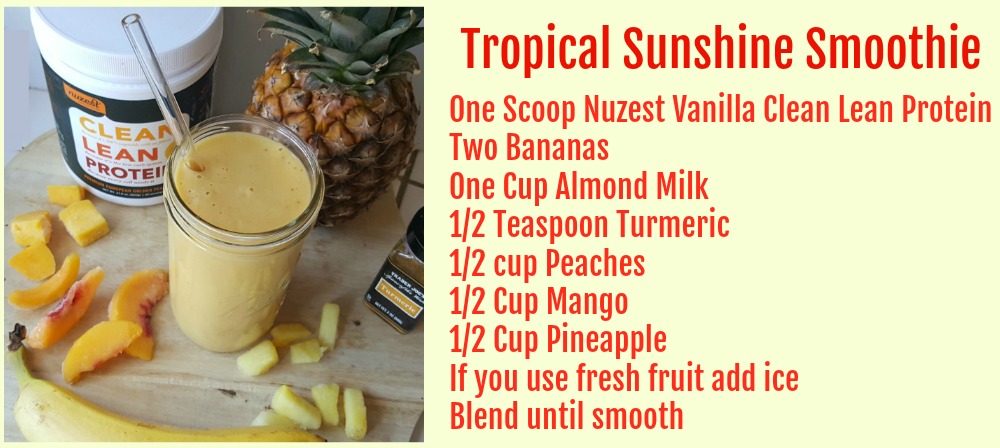 Handful Bra
I've seen many runners wearing the Handful Bra, so I was really excited when I had the opportunity to try it myself! I chose the Handful Adjustable Bra in Pinky Swear (even the color names are cute!). I really love this bra. It is so comfortable, and I love that the straps can be adjusted three ways. It has removable pads, and as I mentioned above, I usually cover up my sports bra when I run, but the Handful Bra is so pretty I really wanted to show it off. So, I stepped outside my box.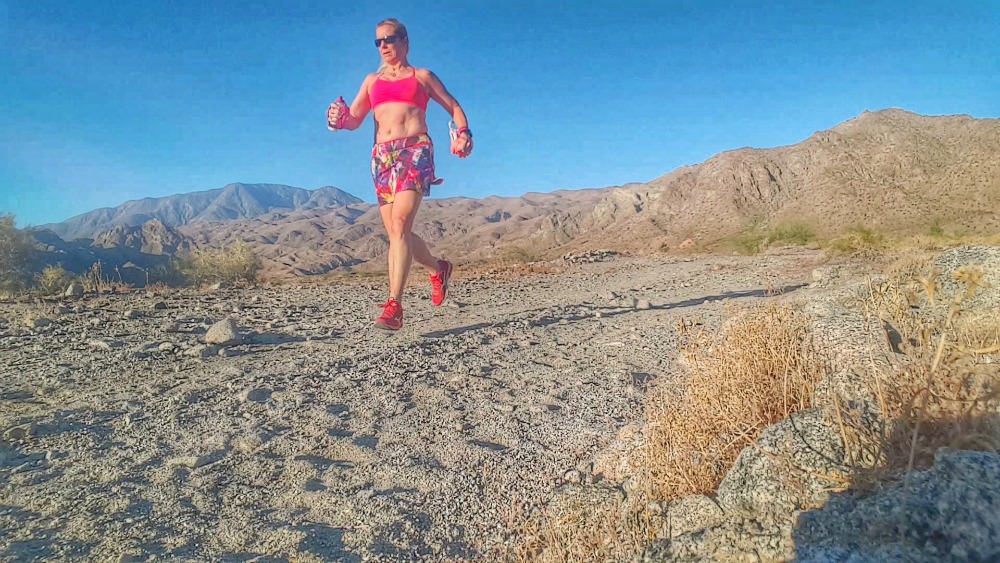 Zensah
You guys know I love compression socks. They help with recovery, though studies are mixed about their benefit during a run. One thing I know for sure: they look good! As the weather gets warmer, though, the idea of wearing knee socks doesn't sound quite as comfortable. Fortunately, Zensah has that one figured out! Their new Featherweight Compression Leg Sleeves are made with an ultra-thin fabric for breathability as well as moisture wicking yarn, while still maintaining graduated compression. And see that chevron pattern in the photo below? They actually help relieve shin splints!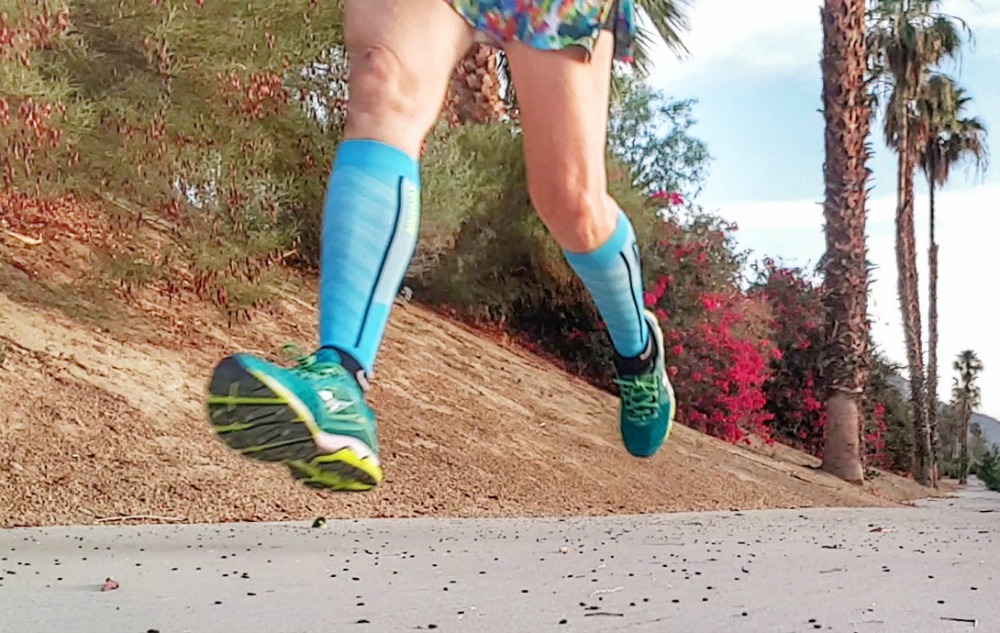 Nuun Performance
You may know that I'm a member of Team Nuun, but you may not know that Nuun recently introduced Nuun Performance, which provides electrolytes and carbohydrates, which are precisely balanced to hydrate and fuel athletes better during long, hot, or strenuous efforts. Nuun Performance provides the precise ratio and kinds of electrolytes and carbohydrates, with ingredients in their purest form, that are more fully absorbed during your hard efforts. I personally love that Nuun has filled in the missing link in their line of hydration products. From now through June 23, 2017 you can save 25% on your purchase with the code hydratefriends2017! You will need to create an account to save with this code. Enjoy!

Zoom HRV
I mentioned the LifeTrak Zoom HRV a few weeks ago, when I was just starting to try it out. The Zoom measures your heart rate variability (HRV), which is the variation of the intervals between heartbeats. This is used as a measurement of fitness as well as fitness preparedness.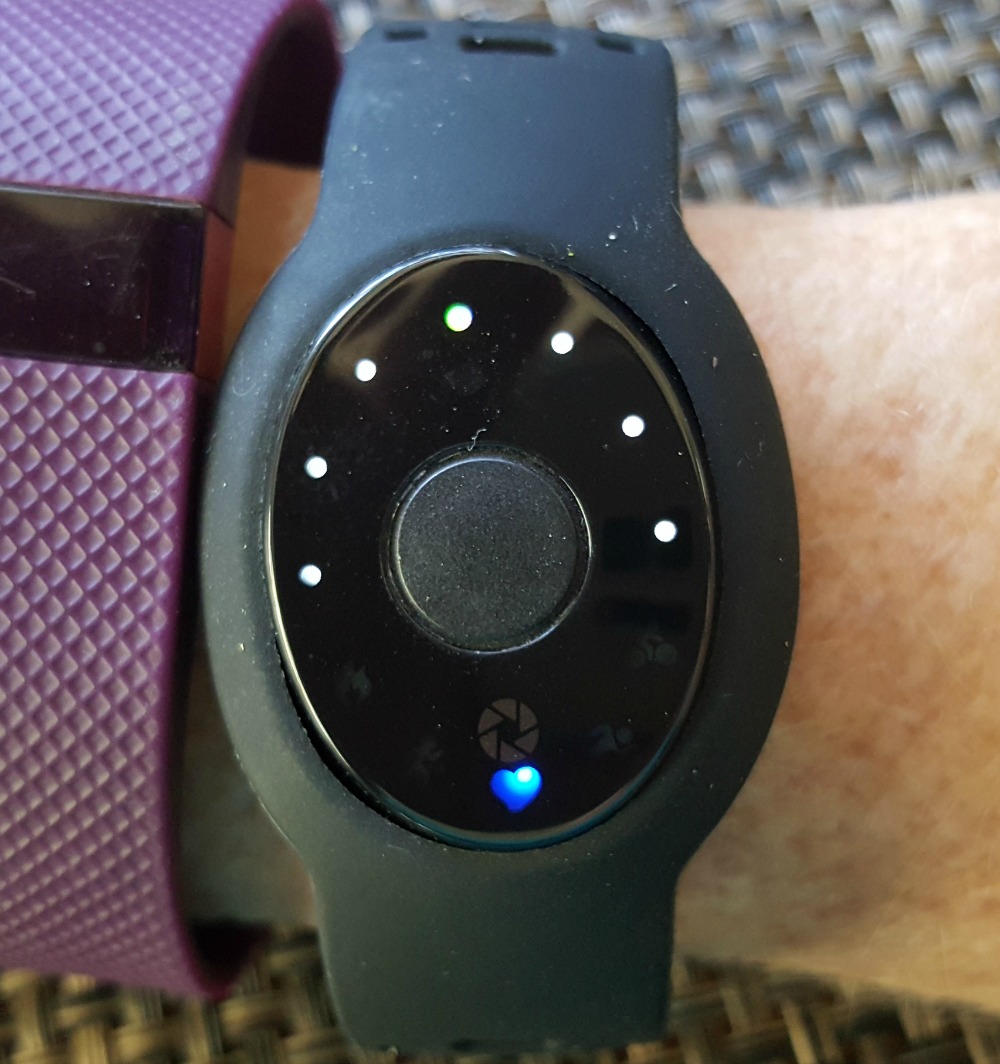 A low variability means that you are stressed, and can also indicate overtraining or inflammation. On the other hand, a high variability indicates that you are calm, rested, and ready to train. Therefore, measuring heart rate variability can let a runner know when they can train hard and make advances, and when they should take the time to rest and recover.
I'm a bit of a data junkie, so I found all this information very helpful and interesting. It was also quite accurate. On days after a heavy workout, my HRV was quite low and the Zoom app suggested that I should rest. On other days, my variability was high, so I knew that I could push myself in my next workout. The Zoom HRV also measures steps, calories, heartrate, and distance.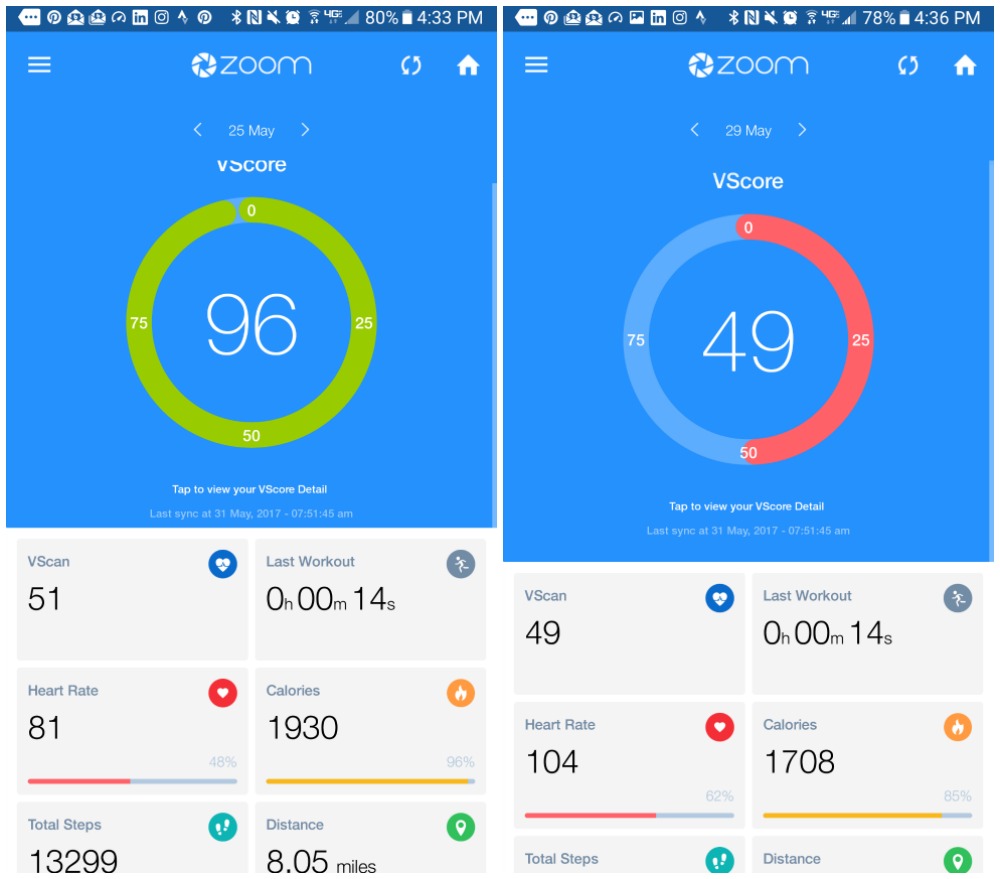 The V-Score, shown above, is a compilation of your Heart Rate Variability V-Scan over time. In the photo above, on the day my V-Score was 96, indicating I was in good shape, even though I took my V-Scan after my workout. On other days, when I relied on a sleeping V-Scan, it would be higher and the app would indicate that I was ready to work out.
In the other sample, when my V-Score was 49, I was told it was time to rest because my V-Scan was lower than the trend because of recent activities.
In my opinion, the Zoom HRV is a great tool for athletes who train hard and want to be able to assess their readiness for their challenging workouts.
How was your running or fitness week? Any races or other events this weekend? What is your favorite fitness tool?
---
Weekly Linkups
My weekly linkups! Please stop by and check out all of the great recipes, workouts, and information that all these awesome bloggers share every week!
Meatless Monday with Sarah and Deborah
Meatless Monday with Annmarie  and Dixya
Tuesdays on the Run with Marcia, Erika, and Patty
Inspire Me Monday with Janice
Wild Workout Wednesday with Annmarie, Michelle, Jen, and Nicole
The Plant-Based Potluck Party with Deborah
The Running Coaches' Corner with Rachel, Suz, Lora Marie, and Me!
Giveaway Roundup and Try Out Thursdays with Smitha
The Blogger's Pit Stop with Kathleen, Janice, Julie, and Menaka
Friday 5 2.0 with Rachel and Lacey and Meranda