Can I possibly tell my running story in 250 words? Considering I've written multiple blog posts to tell that story, it seemed like a challenge to condense it. But, I knew if Deb, who has an amazing running history, could do it, I could too. Of course, I couldn't resist adding a few links if you just have to read more! This is part of a fun monthly running link up, so you might want to join in the fun!
My Running Story
In 6th grade I was the fastest kid in class. Boy or girl. In spite of that, I didn't run again for 25 years (unless I was being chased).
I returned to running in my mid-30s, mostly because I was tired of aerobics and needed a change. I ran off and on for the next couple years.
In 1994 I moved to La Quinta and decided I wanted to run my first race, a hometown 10k. I finished in 50:50, 4th in my age. I'd never run 6 miles before!
I was hooked. Lots of races, lots of age group medals (a few wins!).
I met my husband at the Tram Road Race in 1996. Three years later I married him on the finish line of the same race.
He talked me into running my first marathon, Honolulu in 1996. Again, I was hooked. I ran 34 more in the next 11 years. Including the Paris Marathon. Twice. PRed at St. George in 1999 (token brag: 3:16:38).
I wanted to spread the joy so I started coaching. High school cross country. Adult runners. I got certified by USATF and RRCA.
I hurt my knee about 12 years ago. I kept running but it slowed me down. Way down. My last marathon was in 2007.
Last year, at 55, I decided I wanted to train hard again. Set a goal for the half. Nailed it. Then, something must have possessed me. I decided to run another marathon. Number 36. Rock and Roll Marathon here I come. June 1, 2014.
Final words: I am a runner. Still.
So, do you want to join in the fun? Click on the picture below to get details. There is a different theme each month, so be sure and check it out!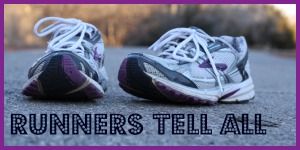 Do you have a running story to tell? (Silly question..every runner has a story!)  I'd love to hear it so I hope you'll join the link up or tell me in the comments.