Lots of info in today's post! Not only will I teach you how to create a beautiful, flying running selfie, I'm sharing my second Body First Video! Today we're moving up the leg a little to focus on tight calves as well as the muscles in the front of the lower leg. Plus, of course, it's the Running Coaches' Corner, so be sure to link up below and check out all the other great running posts!
The Art of the Running Selfie
If you follow me on Instagram, you know that I love to post a running selfie or two a day. You may notice that in almost all my photos I manage to catch the shot with both of my feet off the ground.  I frequently get asked about how I manage to time my running selfies to that point of perfection.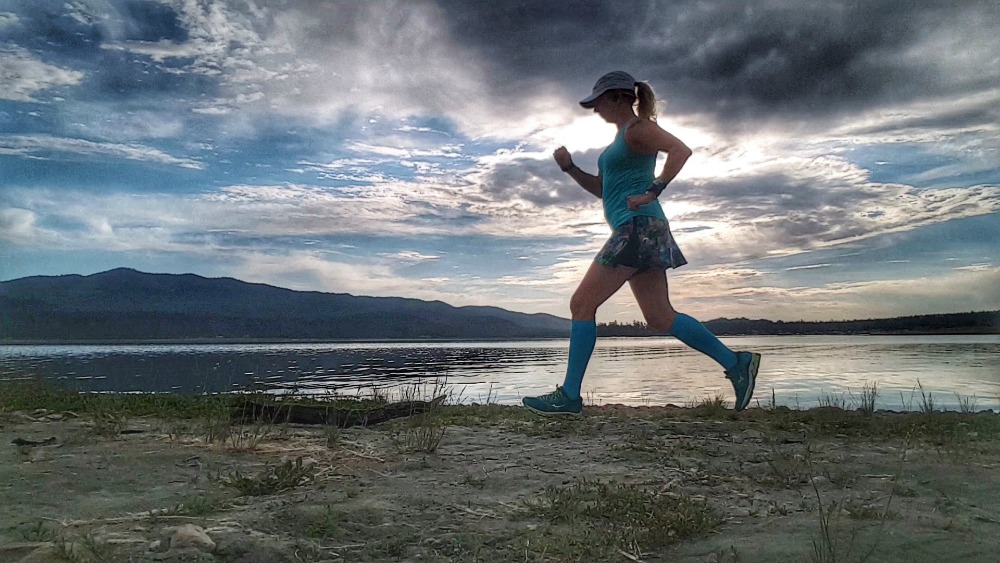 I can assure you that I am not really flying down the road or the trail except in my dreams. If you've ever seen my race photos you'd know that isn't true! As matter of fact, most race photos manage to do the opposite of making us fly.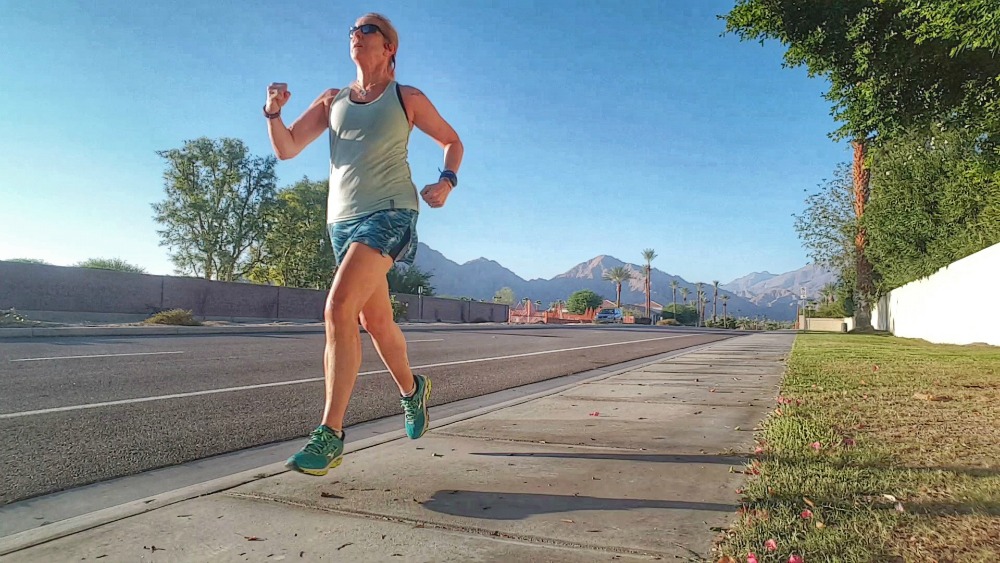 I know from talking to other runners, that there are many ways to take a running selfie. I've tried a few of these, like setting the timer and hoping that you catch a semi-decent shot. A couple years ago, I purchased a selfie stick that came with a remote. For a long time, I used that remote to take burst shots, which came out pretty well. At least when the remote didn't lose it's connection to my phone.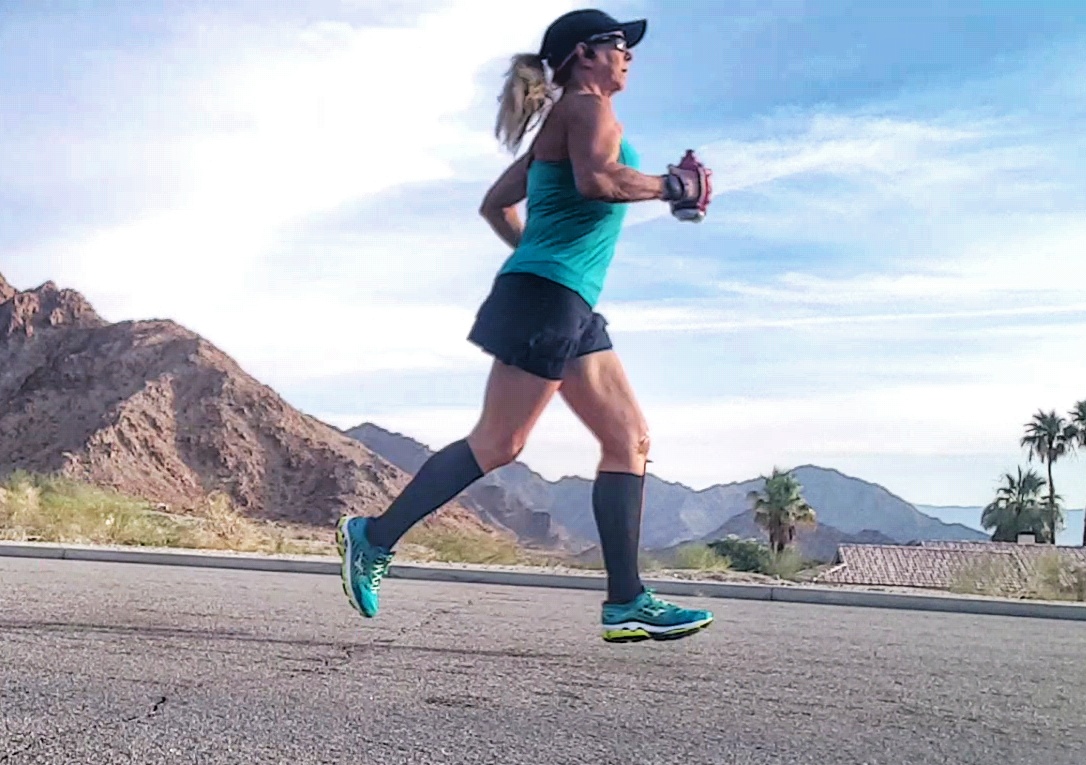 Then one day, I read a post by Nicole about how to take an action shot. You know those great jumping photos that make us even an almost 60-year-old woman look like we're 10 feet off the ground? And of course, the running selfies that make us fly. Her advice, which makes so much sense when you think about it, was to use video!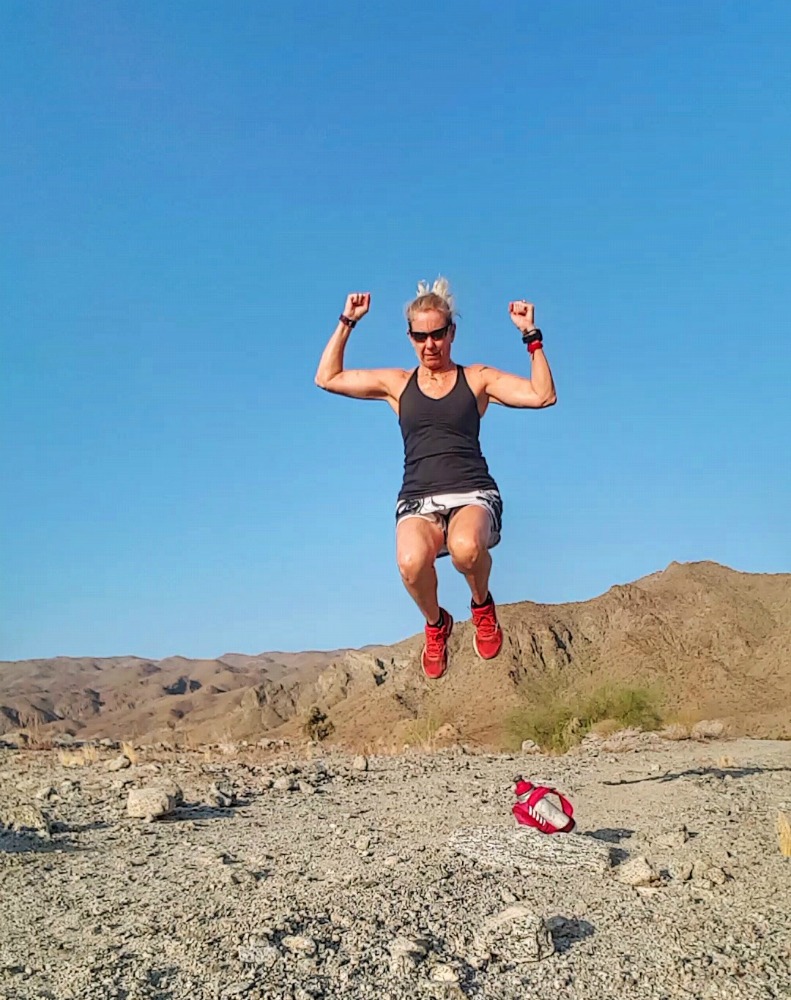 It was such a great idea, but I found that when I tried to pick out a photo from the video, I had a hard time getting it just right, let alone take a screenshot on my Note 5. So here is how I started with Nicole's tips and made it work better for me.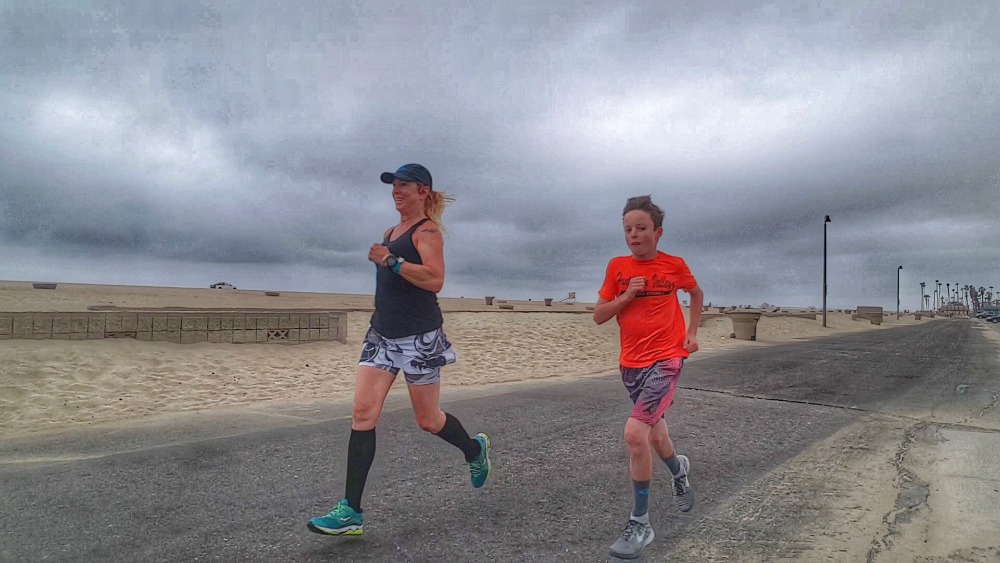 I always use my phone, but if you have a GoPro like my friend Deb does, that will certainly work too. The first thing to do is make sure that your phone is in selfie mode. Yes, I once set up my phone in the bright sun and didn't realize until I got home that I'd filmed a rock.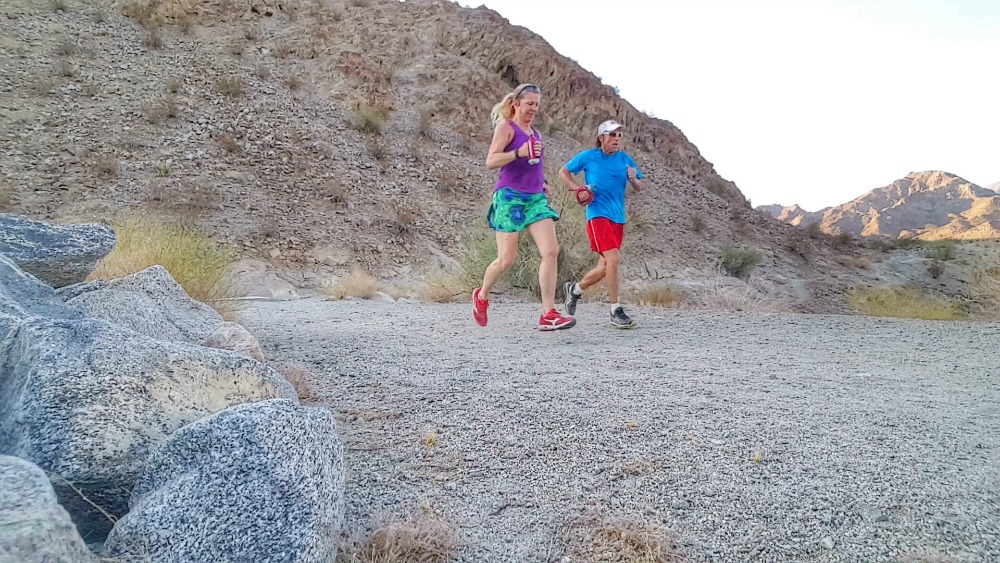 Next, find a place to set up or prop your phone. I run on trails much of the time, so I use rocks a lot, but anything that has a somewhat flat surface will work. I will use a smaller rock or something similar to prop up my phone. I've even used my sunglasses or water bottle on occasion.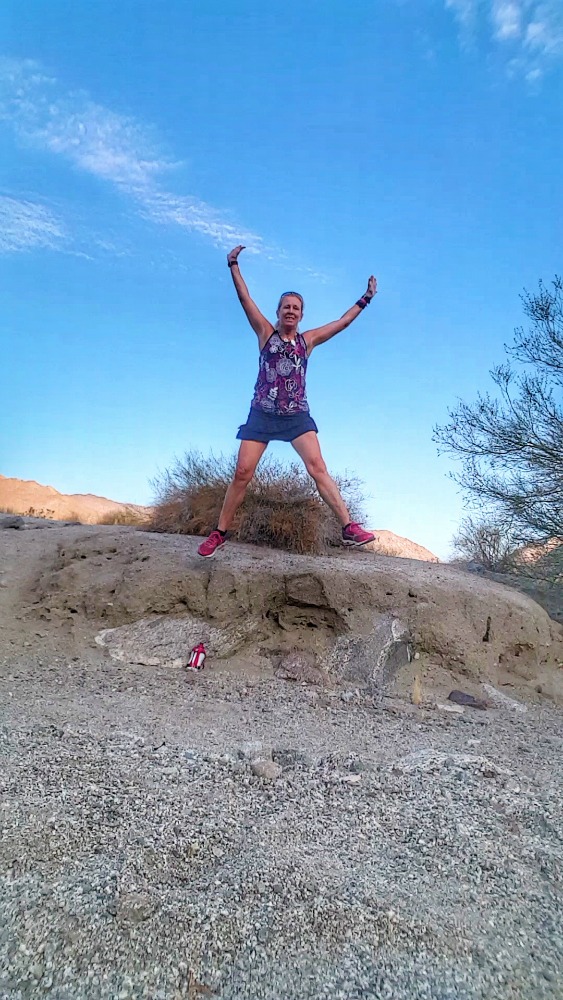 Think about how you want your photo to look. You can set your phone high, low, or in the middle for different angles. Check what is in the background. You're going to be running, so make sure that the ground in the area is safe.
When you have your phone propped at the angle you want, start the video and run. You can run back and forth, toward and away from your phone, or a combination. If my phone is set up low I will sometimes leap over it. When you run, allow yourself to bound a little bit. It looks funny on video, but it makes for a great flying photograph!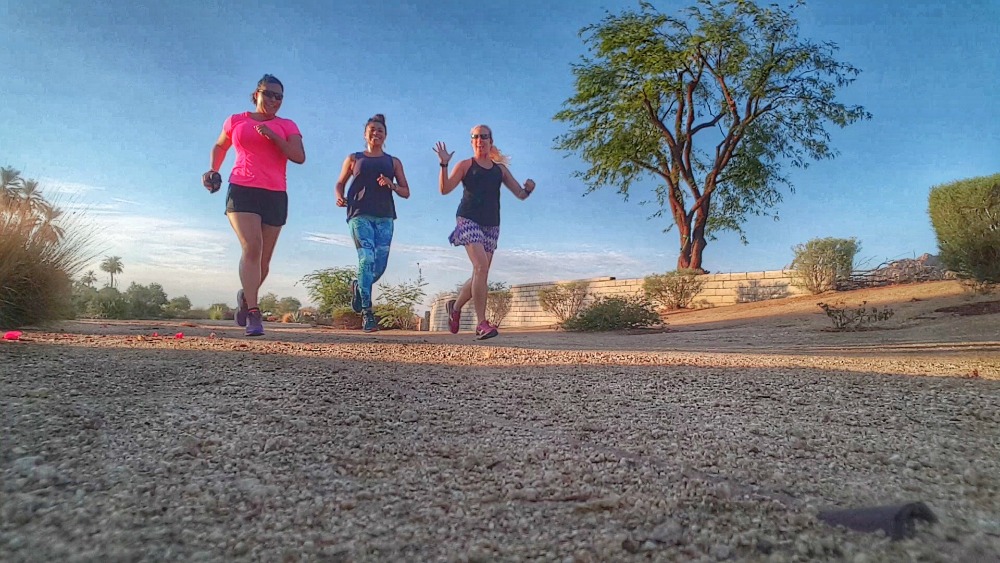 If you plan to take a group shot, like the one above, take a moment to tell the other runners the best photos come when everyone is in cadence with the others. That's not as easy as it sounds, especially when you have more than a couple people!
After a couple of passes, stop the video and take a quick peek, just to make sure that you didn't cut off your head or video a rock. Then finish up your run and head home.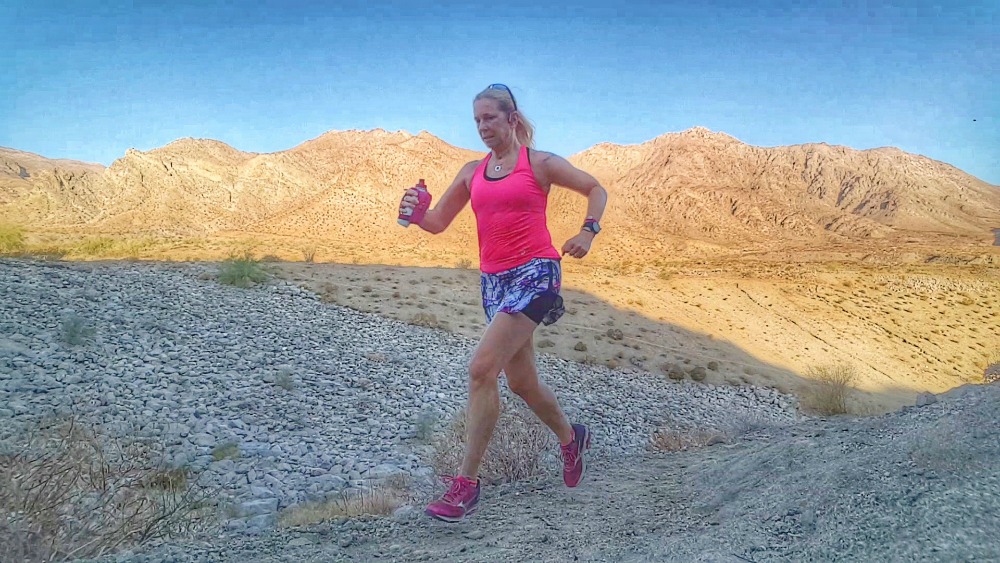 For the next step, you will need to download an app to your phone. This will help you grab the perfect frame (or 10) with the exact poses that you want. I use an Android phone and I love Vid Trim. It's a free app that allows you to go frame by frame through a video, saving the ones that you like. It does a few other things like trimming videos, but it's pretty basic.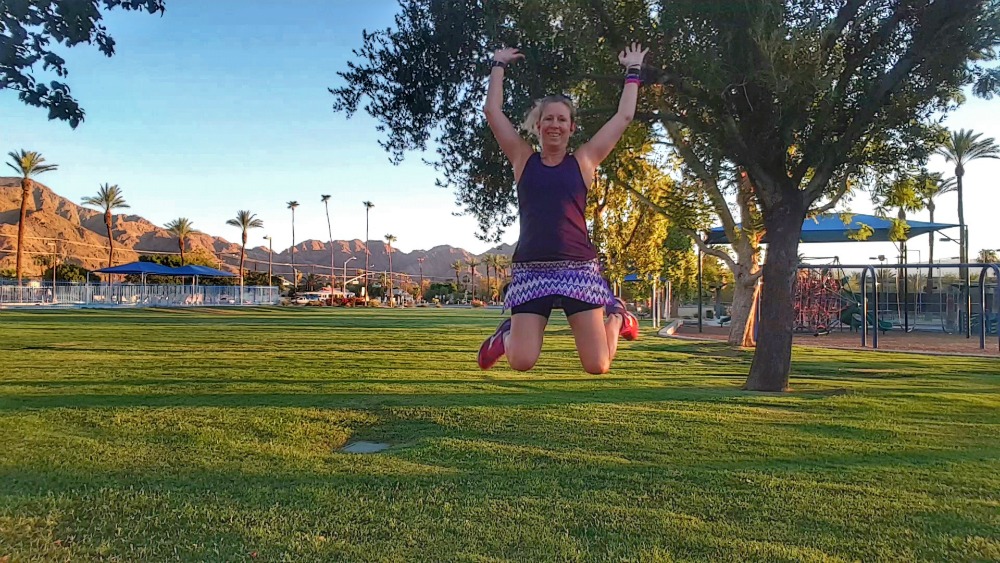 There is an iPhone app called Instagrabber that seems to do the job (I tried it out on my iPad). It's not quite as user-friendly as Vid Trim, but it will get the job done. There is a paid app called Snapstill that has good reviews. It costs 99 cents. Or you can try the old fashioned way and take screen shots.

After you've saved your photo grabs, you will probably want to edit the best ones. I love Snapseed, which is available on both Android and iPhone. I'm pretty sure I don't use it to its full capabilities, but I like the results. Check out Wendy's post on photo editing for some great tips.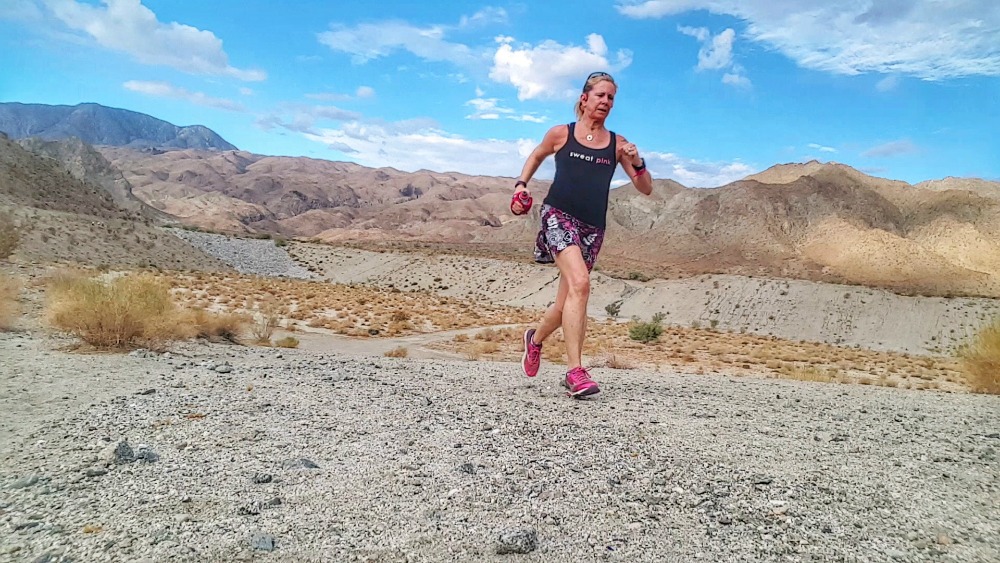 And, voila! You're ready to share your photos to Instagram or other social media! Then you can have your followers ask you how you take such amazing running selfies!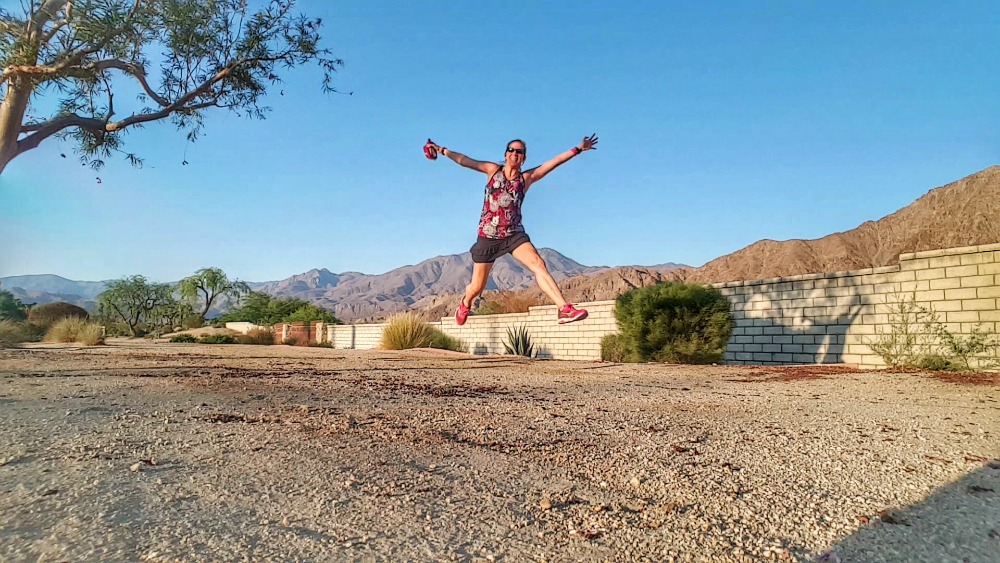 Body First Video Series: Lower Leg
Today we're working on the lower leg, calves, and shins. I used the Trigger Point Therapy Grid and Massage Ball, but you can use any foam roller and a tennis or Lacrosse ball. Remember that you can subscribe to my YouTube channel to get notifications when a new video is posted.
Here is the first video in the series: Body First Video Series: Happy Feet
Do you take running selfies? Any tips to add? If you use an iPhone and use this technique, what app do you use?
And Now It's Time for the Running Coaches' Corner!
Loading InLinkz ...
---
Weekly Linkups
My weekly linkups! Please stop by and check out all of the great recipes, workouts, and information that all these awesome bloggers share every week!
Meatless Monday with Sarah and Deborah
Meatless Monday with Annmarie  and Dixya
Tuesdays on the Run with Marcia, Erika, and Patty
Inspire Me Monday with Janice
Wild Workout Wednesday with Annmarie, Jen, and Nicole
The Plant-Based Potluck Party with Deborah
The Running Coaches' Corner with Rachel, Suz, Lora Marie, and Me!
Friday 5 2.0 with Rachel and Lacey and Meranda