Since November is National Running Safety Month it is a great time to review some running safety tips and tools that I use and recommend to keep runners safe. Through my connection as an Ambassador, Wearsafe is sponsoring the Instagram Giveaway, but I received no compensation in exchange for this post. All opinions are my own. This post contains affiliate links.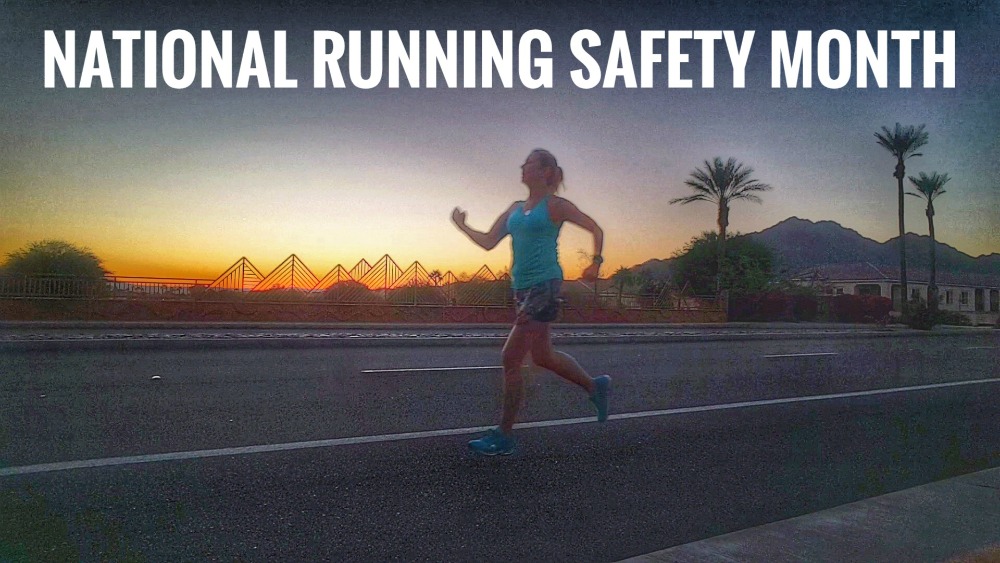 Running Safety Tips and Tools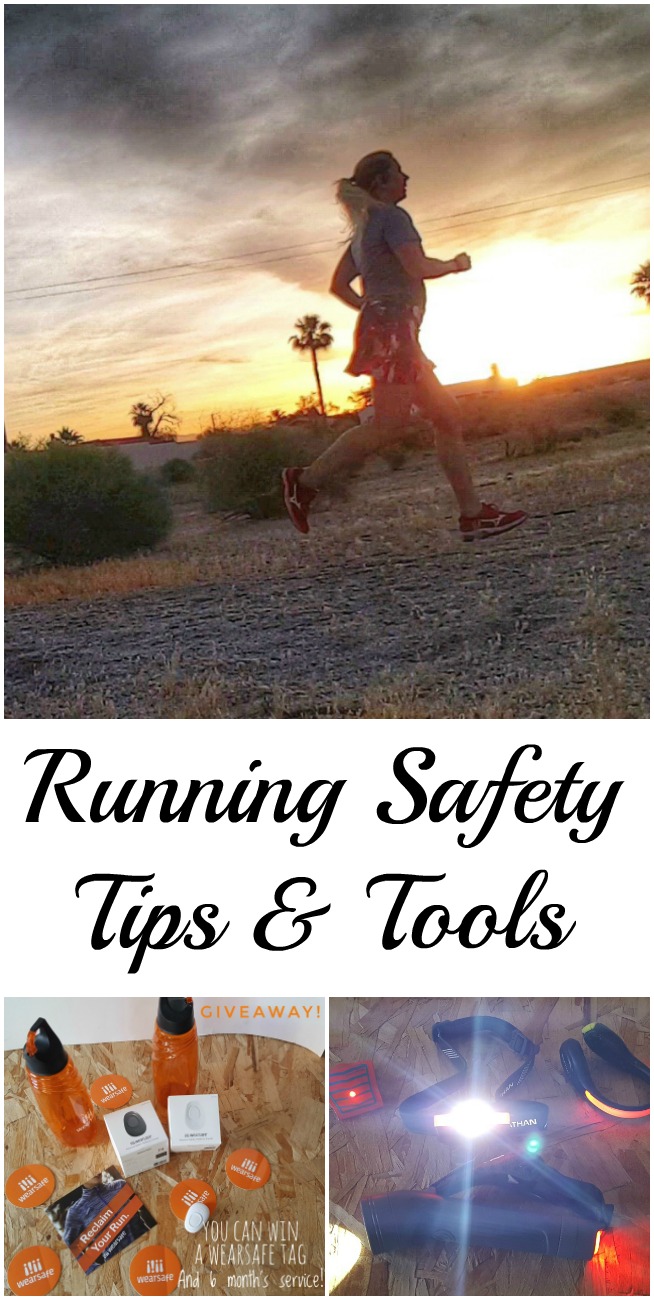 Here are a few running safety tips and tools that will help you stay safe on your run.
1. Light Up the Darkest Night
As the days get shorter, many runners must head out in the dark in order to get their mileage in. Visibility is vital to avoid injury, both to light your way and to avoid being hit by oncoming traffic. Here are some of my favorite tools to light up the night.
I adore this Skirt Sports Reflective Safety Skirt! There is also a Bolero which can really help keep your arms warmer on a chilly morning. The reflective material of the skirt catches the light of oncoming traffic and you will really stand out from the dark! The skirt also provides a little extra warmth and is easy to roll up and stash away when you're done using it.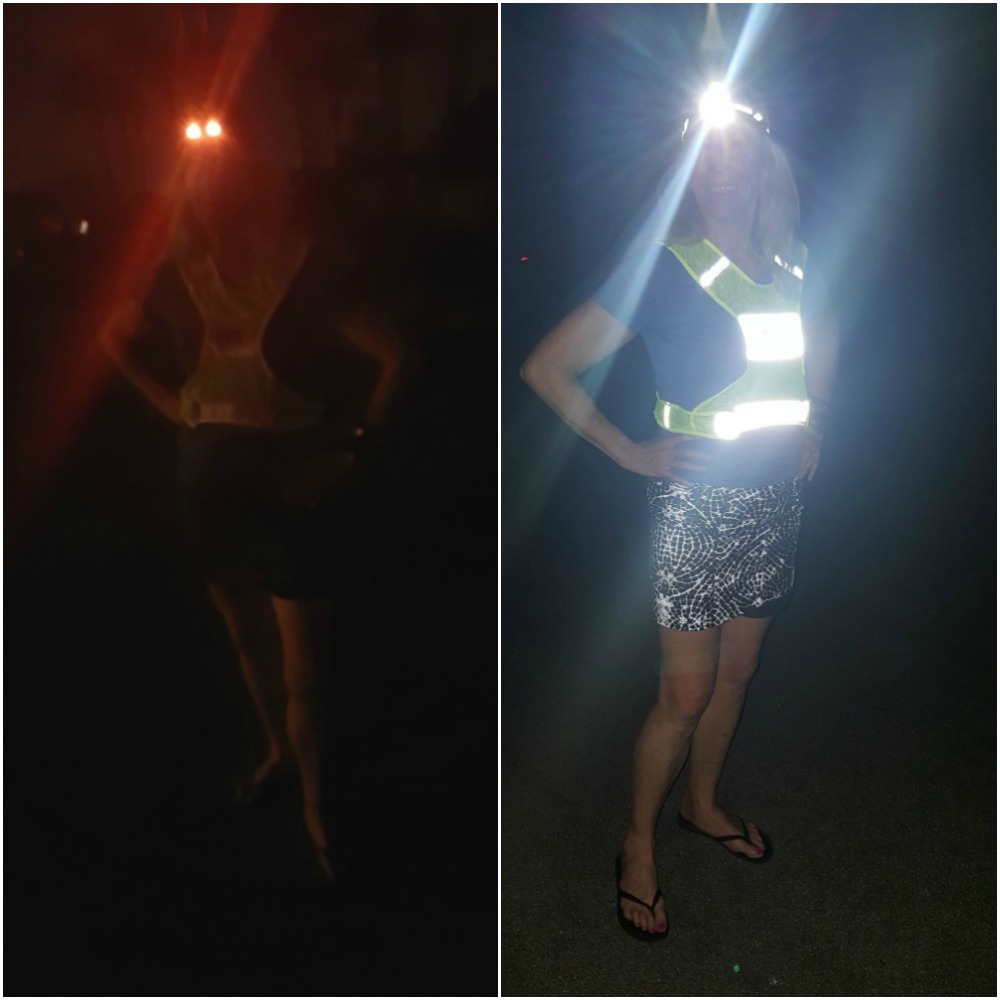 The Nathan Sports Streak Reflective Vest is a great reflective tool as well. It's Ragnar approved and perfect for any type of nighttime work (like when I worked the parking lot at the Malibu Half Marathon!).
I love all of Nathan Sports products and I've been using several visibility products that I would definitely recommend (I was sent these products to try out, but I'm only sharing them because I love them).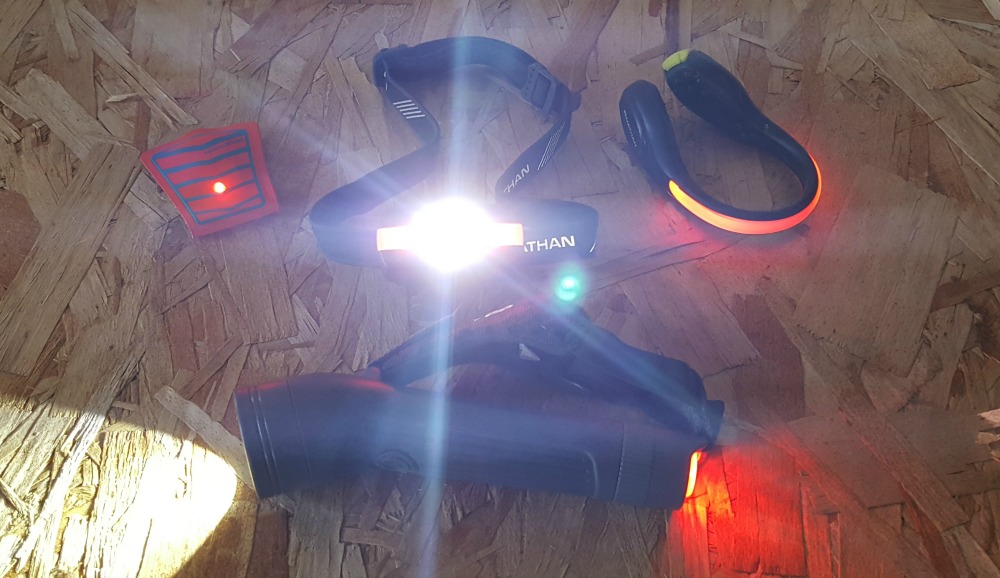 Neutron Fire RX Runners' Headlamp: Lightweight, 200 lumens, comfortable, and rechargeable. It has five light modes and red, blue, and green side strobes.
Zephyr Fire 150 Hand Torch: This great little handheld light provides 150 lumens (there is also a rechargeable version with 300 lumens), operates on two AA batteries, and is angled so that your stream of light perfectly lights up the road or trail ahead of you. It also has a rear-facing LED to make you visible from behind.
LightSpur RX LED Foot Light: I love this cool little LED light that just slips on the back of your shoe. It's rechargeable, has red, blue, or green lights with several modes of flashing. Alan and I even use it when we walk our dogs.
Mag Strobe LED Clip Light: This handy little LED light is magnetic so that you can slip it on the back of your shirt or jacket to increase visibility from behind.
2. Stay Alert
Whether you're running in the dark or not, staying alert on the run is an important running safety tip. Be aware of your location (I know you runners who can get into a dream state while you run!), what is around you, and keep an eye and an ear open to unusual or unsafe circumstances. For that reason, it is wise to avoid wearing headphones, particularly when you're running alone in the dark.
3. Find a Tribe
Running with a friend or two (or 10!) is the best way to stay safe on the run. Joining a running club is a great way to find like-minded friends.
4. Carry Protection
Be a good girl or boy scout and be prepared. If the worst happens, carrying a self-defense tool can help keep you safe. I carry my little pink Sabre Safety cannister on all my solo runs. It has a handle to make it easy to carry in your hand.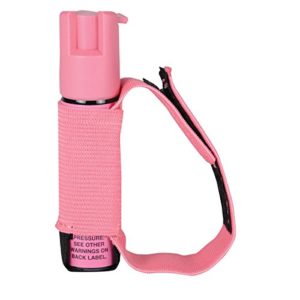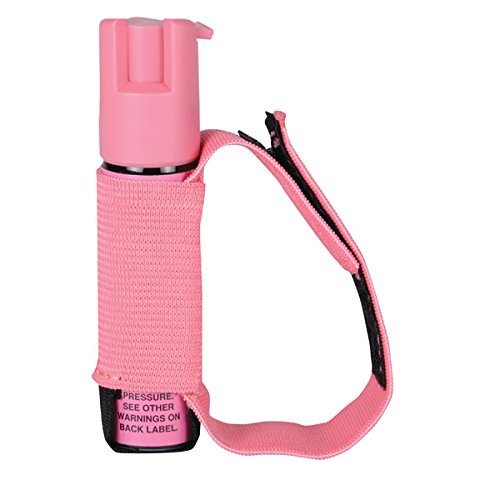 5. Show Your ID
Road ID that is. I never run without mine (and Alan never rides without his). It's another of those worst case scenario things, but important.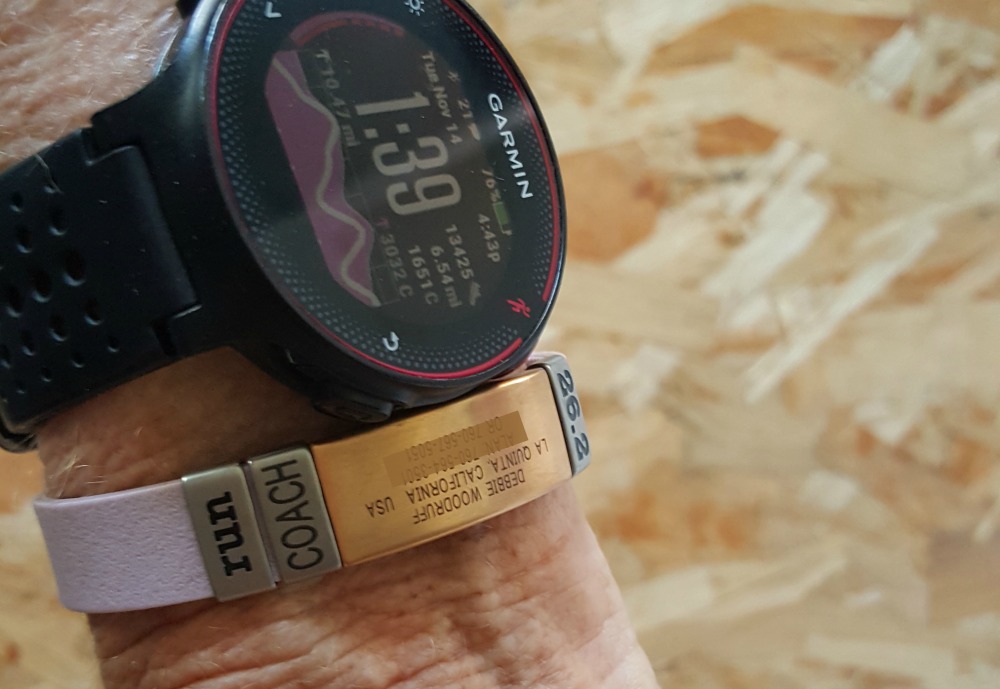 6. Run Facing Traffic
If forced to run on the street be sure to run facing traffic so that you can see what is coming and take necessary action if necessary.
7. Bring your Phone Along
While you'll hopefully only need it for taking selfies, having a phone is important if you get injured, lost, or have other events happen that won't allow you to finish your run.
8. Stay Connected with Wearsafe
Wearsafe is wearable technology that can help you in case of an emergency. Simply connect the Wearsafe Tag to your phone, select your "network" of friends, and clip on the lightweight tag when you go for a run.  Now you are just the push of a button away from assistance.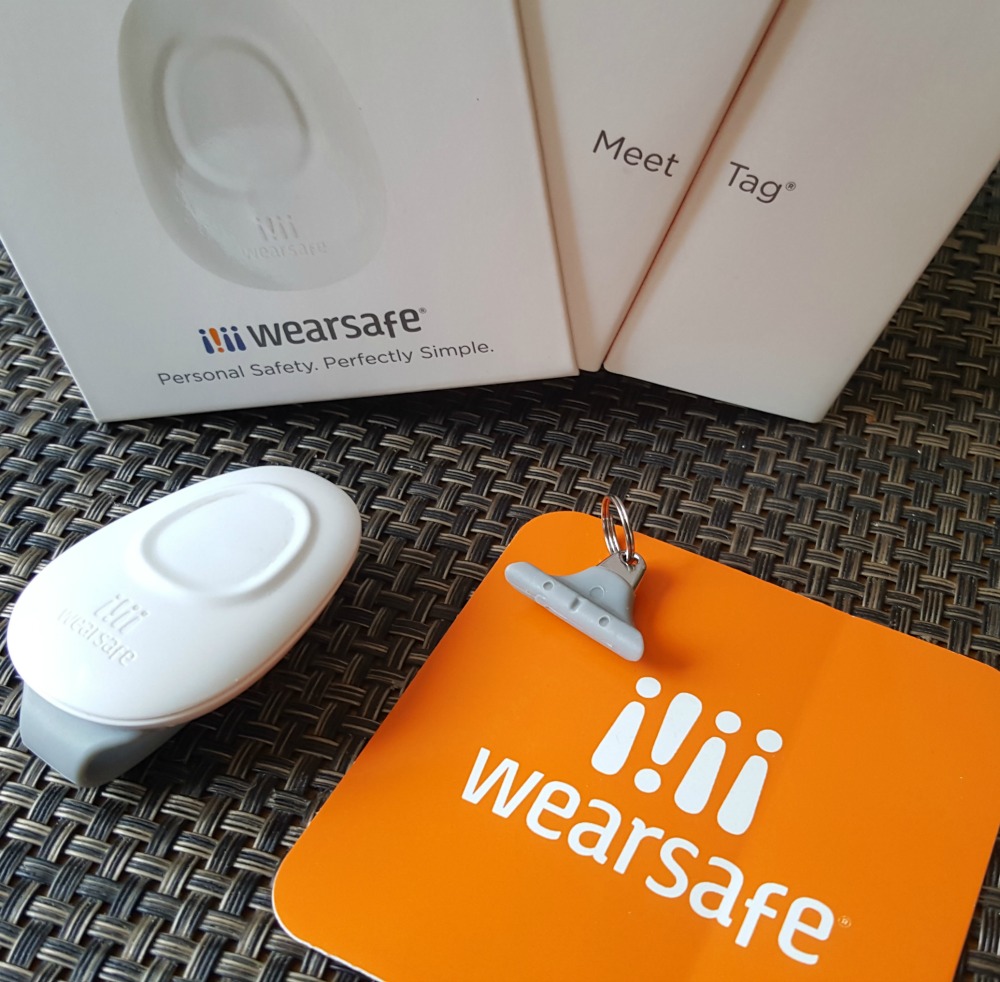 Read my Full Wearsafe Review here.
The Wearsafe Tag is discreet so it is perfect to use for running, cycling, hiking or anytime you work out or travel alone. It simply clips onto your clothing or purse, or it can be attached to your key ring, to be easily accessible if you ever need to call for help.
Remember that your best defense when you're running alone is your common sense and alertness. Stay aware, trust your instincts and stay safe out there!
Do you have any tips to add? How do you stay safe when you run (or ride, walk, etc.)?
And Now It's Time for the Running Coaches' Corner!
Loading InLinkz ...
---
Weekly Linkups
My weekly linkups! Please stop by and check out all of the great recipes, workouts, and information that all these awesome bloggers share every week!
Meatless Monday with Sarah and Deborah
Meatless Monday with Annmarie  and Dixya
Tuesdays on the Run with Marcia, Erika, and Patty
Inspire Me Monday with Janice
Wild Workout Wednesday with Annmarie, Jen, and Nicole
The Plant-Based Potluck Party with Deborah
The Running Coaches' Corner with Rachel, Suz, Lora Marie, and Me!
Friday 5 2.0 with Rachel and Lacey and Meranda