I've told the story of my love for Shawarma before. Before I was vegan, it was my favorite "fast" food.  When I first tried to make a vegan version, I used Gardein Chik'n Strips and it was very tasty. Last night I wanted to try it with seitan, and I think it was even better. I took it a step further and made my own hummus, too. I decided I need to write up the recipe properly (in my previous post, it was "add a cup of this, and a teaspoon of that."), so that it would be easy to follow and be consistently delicious.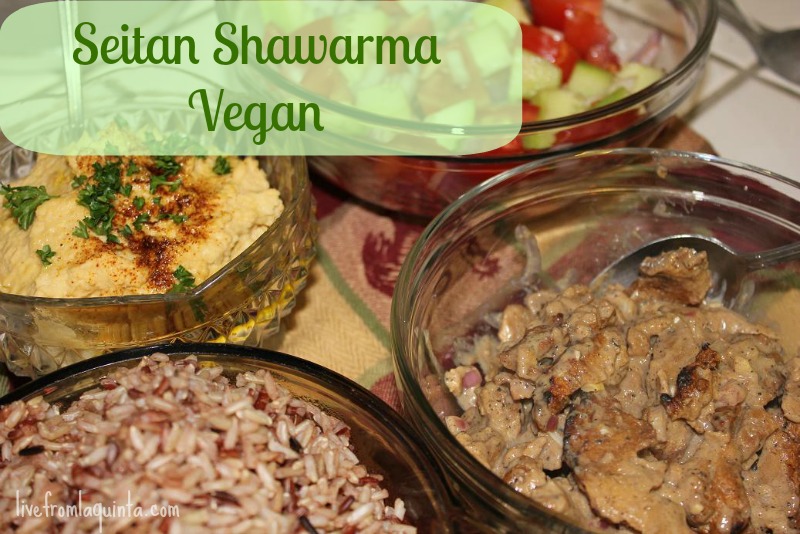 Vegan Shawarma
Ingredients:
One package (or one cup if homemade) seitan or chicken substitute, cut into strips
One Tablespoon lemon juice
One teaspoon Garam Masala
1/2 teaspoon Paprika
1/4 teaspoon Cumin
1/2 teaspoon Salt
Pepper to taste
1/2 cup soy yogurt
One Tablespoon Malt Vinegar
Two Cloves Garlic, minced
Method:
In a small bowl, sprinkle the seitan with the garam masala, paprika, cumin, salt and pepper. Add the lemon juice and toss to mix. In a separate bowl, combine the yogurt, vinegar, and garlic. Add the "meat" mixture and stir together. Marinate for a minimum of 30 minutes, or up to overnight.
Preheat Broiler. Spray broiler pan lightly with cooking spray. Spread seitan in a single layer on the pan. Broil until lightly browned, then turn over and repeat on the other side.
Serve with warmed pita bread, hummus (recipe below) or shawarma sauce (recipe below). (Can also be served with vegan tzatziki or tahini sauce.) Top with tomato salad (recipe below).
Hummus
One can garbanzo beans, rinsed and drained
Two Tablespoons Lemon Juice
1/4 cup Olive Oil (plus another tablespoon to drizzle over the top)
One teaspoon Tahini
Two cloves garlic, minced
1/2 teaspoon salt
Place all ingredients in a food processor or blender. Process on high until creamy and smooth.
Shawarma Sauce
Three Tablespoons vegan mayonnaise
Two Tablespoons Rice vinegar
Two cloves garlic, minced
One Tablespoon Olive Oil
1/2 teaspoon salt
Blend all the ingredients until smooth.
Tomato Salad
One small tomato, chopped
1/4 cup onion, chopped
1/2 cup cucumber, chopped
1/2 cup olive oil
Two Tablespoons red wine vinegar
Salt & pepper to taste
Combine the vegetables. Mix the rest of the the ingredients and pour over vegetables. Toss lightly.