As promised I have a vegan quesadilla recipe made with Gardein Beefless Ground that will knock your socks off!
Not only is Gardein Beefless Ground 100% plant based, it is also gluten free, so if you're wanting some healthy deliciousness, simply make these quesadillas with gluten free tortillas.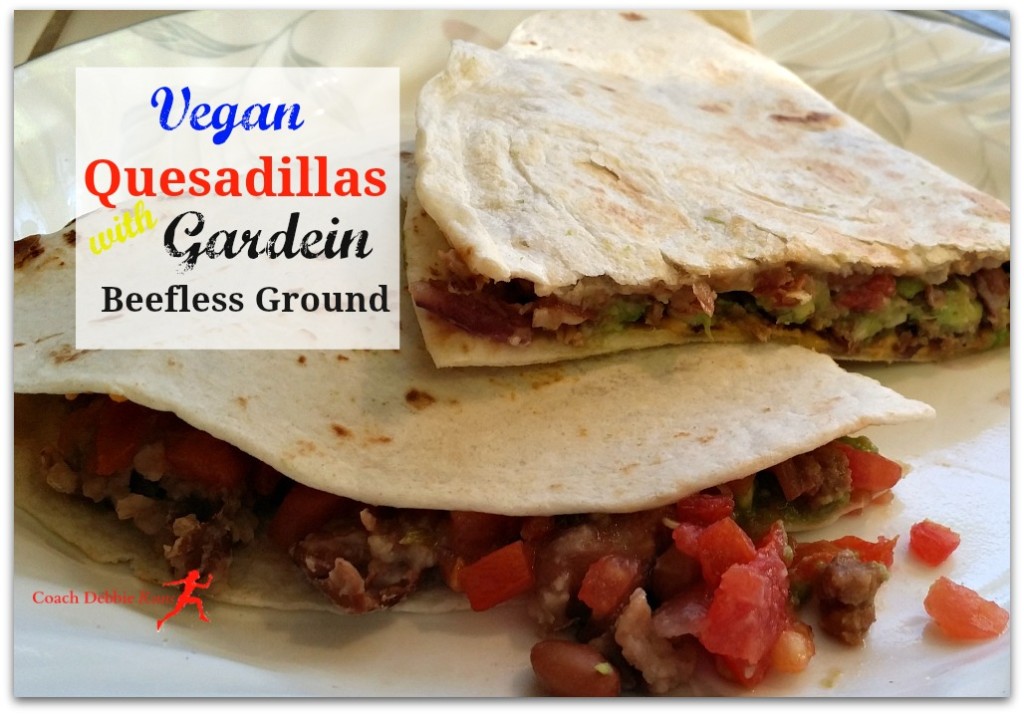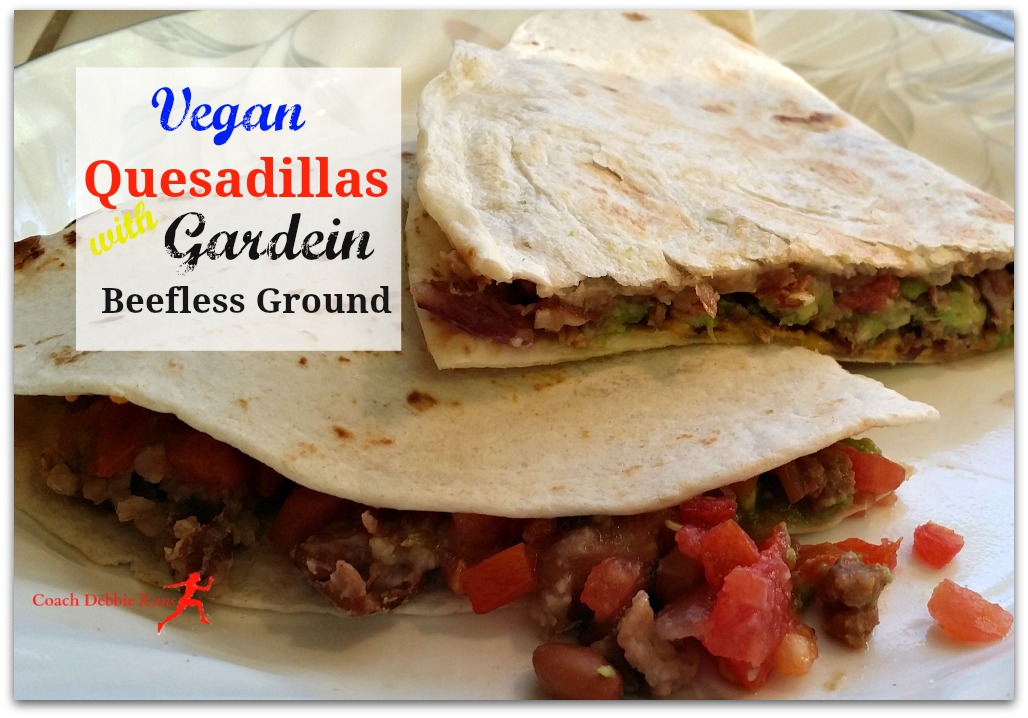 Quesadillas are one of my go-to dishes when I'm short of time. They are ready in less than a half hour, delicious, and really filling too. You can use prepared refried beans and salsa or make your own. The guacamole used in this recipe is very simple, just a mashed avocado with a little lemon or lime juice and salt and pepper. It works perfectly with the seasoned Beefless Ground and salsa.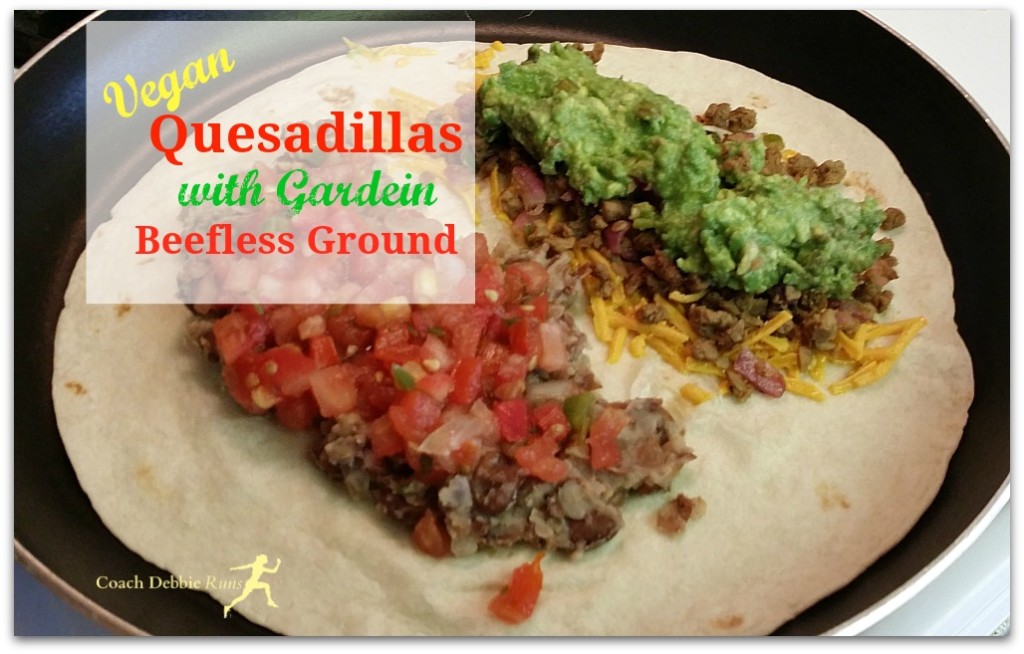 Vegan Quesadillas with Gardein Beefless Ground
Meatless Monday: Quesadilla with Gardein Beefless Ground
Recipe type:
Vegan/Vegetarian
Serves:
2 large quesadillas
Ingredients
1 avocado
1 lemon or lime
salt and pepper
½ cup onion, finely chopped
1 jalapeno or Serrano chili pepper, seeded and finely chopped
½ teaspoon chili powder
½ teaspoon garlic powder
1 cup Gardein Beefless Ground
¼ cup water
1 cup vegetarian refried beans
1 cup vegan cheese
½ cup salsa
2 large tortillas (use gluten free if desired)
Instructions
Preheat a non-stick pan over medium heat.
In a small bowl, use a fork to mash the avocado. Squeeze the lemon or lime on top and sprinkle with a little salt or pepper. Combine well and set aside.
Cook onions and chili for several minutes until soft. Add the Beefless Ground, water, chili powder, and garlic powder. Cook and stir until heated through. Set aside.
Preheat a large frying pan over medium low heat.
Heat the tortilla for about 15 seconds on one side the flip over. Sprinkle about half of the vegan cheese over the tortilla. Add half of the Beefless Ground mixture, beans, salsa, and guacamole, spreading thinly.
Carefully fold tortilla in half. Press it with a spatula to flatten as much as possible. Cook until lightly browned on each side. Keep warm while you prepare the second quesadilla.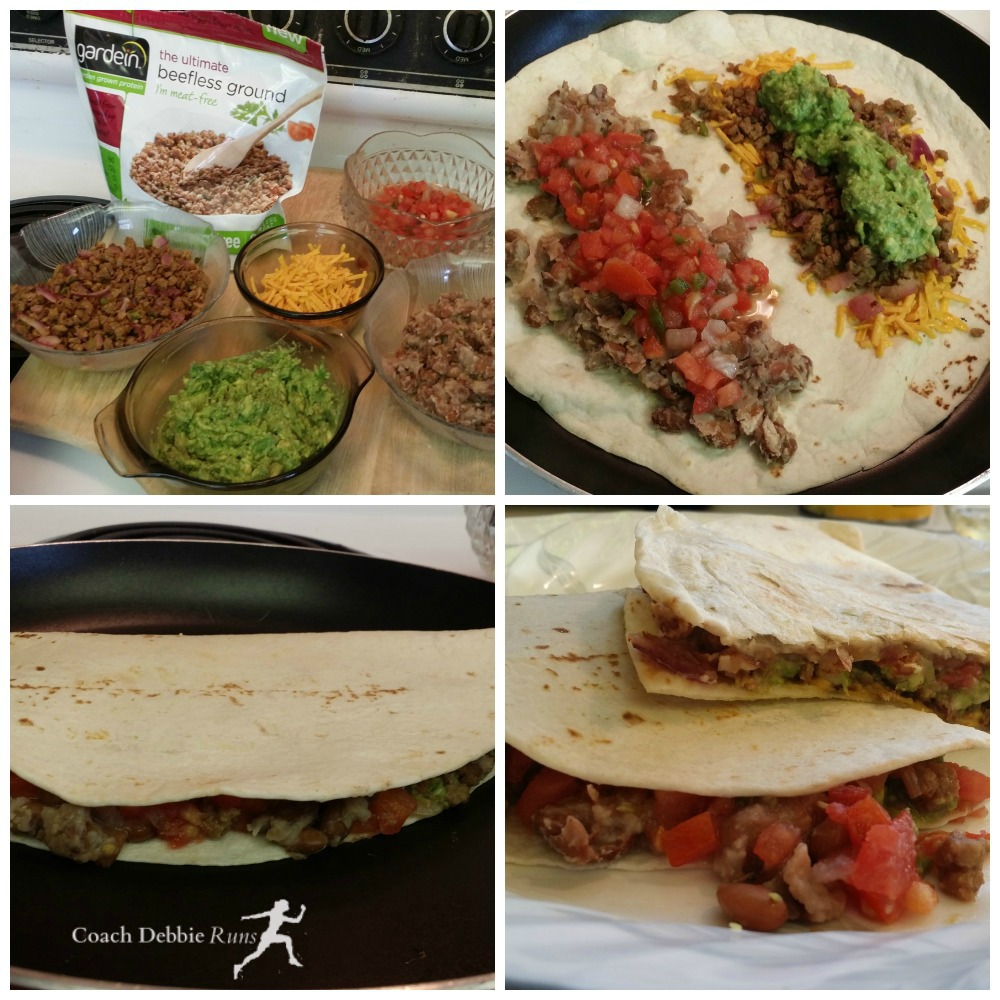 Going meatless one day a week is not only great for your health, it is good for the environment. The meat industry produces more greenhouse gasses than the entire transportation sector combined. If all Americans ate meatless one day a week, it would be the equivalent of taking 1/2 million cars off the road. And for Californians in the midst of a drought, here's a fact that will hit home: A pound of beef uses 1,799 gallons of water to produce. A pound of Gardein takes just 52.8 gallons (source: Water Footprint Research Methodology for beef usage).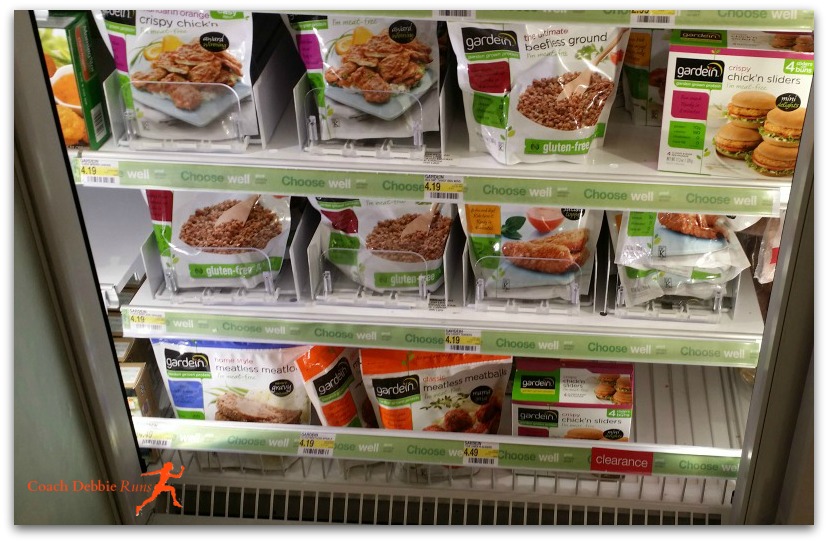 Gardein makes going meatless easy, whether it's for a day or for a lifetime. One serving of the Ultimate Beefless Ground contains 12 grams of protein, is a great source of fiber and iron, and is gluten free. Here's a tip to going meatless: Simply substitute any Gardein product in your favorite recipes! You'll find it at most supermarkets and many other stores, including Target and Fresh and Easy.
Be sure to stop by the website to get a coupon and save $1.00 on your next Gardein purchase! Plus you can find more recipes and dinner ideas.
So, have you tried Gardein yet? What are you waiting for?