A while back,  I participated in a blog link-up called #bestrun. I, and many other bloggers wrote about our best, recent run. It was a pretty simple choice for me, especially after my training runs in the current week were definitely not my best. But, it got me to thinking. How about my worst run? Out of the thousands of miles I've logged in the past 20 years could one specific run claim that title? Well, it was no contest. It was over 11 years ago, but it still stands out as my worst, ugliest, slowest, most difficult run ever.  Ironically, it was on almost exactly the same route as last week's best run.
There is, of course, a back story.
It was Labor Day weekend 2001. Alan and I were training for the Honolulu Marathon. Honolulu, which was my first ever 26.2  in 1996, is also one of my favorites, and I've run the race six times. The race is in early December, and on Labor Day, Alan and I were scheduled to run 20 miles, which we'd planned to do on Sunday of the three day weekend. We could then recover, spend time on the beach, and just generally chill out on Monday.
We drove to Encinitas on Saturday morning, early as usual. I can't remember, but it's likely that we took a run when we got there (as I've looked back over old running logs (yes I keep them), I realize what a dedicated runner I was back then). After the run, we probably spent the day at the Moonlight Beach, soaking up the sun (my how things have changed).
That evening we met some friends for dinner at Hernandez' Hideaway, a Mexican restaurant near Escondido. Once we arrived, they started ordering pitchers of Margaritas. Now, I'm not much of a drinker. My usual choice is a glass of wine or two. Alan doesn't drink at all. But I do believe that it was Alan who kept refilling my Margarita glass that night.
We had a great evening. These were good friends that we didn't get to see very often. We ate, drank, and chatted. Yes, it was a great evening. Until it wasn't. It is a shame that when you realize that you've had too much to drink it is already too late to do anything about it. Suddenly, I looked at Alan and said, "I have to go." As he started to ask why, he looked at me and saw the answer.
I made it to the car, but during the drive home Alan had to pull over a couple times to, um, accommodate me. Even then I knew that my running plans had changed.
I woke up on Sunday morning with the worst hangover of my life. Seriously. As a migraine sufferer, not only do I get the regular headache and nausea of a hangover, the alcohol usually triggers a migraine which really knocks me out. I spent the day in bed, in the dark, unable to keep any kind of food down. Poor Alan alternated between taking care of me, going down to the beach by himself, and back again. I finally ate a salad at about 5:00 pm (most of it anyway), and started to feel a little better.
The next morning, Monday, I woke up determined to run. I was dehydrated, under-fueled, and still slightly sick, but I was going to run. Alan and I started south, just as we did on my most recent #bestrun. It wasn't long before Alan had no choice but to run ahead. I was slow. Really, really slow. Every step was a challenge. I kept drinking fluids, but I was already too depleted to make much of a difference.
A 20 mile run from Encinitas heading south, heads along the cliffs of Del Mar (one of the prettiest runs in San Diego) and finally leads to a turn around about halfway up Torrey Pines hill. Yes, that is the same hill that is part of the La Jolla Half Marathon, though during training runs we'll run it outside the park, where it is not quite as steep (but longer).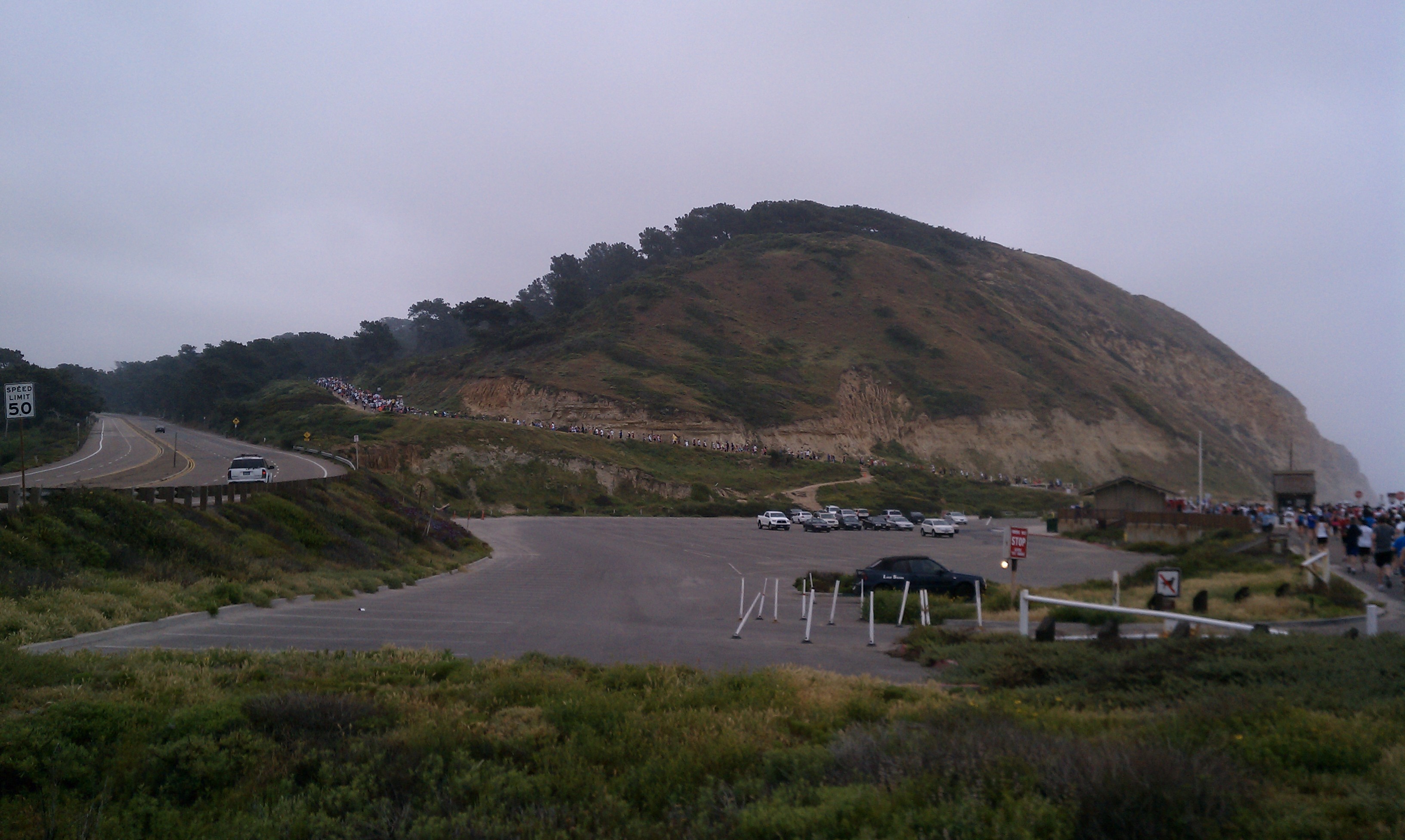 Well, I got to the base of that hill, and I. Just. Couldn't. I am strong, I toughed out those first nine miles, but I just could not make myself run up that hill. So, I turned around. Alan in the meantime, had already run to the turn-around point and passed me, going home.
The second half of this run tested my runner's spirit to the core. I was tired. I was still slightly sick. I was very dehydrated. And the only thing I'd eaten the day before was about a half of a dinner salad. From Denny's. It was my slowest run ever (up to that time in my life). But I did it. I finished that 18-mile run, and boy was I proud of myself.
Something else you should know.
I haven't had a single Margarita since that day in 2001.
Do you have a Worst Run story? I'd love to hear it!