This post is made possible by delicious Natural Delights Medjool dates. All opinions and this Medjool Date Nutty Caramel Protein Bars recipe are my own.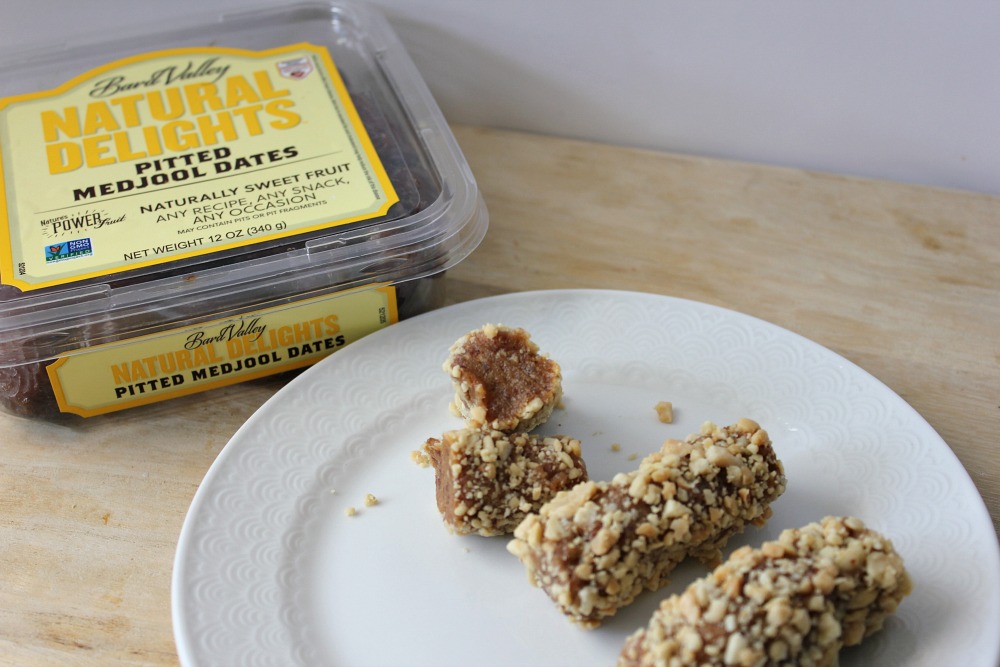 A Better Payday (candy bar)!
Have you ever read The Stand by Stephen King? (This sounds totally off-topic, but stay with me here.) I just finished listening to it (45 hours! I love long audiobooks!). The Stand has been one of my favorite Stephen King books ever since I first read it back in 1978.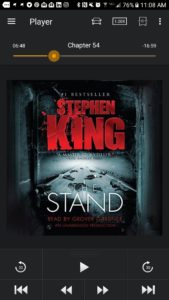 If you haven't read it, the story is about how a man-made plague kills off almost all of the people (and most of the animals) in the world. It is a tale of good vs. evil and culminates in an exciting showdown between the two sides.
One of the characters that survived the plague is a 16-year-old named Harold Lauder. He and Frannie, another survivor, travel from Maine to Nebraska, with Harold leaving a trail of Payday candy wrappers as they go about their adventures.
And we've finally come to what this post is about! I haven't had a Payday in years, but it used to be one of my favorite candy bars. In fact, I'm probably lucky it's not vegan because I'm sure I'd just have to have one daily every now and then.
So listening to this novel and reading about Paydays (among other things) gave me a craving and an idea. A Payday is a simple concept. Peanuts and caramel. Could I create my own version using one of my favorite foods, the Medjool date? And the idea for Medjool Date Nutty Caramel Protein Bars was born.
Medjool Date Nutty Caramel Protein Bars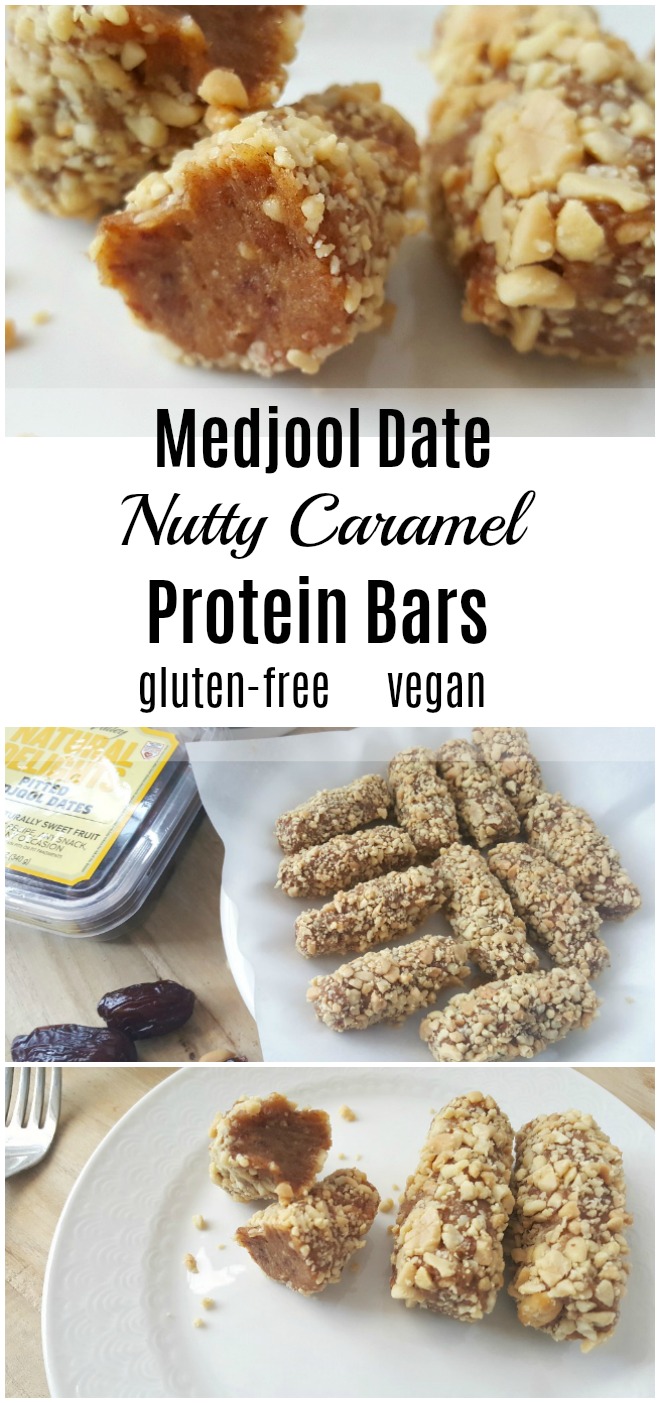 Medjool dates have a great caramel taste all on their own, so no added ingredients or sweeteners are needed. Medjool dates are high in complex carbohydrates, making them excellent for creating natural energy before working out. They have more potassium than bananas, so they make a great recovery food as well.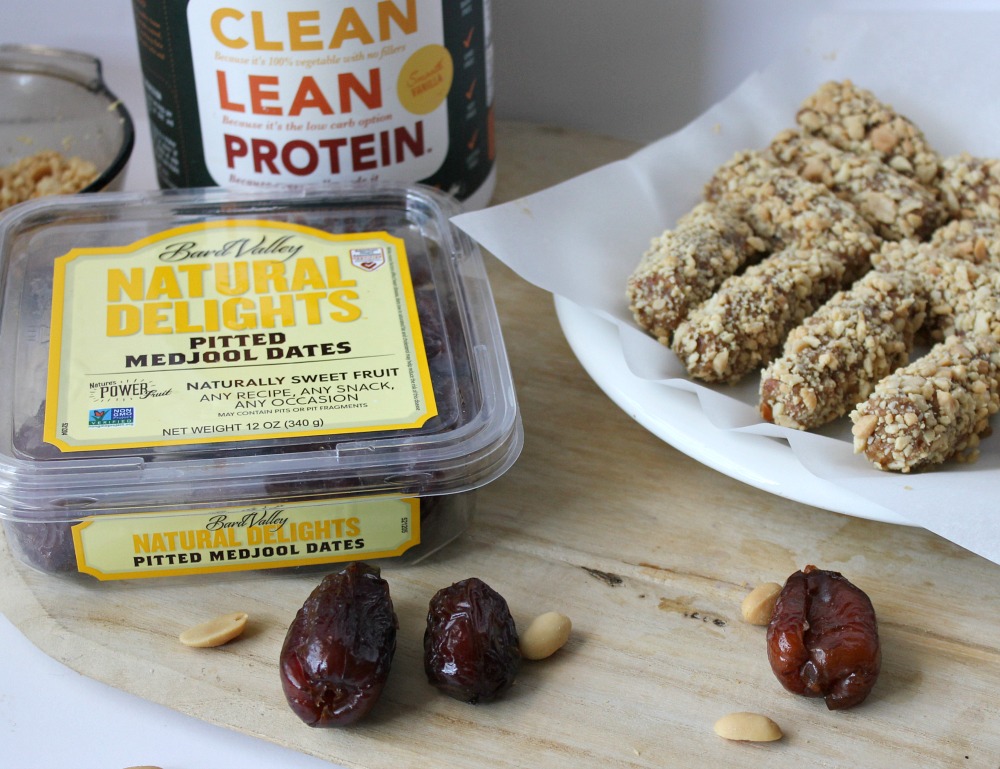 While Medjool dates are high in natural sugars, they are low on the glycemic scale thanks to a balanced amount of soluble fiber. They are slow to digest so they provide sustained energy, unlike processed sugar, which can cause an energy spike followed by a crash.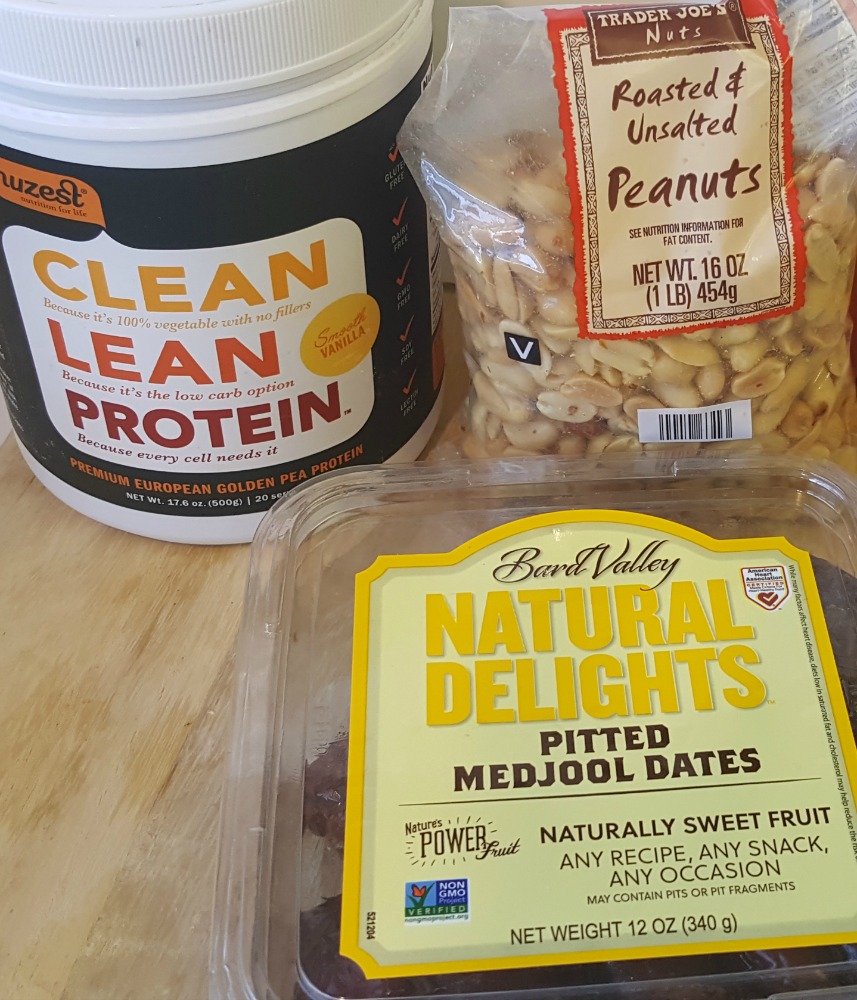 Of course, real candy bars are loaded with processed sugar, making them a very poor choice for a sweet treat. These Medjool Date Nutty Caramel Protein Candy Bars have all the rich caramel flavor without the added sugar, with the added benefit of a plant-based protein powder (I used Nuzest Clean Lean Protein, which has no added sugar).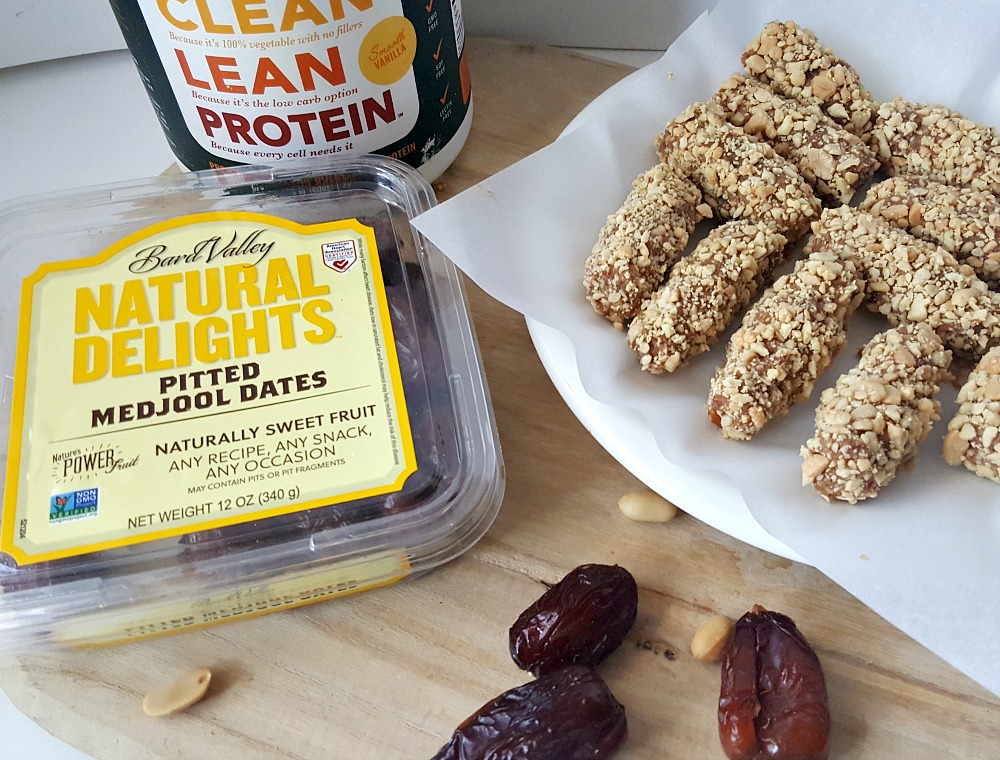 Peanuts are a great source of antioxidants, healthy monounsaturated fat, vitamin E, manganese, niacin, and other minerals. While I used peanuts to stay true to the Payday concept if you can't eat them feel free to try other nuts or even seeds.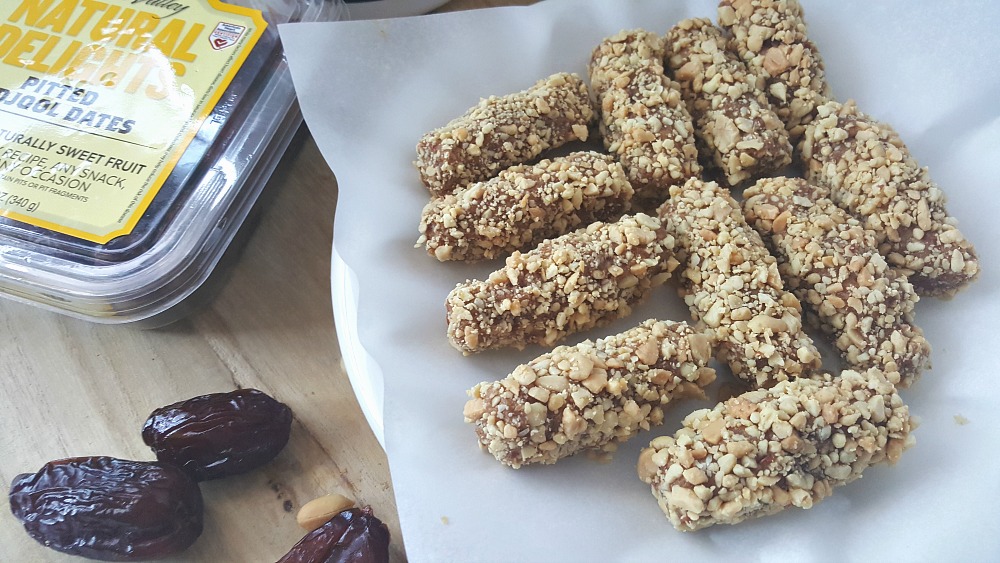 These Medjool Date Nutty Caramel Protein Bars taste good enough to eat for dessert, for a midday snack, after a workout, or even before a run. They make a great recovery food because of the mix of carbohydrates, protein, and electrolytes. Plus, they're so easy to make you can whip them up in a half hour!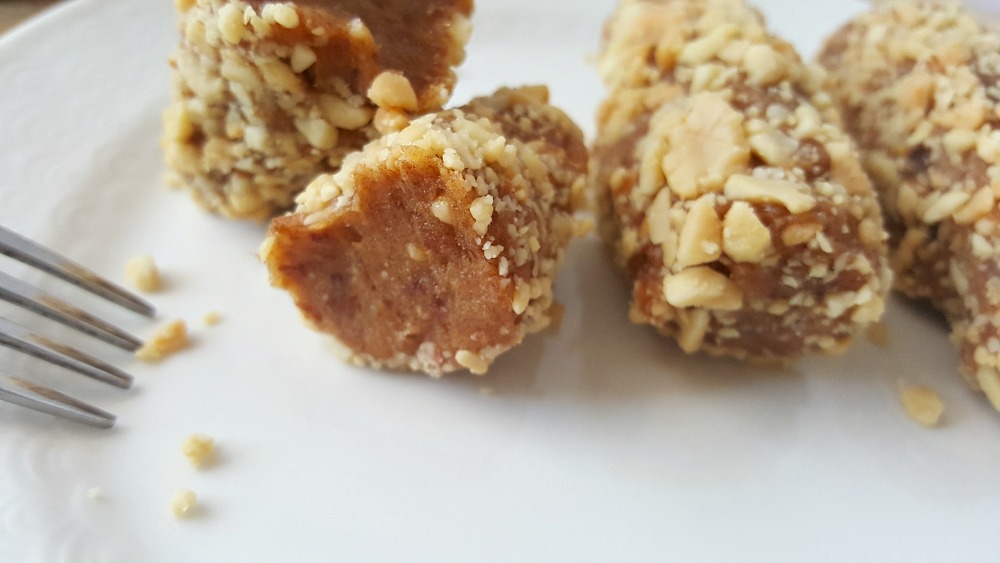 A Better Payday! 3 Ingredient Medjool Date Nutty Caramel Protein Bar
Vegan, Vegetarian. Remember the Payday Bar? Enjoy this scrumptious high protein "candy bar" that will improve recovery and satisfy your sweet tooth.
Cuisine:
Vegan, Vegetarian
Ingredients
12 ounces Natural Delights Medjool Dates, pitted
¾ cup roasted unsalted peanuts
1 teaspoon vanilla
1 scoop plant-based vanilla protein powder (I used Nuzest Lean Clean Protein)
About 2 tablespoons water
½ teaspoon sea salt
Instructions
Add the peanuts to a food processor and process until chopped.
Measure out ¼ cup of the peanuts and set aside the remaining nuts. Return the ¼ cup of peanuts to the food processor.
Add the Medjool dates, vanilla, protein powder and salt to the processor and process until mostly smooth. If the mixture starts to ball up, add a tablespoon of water and continue to blend. The mixture will be thick.
Shape the date mixture into little logs about three inches long. Roll in the remaining chopped peanuts, coating the logs thoroughly, pressing gently to make sure the nuts stick.
Refrigerate for at least an hour.
Makes about 12 bars.
Notes
Electrolytes per bar:
Potassium: 173 mg
Sodium: 107 mg
Chloride: 38 mg
Nutrition Information
Serving size:
1 bar
Calories:
128
Fat:
3
Saturated fat:
0
Carbohydrates:
22
Sugar:
19
Sodium:
107
Fiber:
2
Protein:
4
Cholesterol:
0
In my humble opinion, these Medjool Date Nutty Caramel Protein bars taste
better
than a Payday! Plus you can eat them knowing that you're consuming good, honest food that is good for you!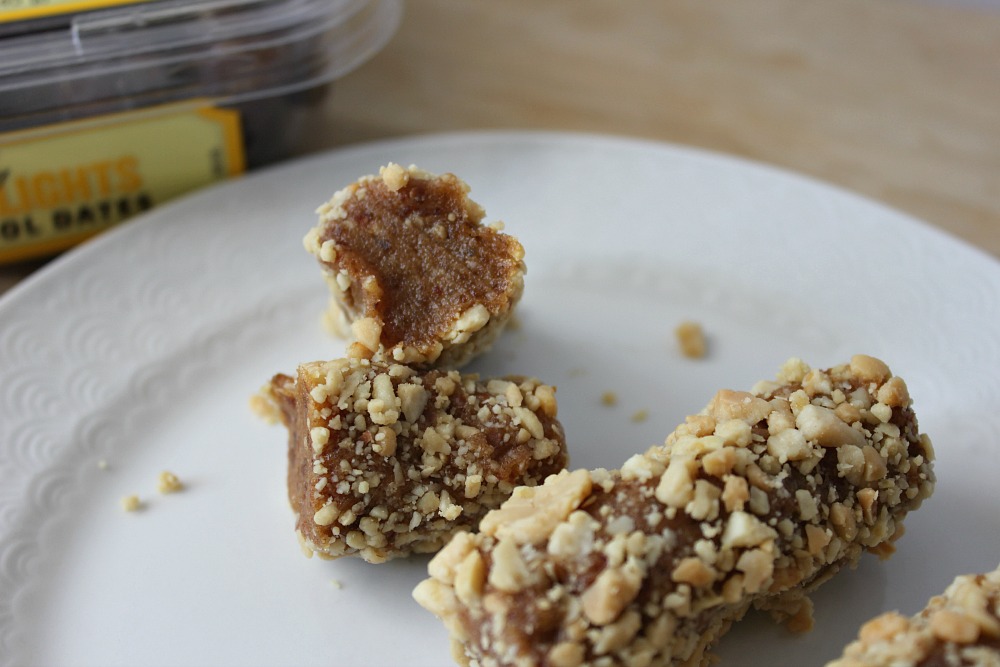 Okay, fess up. What is your favorite candy bar?
---
Weekly Linkups
My weekly linkups! Please stop by and check out all of the great recipes, workouts, and information that all these awesome bloggers share every week!
Meatless Monday with Sarah and Deborah
Meatless Monday with Annmarie  and Dixya
Tuesdays on the Run with Marcia, Erika, and Patty
Inspire Me Monday with Janice
Wild Workout Wednesday with Annmarie, Jen, and Nicole
The Plant-Based Potluck Party with Deborah
The Running Coaches' Corner with Rachel, Suz, Lora Marie, and Me!
Friday 5 2.0 with Rachel and Lacey and Meranda