I love sweet and savory combinations! I frequently throw sweet grapes into a salad or raisins into a curry dish. It's like a little surprise for your taste buds! That's why I've been so excited to create and share this recipe, Medjool Date Appetizers with Cashew Cheese and Arugula. To up the savory ante, these yummy little treats also have caramelized onions, crimini mushrooms, and garlic! They are also vegan and gluten-free.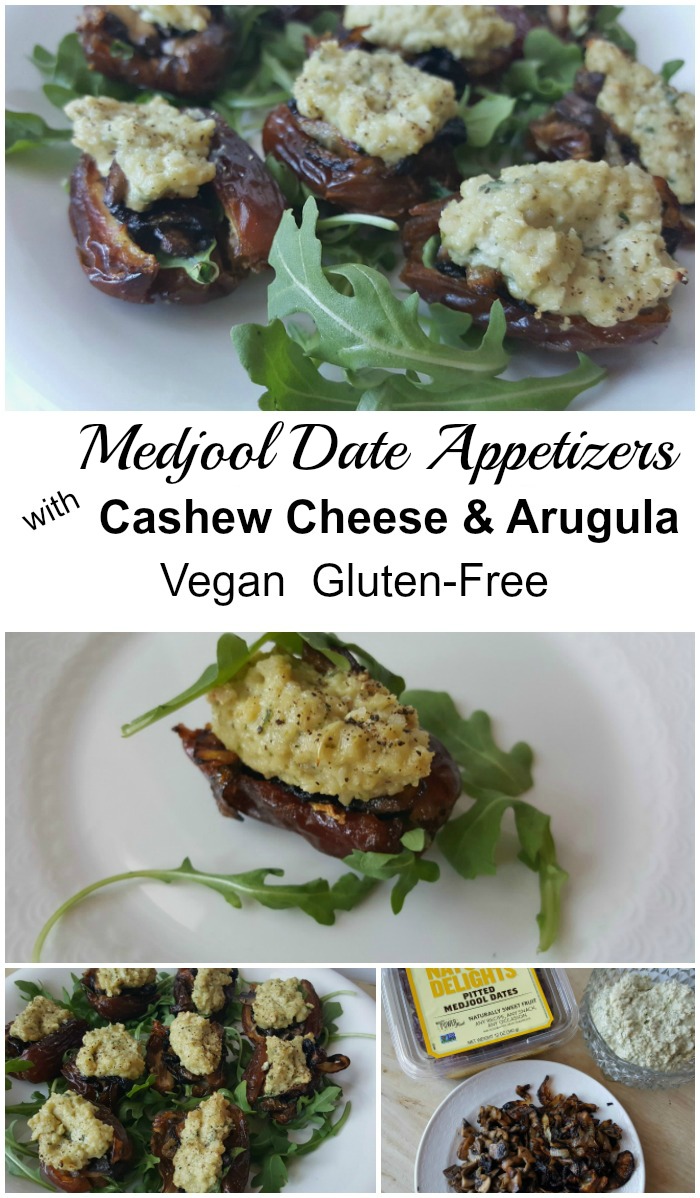 As an ambassador for Natural Delights Medjool Dates, I've had the pleasure of creating several recipes, mostly for sweet treats, including these Medjool Date Truffles. Because of the natural sweetness of the dates, these needed no added sugar, and are a natural source of many vitamins and minerals, including potassium, plus fiber and complex carbs.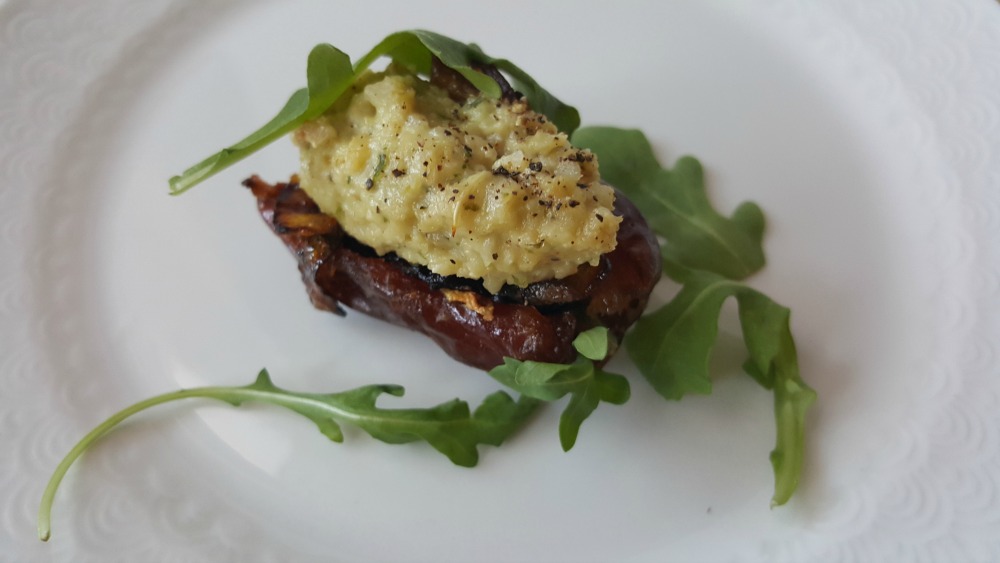 Medjool dates make a great fuel for your day and they are perfect for topping off your electrolyte and carb supply after a workout. When I received a couple packages the other day, I had to shoo Alan away from eating too many before I created these Medjool Date Appetizers!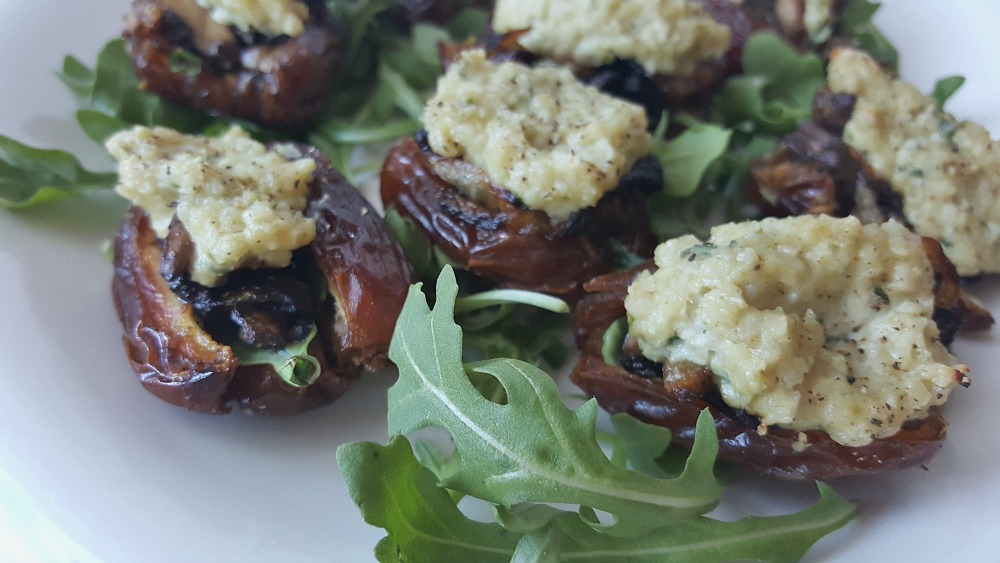 Medjool Date Appetizers with Cashew Cheese and Arugula
With spring holidays on the horizon, these Medjool Date Appetizers are a delicious and healthy treat that you can serve your family and guests. I also plan to bring them to the NCAA Basketball finals party we're invited to. I'm sure that no one will guess how healthy they are!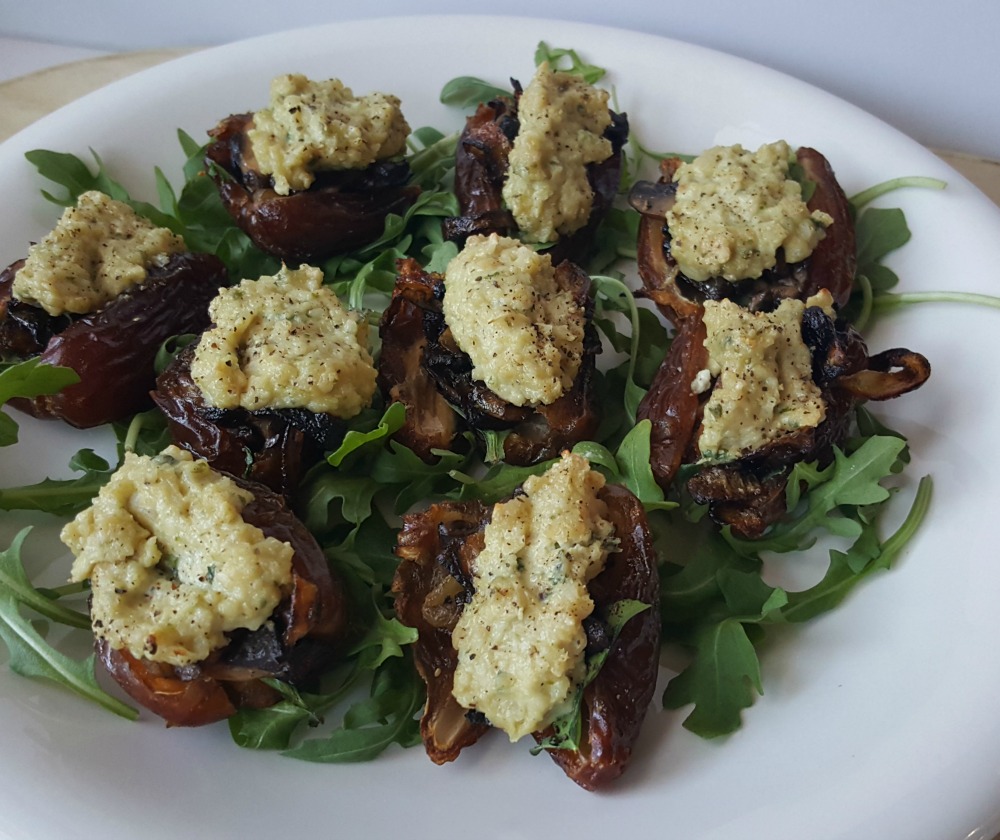 All of the ingredients can be prepared in advance so that you can just pop them into the oven to roast for about five minutes before serving. While caramelized onions and cashew cheese take a little time to prepare, both can be refrigerated until you're ready to use them.
Medjool Date Appetizers with Cashew Cheese and Arugula
Vegan, Vegetarian, Gluten-Free
Ingredients
About one pound Natural Delights Medjool Dates, pitted
One white or yellow onion, caramelized (see notes below)
2 tablespoons olive oil
1 cup crimini mushrooms, chopped
2 cloves garlic, minced
½ cup arugula
For the Cashew Cheese:
1 cup raw cashews
2 tablespoons lemon juice
1 clove garlic, chopped
1 tablespoon parsley, chopped
½ teaspoon salt
pepper to taste
¼ cup water
Instructions
Prepare the Cashew Cheese and Caramelized Onions and set aside.
Preheat oven to 425.
In a frying pan, heat the oil over medium heat. You can use the same pan/oil as the onions.
Add the garlic and stir for about 30 seconds.
Add the mushrooms and cook over medium heat until soft and lightly browned.
Lightly toss the mushroom and garlic mixture with the caramelized onions.
Carefully split open the pitted dates.
Place an arugula leaf on top of each date.
Top the arugula with a teaspoon of the mushroom and onion mixture.
Top each date with a teaspoon of cashew cheese.
Roast the Medjool Date Appetizers for 5 minutes.
Sprinkle with a little pepper and serve on a bed of arugula.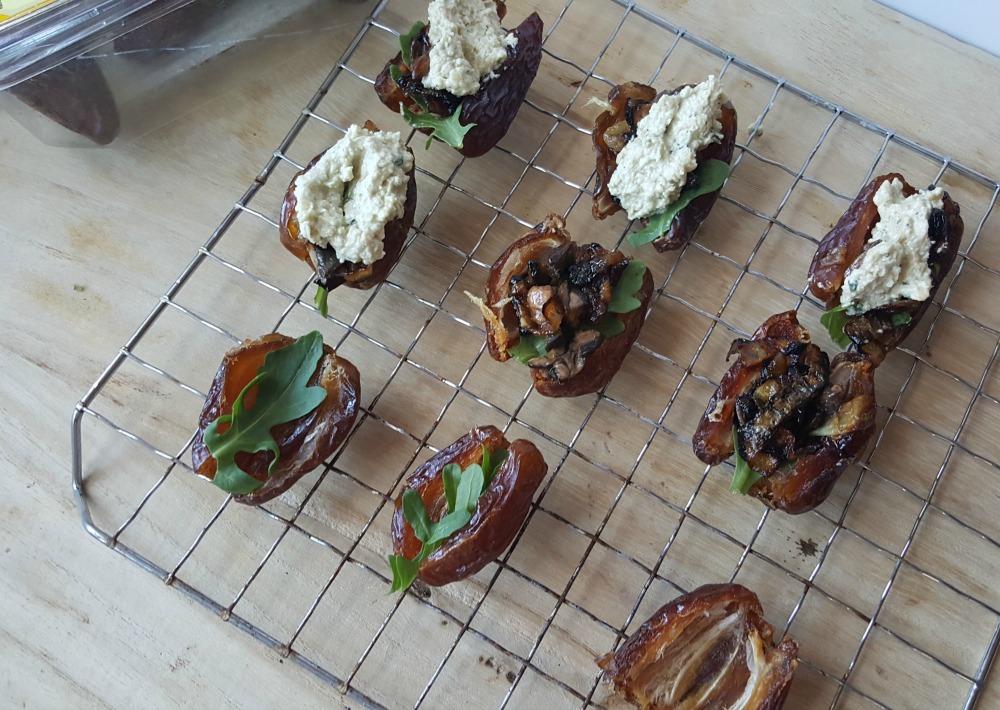 Cashew Cheese
Soak the cashews in water for at least an hour. Rinse and drain them and place them in a blender or food processor with the lemon juice, parsley, garlic, salt, and pepper. Pulse to chop (about 30 seconds), then add the water and blend until smooth. Find more information about making cashew cheese here.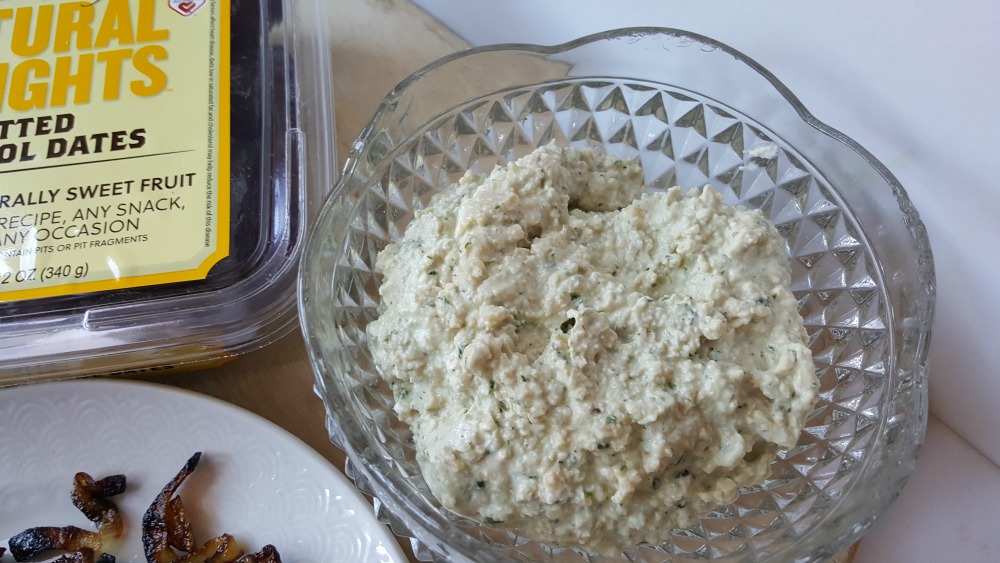 Caramelized Onions
Caramelized onions are very easy to make, but they do take time. Slice the onions, then cut the slices in half. Preheat about 2 tablespoons oil in a frying pan over medium heat. Add the onion and a pinch of salt. Keep the heat at medium and cook, stirring occasionally, until the onion is browned and has a rich, slightly sweet flavor. It takes about 30-40 minutes. If the onions start to cook too fast, turn down the heat a little.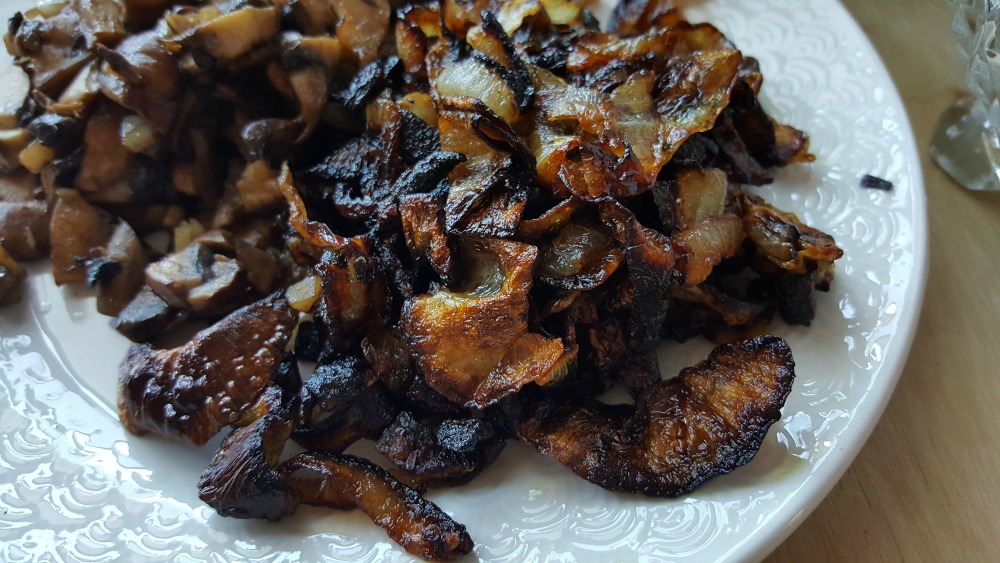 There you go. The perfect appetizer for any occasion!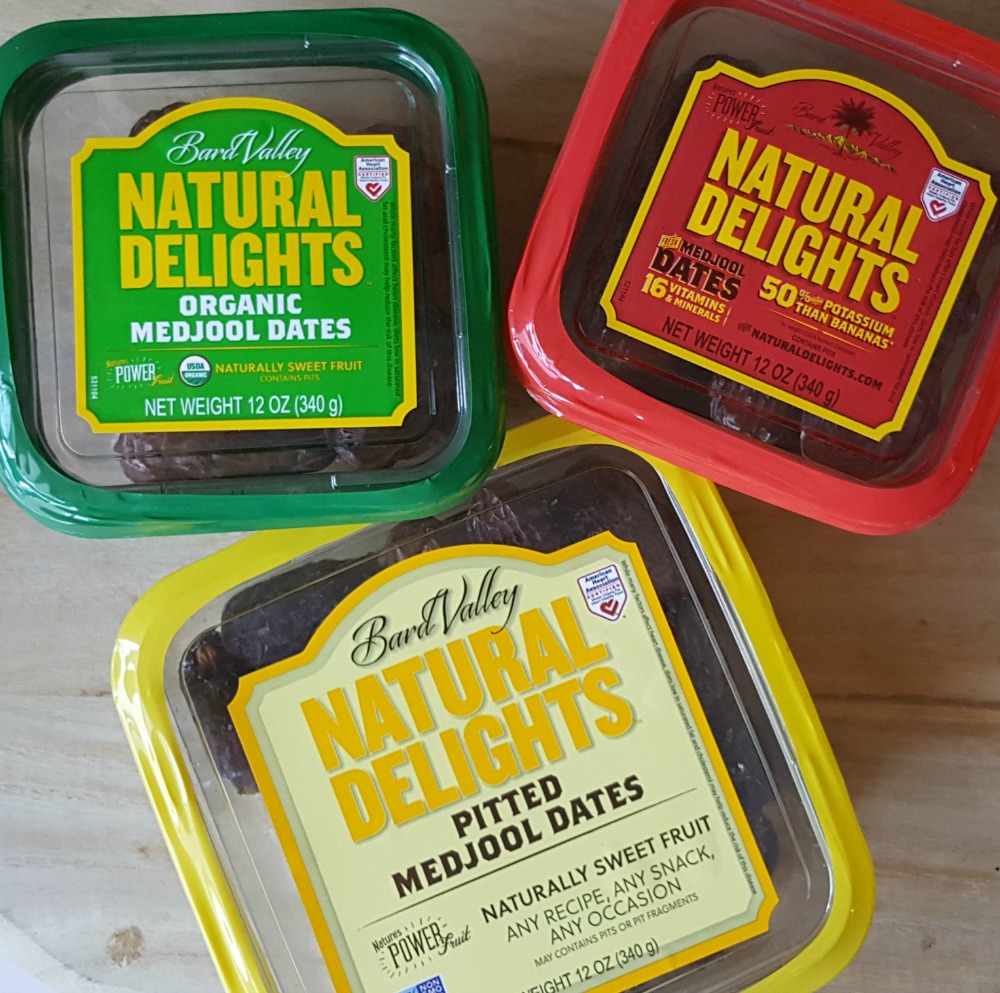 This post was sponsored by Bard Valley Natural Delights Medjool Dates. All opinions (and recipes) are my own.
Do you like a sweet and savory combination? Do you have holiday plans coming up?
---
Weekly Linkups
My weekly linkups! Please stop by and check out all of the great recipes, workouts, and information that all these awesome bloggers share every week!
Meatless Monday with Sarah and Deborah
Meatless Monday with Annmarie  and Dixya
Inspire Me Monday with Janice
Wild Workout Wednesday with Annmarie, Michelle, Jen, and Nicole
The Plant-Based Potluck Party with Deborah
The Running Coaches' Corner with Rachel, Suz, Lora Marie, and Me!
Giveaway Roundup and Try Out Thursdays with Smitha
The Blogger's Pit Stop with Kathleen, Janice, Julie, and Menaka
Friday 5 2.0 with Rachel and Lacey and Meranda
Sunday Fitness and Food with Angela and Ilka