The radiology tech said that I have complex breasts.
She described what she meant by saying that some women's breasts are like a big, blue sky, where you can see forever. Mine are like an overcast day with low visibility. Some women have naturally fibrous breast tissue, which makes self-examination difficult, but in general is nothing to worry about.
So, backing up a bit,  I had my annual screening mammogram the other day. Not a joyous experience, but you get used to it. Two days later, I had a call from my favorite southern belle at the Lucy Curci Cancer Center. My first thought was, "shit, is this becoming a habit?" Because, like last year when I had to go back because my left breast had some asymmetry, I needed to go back in because there was an area, again on my left breast, that needed to be checked.
Basically, it was a spot on the mammogram. It was too small to see exactly what it was, so I needed to have another mammogram, a diagnostic mammogram, where they would use a higher magnification, and if necessary perform an ultrasound. The appointment was made, and I duly showed up. This was when the tech described my breasts. As I lay there watching the screen during the ultrasound, I agreed. They did look like a cloudy day.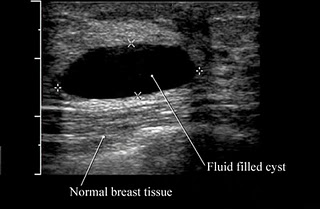 When the radiologist came in, he explained that I apparently had a cyst on my left breast. Cysts are generally benign, but it still needed to be checked out. The next step to be taken was an ultrasound assisted needle biopsy. That took place last Wednesday.
First the facts, then the experience. The doctor would use ultrasound to find the exact location of the cyst, then insert a hollow needle into the cyst, withdraw tissue, which would be sent for biopsy to check for cancer. They then leave a metal tag in there, so that the spot is designated for future mammograms or if surgery is necessary.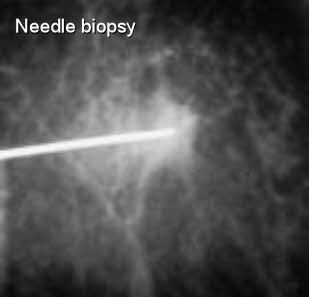 The only advance prep that I needed for the procedure was to avoid blood thinners during the week before the biopsy. When I arrived, I was taken to where I could change into a gown then sat down with a nurse who explained the procedure step by step. I had to wait a while until an ultrasound room became available, about 10 minutes, then I was escorted to the room.
I was told to slip my left arm out of my gown and to lie down on my back, propped up by a small pillow. I lay there, with my breast exposed, as the tech applied the ointment, and did a preliminary ultrasound. When the doctor arrived, I was given a shot of lidocaine, a local anesthetic. This numbed the area and I felt no pain as the doctor inserted the needle.
I couldn't feel it, but I could see it, as I looked up at the screen of the ultrasound. It was a little odd, to see this long, pointy object entering my breast. I could see the needle as it moved along toward the cyst, pause as the doctor took a sample, left the tag, then removed the needle. It was completely painless and it was over quickly.
I had been told to bring a sports bra and was directed to wear it for the next 24 hours, including to bed. The post procedure instructions were pretty simple, icing for 20 minutes on, 20 minutes off, for the first two hours, then 20 minutes per hour for the rest of the day. I was told to take it easy (I did go to work, but was able to make it a pretty easy day, physically, anyway). I also had a bandage that needed to remain on for 24 hours. Then I had one more mammogram, mainly so they would have a record of the tag that had been placed in the cyst for future reference. Fortunately, she was gentle.
I was told to expect some pain and possible bruising. I have had very little pain, basically just a little discomfort and slight soreness in my breast. I'm still wearing the sports bra, though I plan to take it off (and the bandage) when I go to bed tonight.
Now there's nothing left but waiting for the results. Honestly, I haven't been panicked about this. It's impossible not to be a little concerned, of course, but I really feel that the results will be that the cyst is benign, and hopefully not require any further treatment. Usually, unless a cyst is large or painful, it can be left alone. If it causes problems or discomfort, it may need to be drained, or in rare cases, removed.
So, I will find out tomorrow. I'd appreciate your positive thoughts!