If you love marathons as much as I do, you think about them. A lot. I actually love to collect marathon miscellany. I'm interested in different facts about the race. Plus, since I've run 37 marathons, I have a lot of thoughts and memories.  Here are some of the things that have been rolling through my brain.
Marathon Miscellany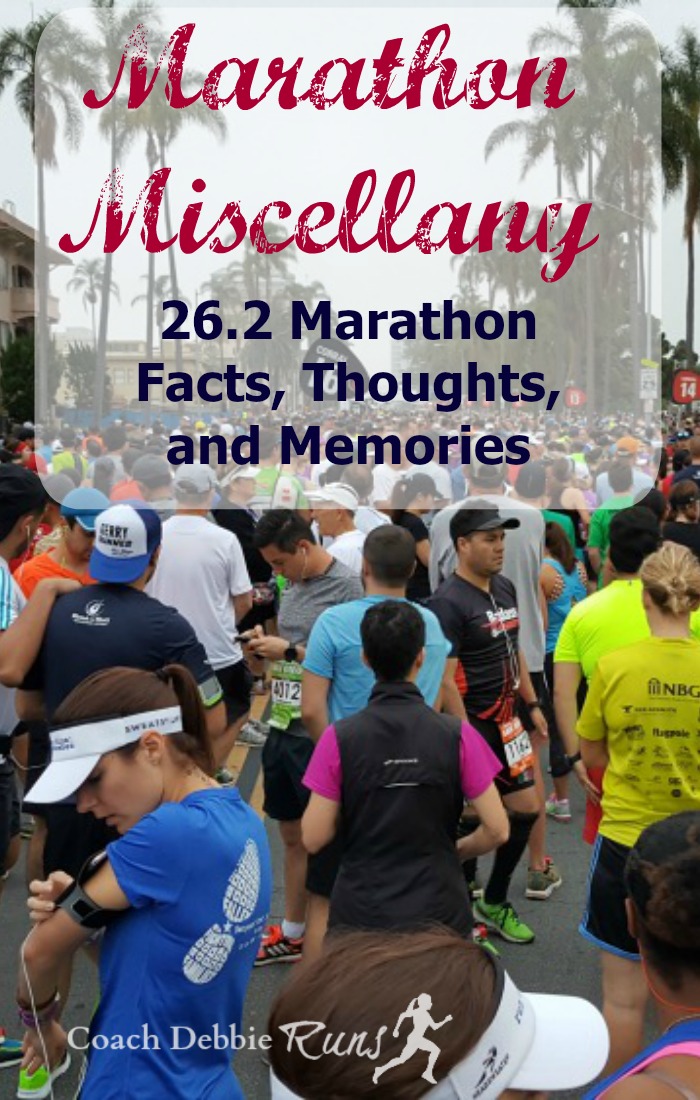 Everyone knows that the origin of the marathon was when Pheidippides ran the 25 miles from Marathon to Athens, Greece to announce a Greek victory in 490 BC, then collapsed and died on the spot (don't they?).
What you may not know is that the marathon was resurrected for the 1896 Olympics in Athens, and the 17 competitors ran 24.8 miles (40 kilometers) from Marathon Bridge to Olympic Stadium.
I am thrilled that Alan has decided to join me and run the SLO Marathon! Having him to run 26.2 with me is so much fun, not to mention that having a running partner makes those 20 milers so much better.
This will be my 37th marathon!
April 26, 2015 will be the fourth running of the SLO Marathon. There is also a half marathon, 5k, and a kid's race, so there is really something for the whole family.
My first marathon was Honolulu in 1996.
When I ran my first marathon, the average entry fee was around $50 (though Alan and I ran for Team in Training that year). If I wanted to register at the Honolulu Marathon expo today (the race is on December 14 and online registration is closed), it would cost $290.
I've run the Paris Marathon. Twice.
The current world records for the marathon are 2:02:57 for men, set by Dennis Kimetto of Kenya in Berlin this year, and 2:15:25 for women, held since 2003 by Paula Radcliffe of Great Britain, accomplished in the London Marathon.
My own personal record for the marathon is 3:16:24, set at the St. George Marathon in 1999.
Alan's personal record for the marathon is 2:56:04, also set in St. George, in 1994.
I was a month short of 42 when I set my PR. Alan was 46.
Your forties are awesome!
When Alan and I ran our most recent marathon, in June, we ran (and played) together and finished in 5:30 something. Your fifties and sixties are still awesome, but for other reasons.
From that experience I realize that if I want to run a strong marathon I need to train better and run more.
For me, a strong marathon would be around 4:15-4:20. To qualify for Boston I would need to run 4:10. Just sayin'.
The SLO Marathon is a Boston Qualifier (USATF #CA12012RS).
Women were not allowed to compete in the marathon until 1972. The Boston Marathon was the first to allow it.
Women could not compete in an Olympic Marathon until 1984 in Los Angeles.
The first women's Olympic gold medal winner was American Joan Benoit Samuelson, who finished in 2:24:52.
In March of 1984, Samuelson injured her knee during a training run and underwent arthroscopic surgery 17 days before the US Olympic Trials.
In spite of that, she recovered quickly and won the trials with a time of 2:31:04.
This past April, just a few weeks shy of turning 57, Joan Benoit Samuelson finished the Boston Marathon in 2:52:10.
Joan and I are almost exactly the same age.
When someone dies during a marathon, the media make a big deal about how dangerous long distance running can be. However, more people die while canoeing (1 in 10,000), playing football (1 in 50,000), or bicycling (1 in 140,845). By comparison, running a marathon is much safer at 1 death per 259,000 runners.
If you would like to join me for the SLO Marathon in April, you can save $10 on registration with the code WOODAMB.
26.2 While I've run a lot of marathons, I haven't really run a lot of different marathons. Here, as far as I can remember, are my 36 previous marathons: Honolulu (6 times), Los Angeles (9 times), Carlsbad (formerly San Diego) (5 times), Rock and Roll San Diego (7 times), San Francisco (5 times), St. George (2 times), Paris, France (2 times).
Do you have a fun marathon or other race fact, thought, or memory that you'd like to share in the comments?