If you love marathons as much as I do, you think about them. A lot. I actually love to collect marathon miscellany. I'm interested in different facts about the race. Plus, since I've run 37 marathons, I have a lot of thoughts and memories.  Here are some of the things that have been rolling through my brain.
Marathon Miscellany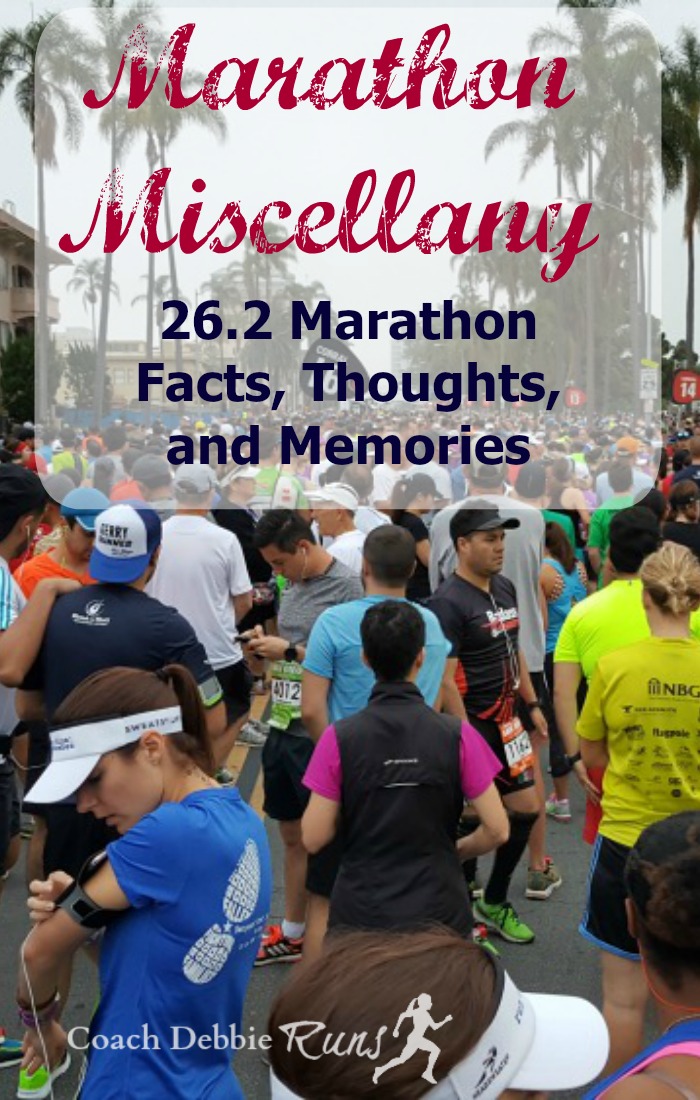 Everyone knows that the origin of the marathon was when Pheidippides ran the 25 miles from Marathon to Athens, Greece to announce a Greek victory in 490 BC, then collapsed and died on the spot (don't they?).
What you may not know is that the marathon was resurrected for the 1896 Olympics in Athens, and the 17 competitors ran 24.8 miles (40 kilometers) from Marathon Bridge to Olympic Stadium.
In May, Nike athletes made an attempt to break two hours in the marathon. On a controlled course in Italy, three men set out to make history (though not an official world record due to rules regarding pacing and hydration assistance).
One of those men, Eliud Kipchoge, came close, finishing the 26.2 miles in 2:00:25. That is 4:36 per mile, which means he missed his goal by only one second per mile!
It made for amazingly compelling television. I actually stayed up, with my iPad in bed with me (which was late due to the time difference in Italy), until it was over.
My first marathon was Honolulu in 1996. Alan ran with me the whole way and we finished in 4:10 in spite of my having nausea so bad that I tried to make myself vomit several times in the hopes I'd feel better.
When I ran my first marathon, the average entry fee was around $50 (though Alan and I ran for Team in Training that year). If I wanted to register for the Honolulu Marathon today it would cost $185. If I waited until the expo it would be $245. Some races cost quite a bit more.
I've run the Paris Marathon. Twice.
Both times we ran the Paris Marathon, Alan and I ran together and stopped along the way to take pictures (remember disposable cameras?). In spite of all that playing around, we finished both times in around 3:50. Ah, the good ol' days.
The current world records for the marathon are 2:02:57 for men, set by Dennis Kimetto of Kenya in Berlin in 2014, and 2:15:25 for women, held since 2003 by Paula Radcliffe of Great Britain, accomplished in the London Marathon.
Did you know there are actually two marathon world records for women? One is in a mixed gender race, held by Paula Radcliffe, above. The other is for a women-only race, which is held by Mary Keitany, 2:17:01, set in 2017 at the London Marathon.
My own personal record for the marathon is 3:16:24, set at the St. George Marathon in 1999.
Alan's personal record for the marathon is 2:56:04, also set in St. George, in 1994.
I was a month short of 42 when I set my PR. Alan was 46. Your forties are awesome!
When Alan and I ran our most recent marathon, in June 2014, we ran (and played) together and finished in 5:30 something. Your fifties and sixties are still awesome, but for other reasons.
I realize that if I want to run a strong marathon I need to train better and run more. For me, a strong marathon would be around 4:30. To qualify for Boston I would need to run 4:25. Just sayin'.
I had big goals for the Utah Valley Marathon to be my 38th marathon as well as the race that I would qualify for Boston again. Sadly, I fell hard on my knee early in training and decided that I would skip the marathon. Maybe next year.
Women were not allowed to compete in the marathon until 1972 at the Boston Marathon. It was thought that running that distance put too much strain on the female body. Another case of men making decisions about women's bodies. Gee, sound familiar?
That's not counting the time that Kathrine Switzer managed to finish the 1967 Boston Marathon in about 4:20 in spite of officials trying to tear off her number and pull her off the course.
In 2017, at age 70, Kathrine Switzer celebrated the 50th anniversary of that event by running the Boston Marathon once again. She finished in 4:44:31, not much slower than the first time 50 years earlier.
Women could not compete in an Olympic Marathon until 1984 in Los Angeles.
The first women's Olympic gold medal winner was American Joan Benoit Samuelson, who finished in 2:24:52.
In March of 1984, Samuelson injured her knee during a training run and underwent arthroscopic surgery 17 days before the US Olympic Trials. In spite of that, she recovered quickly and won the trials with a time of 2:31:04.
Joan Benoit Samuelson, who turned 60 this past May, wants to be the first woman in her sixties to break three hours in the marathon. In 2014 she finished the Boston Marathon in 2:52:10.
Joan and I are almost exactly the same age.
When someone dies during a marathon, the media make a big deal about how dangerous long distance running can be. However, more people die while canoeing (1 in 10,000), playing football (1 in 50,000), or bicycling (1 in 140,845). By comparison, running a marathon is much safer at 1 death per 259,000 runners.
26.2 While I've run a lot of marathons, I haven't really run a lot of different marathons. Here, as far as I can remember, are my 37 previous marathons: Honolulu (6 times), Los Angeles (9 times), Carlsbad (formerly San Diego) (6 times), Rock and Roll San Diego (7 times), San Francisco (5 times), St. George (2 times), Paris, France (2 times).
Do you have a fun marathon or other race fact, thought, or memory that you'd like to share in the comments?
And Now It's Time for the Running Coaches' Corner!
Loading InLinkz ...
---
Weekly Linkups
My weekly linkups! Please stop by and check out all of the great recipes, workouts, and information that all these awesome bloggers share every week!
Meatless Monday with Sarah and Deborah
Meatless Monday with Annmarie  and Dixya
Tuesdays on the Run with Marcia, Erika, and Patty
Inspire Me Monday with Janice
Wild Workout Wednesday with Annmarie, Jen, and Nicole
The Plant-Based Potluck Party with Deborah
The Running Coaches' Corner with Rachel, Suz, Lora Marie, and Me!
The Blogger's Pit Stop with Kathleen, Janice, Julie, and Menaka
Friday 5 2.0 with Rachel and Lacey and Meranda