The other day, when I posted my Vegan Resource article (which included an easy "Chicken" Piccata recipe), I promised another "beginner vegan" recipe. As I mentioned in that post, giving up meat, whatever your reasons, can be challenging. When you've based your meals around a meat entree for years, you might be left wondering what you can eat.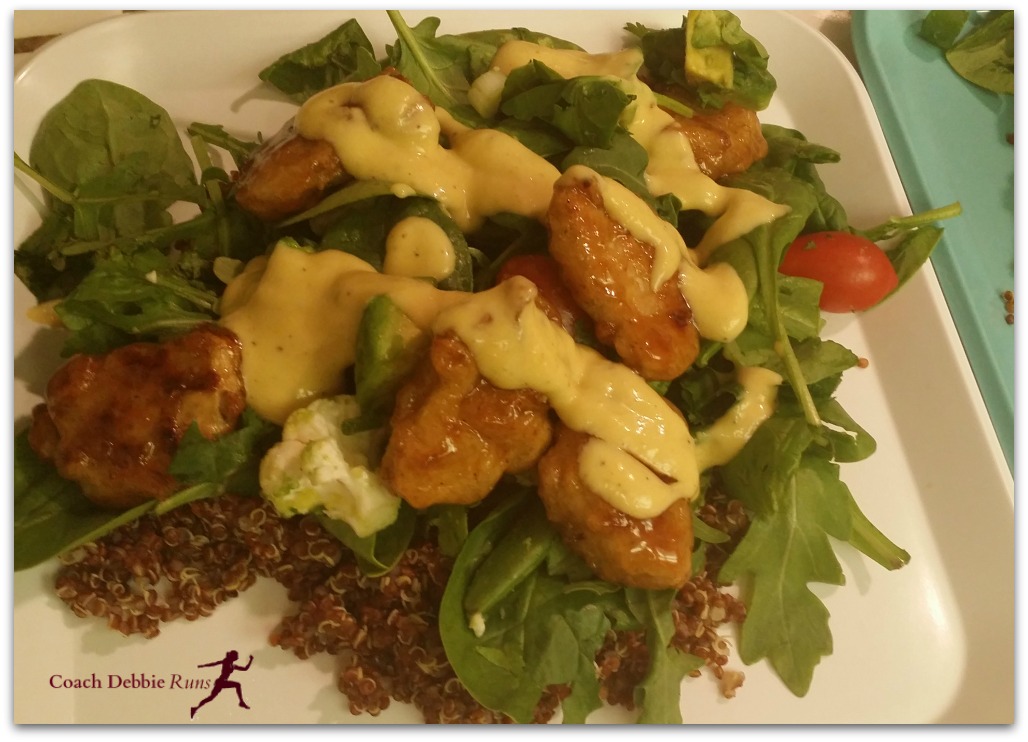 I suggest making the transition to a plant based diet by taking baby steps toward learning how to prepare tasty vegan meals. Meat substitutes can help with this transition, allowing you to create dishes that you are comfortable with. As time goes on, you will probably find, as I did, how much fun and how delicious it is to cook with whole, unprocessed foods, and you will gradually move away from the mock meats.
For this recipe I used Trader Joe's Mandarin Orange Chicken-less Morsels and Spicy Peanut Vinaigrette. Gardein also makes a great Mandarin Orange Crispy Chick'n, but I was at TJ's so that's what I used. I was originally going to use a Mango Lime Vinaigrette, but I was shopping, this sounded good, so there you go.
Mandarin Orange "Chicken" Salad
Ingredients
One Package Mandarin Orange "Chicken" Nuggets (either Trader Joe's or Gardein)
1/4 cup toasted almonds
Three cups mixed greens
1/2 cup yellow cherry tomatoes, cut in half
1/4 cup green onions, sliced
1/2 cup snow or snap peas
1/2 cup edamame, shelled
2 tablespoons cilantro, chopped (if you don't like cilantro, you can skip it)
1 avocado, cut into chunks
1/4 cup spicy peanut vinaigrette
1/2 teaspoon ginger
Pepper to taste
Directions
Prepare the "chicken" according to package directions (they give you cooking options, I prefer to bake them for extra crispiness). Allow to cool, but don't chill.
Spread the almonds in a small pan and toast (at the same temp as the chicken is fine) for a few minutes.
Measure out 1/4 cup of the spicy peanut vinaigrette. Mix in the ginger and pepper to taste.
Toss the greens, tomatoes, onions, peas, cilantro, and edamame in a large bowl. Add the dressing, avocado, and almonds and toss gently. Add the "chicken" and toss lightly.
Serves 2-3.
If you are a "new" vegan, a vegetarian thinking about switching to a plant based diet, or an omnivore exploring options or trying to eat less meat, check out my Vegan Resources for lots of information and links for blogs, recipes, cookbooks, and more.
Are you vegan? How did you make the switch?
Do you have a favorite blog, book, movie, or cookbook that I didn't list? Share!