You may have noticed that it's been a little quiet on the Coach Debbie Runs blog and social media front for the last week. At least I hope you have! Everything is good, but I've been a little busy as work heats up, I celebrated my 60th birthday, and Alan and I traveled to Malibu to work the Malibu Half Marathon.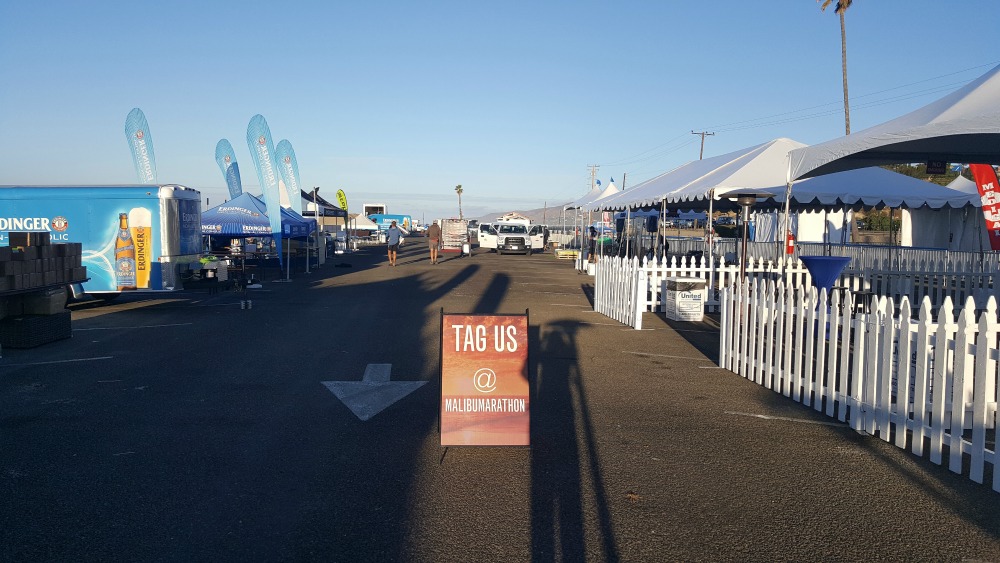 I thought it would be fun to share the experience of a large racing event like the Malibu Half Marathon from the point of view of a worker. I did not run the race, but I'm pretty sure I worked just as hard. But I'll let you be the judge.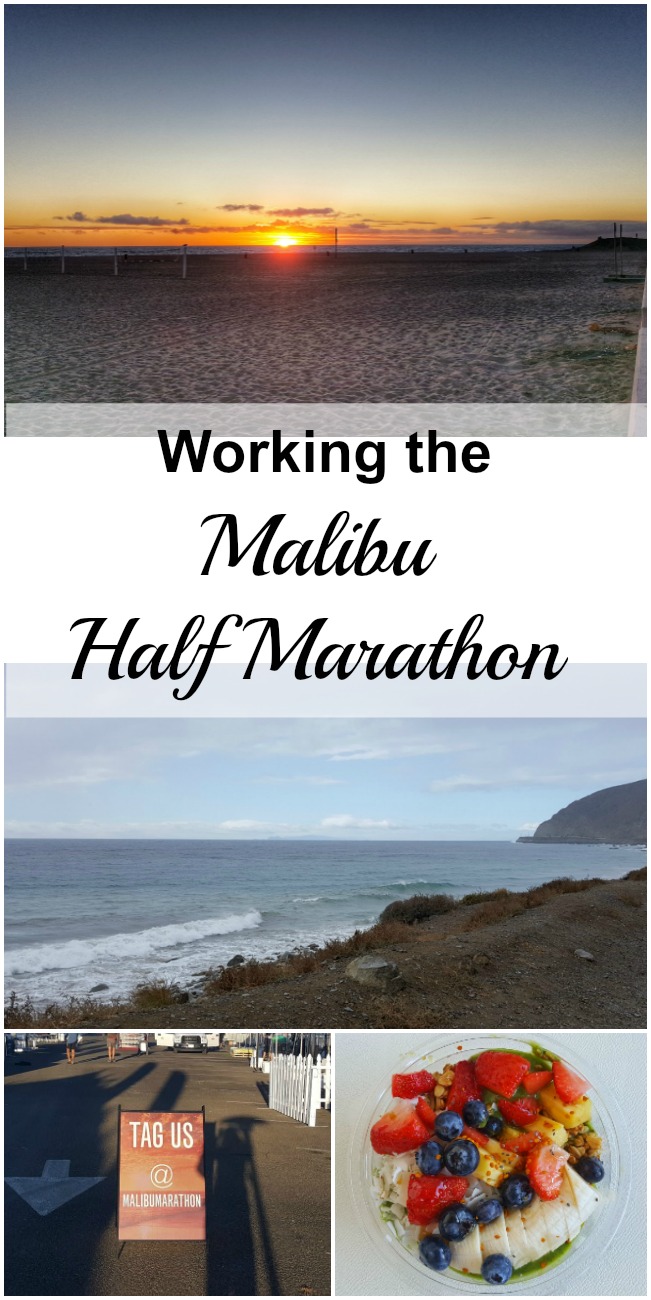 Working the Malibu Half Marathon
Alan has been announcing the Malibu Half Marathon for six years. It has changed hands since the beginning and this was the third year under the new management. In my opinion, this year was the best ever. Most organized, best course (with a start and finish and Zuma Beach), and by far the most participants. For the first time ever the race sold out!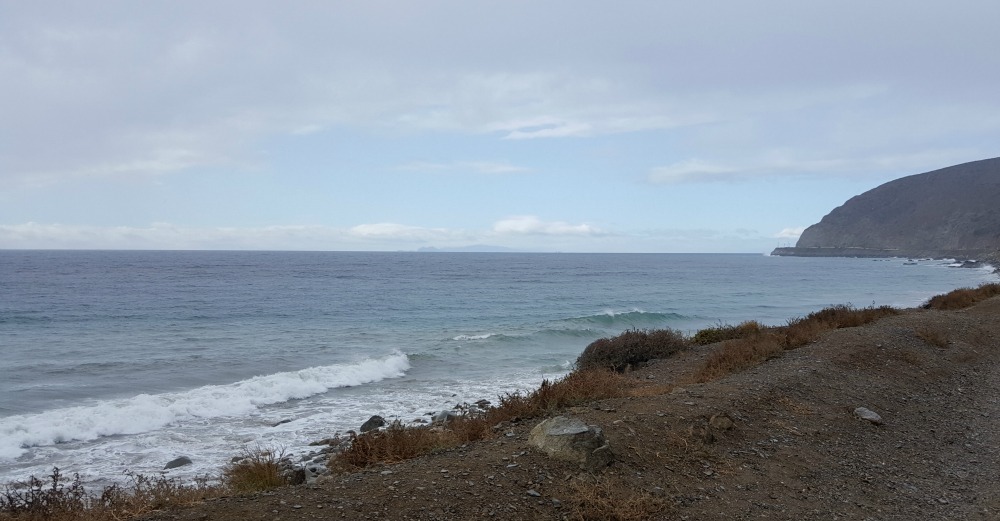 I want to make it clear that I was a paid worker this year. In my Instagram post from a couple days ago, many assumed I was volunteering. I do frequently volunteer at races, but this time I had more of a position of responsibility in the race store. I also worked about 12 hours both days.
Since Alan and I were driving in from the desert, we decided to drive up the night before to make it easier to get to the Malibu Half Marathon expo on Saturday by 8:00 am. When we arrived, the race director whisked Alan off to bring him up to date on his duties, and I wandered over to where I saw the Store signs to check in with my co-workers.
I was happy to see Isis and Nick, with whom I worked parking last year. They fly in from Quebec specifically for this race (they're partners in the business) and they are so great to work with. They brought me up to snuff and we were off and running. Not quite literally, but we sure were busy for the whole day!
Speaking of parking, this was the first year that we had on-site parking for the event. In the past, the race started north of Malibu, in areas where there was no parking so runners had to be bused in. Zuma Beach has plenty of parking, taking away a potential logistical nightmare: late busses means late starts for the race, which everybody hates.
We were selling jackets, long-sleeved tech shirts, t-shirts, hats, and probably most importantly to most runners, parking passes for the next day. Although they were not required, pre-purchasing the tickets helped runners get into the lot more quickly.
Isis, Nick and I found that we worked so well together that we didn't even need volunteers to help us. We all had credit card swipers on our phones, an internet connection, and good coordination with each other, so we just got the work done. Exceptionally well, actually. By the end of the day, we'd sold out of all the hats, parking tickets, and most of the jackets and long-sleeved shirts!
All the while I was working I could hear Alan talking to the crowd, playing music, and generally giving instructions and motivation to the runners.
Because race packets were required to be picked up on Saturday (except for those who made other arrangements) at 6:00 when the expo closed we sold off unclaimed race entries. That proved to be quite popular for people who had waited too long, or couldn't sign up before because the race was sold out.
By then it was getting dark so we started packing up and getting ready to go to our hotel for the night. And eat! Alan and I had subsisted on bars and one Acai Bowl, which was delicious but hardly enough for a 12-hour shift. The race director wanted to talk to a few of us before we left though because she needed extra help with parking for the next morning.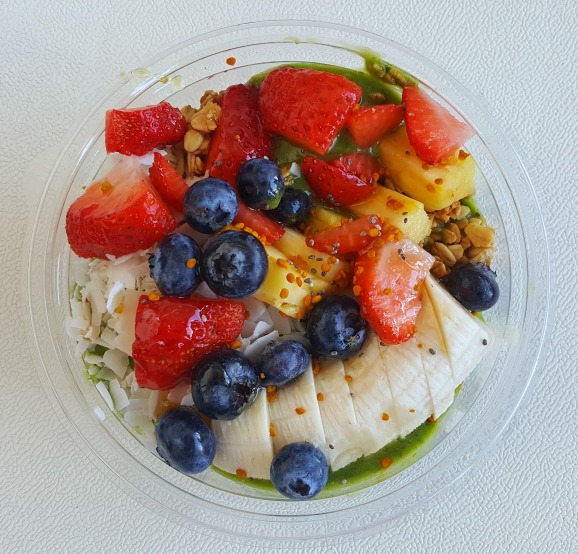 Since the volunteers weren't due to arrive until about 5:30 on Sunday morning, I was assigned the duty of making sure that only staff, volunteers, and sponsors were allowed to park in the front lot. That meant that I needed to be back at Zuma Beach by 3:30 the next morning! Since our hotel was actually in Agoura Hills, that meant leaving the hotel shortly after 3:00 am to make it to Malibu on time. Thank goodness for the time change which gave us an extra hour! Still pretty darned early though.
About That Fall…
Right before we left, the race director asked if I could help her move a table. I was standing in the dark waiting for Alan so that we could head out. As I walked toward where she was, I tripped over a low bench that was dark brown and completely invisible in the dark. I went down pretty hard, landing on my right shoulder and shaking myself up. It shook Alan up too when he saw me. He knows I'm a klutz, but he hates seeing me get hurt.
Of course, everyone came running and helped me up. Though I was a bit shaky, I was pretty sure I wasn't really hurt. Except for that shoulder. I'm going to talk a little more about what I've been doing for my shoulder, what helped, and how it's recovering in my Friday post, but for now just know that I'm okay, my shoulder is still sore but improving.
After some anxious minutes trying to find our keys (if it's not one thing it's another), Alan and I finally hit the road to our hotel in Agoura Hills. Although it was around 7:30 by then, we decided to check in to our hotel first, then go to dinner. We had a few moments of panic when our room wasn't pre-paid as it is supposed to be, but we worked that out, dropped off our stuff and headed out to dinner.
Race Day!
The next morning came early. Really early. I hadn't slept very well because my shoulder was aching and I'd left it up to my phone to take care of the time change, but I was hopeful that when the alarm went off at 2:00 I'd be able to go back to bed for an hour. No such luck. Even with the time change, it was time to get going.
After we arrived back at Zuma Beach I took my place at the parking lot entrance. I was all geared up with enough reflective gear to light up the night!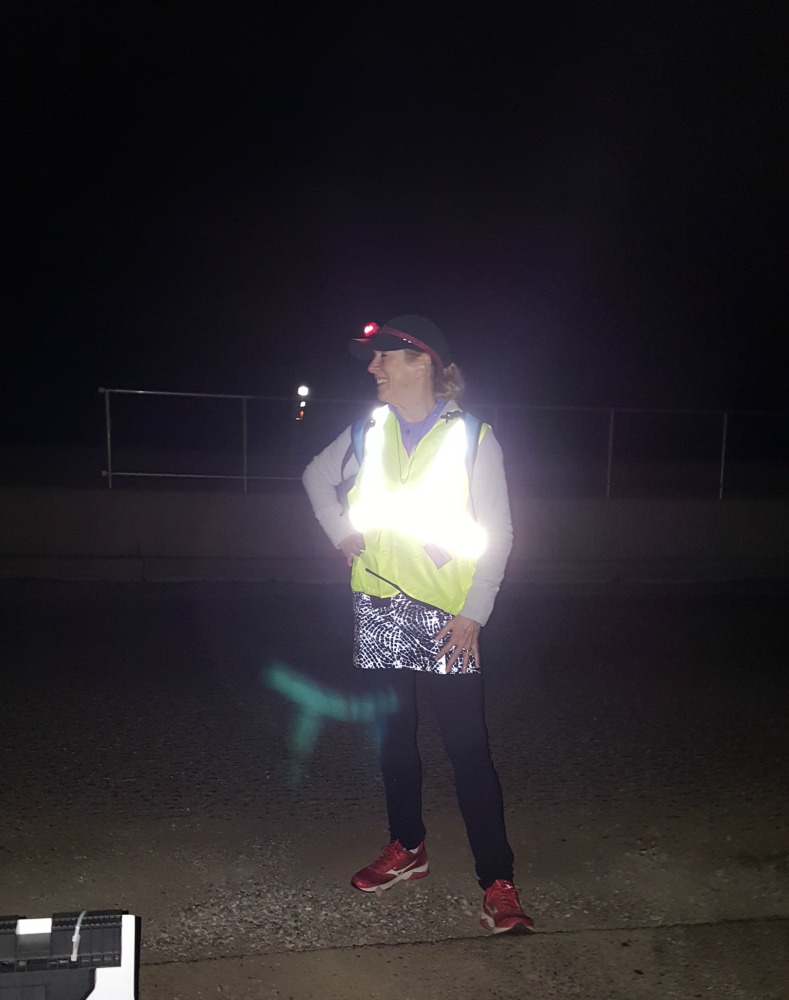 Let's take a minute to talk about runners and logistics. I'm sure there is a middle ground, but I find that many racers fall into two categories: those that arrive really early to avoid lines and stress, get their parking place, their gear checked, and mentally prepare; and those who arrive, not exactly late, but seem destined to get stuck in traffic, have to park far away from the venue, and end up running to the start line.
So even though parking officially opened at 5:00 am (for a 7:00 Malibu Half Marathon start) many runners started arriving well before that. So I stayed busy.
When I was finally relieved of my parking duties I head back to the store where Isis and Nick were getting set up for the day. Since most of our race gear was gone, we figured the biggest seller would be the beer tickets, and we were right. Beers were $5 each, with all the revenue benefitting the Malibu Boys and Girls Club, and sales were brisk. They were also mostly cash, which was good since the internet was very slow and we were having a hard time with our credit card software. Probably too many people posting their selfies on Instagram!
We also sold most of the rest of our race gear, with the exception of the t-shirts. I think they may last for a couple more years.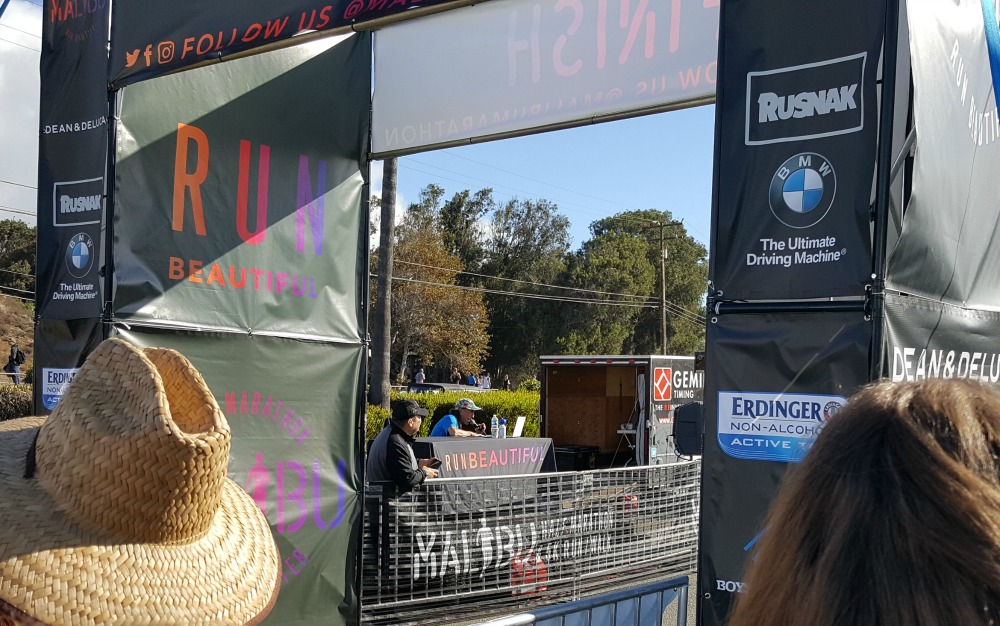 I heard Alan, of course, although I couldn't hear what was going on at the start line. I could see him running back and forth a couple times to make announcements, then running back. There is something about chip timing that encourages runners to dilly dally, I think. I could see them strolling over to the race start long after both the Malibu Half Marathon and the 5k had started.
I had put some safety pins on one of our tables (since the runners kept asking where they were) and they'd stop, take some pins, and stand there pinning on the bibs. It made me laugh inside, but it also made me want to say, "get going! The race has started!" Seriously, there were still people heading to the start line when I heard Alan announcing the 5k winner!
We did have some time to breathe while the race was going on, so I got out of the booth a little, visited some of the vendors, and took a few pictures. The time flew by though, especially with the 5k, so pretty soon I was needed back at the booth, selling those beer tickets!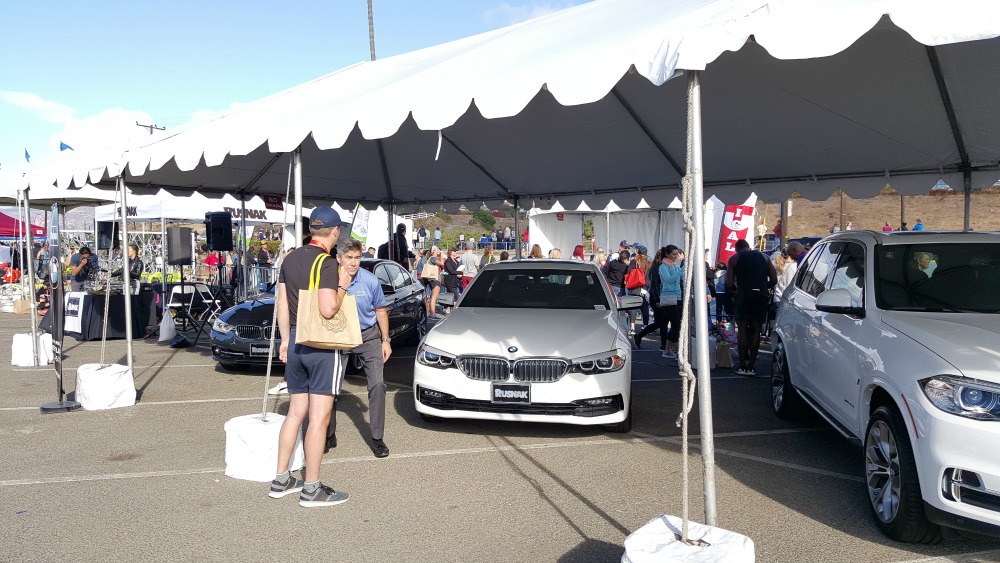 We stayed to the very end, Alan included. He announces every runner as they come across the finish line. The spirit was so bright and everyone was so pleased with this event. I had someone tell me that this was the first time the announcer had called her name and it made her feel so good and helped her stay strong for that last little bit of the race. Always nice to hear.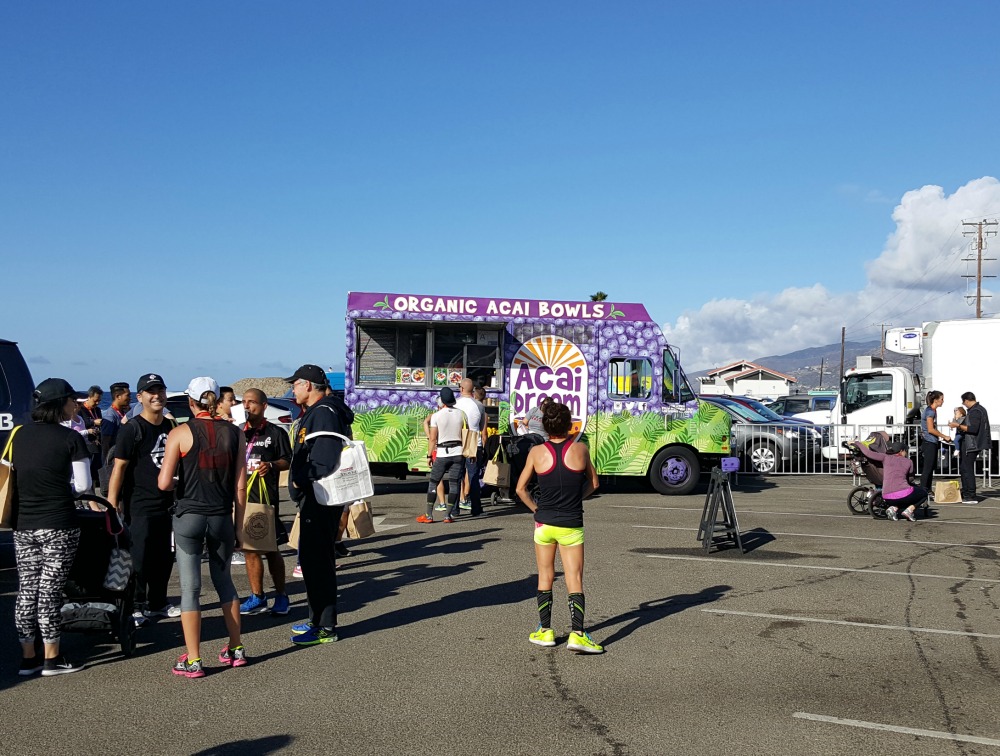 Though the event was officially over at 11:30, there was some cleaning up to do, plus even a runner or two still out on the course. The cut-off time is four hours, but the finish line stays open until the last runner comes through (and Alan announces their name). I finally said goodbye to my friends and co-workers at about 1:30, with the hopes of seeing them again next year.
This year's Malibu Half Marathon was the best ever! The runners raved about the course, the organization, and even the expo! Although numbers are limited because of the size of the venue, I'm pretty sure that word of mouth will help us sell out again next year.
So, you be the judge. Twelve hours on Saturday, on my feet almost the whole time (and standing still, not walking, ouch), a fall with an injured shoulder, about 10 hours on Sunday, same thing, including standing in a cold dark parking lot for a couple hours. Tougher than a half marathon?
Unofficial Poll: Are you an early arriver or do you get there a little bit late? Are you at the start line when the gun goes off or are you strolling that way and hear it in the distance?
And Now It's Time for the Running Coaches' Corner!
Loading InLinkz ...
---
Weekly Linkups
My weekly linkups! Please stop by and check out all of the great recipes, workouts, and information that all these awesome bloggers share every week!
Meatless Monday with Sarah and Deborah
Meatless Monday with Annmarie  and Dixya
Tuesdays on the Run with Marcia, Erika, and Patty
Inspire Me Monday with Janice
Wild Workout Wednesday with Annmarie, Jen, and Nicole
The Plant-Based Potluck Party with Deborah
The Running Coaches' Corner with Rachel, Suz, Lora Marie, and Me!
Friday 5 2.0 with Rachel and Lacey and Meranda