Make Money Blogging: Why a Self-Review will Help
We've been talking a lot about how to make money blogging, and one of things I've stressed, along with creating great content, is that the overall look of your blog needs to be professional. So what does that mean?
Obviously, professional can mean different things to different people, but there are some common things that everyone can agree on. If you want brands to take you seriously, you need to present a certain look that will make them trust you. In addition, your readers will appreciate a fast, pretty, and easy to read website. It will improve your traffic, your bounce rate, and, in the end, your revenue.
I suggest that you do a self review of your blog to make sure that you have that professional look. You can also have a friend or another blogger take a look and give you an honest opinion (more on that below). Here are some steps you can take to do a review of your blog and increase your opportunities to make money blogging.
Overall Look
Go to your home page. Take an objective, critical look at your page. Put aside your love of bright pink and purple, fancy fonts, and flashing badges on your sidebar. What do you see? How do you think your readers see it?
Is it Clean? What does that mean? To me it means plenty of open space, white preferably, that is easy to read and to navigate. The background color, if any, should be light and pleasing to the eye. If you use a background image, it should not distract from the readers experience (skip the chevron or polka dots). Think twice about have ads running in the background. As a reader I hate really dislike this. It's annoying, and, I think, downright ugly. Your color scheme should also be attractive. Too many varied colors is distracting.
Check your sidebar. Is it cluttered? If you're like me, your sidebar starts to get pretty full, with ads, badges, pictures, etc. First take a look for anything that is outdated. Still have that coupon code from a year ago? Get rid of it. Everything that you do allow in your sidebar should be up-to-date and attractive. A pet peeve of mine is when items in the sidebar aren't aligned. Does it look jagged? Does it overflow onto your post? Clean it up!
Is it Fast? When you open up your blog page, it should snap open. A study from 2008 showed that a website should open in three seconds or it will lose customers. While you may not be selling anything, the point is that blog readers have certain expectations of speed when it comes to the internet. There is nothing more frustrating to readers than to have to sit and wait for those beautiful extra large pictures to appear.
Is it easy to navigate? Your navigation buttons should be easily visible as soon as your page opens. The names of your pages should be logical and easy to figure out. A search bar is an important tool for your followers, so it should be easy to find.
Is it easy to share? Sharing buttons are one of the most important tools that you can use to increase your readership and grow your blog. At the minimum, you should have buttons for all the major social media sites at the bottom of each post. You can also add them on the side (but more about that below when we talk about mobile), and at the top of each post. One of my favorite sharing tools is Click to Tweet, which you can personalize and place within your post to make it easy for your readers to share exactly what you want them to say.
Are you easy to follow? Your Follow Me buttons should be right at the top, either in your header (or above it), or at the top of your sidebar. Make it easy to follow you! Your Subscribe form should also be right near the top, either in your sidebar or at the very top of your page. Be careful about popups. I personally hate them, even though I have one. I do have it set that it only pops up once, and won't come back for the same reader for about a week.
Now Take a Look at Each Post
Are there mistakes? There are several things you need to do before you hit publish. The first is proofread. The second is proofread. And probably, the third is proofread. You should read your post over at least three times for: misspellings, grammar mistakes, broken links, general flow. If you have someone else that you trust, have them read your post too. My point is, if you want to look professional you need to be professional. No typos or grammar mistakes, links that work, and words that flow. I think that I've made myself clear (and I really hope that I have no typos, grammar mistakes, or broken links in this post!).
I understand that mistakes will slip through. I'm a pretty good proofreader, but I'll read an old post once in a while and be shocked to find a huge typo that somehow slipped by me long ago. You can only do your best, but your best really needs to be your best. Here are a few common spelling and grammar mistakes. Make sure you're not making them.
Check your fonts and justification.  Writing that is left justified (ragged right), not centered or full, makes for much more natural and comfortable reading. The font should be a large enough size that readers can see it without grabbing their glasses, and the typeface itself should be an easy to read font. Save the fancy stuff for your pinnable images. Think about the color as well. Light colors are difficult to read.
Ads mid-content? This is something that seems to becoming more popular: ads directly in the middle of the post. I'd advise you to think twice about this, especially if you're using Google ads or others that have varying content. As an example, yesterday I was reading a lovely freelance article by one of my favorite authors. It was about losing her father and sharing that loss with her family. The ads that were placed within the content were for Gymboree. I'm sure they were random, as they are different today when I checked back, but you see my point. Do you want your heartfelt writing disturbed by an ad for panty liners?
Readers love photos! Pictures definitely make a blog post look both professional and reader friendly. Depending upon your topic, you should have several large, good quality photographs within your post. Remember, as mentioned above, that large pictures can slow down your site, so make sure to edit them before uploading (not to mention that they can take up tons of space on your server). There are lots of free and inexpensive options for photo editing. I use both Picmonkey and Canva a lot.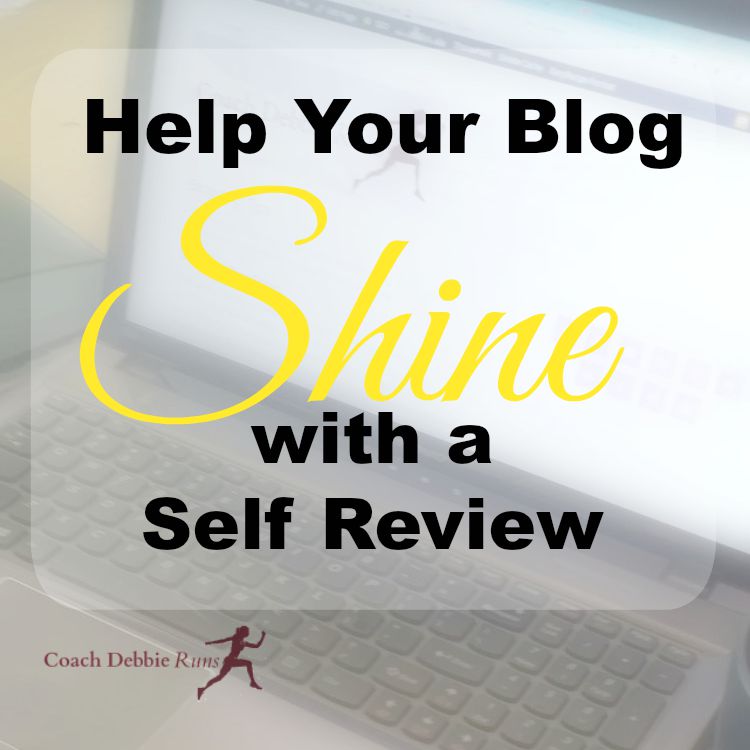 The Mobile View
Finally, take a look at your blog on a mobile device. By checking my own analytics, I found out that almost half of my readers use a mobile device for reading my blog. That means that it had better be mobile friendly or they won't stay around long. In addition to that, Google now uses mobile-friendliness in its rankings, so that is another reason to make sure that your site looks good on mobile devices. Not sure? Check here.
Don't take that for granted though. First take out your phone and navigate to your site. How does it look? If it is mobile friendly, everything should fit properly on the screen, with no overlapping photos or ads. There may be a menu tab for navigating, or your regular navigation buttons might just be reduced in size. Because of the small screen size, your sidebar contents will probably be at the bottom of the page, below your blog posts. Sometimes they may not be displayed at all, depending on your blog theme or the plugin that you use. All in all, your page should be easy to read and navigate.
Don't stop there. Now pick up your iPad or tablet (or borrow one for testing purposes) and open up your blog. How does it look there? It still should be easy to read, in a mobile-type format. If it is, you're done. If not, read on.
I'll use two of my favorite blogs as examples. They both look great on my phone. However, I read and comment on a lot of blogs from my iPad. And both of these blogs drive me crazy. On the first, both left and right sidebars are right alongside the post. On my small screen, that means various ads poke out from the sides, blocking the words. If I scroll up, the ads scroll too, so I can't read what is written.
On the other, the font is so small and light that I simply can't read it without pinching it larger. When I do that though, I have to scroll from side to side to read the text. That is annoying (and if I didn't love that blogger I probably wouldn't bother).
One of my current pet peeves has to do with the popularity of sharing buttons that are on the left side of a post and scroll up and down as one reads. I mentioned above that you want to make it easy to share, and that is true. But these particular buttons cover up a few letters of text on the left side of the page on my tablet. In order to read them, I have to scroll them up a little, then continue to do that as I read down the page. Hugely annoying. I actually removed mine because an honest reader brought this to my attention.
For any of the above instances, I can (and do) put my mobile browser in reader mode. I just don't think I should have to. I know that I want my blog to be easily readable on any mobile device without my reader having to make accommodations. They will have a better reading experience, stay around longer, and come back more frequently.
Blog Review Linkup?
When Jill Conyers and I were at Blogfest, we discussed starting a linkup for bloggers who wanted to participate in peer reviews. These would be honest but postive reviews that would allow us to get objective opinions about the look and feel of our blogs. If this is something you're interested in, please say so in the comments, and stay tuned as we figure out how this can best be completed.
What is your biggest blog reading pet peeve? Do you usually read blogs on a desk or laptop, or on a mobile device? Do you have a suggestion to add to the self-review? Do you disagree about any of my points? Did you find any typos?
---
My weekly linkups! Please stop by and check out all of the great recipes, workouts, and information that all these awesome bloggers share every week!
Meatless Monday with Tina and Deborah
Meatless Monday with Annmarie 
Inspire Me Monday with Janice
Anything Goes with Marilyn
Bonnie, the Pin Junkie
Tip Tuesday with Debbie in Shape
Wild Workout Wednesday with Annmarie, Michelle, Sarah, and Angelena Marie
Wednesday Wisdom with Nanna's Wisdom
The Blog Booster Party with Kathleen
Friday Fitness with Jill