Now that my training is kicking into gear and I have completed 10 miles, my longest run since I ran the Rock 'n' Roll Half Marathon last June, I know that I need to plan things a little better, not just for the "big picture" training plan, but also for individual runs. Today I wanted to share some tips and my favorite tools for the long run.
Generally speaking, the long run is the most important key to your marathon or half marathon training. Yes, you can slog through it, but using some of these tips can help make it more pleasant and even more beneficial to your training.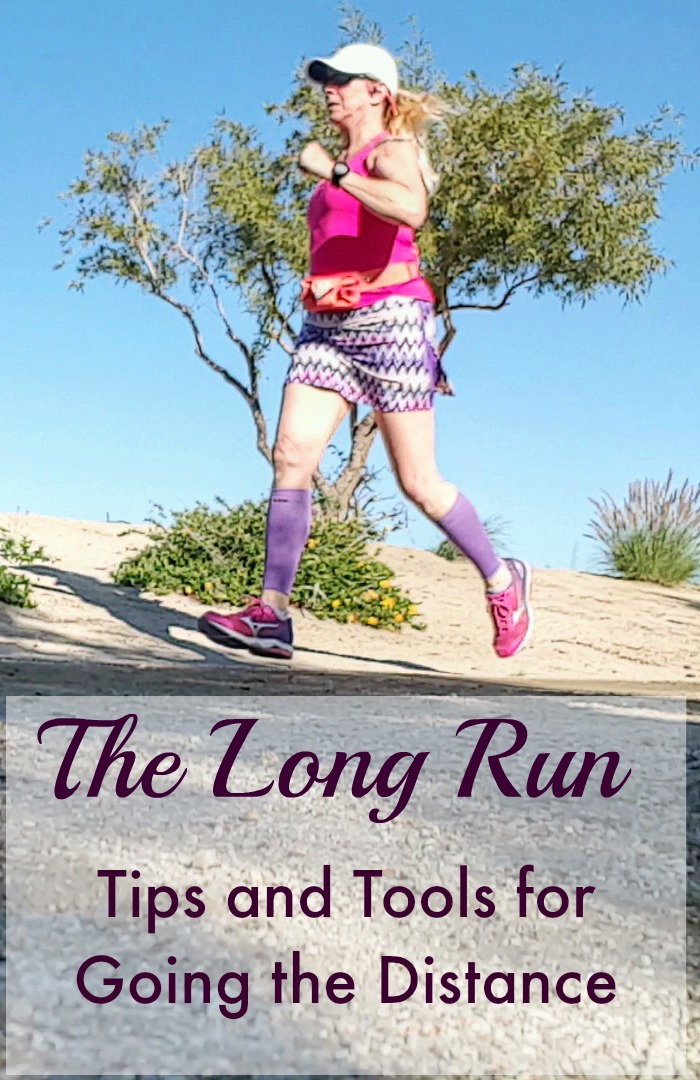 The Long Run: Tips for Going the Distance
Get Enough Sleep
Getting enough sleep, not only the night before your long run, but throughout your training, is vital for your performance. If you already feel like you're dragging even before you start you are in for a big sufferfest, whether you're running 10 miles or 20.
Long Run Pace
Most people run their long run too fast. You should aim for a pace that is quite a bit slower than your race pace. Your goal for the long run is not to finish quickly, but to build aerobic endurance and train your body for the long distance you will be racing. Trying to run too fast will train different systems, and actually wear your body down.
If you use your heart rate to monitor your effort, you should be running at about 70% of your maximum. If not, estimate a pace that is about 65-75% of your 5k pace. You should be able to carry on a conversation without difficulty.
Long Run Nutrition
Plan your long run nutrition just as you do the rest of your training fuel. While you should be eating healthfully throughout your training, pay special attention the night before your long run to make sure that you get a healthy combination of protein, carbohydrates, and fats. No need to overdo it or "stock up."
Try to have something light before your long run. This is practice for your race, so finding something that works and sticking with it will help you. Experiment a little at first. A very light breakfast that is high in carbohydrates will probably work the best. A slice of toast with a little peanut butter, a banana, a bowl of oatmeal, are all options. You might have to change up the timing of your pre-run meal, but now is the time to do that, before your race.
What you consume during your run is also a rehearsal for what you will be eating during your race. Whether you use gels, bars, fruit, or some combination, your long run fuel should be high in carbs and low in protein and fat. Depending on your own weight, you should try to consume between 200 and 300 calories per hour during your run. This is another time when practice will help you figure out what works for you.
Post run is the time to refuel your body to help your recovery. Eat something shortly after you're finished, or drink a recovery beverage that has the right combination of nutrients to help refuel. Now is the time for a little protein, along with replacing some of the carbohydrates lost during the long run.
Long Run Hydration
Again, hydration is important throughout your training, not just in preparation for your long run. Drink plenty of fluids during the day, and make sure to get a proper amount of electrolytes, either through your food or with supplements.
I really recommend carrying your hydration during your long run. Not only can you monitor what you're drinking, making sure that you have enough, but you are assured that you won't get out there with no place to find something to drink.
In addition to drinking water during your long run, I recommend adding electorlytes and/or carbohydrates to make sure that you are able to replace the minerals that you lose through sweat. Find something that tastes good to you. It won't do you any good to carry your hydration if you don't drink it!
Following your run, you should top off your stores of fluids. The "pee test" will help you know when you are re-hydrated. Keep drinking enough throughout the day so that your urine that is light yellow.
Recovery
Directly after your run, take some time to stretch or foam roll. Ice is another great tool to use, especially as those runs get longer and if you have any tight or inflamed areas.
Many runners like to take a recovery run the day following their long run. Just make sure to keep it easy and short. Another option is to hop on a bike and "spin" out those legs for a few miles. Either choice is fine as long as you just use it to get a little blood flow going to assist recovery. Some runners prefer to take the day completely off, and I certainly recommend that if you are feeling extra sore or tired.
Other Considerations
There are, of course, other things to think about. When you start increasing the distance of your long run, you may want to take a look at your shoes. Do you need more supportive shoes? Or maybe just a new pair to see you through the next part of your training.
The same goes for your socks. Socks with a little extra padding can be a great comfort when the miles get longer. I love my compression socks both for the run and for recovery.
If you're prone to chafing like I am, take a look at your running clothing. You will want something comfortable, lightweight, and moisture wicking, that also does not rub you in the wrong places.
Long runs can get lonely, so if you enjoy listening to music or podcasts on the run, get a good pair of headphones that are comfortable and have a long battery life. Even better than music is a human companion, so finding a friend to run even part of your miles with is great. If you belong to a running club or group, chances are you can find a like-paced running partner.
The Long Run: Tools for Going the Distance
Here are some of my favorite tools for surviving (and thriving on) your long run.
Nathan Hydration
I have numerous hydration solutions that I love from Nathan Hydration. They recently sent me a few items to try out and share my opinion! I have road tested all of these tools and I feel confident that they will help make your long run more comfortable.
Years ago I ran with a hydration belt. The bottles were heavy, the belt itself felt like it was squeezing me. I switched to a handheld and have used one ever since. So I was a little hesitant the first time I tried the Switchblade 24 oz. Hydration Belt. I needn't have worried, though it did feel a little heavy at first.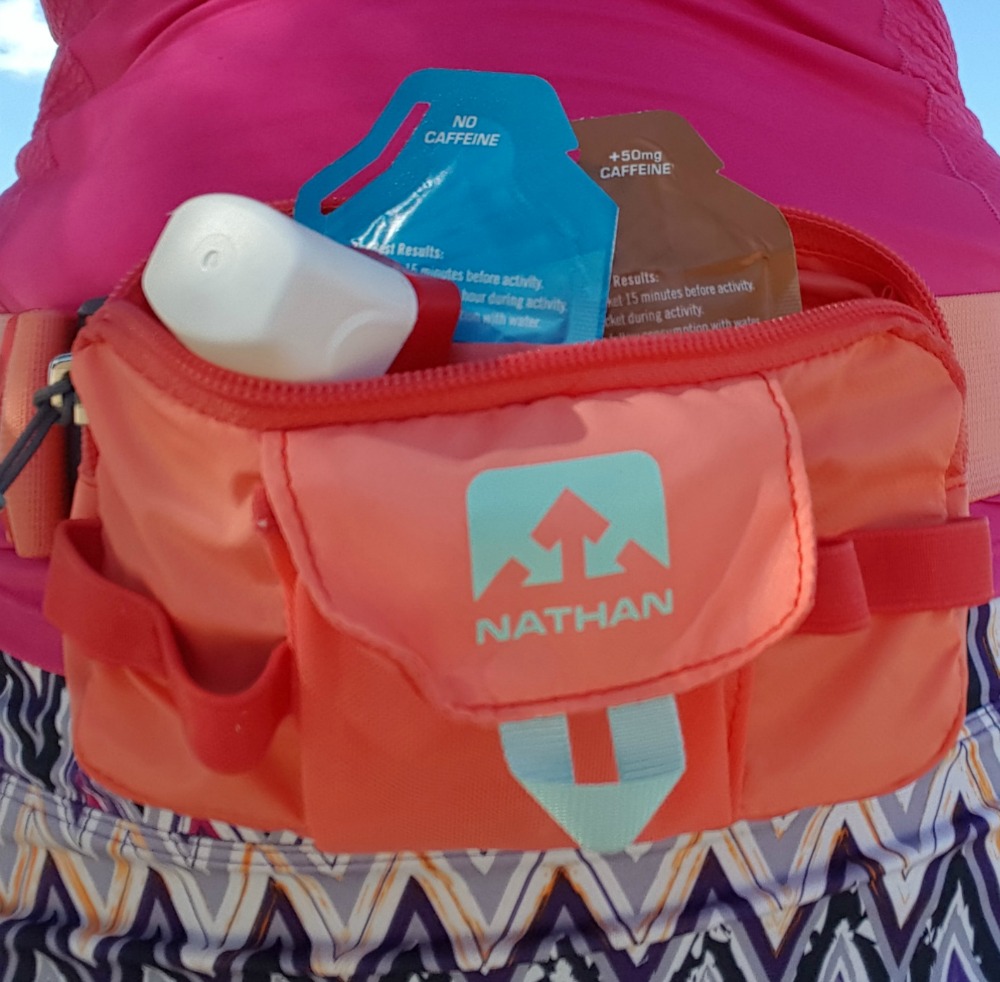 The Switchblade has two 12 ounce speedshot flasks, plus a pack that is large enough to carry a phone (I have a Note, so a big phone), plus energy gels, cash, keys, and even my inhaler. Both the bottles and the pack are customizable, so you can find the right position for you. Because I was only running 10 miles, I chose to use just one of the flasks, plus carry my speedshot insulated flask, which I refilled about halfway through my run.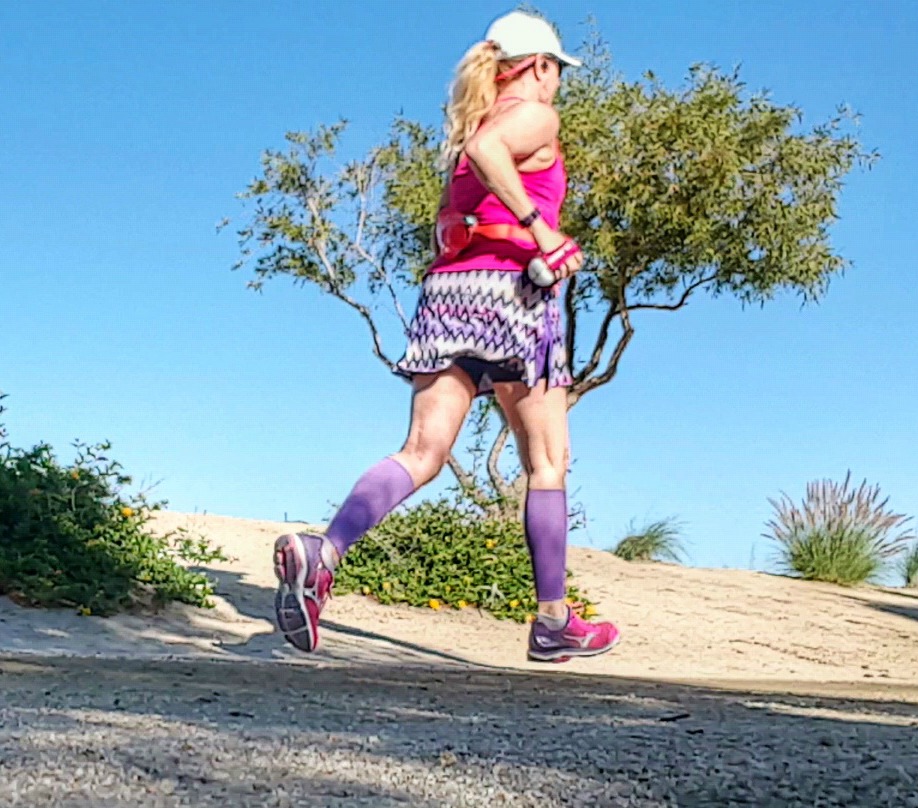 Speaking of the Speedshot Plus Insulated Flask, it is my favorite handheld for any run, long or short. While it is only 12 ounces, which means that it need refilling for a long run (see above for my option), it keeps your drink cold without freezing your hand. It is so comfortable to carry, with its grip-free design it's really easy on your hand.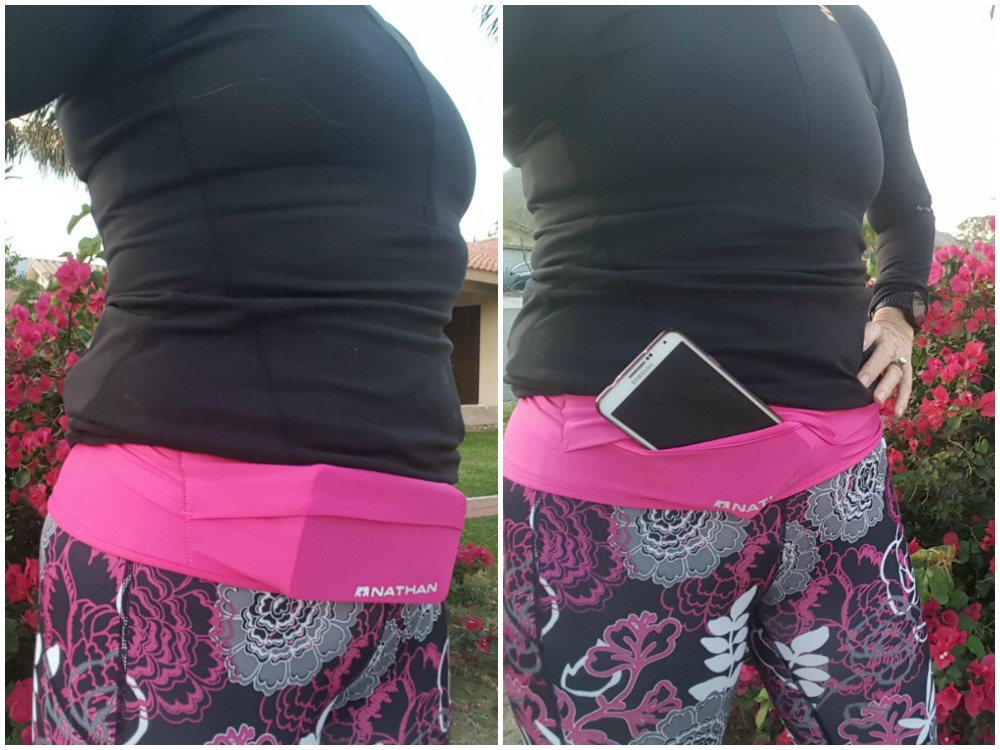 I also love the Hipster Waist Belt with Pockets for any run, long or short. It fits snugly and easily holds a large phone, plus it has other pockets to hold gels, cash, or other necessities.
My Favorite Long Run Necessities
Here are some of the other things I use for every long run. They keep me comfortable, healthy, hydrated and fueled.
I love Skirt Sports for many reasons, including that it is a woman-owned company started by Nicole Deboom, that creates beautiful and functional fitness clothing for women of all sizes and ages. I most love the Gym Girl Ultra skirt, which is short enough to be cute, long enough to cover what I want to be covered, and includes 5″ shorties that don't ride up and protect my delicate thighs from chafing. Save 20% with the code FWC20 (the code changes quarterly, so check back then to get the new code. It will also be in my sidebar).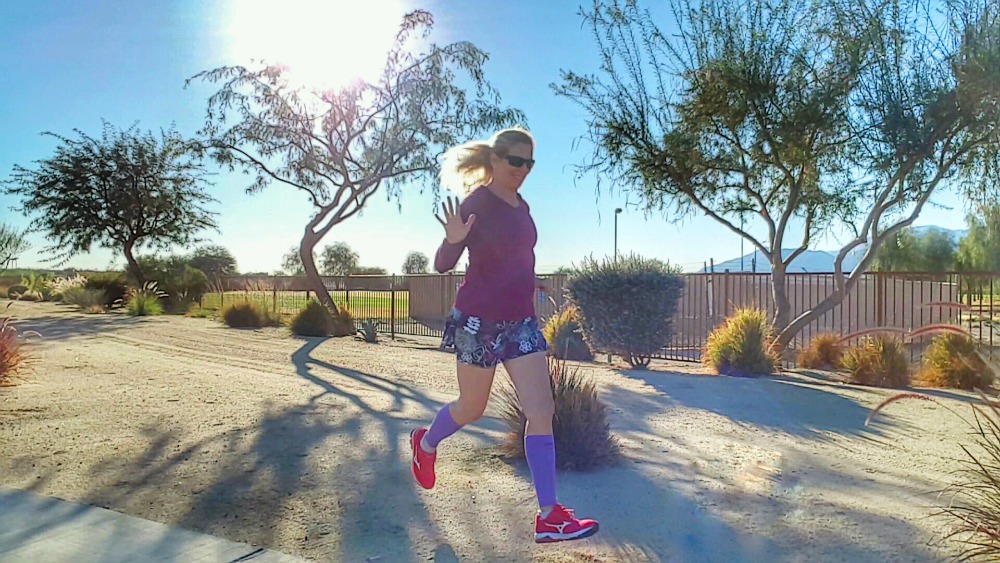 I love Legend Compression Wear. With their background in medical compression, they know exactly the level of compression necessary to achieve your goals. I usually wear a pair of compression socks or sleeves on the run, and I always wear them for recovery. Save $15 on your first purchase!
I use Nuun Active during my runs, and for long runs, I add Plus for Nuun, which adds a unique blend of carbohydrates and electrolytes to my fueling. I've also been using Nuun Vitamins daily. They contain 11 vitamins and minerals, plus electrolytes, all of which are helpful for recovery and the delicious, light flavor makes it easy to drink enough fluids. I just add a tab to my water bottle!
Finally, while I don't usually listen to music on the run, I do listen to books. For that, I use Aftershokz Trekz Titanium. They are wireless, so no cords to get tangled. I also love the bone conduction technology, which means that there are no ear pieces to fall out. Instead, they rest on the bone in front of my ear for a comfortable fit and great sound. Read my complete review here.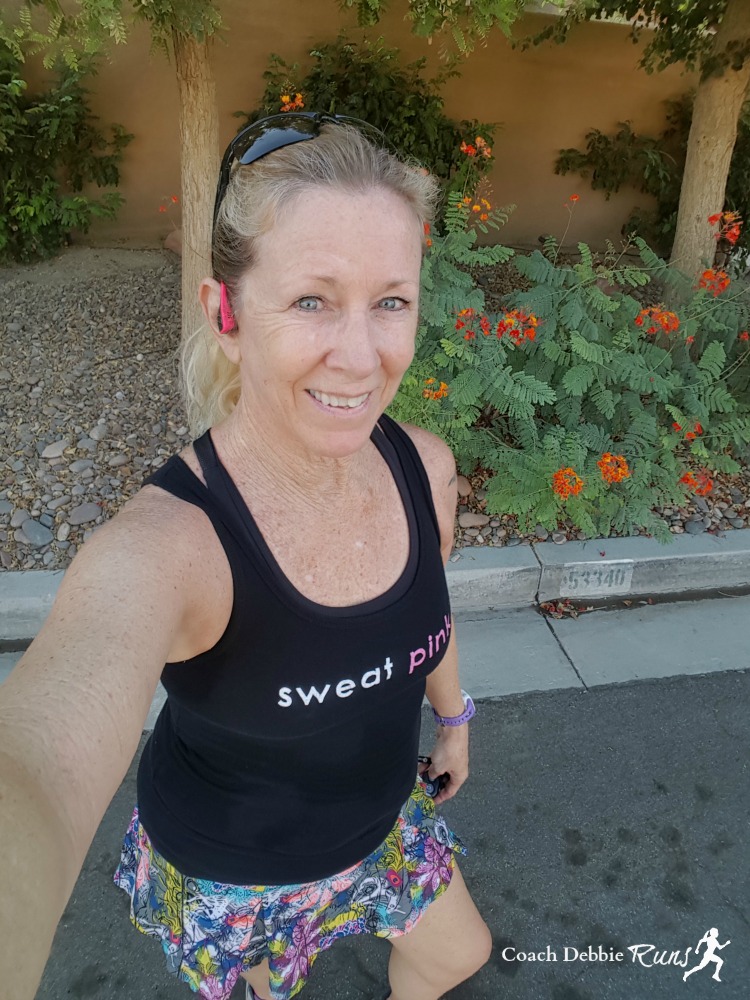 What are your favorite tips and tools for the long run?
This post contains affiliate links. I am an Ambassador for Skirt Sports, Nuun Hydration, and Legend Compression Wear and I receive discounts on products. All opinions are my own.
And Now It's Time for the Running Coaches' Corner!
Loading InLinkz ...
---
Weekly Linkups
My weekly linkups! Please stop by and check out all of the great recipes, workouts, and information that all these awesome bloggers share every week!
Meatless Monday with Sarah and Deborah
Meatless Monday with Annmarie  and Dixya
Inspire Me Monday with Janice
Wild Workout Wednesday with Annmarie, Michelle, Jen, and Nicole
The Plant-Based Potluck Party with Deborah
The Running Coaches' Corner with Rachel, Suz, Lora Marie, and Me!
Giveaway Roundup and Try Out Thursdays with Smitha
The Blogger's Pit Stop with Kathleen, Janice, Julie, and Menaka
Friday 5 2.0 with Rachel and Lacey and Meranda
Sunday Fitness and Food with Angela and Ilka