This Jackfruit Curry Stuffed Avocado recipe will knock your socks off! It's vegan, gluten-free and delicious!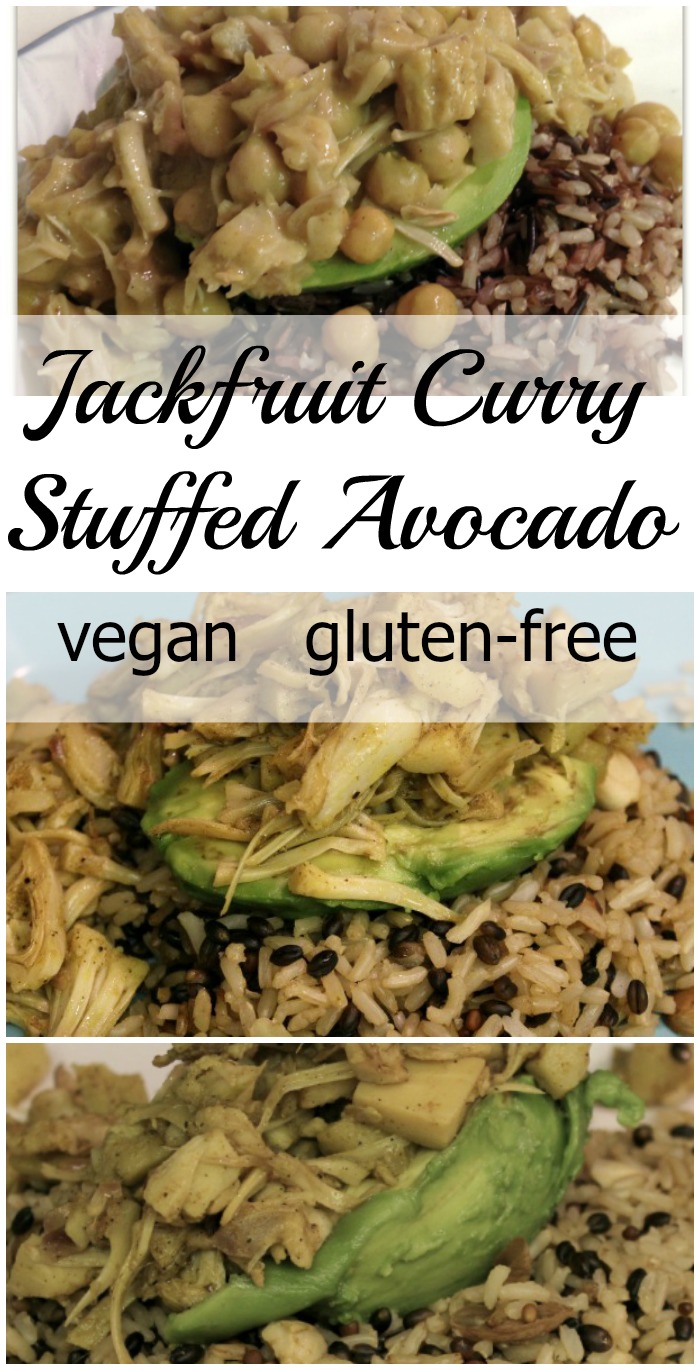 What is Jackfruit?
What's jackfruit you ask? Jackfruit is an all natural, whole-food meat substitute that has no fat, very few calories, and can be used to replace chicken or pork in a variety of recipes. I'm really not sure if it is considered a fruit or a vegetable. I do know that it is completely plant based, contains no gluten, soy, chemicals, preservatives, artificial colors, or sugars. That's because it grows on trees!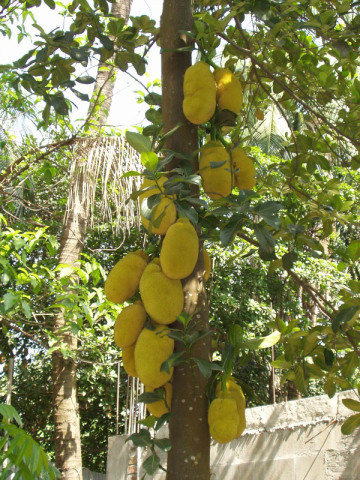 I've written about the amazing jackfruit before, but in case you're new, here's the scoop on this amazing "vegetable meat."
The "Vegetable Meat"
The jackfruit grows in tropical locales on tall, evergreen trees. Prickly and green in its unripened state, which is when it is perfect to use as a meat substitute (it is yellow and sweet when ripe). It is cultivated in India, Ceylon, southern China, Thailand, and other countries with hot, humid climates.
But, how does it taste? The unripened jackfruit has a taste and consistency similar to chicken when it is cooked. It can be shredded or cut into chunks, and can be slow cooked for extra flavor. Because of its cultivation in Asian countries, it is frequently used in curries.
The jackfruit is nutrient rich, especially in vitamins C and B complex. It has small amounts of vitamin A, plus potassium, magnesium, manganese, and iron. It is also high in dietary fiber.
No Jackfruit Tree? No Problem!
So you don't have a jackfruit tree in your backyard? No worries. In this country, jackfruit is most frequently available in cans and is sold at Asian and Caribbean markets.  There are a few online sources, including Amazon.com
(note: that's an affiliate link, but it is much cheaper if you can find it in a local market. Like about $20 cheaper!) Make sure to look for green unripe (or young) jackfruit in brine or water.
In fact, the only nutritional downside to jackfruit is, that since it is so low in calories, it is also pretty low in protein. So to offset that deficit, be sure to prepare or serve your jackfruit with foods that are higher in protein. Beans work great, either to thicken a sauce or to serve as a side dish with many jackfruit recipes.
So, have I piqued your interest in jackfruit? Here is my favorite recipe plus a few links to others.
Jackfruit Curry Stuffed Avocado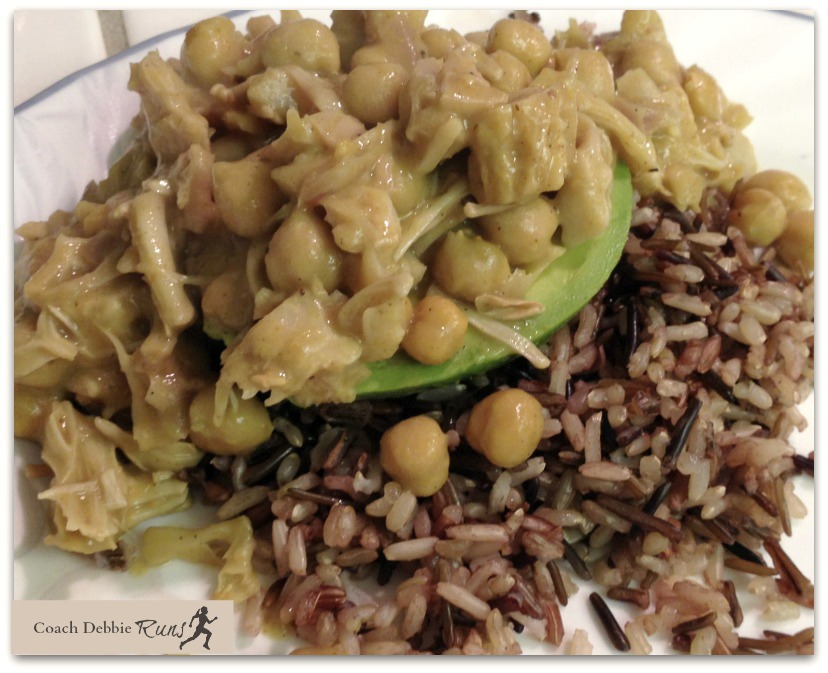 This jackfruit curry is served hot, with rice and avocado, but it would taste great chilled too.
Jackfruit Curry Stuffed Avocado
Vegan, Vegetarian
Ingredients
1 can jackfruit, green, in water or brine, rinsed and drained
1 tablespoon coconut oil
2 cloves garlic, minced
½ cup onion, chopped
1 tablespoon curry powder
1 teaspoon asafetida (Omit for gluten-free. Add a teaspoon more curry powder)
1 teaspoon salt
1 tablespoon flour (for gluten-free simply use a thickener of your choice)
1 can garbanzo beans, rinsed and drained
8 ounces coconut milk (from a can)
8 ounces vegetable broth
1-2 avocados, halved, scooped out with a spoon
Instructions
In a small bowl, use a fork to shred the jackfruit,
Heat the coconut oil over medium heat. Cook the onions and garlic until soft (about 5 minutes).
Add the jackfruit and cook, stirring occasionally, until the jackfruit's moisture has evaporated. If necessary, use the fork to break up the jackfruit a little more.
Add the curry powder, asafetida, and salt and stir to combine.
Sprinkle the flour over the jackfruit mixture, add the beans, and stir to combine.
Slowly pour in the coconut milk, mixing it in as you go.
Increase the heat and stir in the broth. Bring to a low boil, then reduce heat and simmer, stirring occasionally, until the sauce thickens. You can add more seasonings to taste if you'd like.
Heat the avocado halves (30 seconds in the microwave or 5 minutes in a 350 oven).
Serve on the rice, spooning a scoop of the curried jackfruit on each avocado half (you can quarter the avocado for a lighter meal if you'd like).
I called that my favorite, but in fact, I love all of the dishes I've created with jackfruit. Here are a few more. Remember, they are all vegan and gluten free (except the tortilla on the burrito, easily fixable if you need or prefer gluten free).
Jackfruit "Tuna" Salad with Avocado and Quinoa
Avocado Stuffed with Jackfruit Salad
I hope you enjoy trying out this perfect meat substitute. If you've tried it before, I'd love to see links to your own recipes. I have two cans sitting in my cupboard right now!
Have you ever tried jackfruit?
---
Weekly Linkups
My weekly linkups! Please stop by and check out all of the great recipes, workouts, and information that all these awesome bloggers share every week!
Meatless Monday with Sarah and Deborah
Meatless Monday with Annmarie  and Dixya
Inspire Me Monday with Janice
Wild Workout Wednesday with Annmarie, Michelle, Jen, and Nicole
The Plant-Based Potluck Party with Deborah
The Running Coaches' Corner with Rachel, Suz, Lora Marie, and Me!
Giveaway Roundup and Try Out Thursdays with Smitha
The Blogger's Pit Stop with Kathleen, Janice, Julie, and Menaka
Friday 5 2.0 with Rachel and Lacey and Meranda
Sunday Fitness and Food with Angela and Ilka