As you may (or may not!) know, I've been playing experimenting with jackfruit recipes ever since 1) I tasted it for the first time last spring and 2) I actually found jackfruit locally at an Asian market in Cathedral City.  Since first trying out Jackfruit Carnitas (recipe from a favorite blog), I have since made jackfruit burritos, jackfruit salad, avocado stuffed with curried jackfruit, and more jackfruit burritos.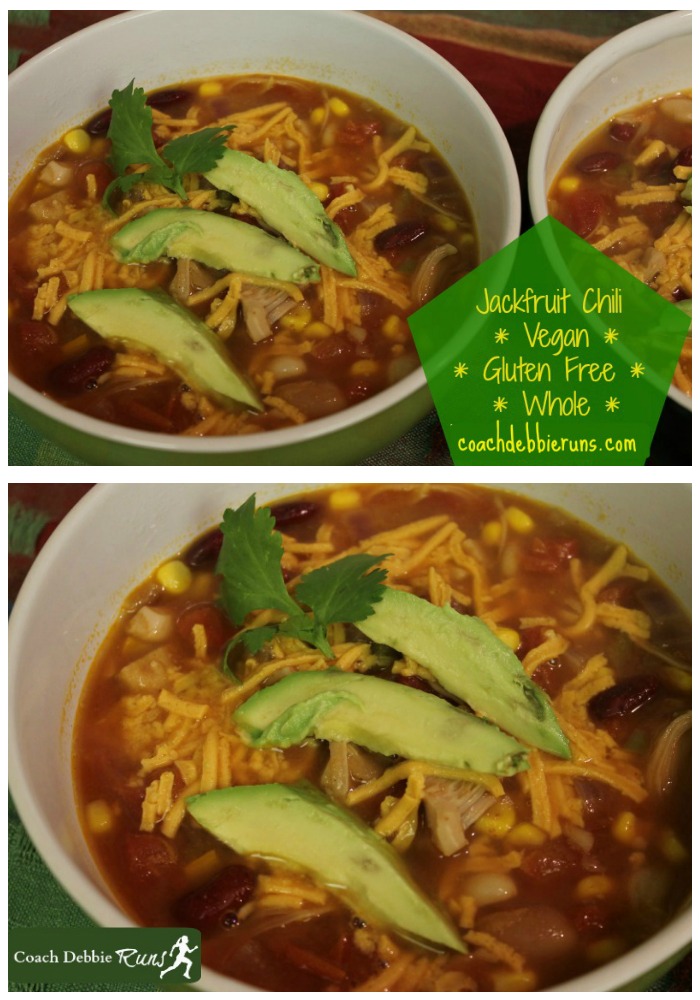 I love the versatility of jackfruit. It has very little flavor of it's own, so it absorbs the seasoning that is used for any particular dish, while having the texture and "mouth feel" of shredded chicken or pork. Jackfruit is not a fake meat, it is a real fruit, and therefore is completely natural and unprocessed.
The one possible downside of jackfruit is that it a very low calorie food, which while that sounds pretty good, it means it does not have a lot to offer in terms of macro-nutrients. A one cup serving of jackfruit contains only 157 calories and 2.8 grams of protein.  That is why most jackfruit recipes will incorporate beans or tofu to make this "meat" as nutritious as it is delicious.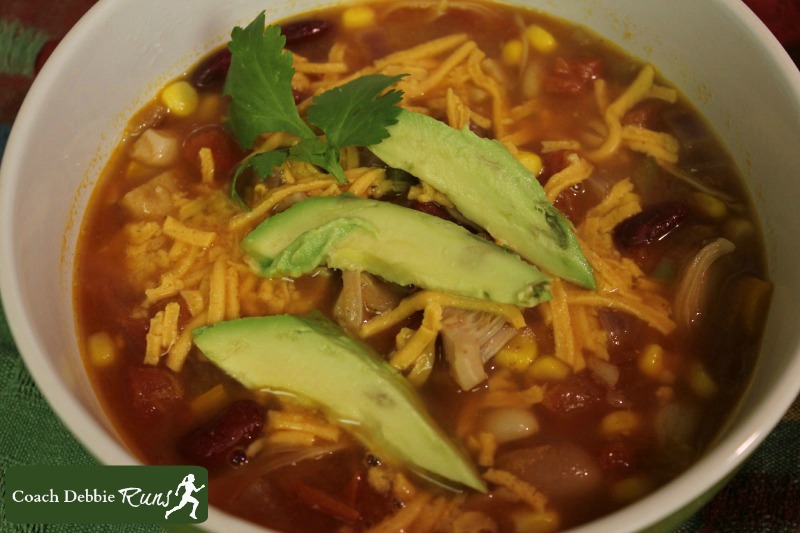 That being said, jackfruit is high in vitamin C, vitamin A, riboflavin, vitamin B6 and folate, and is also quite abundant in a wide range of minerals especially magnesium, potassium, copper and manganese, is also high in calcium, iron, zinc and it provides a small amount of selenium. (source) Other health benefits of jackfruit can be found here.
Jackfruit Chili Recipe
Jackfruit Chili. Vegan, Gluten Free, Whole (and Delicious!)
Ingredients
One can green jackfruit in brine or water
1 tablespoon extra virgin olive oil
1 medium onion, chopped
2-4 cloves garlic, minced
½ yellow pepper, seeded and chopped
1-2 Serrano chili, seeded and chopped
1 teaspoon cumin
½ teaspoon red pepper
½ teaspoon chili powder
1 15 ounce can kidney beans, drained and rinsed
1 15 ounce can white or pinto beans, drained and rinsed
1 27 ounce can chopped tomatoes, with liquid
2 teaspoons Tabasco or other hot sauce
1 cup corn
4 cups water
1 bottle beer (I used non-alcoholic because that's what I had on hand)
Salt/Pepper to taste
Optional condiments: Avocado, vegan cheese, cilantro, tortillas, salsa
Instructions
Drain and rinse the jackfruit. Using a fork, shred the jackfruit. Mix in the cumin, red pepper and chili powder and set aside.
Heat the oil over medium heat
Add the onion, garlic and yellow pepper. Cook for about 3 minutes, then add the Serrano chili(s). Cook for several more minutes, until the vegetables are soft.
Add the jackfruit and cook for about 5 minutes.
Add the tomatoes and beans.
Add the water. Increase the heat to medium high and bring to a low boil.
Add the corn and the beer and return to a low boil.
Add Tabasco
Reduce heat to low and simmer for 15-30 minutes.
Add salt and pepper to taste. If needed add additional hot sauce to taste.
Serve with desired condiments
Jackfruit is available at most Asian markets. In a pinch, it is also available on
Amazon
(because everything is available on Amazon!) Do remember to purchase green or unripened jackfruit. Ripe jackfruit is very sweet and sticky. It would make a wonderful dessert, but not taste very good at all in this chili.
Note: My Amazon link is an affiliate link, and honestly, the jackfruit is a

lot

less expensive if you can find it locally.
Jackfruit Chili is vegan, gluten free, and completely unprocessed.  While I used vegan cheese on my Jackfruit Chili, which is technically not an unprocessed food, it would have tasted just as good without it.  The recipe made a huge batch of chili, enough to serve six to eight people. For the two of us, there was enough left over to freeze two separate containers (hurray!).
Have you tried jackfruit before? What did you think?