For the first time in months, I have nothing going this weekend. No races. No events. No gigs for Alan. No travel. Zero. Nada. Zilch.
Can you tell I'm excited?
Alan and I have had something going each weekend since March. We've been to Lake Havasu, Redlands, and San Diego for events that he announced. I've run races in San Diego and Lake Havasu. We put on a race in our own backyard. My house is a mess. I haven't seen the inside of my yoga studio for two months. I'm so happy to be home I could cry with joy.
So, with two days to ourselves, what is the plan (besides a little house cleaning)? Well, running of course. I have a nine mile run on the schedule for tomorrow, followed by six on Sunday. Hopefully I'll be able to make sure that my yoga studio is still there (though I'm afraid my credits have expired). Maybe even, for the first time in months, a movie!
I'm looking forward to a quiet, boring, stay at home weekend. I know it is Mother's Day on Sunday, but since I'm the mother I get to choose.
Fast and Furious Workout
I am not sure what I was thinking when I created this workout. It is pretty high intensity from beginning to end, including a quarter mile run to finish off each set. It will really get your heart rate up  and work your whole body in a short amount of time. Each set takes less that five minutes (plus the run), so you can complete a great workout in less than a half hour. Because it needs no equipments, you can take it outdoors (maybe to the high school track for a great place to get your running in).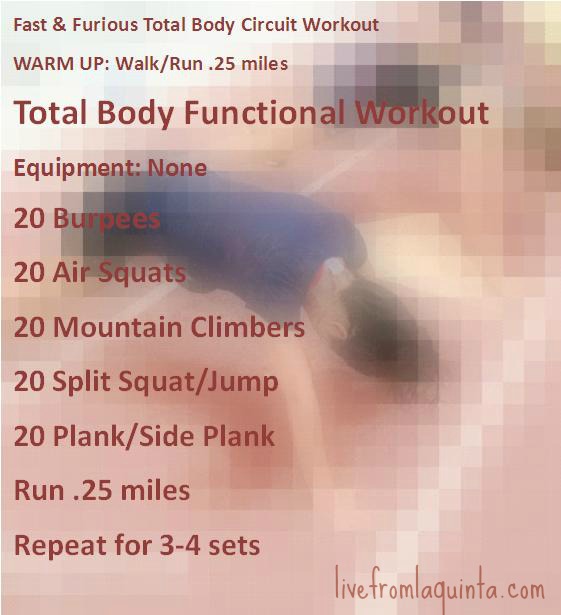 I'm demonstrating the workout in the video below, but here are a few links to more detailed explanations (or videos) of each exercise.
Plank to Side Plank: Start in a plank position, either on your hands or forearms. Hips should be level or just slightly lifted. Lift one arm and turn into a side plank. Hold just a second, the put your arm down and switch to the other side.
Enjoy the workout! What are your plans for the weekend?
Disclaimer: Although I am a certified Personal Trainer, I am not YOUR Personal Trainer. Always adapt workouts to suit your body and fitness level. Always consult your doctor before beginning a new exercise program.