In case you have seen my whining my Instagram feed lately, yes, I am that injured runner. Ten days ago I was running along, minding my own business, and I somehow tripped over my own feet and landed on my knee. Yes, again.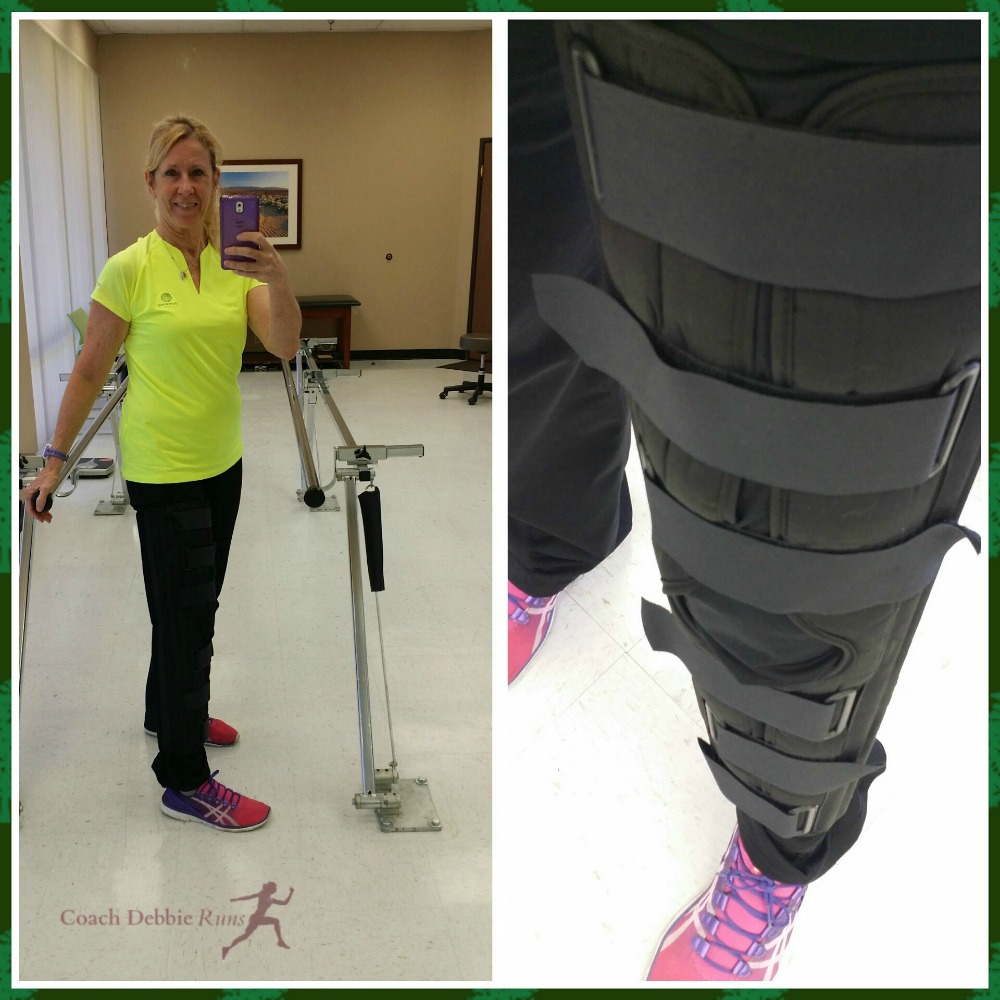 This was from October 2015. Not today, thank goodness.
After my fall, I regrouped, finally tried walking, and felt that it wasn't too bad. Alan was with me and offered to go get the car (we were about a mile from home), but I thought that I could run. So I did. Probably not the wisest thing I've ever done.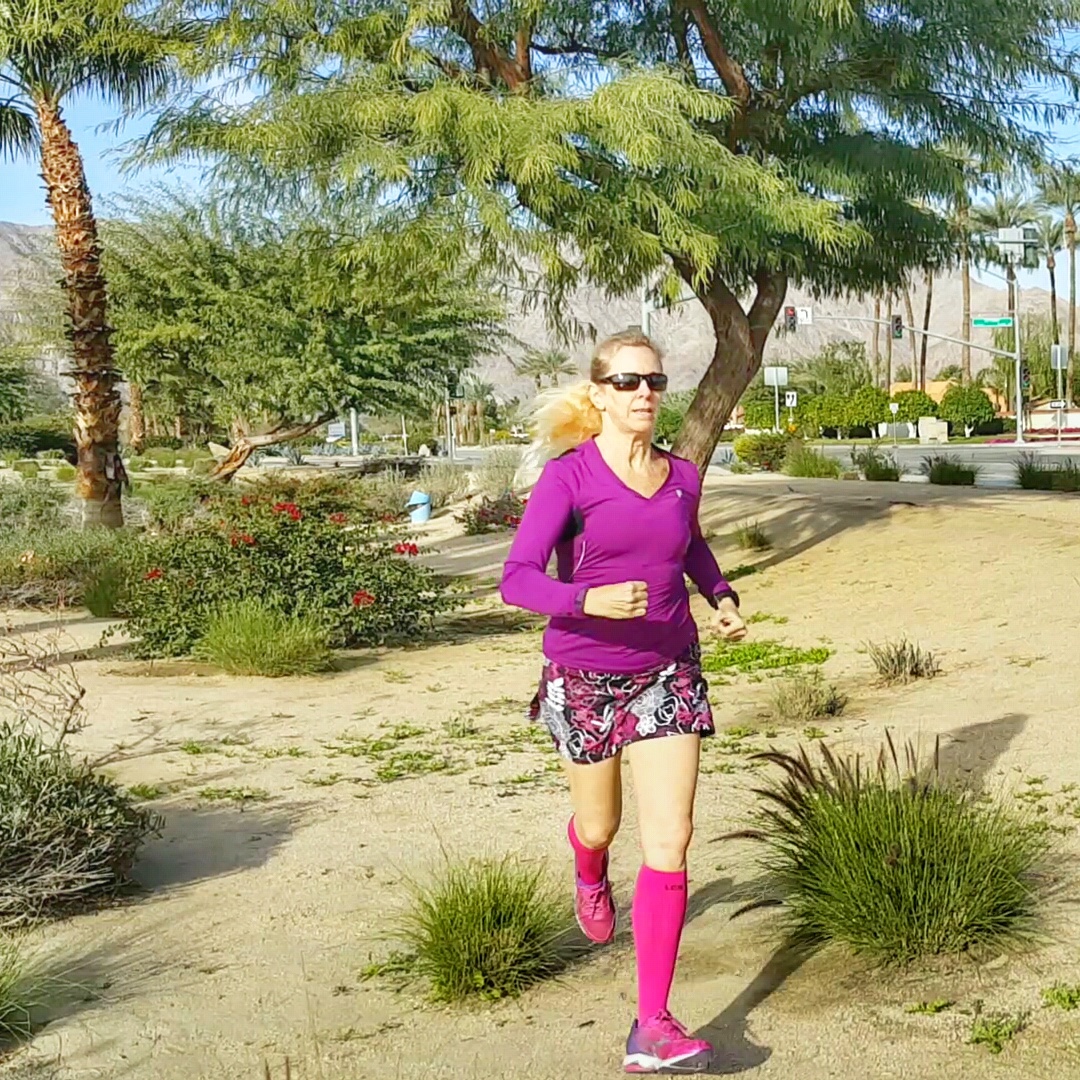 This was literally minutes before I fell.
As the day went on, the knee swelled up, until it was so stiff and sore I couldn't put much weight on it. I Rested, I Iced, I Compressed, I Elevated for the rest of the day. I limped around at home and at work the next couple days.
By Wednesday when I woke up I could feel that my knee was improving. The swelling had gone down, I had a little more range of motion, I could put my weight on it. I was even able to do a Fascial Stretch Therapy session, which requires a lot of mobility on the part of the therapist. I was on the road back to running.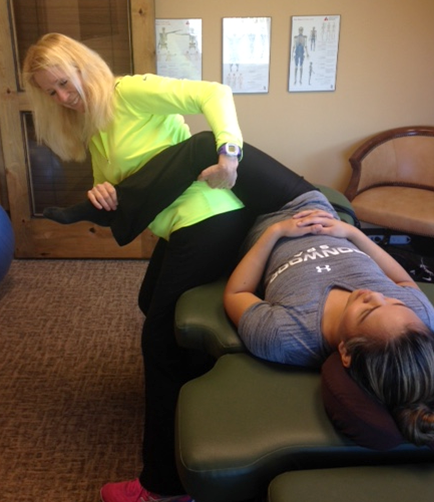 As of this writing, though, I have not returned to running. Yes, I've tried it out a step or two, but decided in the interest of my long term running health that I should be patient.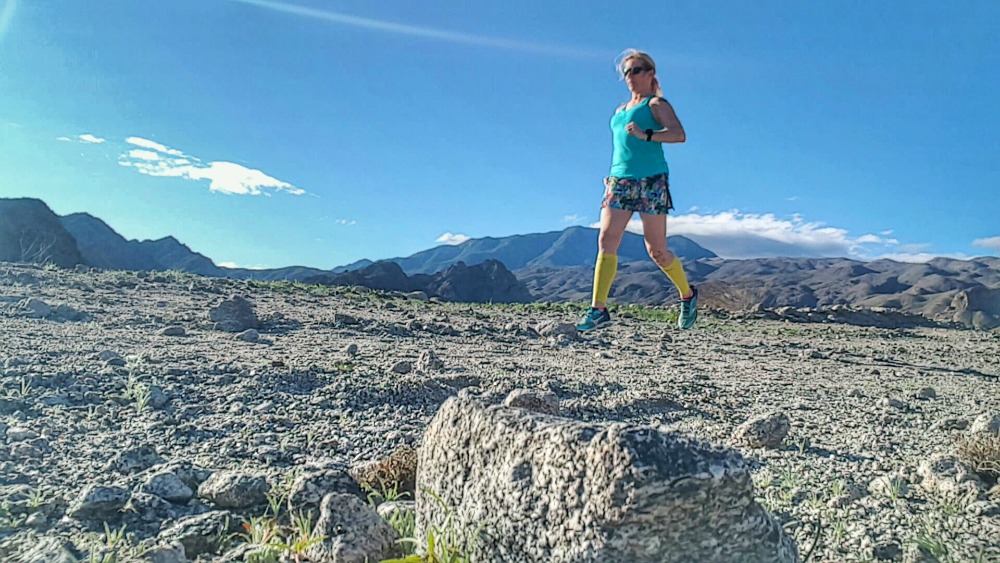 I was not really running. I was "trying out the knee."
So there I was, just in the pre-training stage of preparing to train for my 38th marathon, with the intention of trying to qualify for Boston again. As any dedicated runner knows, it's hard to sit out for even a couple days, let alone weeks or months (or an unknown period of time). How did I keep from going crazy?
6 Tips for the Injured Runner to Stay Fit (and Sane)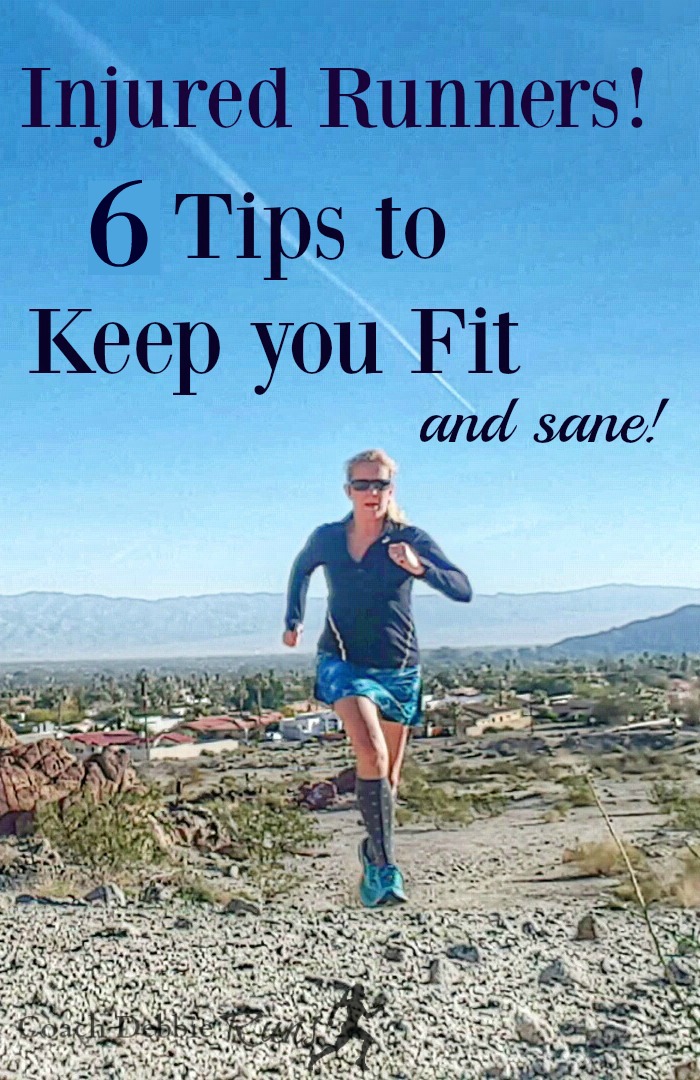 Just a note…be sure to check with your doctor before trying some of these suggestions.
1. Relax. This too shall pass
As frustrating as a running injury is, it will heal and you will most likely be able to run again. No purpose is served to get angry or sad (at least beyond the first day), just do what you can and take the time to heal. Trying to rush the process rarely works and could cause another injury or push back your recovery.
2. Follow your doctor's and/or therapist's directions
Do your therapy exercises, wait until they say that it's okay to try a run. They are professionals. They want you to get back on the road too because they're tired of hearing you complain that you can't run.
3. Work on….
This is a great time to spend working on some of those weak spots that can get neglected when you're running a lot of miles. Like your core. Or your glutes. Or your upper body strength.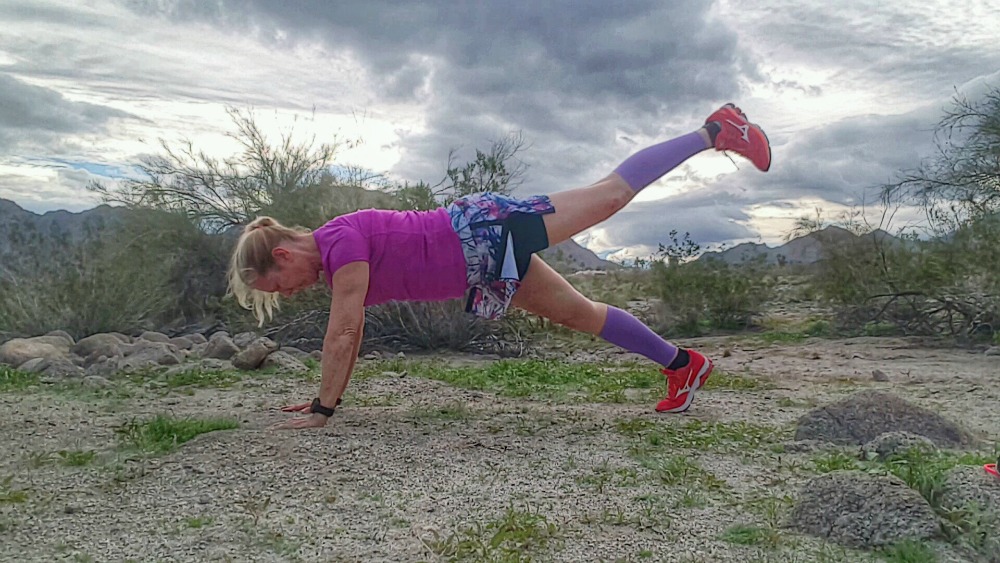 4. Cross Train
So you can't run. Bummer. Maybe, depending on your running injury, you can ride a bike, swim, or even walk. Pool running is also a great alternative for many injuries.
5. Try Something New
Have you ever noticed that when you are training seriously, you don't have time for much else? If you're an injured runner, and again depending on your injury, try something fun, active and new. Kayaking or paddling, yoga or Pilates, or any activity that interests you that you haven't found time for.
6. Be Mindful
Remind yourself that you are healing your body, that allowing that healing to happen will let you keep running. Resist the temptation to start back too soon because "it feels pretty good." Yes, I know you're going to try a run, whether it's a few steps or a few miles, but be honest with yourself, think of the big picture, and choose what's right for your running future.
What About the Marathon?
Well, as I mentioned, I am signed up to run the Utah Valley Marathon. My goal is to qualify for Boston, so I have a serious training program lined up. Obviously, I need to be healthy in order to do that so, what about the marathon?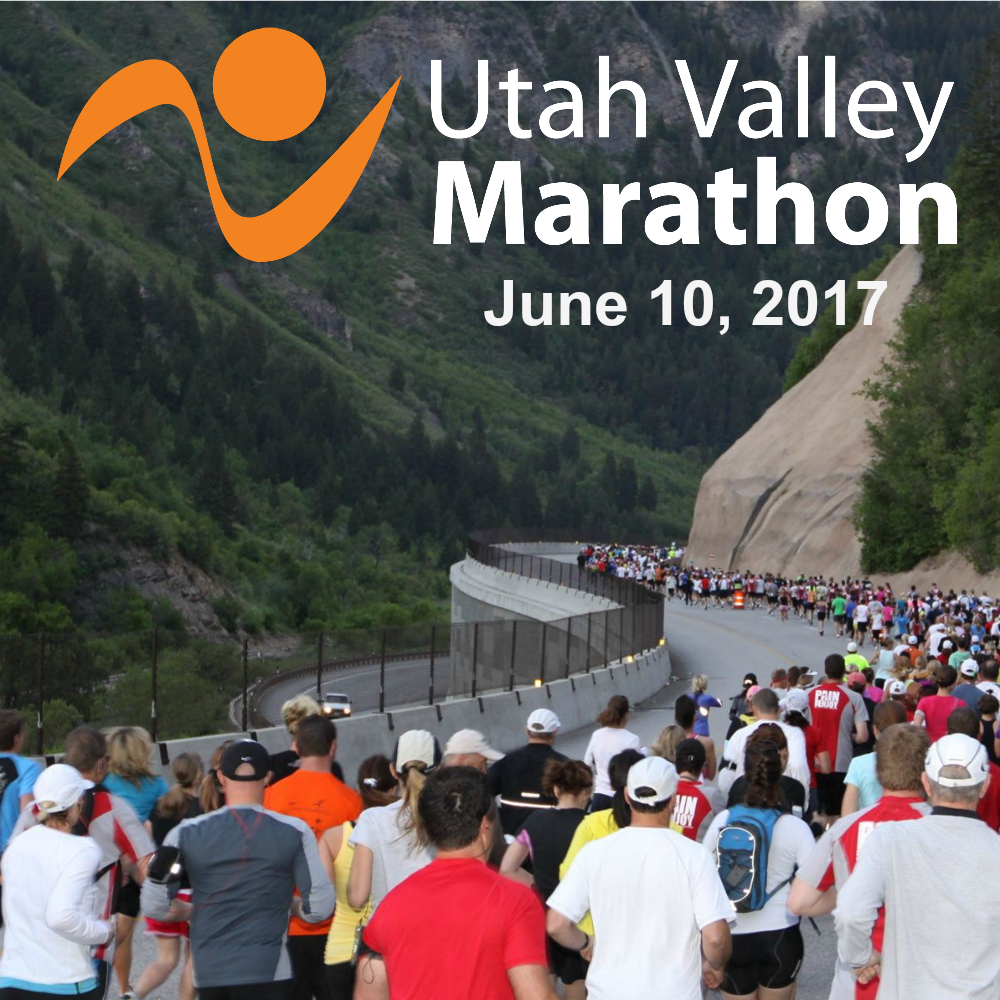 I'm pretty sure that my knee is on the road to recovery. It feels better every day. I hope to try a run this weekend, at which time I can decide if I'll be able to train for a marathon. That was actually the date that I hoped to start my training, so I'll be a few weeks behind. That being said, I'm planning to be in Provo, Utah on June 10.
Would you like to join me? The Utah Valley Marathon is a mostly downhill course that is beautiful and fast. It's a great race in which to set a PR or qualify for Boston. It's going to be a lot of fun too, with many of your favorite bloggers running the race and meeting up afterward. I'd love to see you there! If you want to join me, register here and save 15% on your entry with the code cdr15!
Have you spent time as an injured runner? How did you cope? Do you have any suggestions to add?
My Injury History
Just in case you think that being injured for 10 days doesn't qualify my to speak as an expert on coping with being an injured runner, in addition to being a coach, here is some of my injury history.
2002: Four months off after injuring my knee teach a group exercise class. By the way, during that time I finally healed my plantar fasciitis!
2008: Not a running injury, but six weeks off of running because of a major surgery.
2015: I cracked my patella when I fell while running and landed on a rock. About eight weeks off.
Yeah, been there, done that.
Now It's Time for the Running Coaches' Corner!
Loading InLinkz ...
---
Weekly Linkups
My weekly linkups! Please stop by and check out all of the great recipes, workouts, and information that all these awesome bloggers share every week!
Meatless Monday with Sarah and Deborah
Meatless Monday with Annmarie  and Rachel
Inspire Me Monday with Janice
Wild Workout Wednesday with Annmarie, Michelle, Jen, and Nicole
The Plant-Based Potluck Party with Deborah
The Running Coaches' Corner with Rachel, Suz, Lora Marie, and Me!
Giveaway Roundup and Try Out Thursdays with Smitha
The Blogger's Pit Stop with Kathleen, Janice, Julie, and Menaka
Friday 5 2.0 with Rachel and Lacey and Meranda
Sunday Fitness and Food with Angela and Ilka