While I don't think of myself as a Pinterest expert, over the last few years I have definitely upped my Pinterest game. I have listened to what the real experts have to say, improved my photos, and taken other steps in order to optimize my pins.
The result has been that Pinterest has become the number one referrer of social media traffic to my blog. I've had some pins "go viral," not with repins, which are nice but don't necessarily drive traffic, but with click-throughs. Sometimes I will get an extra thousand or so pageviews in a day because one of my pins has become popular.
Today I want to share some of the tips that I have learned that have upped my Pinterest engagement and increased my blog traffic.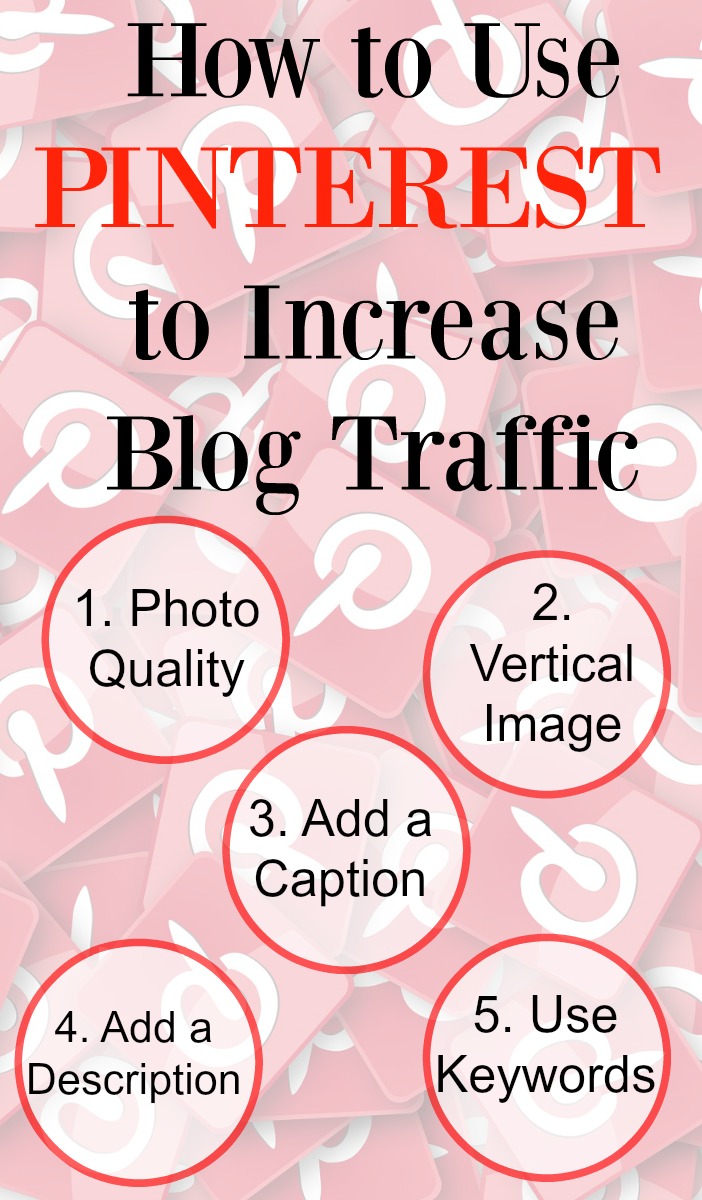 5 Tips to Improve your Pinterest Engagement and Increase Blog Traffic
1. Photo Quality
It should go without saying that you should use the best possible photos for your Pinterest pins. Unfortunately, I still see many blurry, poorly lit pictures that really won't do much to increase repins or pageviews.
Please take the time to take the best picture you can. You don't have to be a great photographer, you don't have to have an expensive camera. Just do the best you can and use editing software to improve the lighting or color if necessary.
2. Vertical Images
You may have heard that vertical images do the best on Pinterest, both for repins and for increasing blog traffic. That is basically because a vertical pin takes up more space on Pinterest boards, which makes it more visible.
So what size? On a board, the image size for each pin is 238 pixels wide. The vertical length is then scaled, so it will be as long as you make it. When you click on a pin, the maximum width is 735 pixels while the vertical length is scaled.
What that means is that the recommended pin size is 735 by at least 1106 (that's a 2/3 ratio). That will take up more territory on a board, making it more attractive for repinning. You can go longer, though, if you want, remembering that the maximum viewing size on mobile is 2061. Taller than that and it will get cut off.
3. Add a Caption
You can have a great vertical photo, but without a caption (on the photo), many potential pinners and readers may just pass it by. Captioning your pin with your intriguing post headline or a brief, description title will drive more traffic and pinners.
4. Add a Description
Unless you write your own description, either as you're pinning or using the Alt text for your pinnable image, chances are the description of your pin will either say something like "photo.jpg," or possibly, the title of your post.
That will not enhance your pinnability. Make sure that you either write a description when you are pinning your post or, even better, change your Alt text to the description that you want to see on your pin.
5. Use Keywords
Generally speaking, hashtags are not used or necessary in your Pinterest description. Keywords are important, though, so include them in your description. For example, in my pin description for this post, I used the words Pinterest, pin, and blog traffic within the sentence in a natural way. Those keywords will help your pin show up on searches.
The Ideal, Most Re-pinnable and Clickable Pin is…
A long, vertical pin, with a variety of DIY or decorating projects that contains mulitple images of those projects with an intriguing title and description. The pin itself attracts attention, then, to get more information about the projects, one must click through to the post.
If you don't write a DIY blog, don't despair. Simply follow the tips above and you will see an increase in both your repins and your blog traffic.
For more Pinterest tips, check out these posts:
Are You Making these 10 Pinterest Mistakes?
Why Blogger Should be Using Rich Pins on Pinterest
Do you see a lot of blog traffic from Pinterest? Would you like to share your best tip with us?
---
Weekly Linkups
My weekly linkups! Please stop by and check out all of the great recipes, workouts, and information that all these awesome bloggers share every week!
Meatless Monday with Sarah and Deborah
Meatless Monday with Annmarie  and Rachel
Inspire Me Monday with Janice
Anything Goes with Marilyn
Wild Workout Wednesday with Annmarie, Michelle, Jen, and Nicole
The Plant-Based Potluck Party with Deborah
The Running Coaches' Corner with Rachel, Suz, Lora Marie, and Me!
Giveaway Roundup and Try Out Thursdays with Smitha
The Blogger's Pit Stop with Kathleen, Janice, Julie and Me!
Living a Life of Fitness, Health and Happiness with Jill
Friday Favorites with Heather
Friday 5 2.0 with Rachel and Lacey and Meranda
Sunday Fitness and Food with Angela and Ilka