This post is sponsored by GOPO. All opinions are my own.
I'm pretty sure that life causes inflammation. If you think about it a little, you'll agree. The food we eat, the air we breathe, stress, and even the things we do that are good for us, like exercise, all contribute to inflammation in our bodies.
And of course, that ultimate source of inflammation, aging, just seems to make it worse. Arthritis, cancer, heart disease, and many other chronic diseases have been shown to be related to inflammation.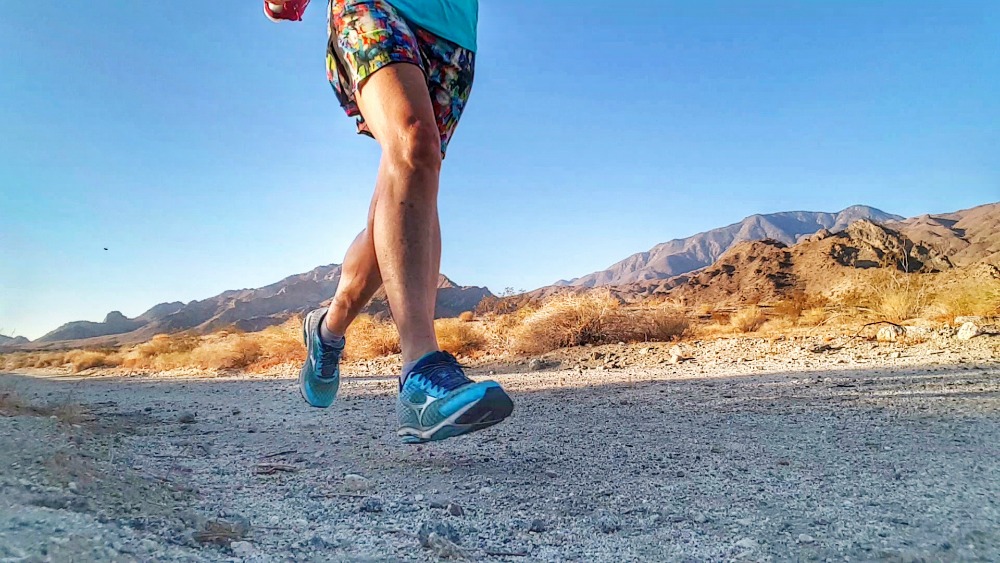 At almost 60, my body has started to show some of the effects of the chronic inflammation. Arthritis has begun to rear its painful head. The joints in my hands, my thumbs, in particular, are frequently stiff and painful. And, if you'll recall, a couple years ago when I fractured my patella, the doctor waved me over, not to show me the crack in my knee which was minor, but to show me the inflammation and arthritis that may at some point lead to a knee replacement.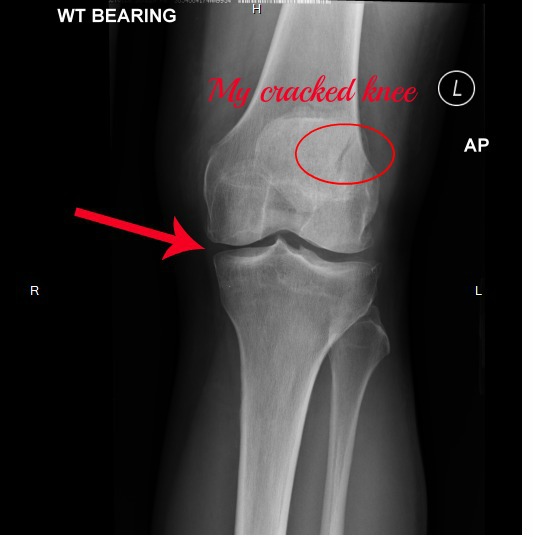 Not the news a runner wants to hear.
Instead of planning for my first joint replacement, I thought it would be better to find more natural ways to reduce inflammation and improve recovery. Here are five things that I have found that have helped me.
5 Tips to Improve Recovery and Reduce Inflammation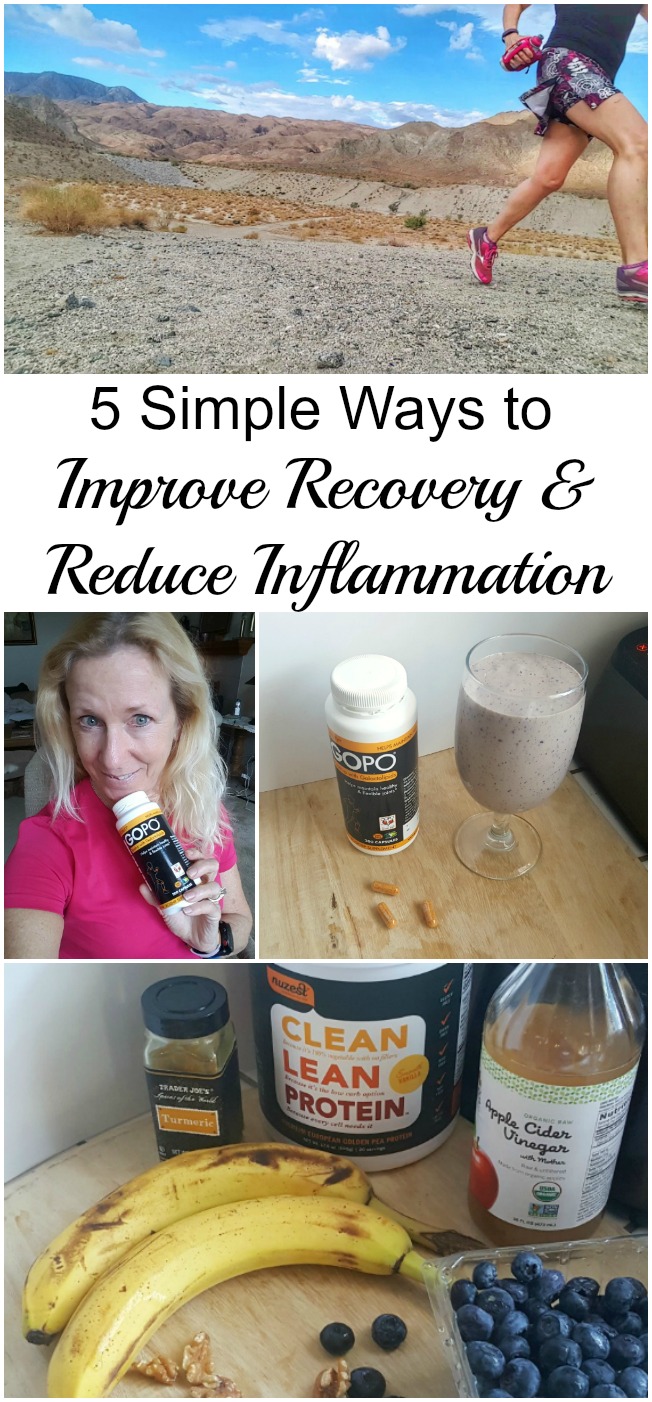 1. Hydration
Water is essential to life, to recovery, and to chemical reactions in the body. Staying hydrated will help flush out toxins, boost your immune system, reduce headaches, keep your skin healthy, and many other benefits, all of which help control inflammation.
2. Anti-inflammatory food
There are two ways to look at anti-inflammatory food. Foods that do not cause inflammation and food that can help reduce inflammation.
Finding the foods that cause inflammation in your own body is important. If you are constantly feeling tired, not recovering quickly from your exercise efforts, if your skin breaks out or you have frequent stomach pain or headaches, you should, first of all, consult your doctor, then you might want to examine your diet. That will probably mean excluding food that is potentially inflammatory, then slowly adding it back in. Consult a qualified dietician for assistance.
Some foods that are known to cause inflammation include refined carbohydrates, red meat, soda, margarine, and fried food.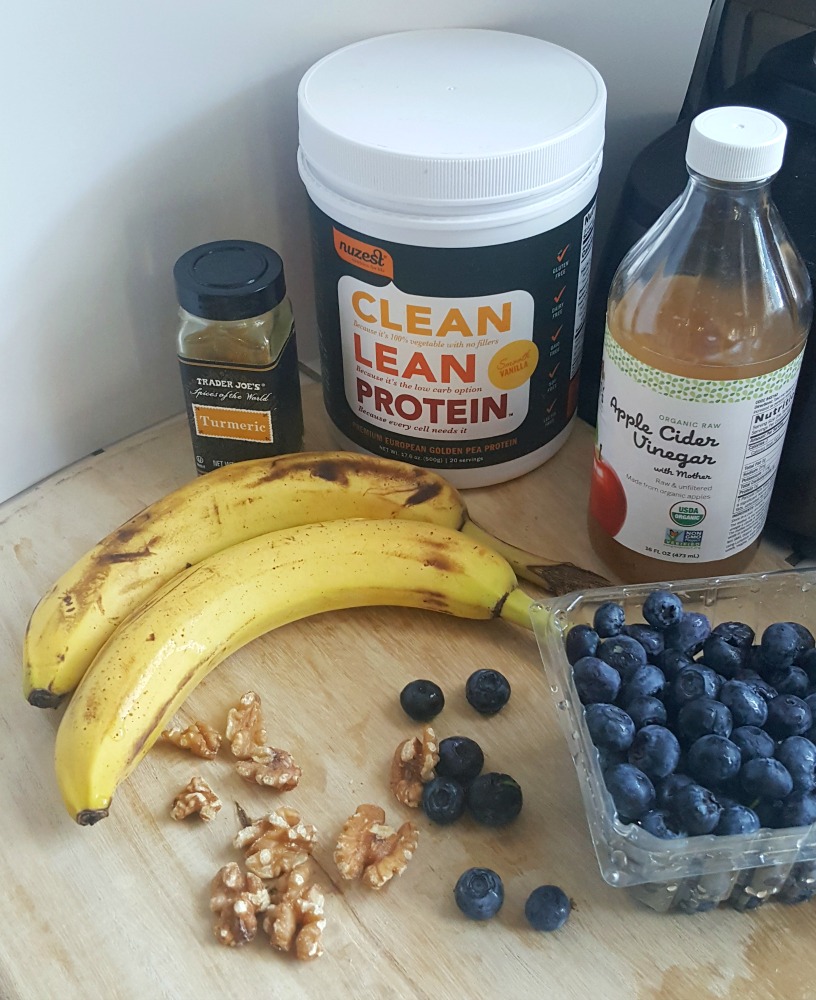 Anti-Inflammatory Smoothie (serves 2)
2 Bananas
1/2 cup walnuts
1/2 cup blueberries
1/2 teaspoon turmeric
1 tablespoon apple cider vinegar
2 scoops plant-based protein powder
12 ounces almond (or other non-dairy) milk
1 cup frozen mango
Blend until smooth
On the other hand, adding food that is known to reduce inflammation is easy. Foods rich in Omega 3 fatty acids, which helps fight inflammation, include (if you eat fish) salmon, mackerel, herring, and other fatty fish. Vegan foods that are high in Omega 3s include chia, hemp, and flax seeds, walnuts, and soybeans. Other foods to add to your diet may include blueberries, turmeric, leafy greens, avocado, apple cider vinegar, tomatoes, almonds and other nuts, and olive oil.
3. Rose Hips Supplement
I was recently introduced to GOPO, a rose hips supplement.  Rose hips are the fruit of the rose and they contain galactolipids, which is the key to their anti-inflammatory benefit. GOPO is clinically proven and widely used in Europe and is now available in the US to support cartilage care and joint mobility.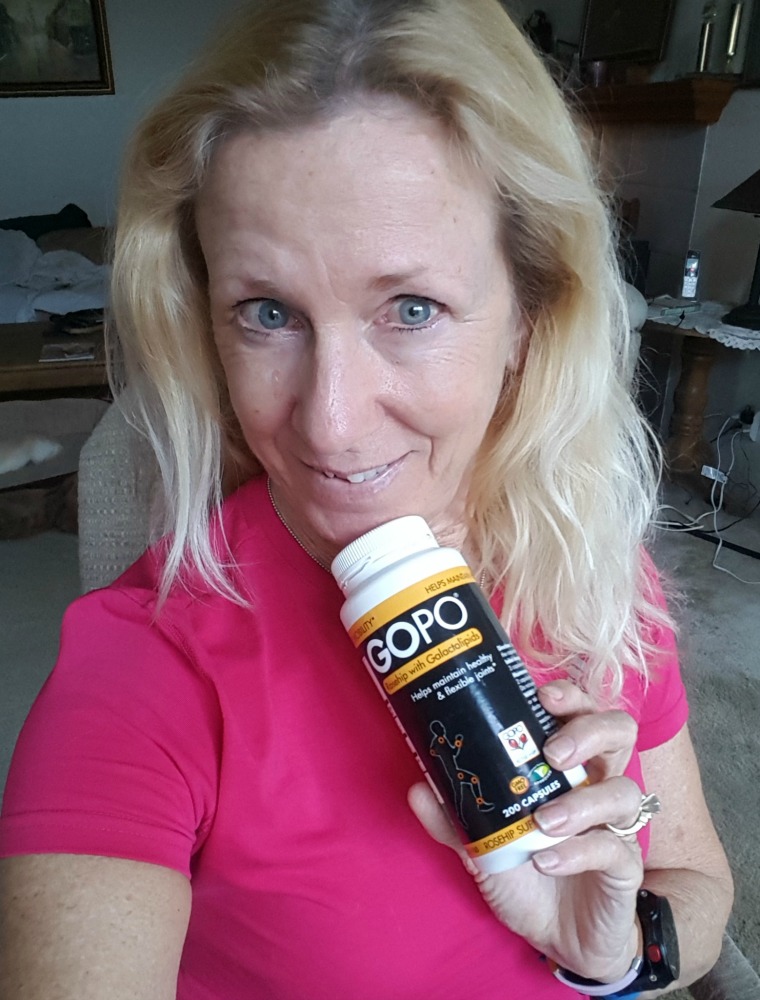 What makes GOPO better than other supplements? GOPO has scientifically perfected a technique to grow a unique rose cultivar that offers the most potent form of galactolipids specifically designed for joint care.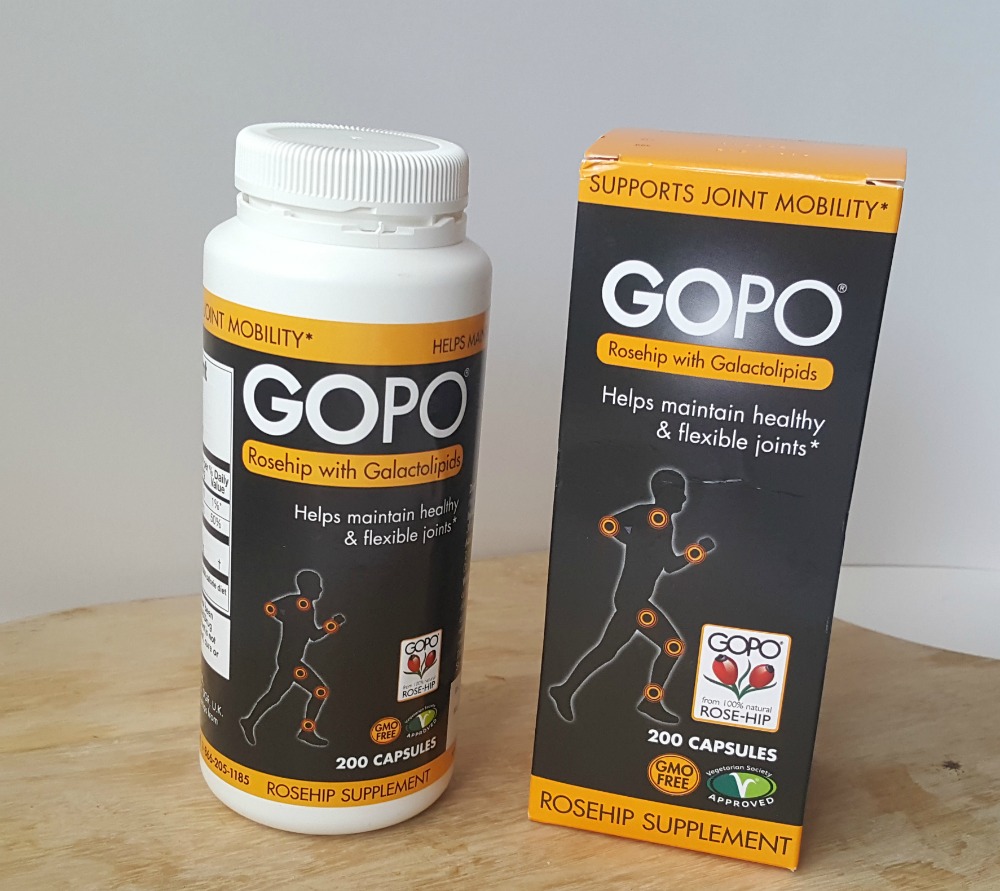 From the GOPO website: GOPO's galactolipids stabilize neutrophil membranes, reducing their migration into tissues which can cause inflammation. You can find more information about GOPO's anti-inflammatory benefits and links to scientific studies here.
Remember that these studies are specific to GOPO Rosehip with Galactolipids. No other brand on the market offers the level of cultivation and care that is available in the Rose hips in GOPO.
I was extremely excited to find a natural joint care supplement that promised positive results. While my arthritis is not debilitating, is can be painful and I prefer not to take NSAIDS or other medications for relief.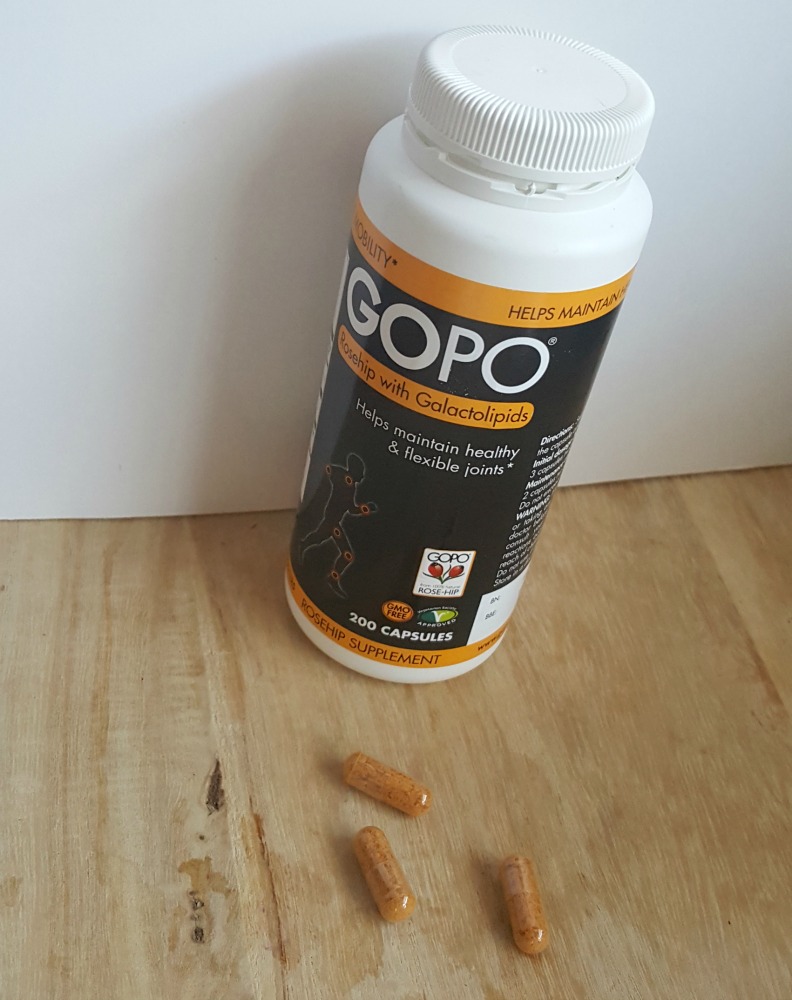 I received my GOPO about a month ago and started taking three of the vegetarian capsules twice daily. I will tell you that the arthritis in my right hand is a daily source of pain and discomfort, and within the first two weeks of taking GOPO, it improved substantially. Because I carry my hand-held water bottle in my right hand, I always notice when it hurts, and now I'm noticing that it is not hurting. Success!
I also feel like my knees are less stiff and have better range of motion. I can even walk down stairs without pain, something I haven't been able to do for years.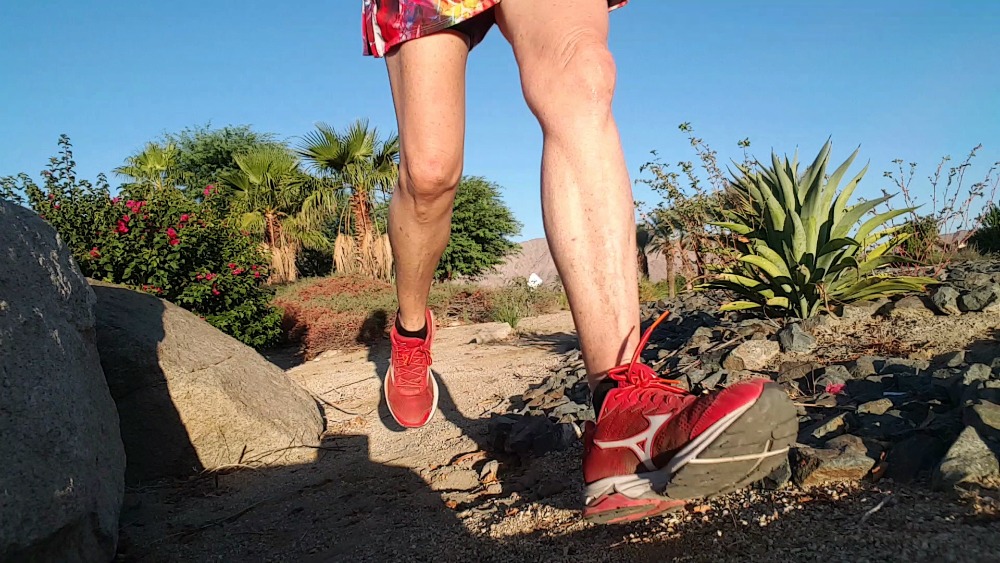 While this is obviously my subjective opinion, studies have shown that eight out of 10 people have reported positive results after three weeks of using GOPO.
As a side note, I also love that GOPO is made by Lane Brands, a family business that has been promoting natural health and wellness with their herbal supplements for over 80 years. GOPO and Lane Brands, which started and grew in England, are now available in the US at Vitamin Shoppe and other retailers throughout the country and online.
I am giving away three bottles of GOPO Rosehip with Galactolipids (valued at $29.99 each) to three lucky people! Enter using the Rafflecopter below.
4. Sleep
Getting enough sleep is vital for our recovery and overall good health. Most of us don't get enough. Sleeping enhances our immune system which helps fight off inflammation. Studies have shown that lack of sleep, as well as disruptive sleep and too much sleep, can all lead to increases in proteins that indicate inflammation.
5. Reduce Stress
This can be a tough one since obviously, no one invites stress into their life. One of the things that has helped me has been yoga. It helps me relax and focus on breathing. Meditation may be helpful as well. Many of us take on too many things. It's not easy, but prioritizing responsibilities can help reduce stress.
Enter to Win! GOPO Rosehip with Galactolipids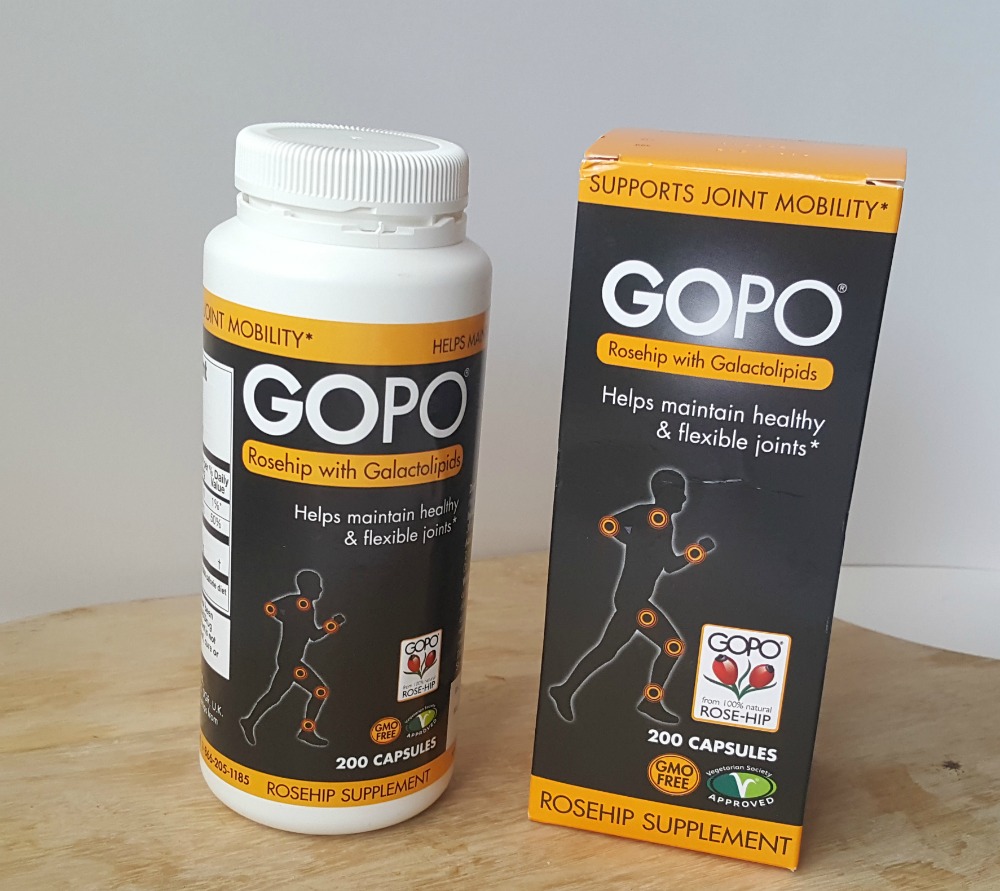 Enter to win a voucher for a free bottle of GOPO Rosehip with Galactolipids!
How do you deal with inflammation?
† These statements have not been evaluated by the Food and Drug Administration. This product is not intended to diagnose, treat, cure or prevent any diseases.
---
Weekly Linkups
My weekly linkups! Please stop by and check out all of the great recipes, workouts, and information that all these awesome bloggers share every week!
Meatless Monday with Sarah and Deborah
Meatless Monday with Annmarie  and Dixya
Tuesdays on the Run with Marcia, Erika, and Patty
Inspire Me Monday with Janice
Wild Workout Wednesday with Annmarie, Jen, and Nicole
The Plant-Based Potluck Party with Deborah
The Running Coaches' Corner with Rachel, Suz, Lora Marie, and Me!
Friday 5 2.0 with Rachel and Lacey and Meranda