I was invited to a free class at Lululemon on Wednesday. It was a combo foam rolling and Lifestretch class, presented by the Stretch Institute. You know how I'm all about how to improve mobility, so I was really excited. Plus, I'm sharing the latest video in my Body First Series! It's all about the gluteus medius today!
I am a Lifestretch instructor, so I was curious to see how the class was presented. Lifestretch is a pain-free stretch modality based on the principles of fascial stretch therapy, which include synchronizing breath and movement, using traction to create space in the joints, utilizing oscillation and circumduction to warm and lubricate the joints before stretching, and working in a completely pain-free range-of-motion.
Improve Mobility with Foam Rolling and Lifestretch
Both foam-rolling and Lifestretch involve stretching, releasing, and creating movement in the fascia, the body's connective tissue. Fascia is the head to toe, inside and out, all-encompassing and inter-connected connective tissue that provides a framework that protects the muscles, organs, and even the entire body.
Healthy fascia allows our body to move well. When our fascia becomes distorted or develops adhesions, this can affect blood flow as well as pull the body into uneven alignment. Old injuries, overuse, even dehydration can distort the fascia and cause pain. Because of its connectivity, a misalignment in one area of the body can cause pain and dysfunction in another.  Many issues like frozen shoulder, IT band syndrome, and plantar fasciitis can all be attributed to distortion of the fascia.
Combining Lifestretch (or fascial stretch therapy) with foam rolling (also known as self-myofascial release) is a brilliant way to improve mobility by freeing the fascia of adhesions and distortion. While both methods are quite different, they complement each other, so using techniques from each will provide a one-two punch to reduce pain, enhance performance, improve mobility, and prevent injury.
Here are two stretching series from Lifestretch:
The Core Four (to improve mobility and flexibility in the hip flexors, glutes (including the deep rotators), the quadratus lumborum, and the lats)
Hamstrings and Glutes
Class at Lululemon
The class was taught by three fascial stretch therapists from the Stretch Institute in Palm Desert. They are all personal trainers as well, and in addition to one-on-one stretching and training, they also offer TRX, Bootcamp, and Lifestretch classes. They are all either level two or three Fascial Stretch Therapists, the same certification that I earned through the Stretch to Win Institute.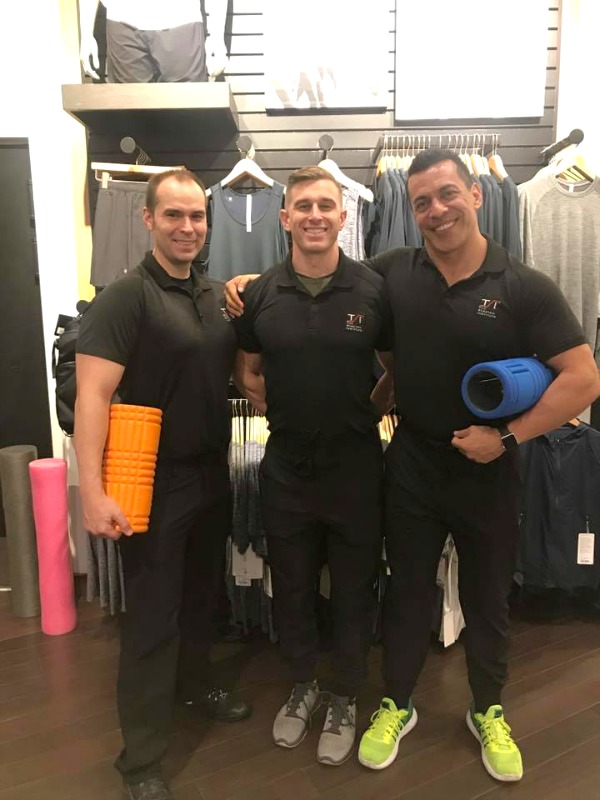 Nick, Chris, and Omar split the class in two. It was quite large and included what looked like the entire Palm Desert girls' volleyball team. Seriously, there were about 30 people squeezed into the store.
Lifestretch
I started with the Lifestretch portion of the class. Nick led us through an assessment, which is always done at the start of class. We generally re-assess at the end but due to time constraints, we had to hurry over to the other part of the class.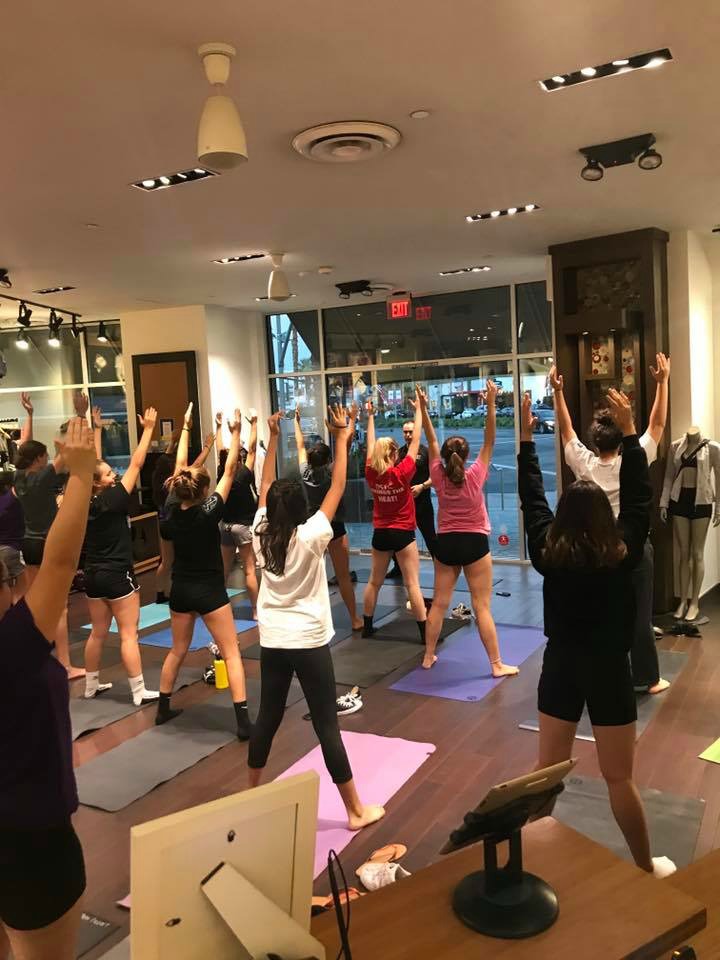 Following the assessment, he led us through neck stretches and then to my favorite part, the Core Four, which improves mobility and flexibility in the hip flexors, glutes (including the deep rotators), the quadratus lumborum, and the lats.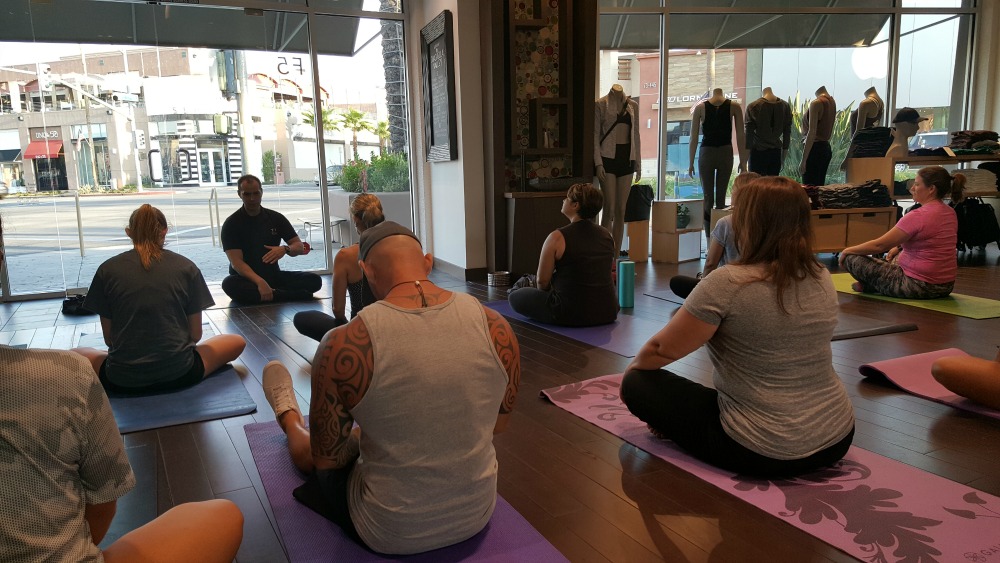 I really enjoyed this part of the class and I was interested to see that our techniques, while similar, were also quite different. I am taking a look at the videos to which we have access to make sure that I didn't miss any changes. The creator of FST and Lifestretch, Ann Frederick, does tend to introduce new moves on a regular basis.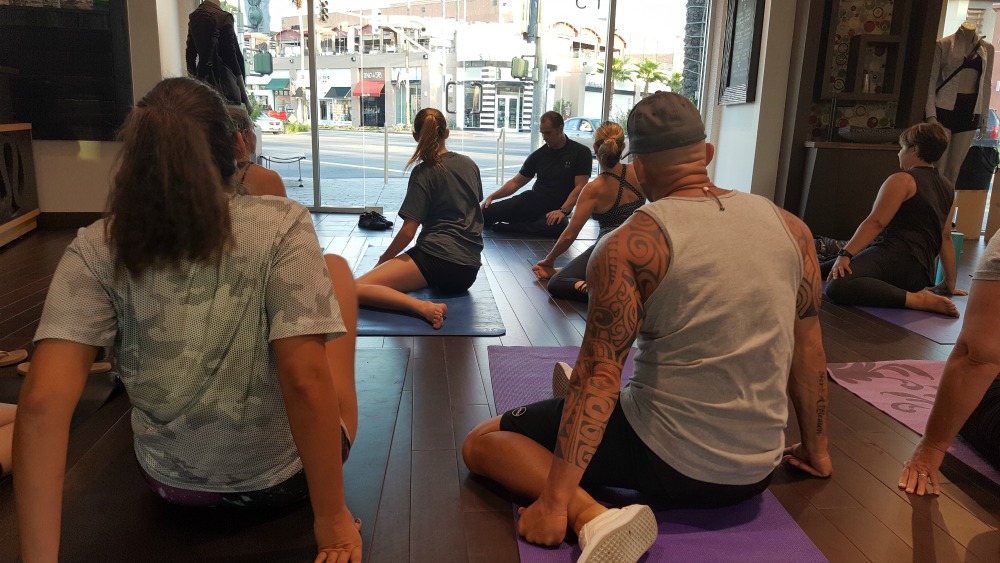 Foam Rolling
After about a half hour, we switched sides of the room for our foam roller class. Chris, assisted by Omar, taught this part and it was very informational. They shared a great routine that targets the calves, quads, hip flexors, glutes, lats and thoracic spine that would be perfect for before or after a run or other workout.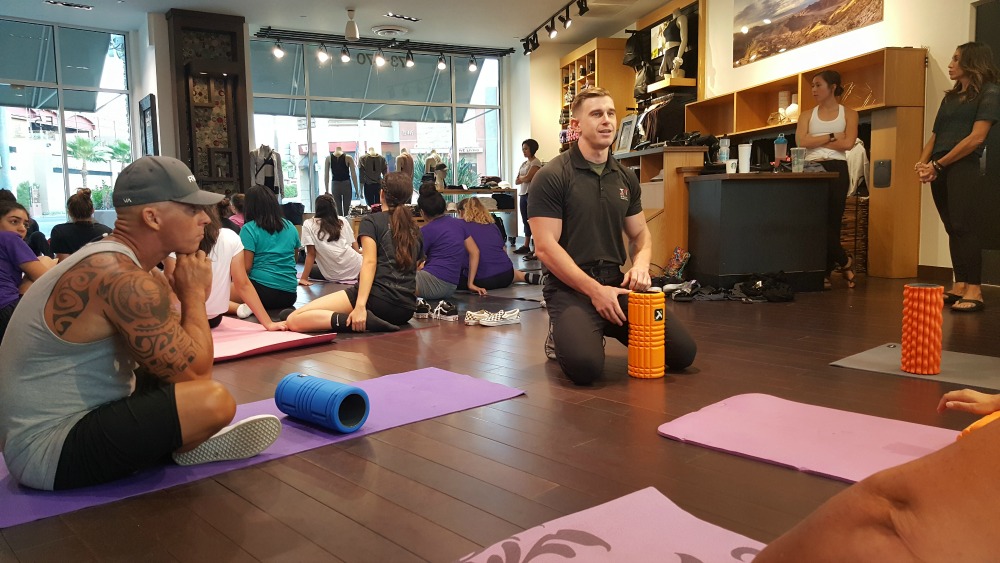 I felt great after the class, and I think it was finishing up with the thoracic spine that really made a difference for me personally. I will be sharing a similar series in next week's Body First Video. I will be taking some of the techniques we've used in previous videos, adding a couple specific moves, and putting them together in a short routine that you can do at home.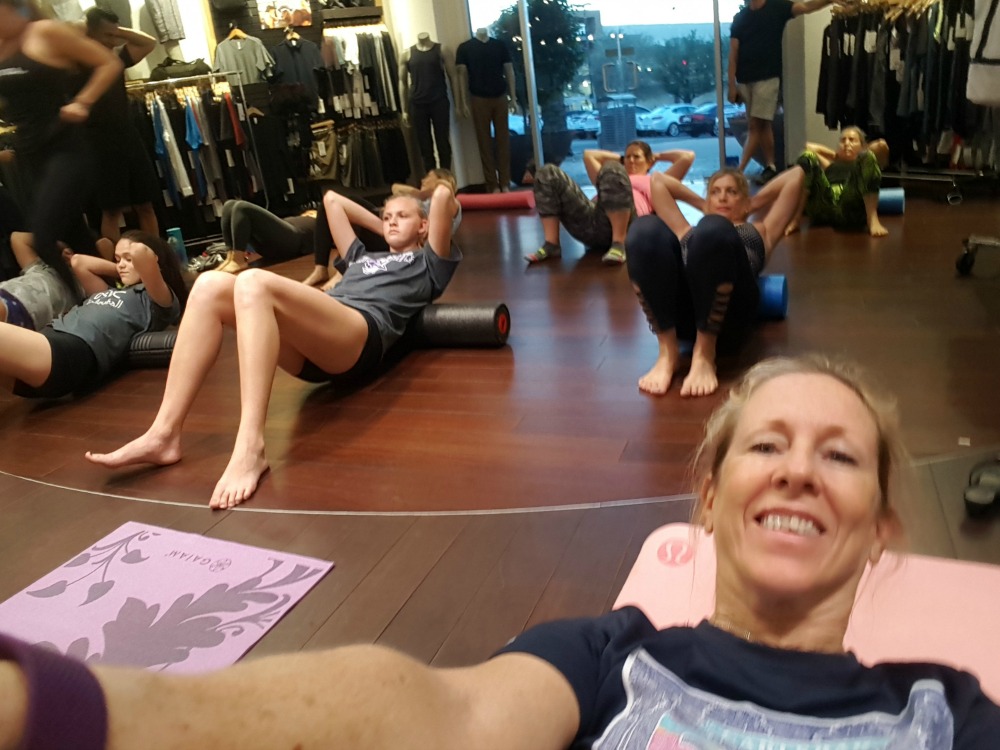 Today I spent some time with Alan showing him some of the foam rolling techniques. He wanted to go to the class but it filled up too quickly. I promised him I'd bring home some things for him (and I didn't mean Lululemon shorts!). He really felt the benefits in just a short time, so I hope I can get him to continue. Partners that roll together stroll together?
I thoroughly enjoyed the class, and although I was familiar with both foam rolling and Lifestretch, I feel that we can always learn new things from others. I also made some great new contacts with the men from the Stretch Institute.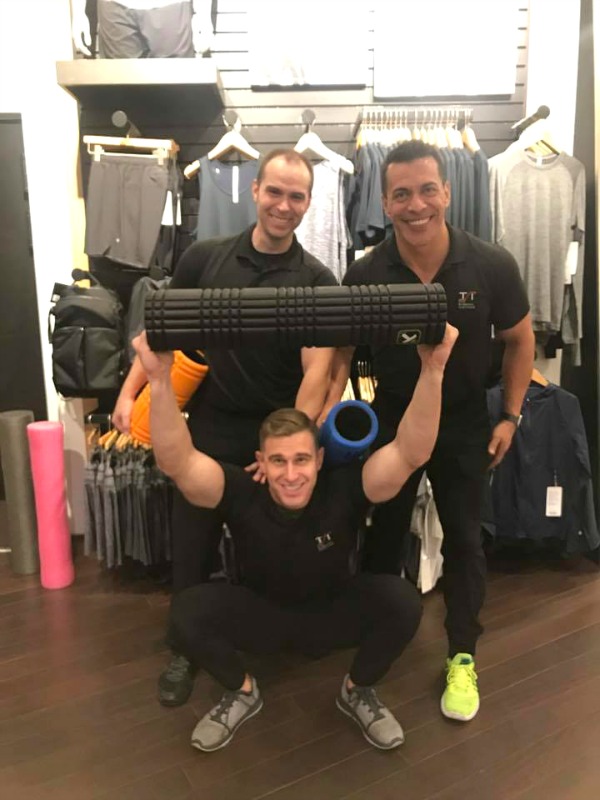 New Body First Video
As promised, here is the latest Body First Video! Today we're focusing on the Gluteus Medius. That is the smaller muscle which assists in the abduction of the hip as well as both inward and outward rotation of the hip. If you missed it, check out The Key to a Healthy Butt: 5 Tips to Strong Mobile Glutes, which discusses the gluteal muscles and how to improve mobility and strength in more detail.
You can also subscribe to my YouTube page to get instant access to all my Body First Videos! And I just started my Desert Stretch Facebook page! I'd be honored if you'd like it!
Tools Used in the Body First Videos
A few of you have asked about what tools I'm using in my videos. I use a variety of rollers, balls and other tools in my Body First Videos. While a regular foam roller and a tennis ball are certainly adequate, some special tools can offer a better option. Here are some of my favorites (affiliate links).
Intelliroll: This is the roller I'm using in the hip flexor video. I love that it is contoured to fit my body. The center cut-out allows me to roll my entire back and neck without compressing my vertebrae.
Trigger Point Grid: Also available in a 26 inch version. I love the multi-dimensional surface that helps you get into areas that you need to with differing angles and pressure.
Trigger Point Vibe: I don't own the Vibe (yet), but I got to try it out at IDEA World and I loved it. It has all the advantages of the Grid with the addition of vibration.
Trigger Point Massage Ball: I really like this massage ball because it is small enough to get into certain tight areas, but it's not as firm as a lacrosse ball.
Lacrosse Balls: That being said, lacrosse balls are great tools for self-myofascial release. They are firm and great for finding those trigger points. They're pretty inexpensive too!
Activ8r Body Ball: I bought this double hard rubber ball a few years back at the IDEA Convention expo. It's fairly expensive now. A better deal might be this Double Lacrosse Ball at only $12.95.
Spiky Massage Roller: This is the closest thing I could find to an oval spiky foot roller that I picked up years ago. I have no idea who made it (though I found it on a New Zealand website!). This is similar, though. The benefit of it being oblong is that it won't slip out or roll away as easily.
High Density Foam Roller: Nothing wrong with the traditional foam roller. The extra length makes it great for different chest openers. I like the high density because it is a little firmer and lasts longer than a simple foam roller.
Do you stretch and foam roll consistently?
---
Weekly Linkups
My weekly linkups! Please stop by and check out all of the great recipes, workouts, and information that all these awesome bloggers share every week!
Meatless Monday with Sarah and Deborah
Meatless Monday with Annmarie  and Dixya
Tuesdays on the Run with Marcia, Erika, and Patty
Inspire Me Monday with Janice
Wild Workout Wednesday with Annmarie, Jen, and Nicole
The Plant-Based Potluck Party with Deborah
The Running Coaches' Corner with Rachel, Suz, Lora Marie, and Me!
Friday 5 2.0 with Rachel and Lacey and Meranda