Welcome to Meatless Monday. Now that I've lured you in here, I'll have to tell you that I am really not traveling to Kentucky, but my recipe is! I'm guest posting over on Tina's blog and sharing the Meatless Monday hosting duties with Deborah this week!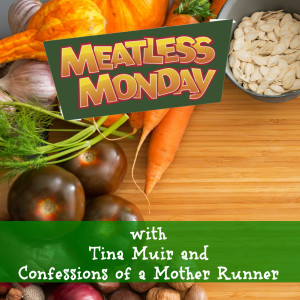 I was honored that Tina asked me to fill in for her while she's off starting a new chapter in her life. I wish her the best in her marriage to Steve, which is in just a few days. In the meantime, hop on over to check out this Freekeh Spicy Indian Salad with Mint Lime Dressing.  And while you're there, check out of a few of the recipes in the linkup! Don't forget to come back though! Note: Tina doesn't usually post until Monday morning. In the meantime, please enjoy the rest of my post.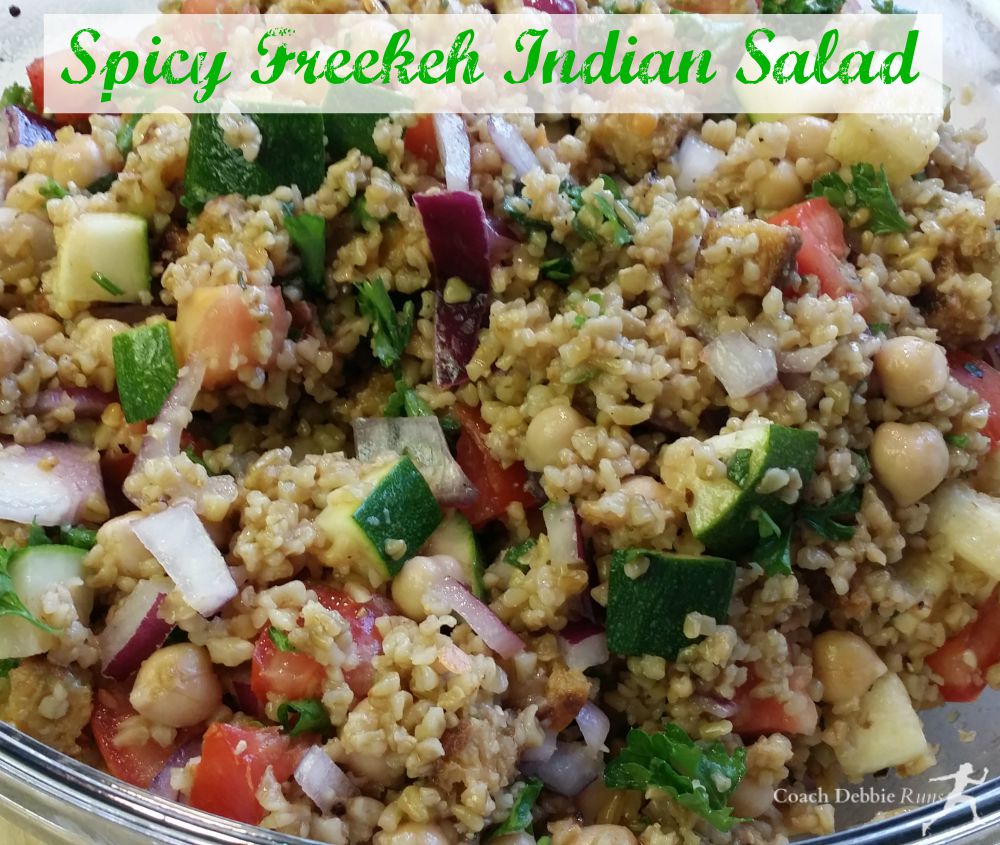 Don't Forget the Grokker Giveaway!
This is the last day to enter to win a one year membership to Grokker Premium! You can also receive a free month of premium by using the code LOVEGROKKER. That offer ends August 8, so don't dilly dally. Enter the giveaway here.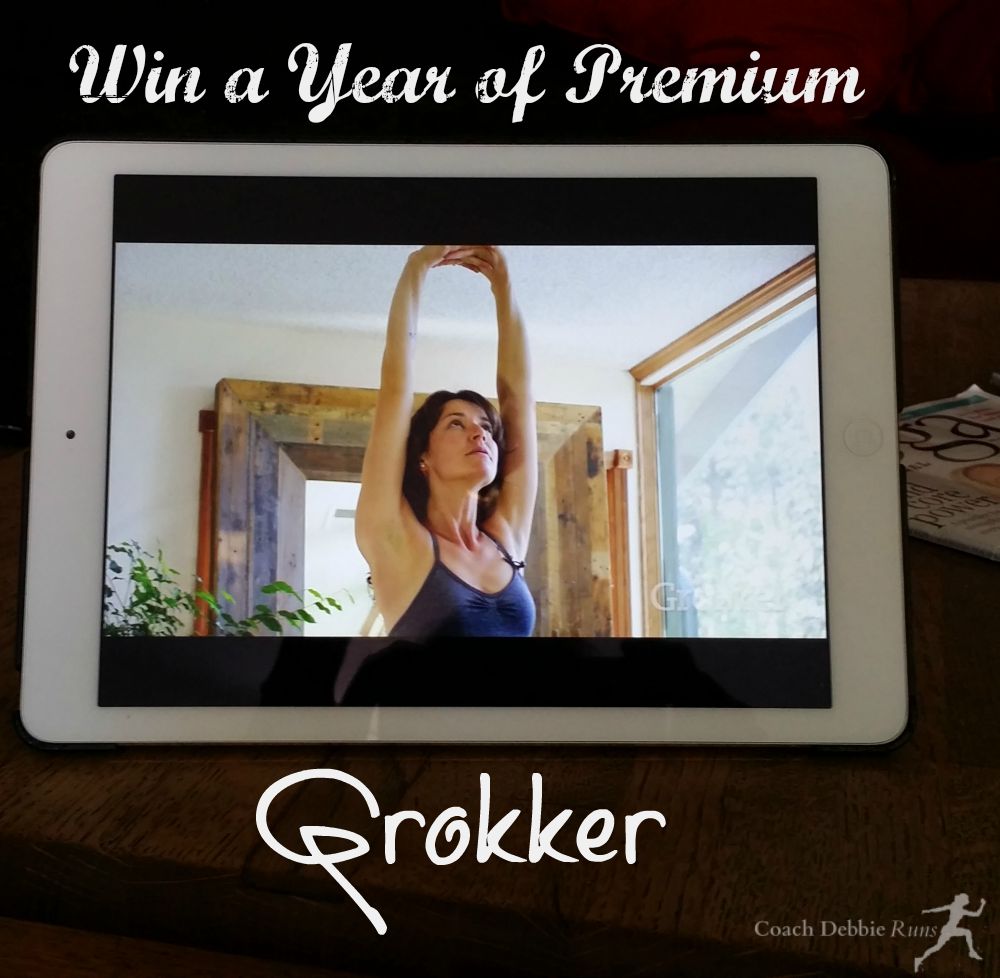 Catching up with Pictures
I haven't written any life posts since I got back from Blogfest, so, since my weekly recipe is elsewhere, this seems like a good time. Actually, life is fairly boring around here. I'm off work for the summer, so my days are mostly spent writing, marketing, and otherwise producing this blog. We haven't left town for a few weeks, and it's too hot to do much outdoors after about 8:00 in the morning. So, now that I've enticed you, here's what I've been about lately.
I've actually been running quite a bit over the summer. Not much long distance, but more frequently, since I'm off work. Still, it's been hot, so it's hard to run more than five miles, even though I know that I need to start building toward my Honolulu Marathon training.
Anyway, last Monday was great. The morning was relatively cool and dry, so I was inspired to do a little fartlek speed work during my six mile run. Then the humidity came back for the rest of the week, meaning slower, much more difficult feeling runs.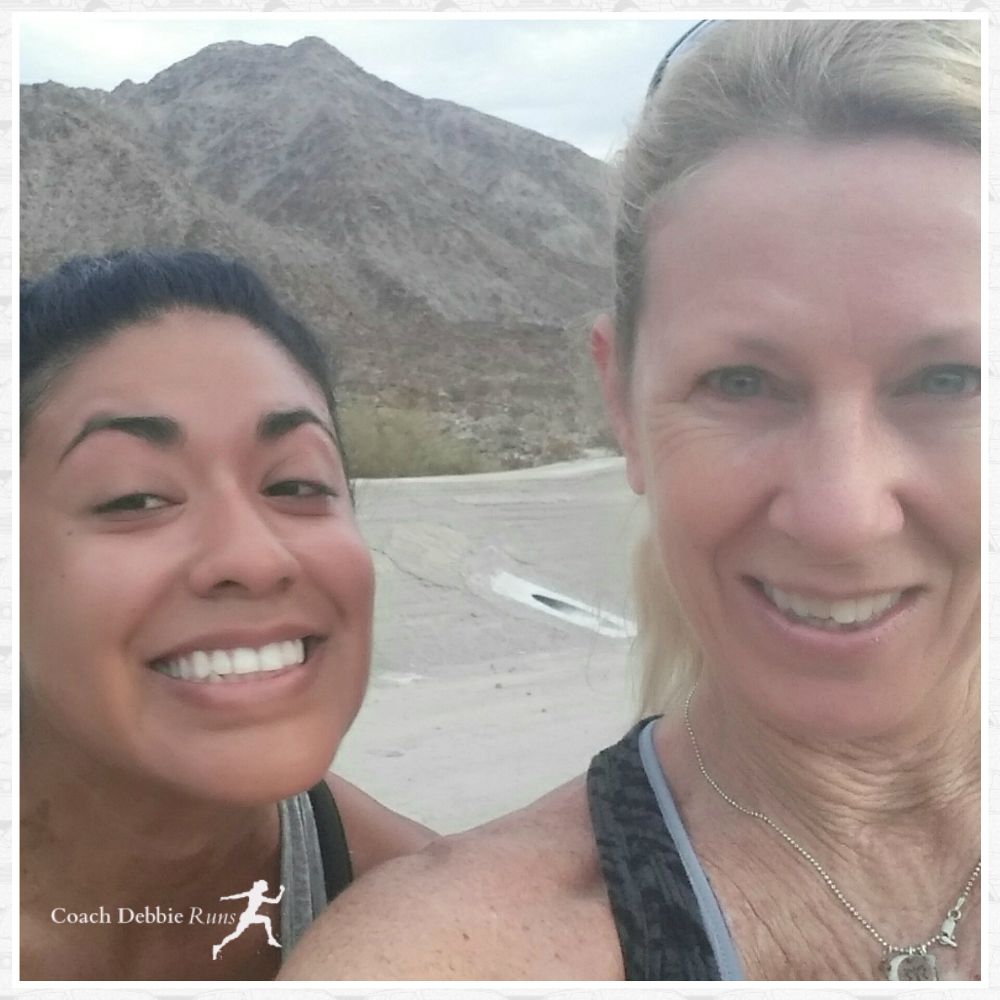 I would skip a lot more runs in this heat if I didn't have a training partner. Christina lives right across the street, so no excuses. Even with that, we only managed to slog through about 4 miles.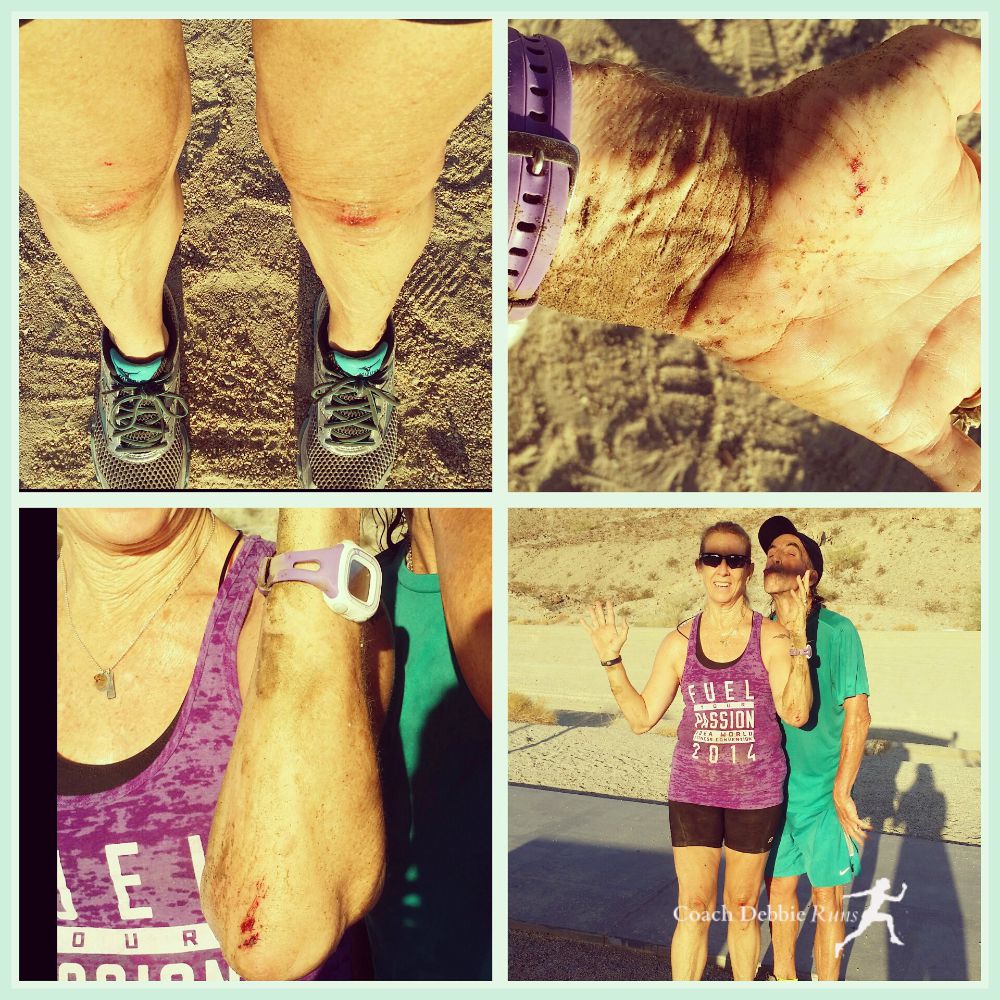 And she fell. Seriously, less that 10 minutes after Alan did his usual watch out for rocks warning, I obviously didn't, and tripped. It shook me up for a bit, but I managed to dust off, then wash off when we found a water fountain that worked, and still make it home.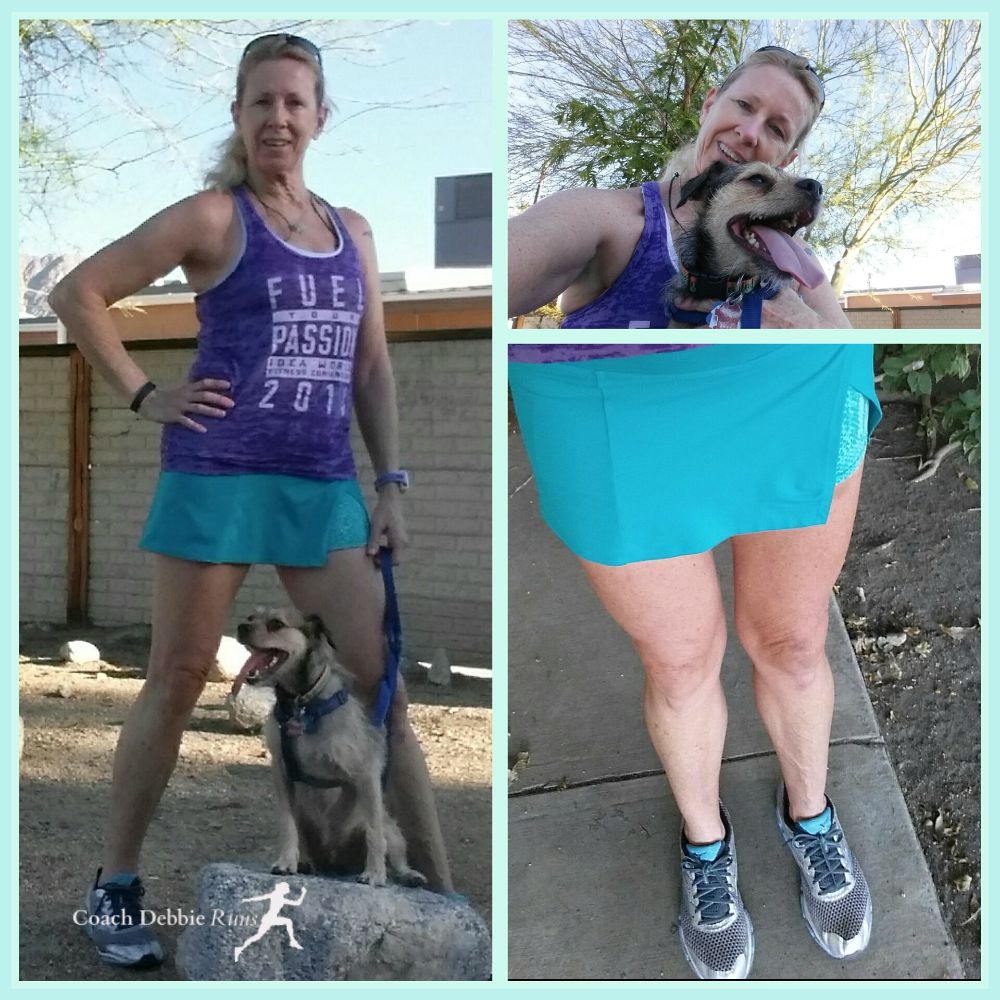 On Sundays we run with the dogs. We're keeping it pretty short because of the heat, but I took Johnny out for a little more because he needs it. He really, really needs all the exercise he can get. I'm wearing my Brick Betty Escape Skirt. I love it, especially the green python print shorts underneath. It's so well made (in the US), and the fabric is amazing.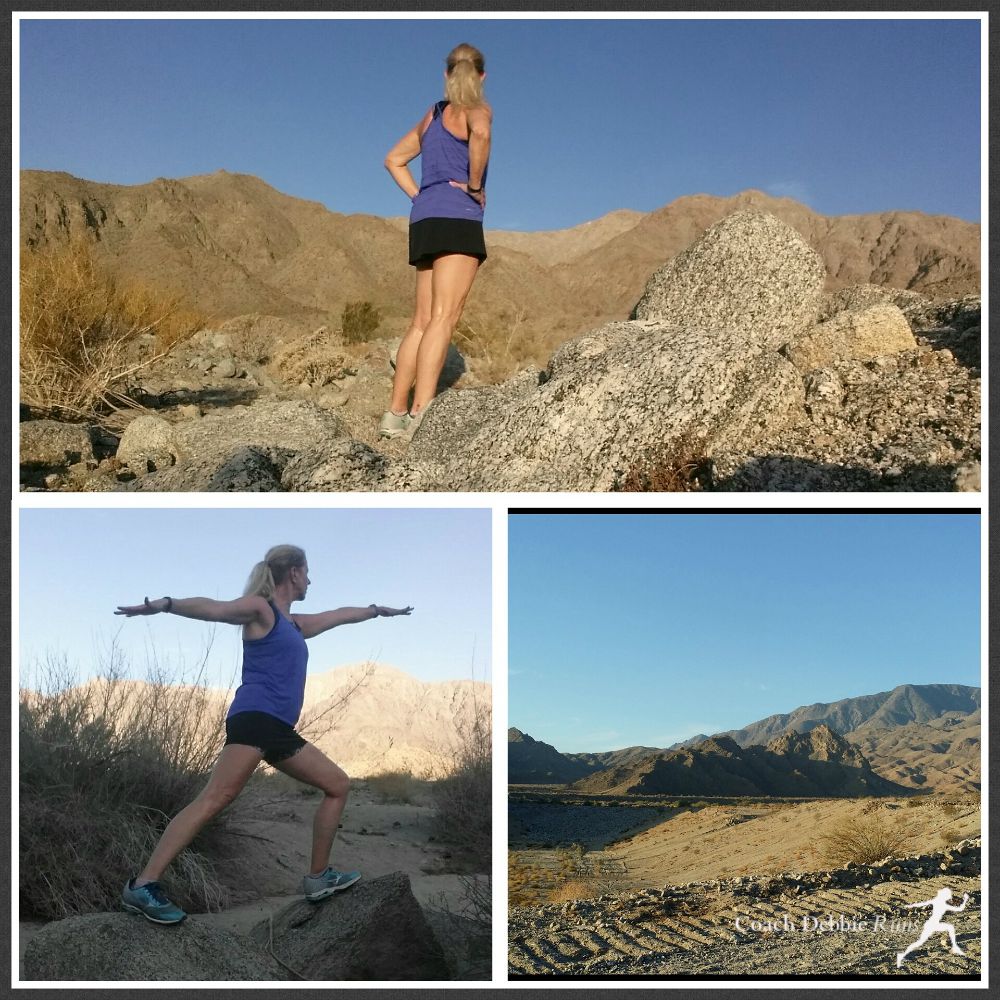 Just playing around here. Any excuse to stop and take a break, especially in the shade.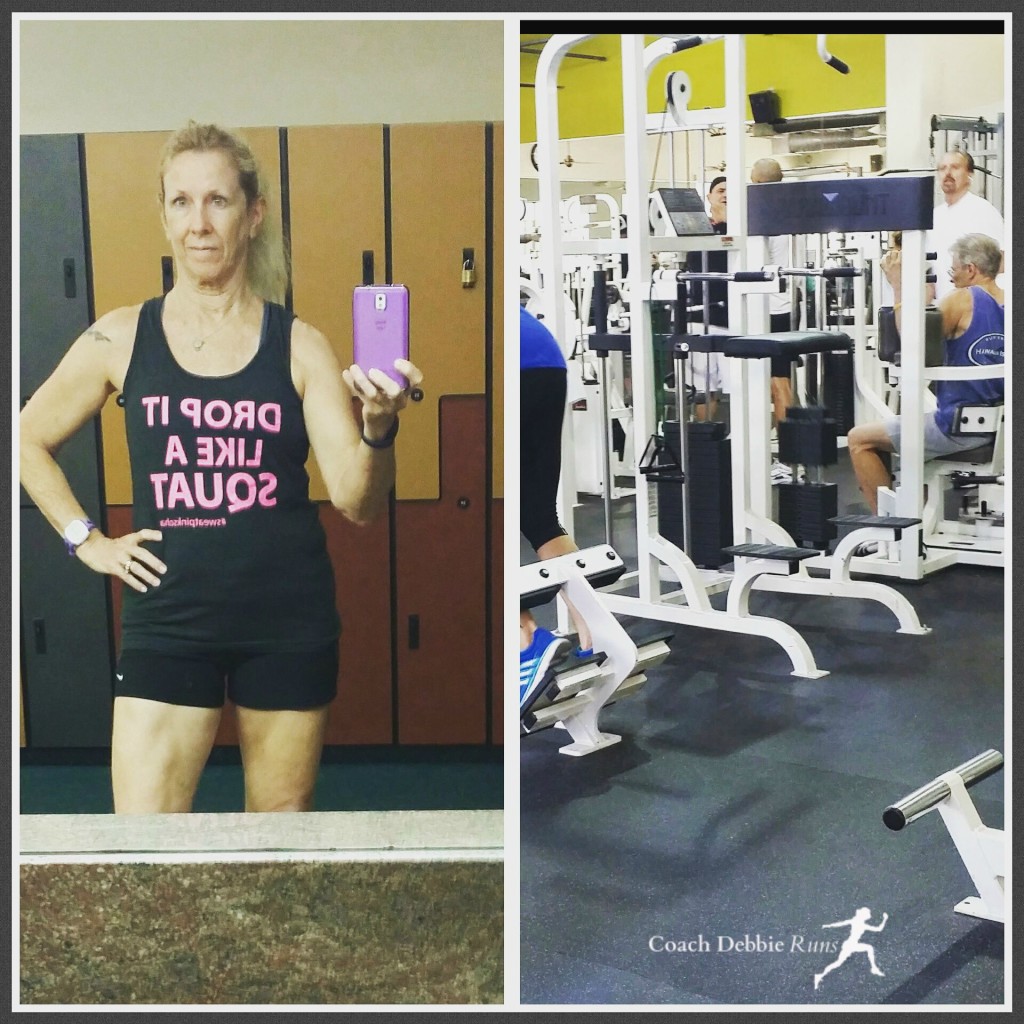 I simply could not bring myself to take a selfie actually in the gym, so I did it in the (empty) locker room instead. Loving my #SweatPink shirt.
This was dinner the other night. One of my favorites, pesto pizza. Now I have a little leftover vegan pesto to figure out what to do with. Hmm, maybe I'll try Angela's recipe.
So, this was our exciting week. Getting to hold a bird while at Petco. Hurry up fall!
We did see the new Mission Impossible movie over the weekend. It was full of great car chases, crashes, and other excitement. And Tom Cruise looks great. As I was searching for the movie link, I realized that the first movie was released in 1996! That's 19 years and Tom is still hanging from airplanes at age 53.
Have you tried freekeh before? Or even heard of it? How was your weekend? Have you seen the new Mission Impossible yet?