A lot gets said about the core, but if you're a runner, walker, or basically a human being who moves, your butt is one of the most important muscles in your body. Today we're talking about how to create strong mobile glutes.
Increasing the size of the butt is popular these days, but it is much more important to create strong mobile glutes to improve performance and protect against injury.
The glutes are made up of three muscles: the gluteus minimus, medius, and maximus. The gluteus maximus makes up the largest part of your rear end. It is the large muscle that gives your butt its shape, as well as functions to extend and externally rotate the hip. The gluteus medius and minimus are smaller muscles which also assist in the abduction of the hip as well as both inward and outward rotation of the hip.
Your glutes are your power muscles. They help you push off the ground when your run, assist in the rotation when you golf, help you stoop to pick up a pencil off the ground. When your glutes are strong everything you do is positively affected.
The problem comes when your glutes are weak, inactivated, or immobile. When they cannot function as they are properly meant to do, other muscles in your lower body try to compensate, which can lead to reduced performance, imbalances, pain, and injury.
That over-compensation can lead to hamstring, knee, or calf injury, as well as low back pain or sciatica. In order to balance the strength in your glutes, hips, and hamstrings, you need a multi-faceted approach which will encompass a program of activation, strengthening, mobilization, and flexibility.
It is important to include all aspects of this glute training because they are interwoven. Activating your glutes improves the strengthening program, which helps with mobilization and flexibility. A balanced approach will result in strong mobile glutes (which will look pretty good too).
Here are five tips that you can use to help you institute all these methods and create strong mobile glutes.
5 Tips to Strong Mobile Glutes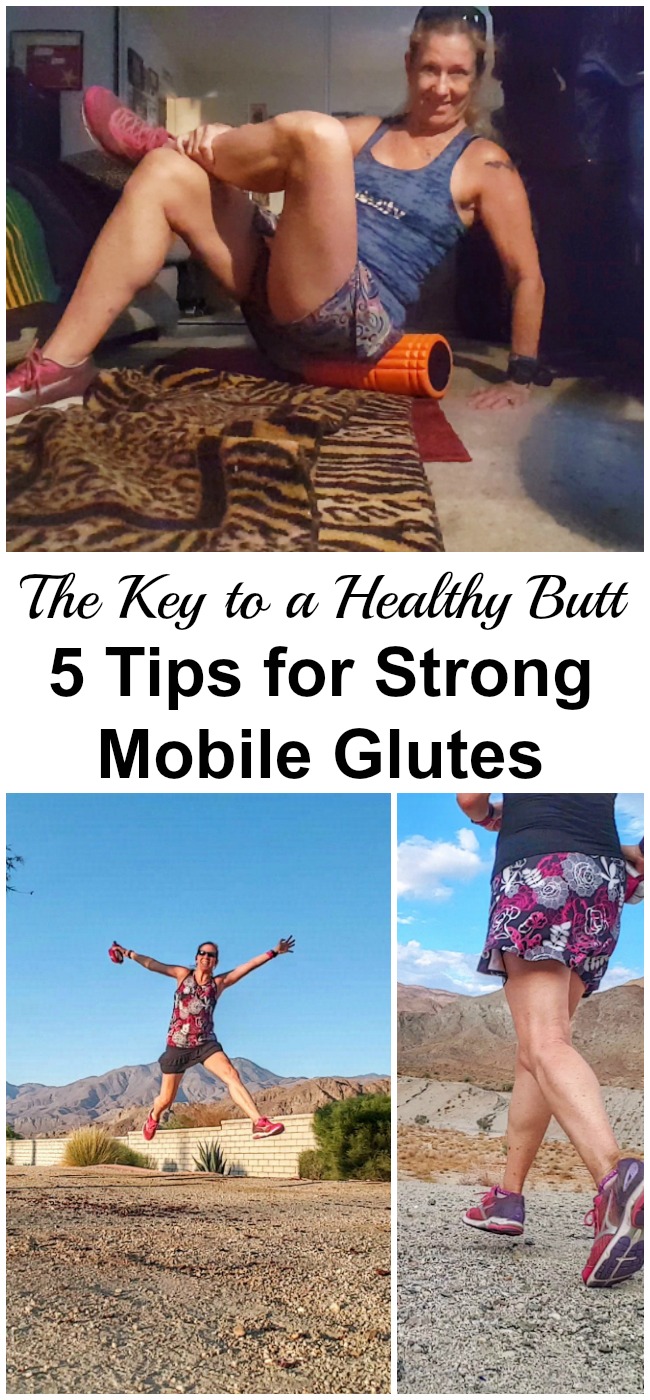 Activation
Here's the problem. We sit too much. Even people who follow a regular fitness program, maintain a healthy weight and fuel their bodies appropriately then go to their desk jobs where they sit for most of the day.
In order to get the best response from your glutes you need to wake them up! By activating your glutes, whether it's before your lower body workout or your run, you will get better results and decrease the chance for injury.
Try this for an idea of what I mean. Stand up. Feet hip distance apart, sit back into a squat. Stand up. Remember what that felt like. Now, as you stand there, squeeze your glutes. Tighten up your butt so you could hold a quarter between your cheeks. Got it? Now squat. Notice the difference? Feel the work going on in your butt?
To activate your glutes before your run or leg workout, spend about five-10 minutes with exercises like bridges, bird dogs, fire hydrants, and clamshells. Focus on your glutes as you do these exercises, making sure that you know what it feels like to engage your gluteal muscles.
Dynamic Stretching
Another way to activate and mobilize your glutes is through dynamic stretching. Before you run or workout, add some leg swings, butt kicks, high knees and other active stretches to prepare your glutes for the workout ahead. Again, use your awareness of your glutes to assist in the process.
Strengthen
When you think about strengthening your glutes, remember that they are more than the gluteus maximus. That means you need more than just squats and lunges for strong mobile glutes. Think laterally as well to target your gluteus medius and minimus, and add side and curtsey lunges, step ups and side step ups to your program. And remember that, while machines are great for many things, to get functional and balanced strength, using free weights or body weight has the most benefits.
Flexibility
Dynamic stretching is great for warming up and activating your glutes, but at the end of the workout, you can focus on more passive stretching. That still doesn't mean grabbing your leg and holding a stretch for a minute. Instead, think about angles and targeting your fascia as you stretch.
These two stretches will help with hip mobility as well as glute flexibility. Remember not to hold still as you do the stretches and avoid creating pain.
Posterior Hip Stretch
Start on your hands and knees. Cross your left leg over and behind your right. Sit back slightly until you feel a stretch in your glutes. Don't externally rotate your right leg. Experiment with movement: Extend your left leg behind you. Move your hips to the right. To intensify the stretch, lower to your forearms. Repeat on the other side.
Figure 4 Stretch
Lie on your back with your knees bent. Cross your left ankle over your right knee. Externally rotate your left hip by opening up your knee. Rock slowly from side to side, feeling how you are targeting different areas of your glutes and fascia. Try different positions. Bring your foot farther up your leg. Hug your knee into your chest. Lift your other leg. Repeat on the other side.
Mobility
Remembering that while mobility is produced by a combination of all of the above techniques and exercises, adding foam rolling to your routine will improve fluidity in your glutes, reduce pain, and help protect against injury. Here is the latest video in the Body First Video Series focusing on the piriformis and the gluteus maximus (next week we'll be working on the gluteus medius or, if you don't want to wait, you can check it out on YouTube.
Find all the Body First Videos
The piriformis is a smaller, pear-shaped muscle that lies alongside the gluteus medius. It assists in rotation of the hip. When the piriformis is inflamed, it can trigger the sciatic nerve leading to numbness and pain in the glutes and even to shooting pain in the back of the leg. The rolling techniques can help restore the function of the piriformis as well as targeting the gluteus maximus.
While this can look a little overwhelming, spending about 10 minutes before your run activating and mobilizing your glutes can make a big difference in your performance, as well as help to prevent injury. My usual routine before a run is to use the foam roller for a few minutes on my glutes, proceed to an easy running warm up, then add in a few active stretches and drills.
After my run I'm ready for more of an "ahhh" experience, so another 10 minutes foam rolling any area that feels like it needs a little love followed by more passive stretching.
Seriously, your butt will thank you.
Tools Used in the Body First Videos
A few of you have asked about what tools I'm using in my videos. I use a variety of rollers, balls and other tools in my Body First Videos. While a regular foam roller and a tennis ball are certainly adequate, some special tools can offer a better option. Here are some of my favorites (affiliate links).
Intelliroll: This is the roller I'm using in the hip flexor video. I love that it is contoured to fit my body. The center cut-out allows me to roll my entire back and neck without compressing my vertebrae.
Trigger Point Grid: Also available in a 26 inch version. I love the multi-dimensional surface that helps you get into areas that you need to with differing angles and pressure.
Trigger Point Vibe: I don't own the Vibe (yet), but I got to try it out at IDEA World and I loved it. It has all the advantages of the Grid with the addition of vibration.
Trigger Point Massage Ball: I really like this massage ball because it is small enough to get into certain tight areas, but it's not as firm as a lacrosse ball.
Lacrosse Balls: That being said, lacrosse balls are great tools for self-myofascial release. They are firm and great for finding those trigger points. They're pretty inexpensive too!
Activ8r Body Ball: I bought this double hard rubber ball a few years back at the IDEA Convention expo. It's fairly expensive now. A better deal might be this Double Lacrosse Ball at only $12.95.
Spiky Massage Roller: This is the closest thing I could find to an oval spiky foot roller that I picked up years ago. I have no idea who made it (though I found it on a New Zealand website!). This is similar, though. The benefit of it being oblong is that it won't slip out or roll away as easily.
High Density Foam Roller: Nothing wrong with the traditional foam roller. The extra length makes it great for different chest openers. I like the high density because it is a little firmer and lasts longer than a simple foam roller.
Do you take care of your butt? Do you have a favorite strength, mobility or stretch exercise you'd like to recommend? Let me know in the comments!
And Now It's Time for the Running Coaches' Corner!
Loading InLinkz ...
---
Weekly Linkups
My weekly linkups! Please stop by and check out all of the great recipes, workouts, and information that all these awesome bloggers share every week!
Meatless Monday with Sarah and Deborah
Meatless Monday with Annmarie  and Dixya
Tuesdays on the Run with Marcia, Erika, and Patty
Inspire Me Monday with Janice
Wild Workout Wednesday with Annmarie, Jen, and Nicole
The Plant-Based Potluck Party with Deborah
The Running Coaches' Corner with Rachel, Suz, Lora Marie, and Me!
Friday 5 2.0 with Rachel and Lacey and Meranda