It's time for another bitch-fest blogging gripes post! In the past, I've complained about grammar and spelling mistakes and I've come right out and told you why I won't read your blog. Today I'm focusing mostly on the visual appeal of your blog.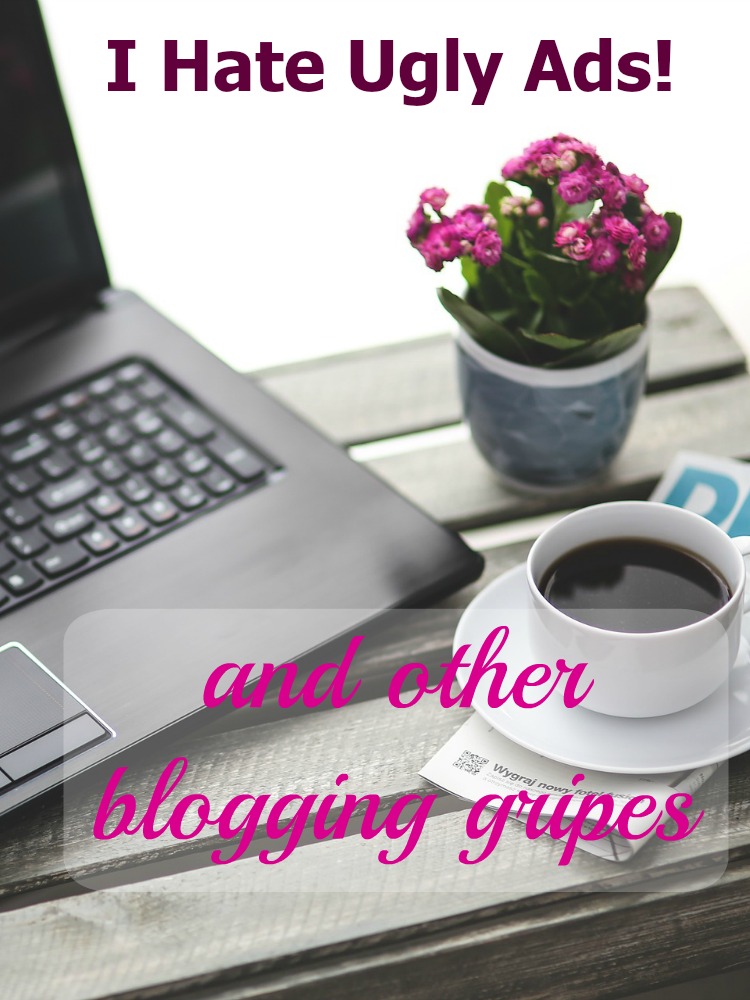 Visual Appeal is Essential
The way your blog looks is important. I've talked about themes and color schemes before, and they are all important, but today I'm going to talk about something that can take away all your hard work in a flash: Ugly pictures.
Ugly Ads
While advertisers may get good response for pimply skin pictures, pale, bloated and hairy bellies, and other ugly photos, it turns me off of the blog that I'm trying to read.  It's bad enough when these pictures are in the sidebar, but more and more often I see them either at the top of the post, or pocketed within the post. Yuck. I not only will not click on that ad, I might not be back to see more. This is one of the milder ones. Please, not in the middle of your recipe.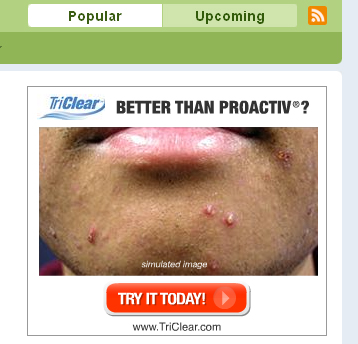 Enough with the popups already!
Are you old enough to remember the early days of the internet? Sadly, I am, and I remember popups were the most hated thing on the world wide web. So hated that finally someone gave us the ability to Shut Them Down. Apparently that is no longer an option. Popups abound.
Yes, I have a popup on this blog. One. That is designed to pop up every 20 visits or so. That takes up a couple inches. I'm still a little conflicted about that popup, but it has increased my mailing list so for now it stays.
Some sites have three or four popups. Or one that continually re-pops up. Or huge ones that takeover the whole page. I guess the site owners think they're worth it. Not to me, as a blogger or as a reader.
Crazy Related Posts
I know you've seen them. Usually at the end of a blog post, sometimes on the sidebar, captioned "related" or "don't miss!" Horrible pictures and stories.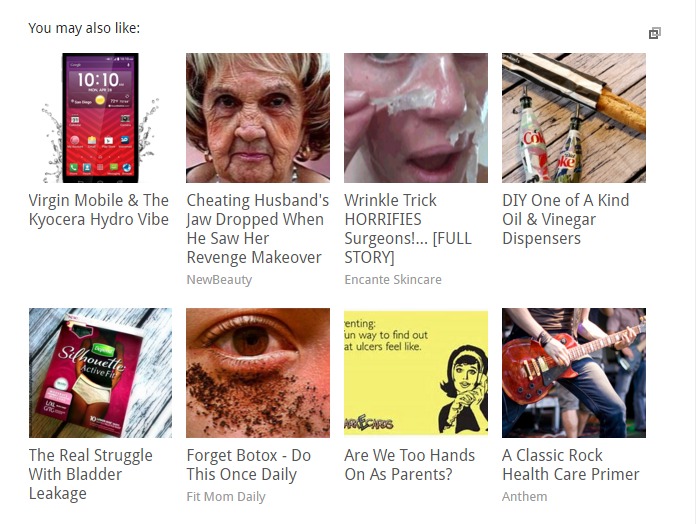 Seriously? No, I do not also like.
Sloppy Sidebar
I may be a little over the top, but it drives me crazy if all my sidebar ads and badges are not centered. I'm a little bothered when the sizes are off too, but I haven't fixed any of that lately.
If that doesn't bother you then fine. But do try to make sure that your sidebar is neat, the links work, and you don't have a lot of outdated stuff.
Bad photos
Several months ago, I prefaced a recipe for vegan and gluten-free brownies with a story about my fall while running. It included a couple pictures of my bloody knee. I followed that recap with my recipe, which included nice photos of the brownies. One commenter noted that seeing the bloody photos made her sick to her stomach. She had a good point (even though she was quite rude about it), and I took down the photos.
Yeah, I know we're not all Ansel Adams. And I admit I'm not the greatest photographer in the blogosphere. But I do try. I first try to take the best picture possible, then edit it as necessary to correct lighting and color flaws. And if I have one I want to use for Pinterest, I make sure it's the right size, overlay it with text, and label it so that an interesting description will show up when it's shared.
I wrote a whole post about Pinterest mistakes, but apparently some people aren't listening in regards to bad photography, and small, dark, generally ugly photos. Think of the big picture when you're taking your pictures. You may not use Pinterest, but your reader might, and if they pin your great photo, it will benefit you and your blog.
As a side note, if you're going to participate in Pinterest "sharing" threads, share a great pinnable image that clearly indicates what the blog post is about (or literally states with an overlay of text). I don't want to pin a close up picture of your face (sorry, even if I love your blog!), or a bad picture of your meal, or anything else that does not represent your post and look professional and attractive.
Not every post is (pick it) Pin/Stumble/Flipboard worthy
I get it that Pinterest is a great marketing tool. And I myself have had success with going viral on both Stumbleupon and, to a lesser extent, Flipboard. But that being said, not every post in pin/stumble/flip worthy.
Now this is just me, but here are the types of posts that I don't typically share on any of the above social media channels. Life update posts (unless you had a kid or something), giveaways, product reviews. Now, of course, there are exceptions. If for example, my product review contains a recipe, workout, or other timely information, yes, I will share it. And, as far as Pinterest is concerned, you are welcome to pin whatever you want on your own boards. Just please don't expect a lot of repins.
My point is just that, when it comes to your blog, looks are important. While you can't always control the content of the advertising on your blog, you do have control over placement, and you have the ability to decide that if an ad is really so ugly that it's chasing potential new readers away, it might be time to take down that advertisement.
What do you think? Do ugly ads bother you?
---
My weekly linkups! Please stop by and check out all of the great recipes, workouts, and information that all these awesome bloggers share every week!
Sunday Blog Hop with Jenn
Meatless Monday with Sarah and Deborah
Meatless Monday with Annmarie 
Inspire Me Monday with Janice
Anything Goes with Marilyn
Bonnie, the Pin Junkie
Tip Tuesday with Debbie in Shape
Wild Workout Wednesday with Annmarie, Michelle, Sarah, and Angelena Marie
Wednesday Wisdom with Nanna's Wisdom
The Running Coaches' Corner with Rachel, Suz, Lora Marie, and Me!
The Blogger's Pit Stop with Kathleen
Let's Get Real with Karen.
Friday Fitness with Jill
Fitness Friday with Miranda