Do you have a half marathon on your 2017 goal list? Either training for your first, improving, or even setting a new PR? Here are three key workouts that will take your half marathon training to the next level.
I just signed Alan and myself up for the Rock 'n' Roll Half Marathon in San Diego! As a Rock 'n' Blogger, I have a Global Tour Pass, plus I received an email on Sunday about the Daylight Savings special (save $19.18 on Sunday only). While I still haven't figured out why $19.18, I still took the plunge for Alan's registration. (Actually, after I wrote this I went back and checked the email. 1918 was the first year the US adopted daylight savings time!)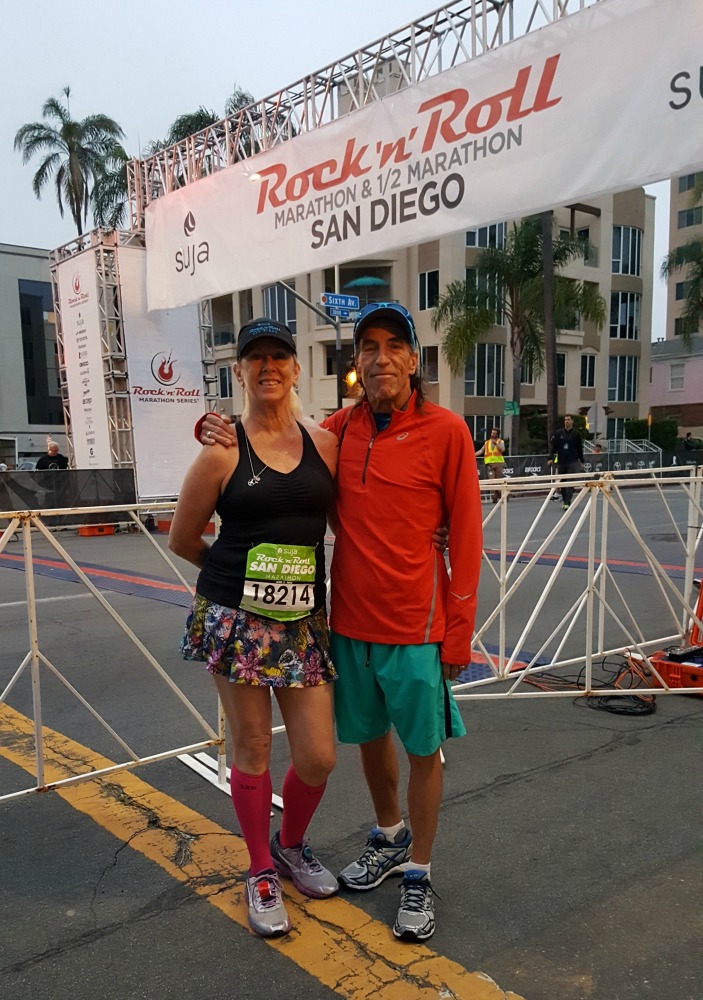 Now I just have to start training! While I still have a marathon on my horizon, I know that starting to increase my mileage and adding these three key workouts will help both my marathon and my half marathon training. They will help you achieve your half marathon goals too.
Half Marathon Training: 3 Key Workouts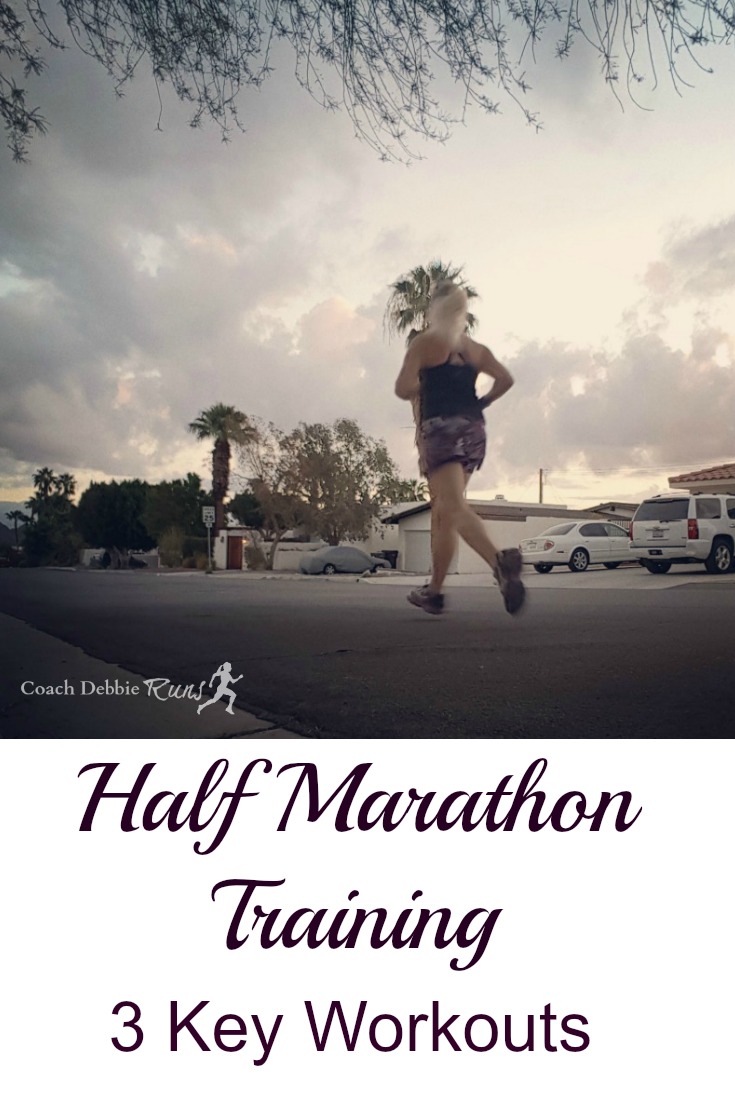 Lactate Threshold (Tempo) Runs
Tempo runs help increase your lactate threshold.   By training at a pace just under the point where you accumulate too much lactic acid, which would force you to slow down, you increase your lactate threshold, which allows you to run faster for a longer period of time.
At the beginning of training, you can break your tempo run into intervals. After a warm up of one-two miles, run three to five minutes at your tempo pace, recover for a couple minutes, then repeat, aiming for about 18-20 minutes of tempo time. These intervals can be done on the track, but simulating race conditions by training on the road is more beneficial to racing on the road.
Another option with a tempo run is to warm up, then run three to five miles at a steady pace, followed by a one to two mile cool down. You can do a tempo run once a week, followed by a rest or recovery day.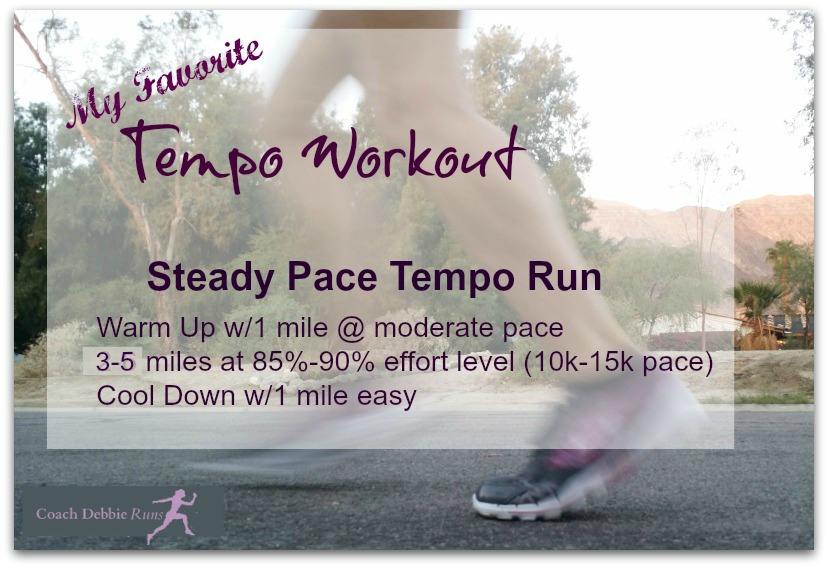 Estimating your tempo pace: There are a few ways to estimate your tempo pace. It is generally the pace that you can sustain for an hour without having to slow down, so for most it is around your 10k pace. That is also about 85-90% of your maximum effort, if you use a heart rate monitor or perceived exertion. Others would say that it feels "comfortably hard."
Half Marathon Pace Training
Doing some of your running at half marathon pace is an excellent way to teach your body what race pace feels like. It is more advanced, so if you are training for your first half marathon, focus on the long run and the tempo run. A half marathon pace run is hard because you will be running five to eight miles at your race pace.
Like the tempo run, the half marathon pace run can be broken into two or three segments, especially when you first introduce it to your half marathon training. After a two mile warm up, run the next two to three miles at your half marathon pace. Recover for two minutes at an easy pace, then repeat. Cool down for one or two miles.
An even more challenging format is to warm up for two miles, run the next four to eight at half marathon pace, then cool down for one or two miles.
Finally, another great way to get some half marathon pace training is to insert three miles at race pace in the middle of your long run. This will teach you to run strong on tired legs, an important aspect of half marathon training.
Pick one half marathon pace run and do it at least every other week. Once a week is fine, but be sure to take a recovery day or rest day following the workout.
The Long Run
I left it for last, but the long run is the most important key to your half marathon training. Running 13.1 miles is a long way so building up your mileage is vital to success in the half marathon.
How long is a long run in half marathon training? A lot depends on your experience. If you are running your first half marathon, aim for at least one or two long runs of 11 to 13 miles. More experienced runners, and runners who are aiming to set a personal record (PR), might want to add runs of 15, or even more.
When planning your long runs, know the race course for which you are training. Road race training should be mostly on the road. If your race has a lot of uphill or downhills, or has rolling hills, try to find a route that will simulate that. This will help your body adapt to race conditions.
Remember that long runs break your body down, so recovering afterward is important. Do a long run once a week. The day after a long run should be a shorter, slower run, or take the day completely off. Complete your last long run about two weeks before your race, taking the last 14 days to taper and rest your body so that you will be prepared to give it your all on race day.
Whether it's your first or your fiftieth race, these keys to half marathon training will prepare you to run your best half marathon, whatever your goal.
If you missed the Daylight Savings Special on the Rock 'n' Roll Marathon San Diego races, you can still save $15 on most races with the code RNB15!
And Now It's Time for the Running Coaches' Corner!
Loading InLinkz ...
---
Weekly Linkups
My weekly linkups! Please stop by and check out all of the great recipes, workouts, and information that all these awesome bloggers share every week!
Meatless Monday with Sarah and Deborah
Meatless Monday with Annmarie  and Dixya
Inspire Me Monday with Janice
Wild Workout Wednesday with Annmarie, Michelle, Jen, and Nicole
The Plant-Based Potluck Party with Deborah
The Running Coaches' Corner with Rachel, Suz, Lora Marie, and Me!
Giveaway Roundup and Try Out Thursdays with Smitha
The Blogger's Pit Stop with Kathleen, Janice, Julie, and Menaka
Friday 5 2.0 with Rachel and Lacey and Meranda
Sunday Fitness and Food with Angela and Ilka