This started as I planned to write a post about my half marathon training plan for the Palm Desert Half Marathon coming up in February. I thought it would be fun to know how many I've done. Although I keep track of the number of marathons I've done (37), I never really counted the half marathons. Easy, I thought, since I stuff all of my old bibs in a drawer. Just pull them out and count them. Right.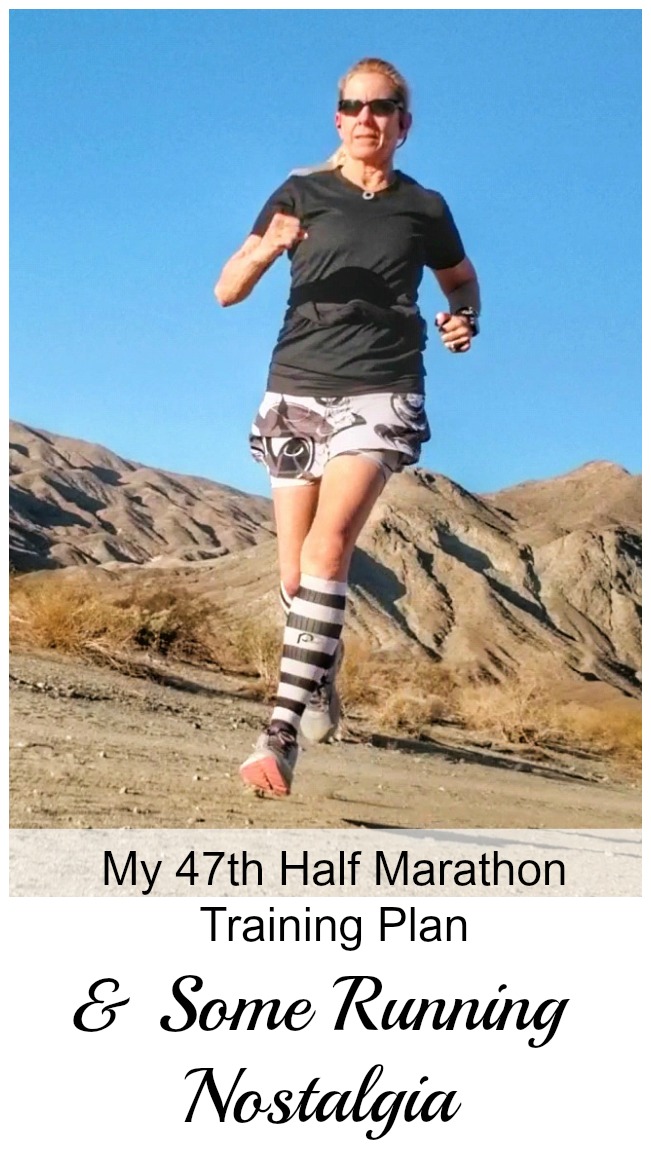 Half Marathon Nostalgia
First of all, if you've done a lot of races but haven't thought about them for a while, simply pulling out bibs (or looking through old running logs) starts to bring out a flood of memories. Oh, this was that race where I set my PR (St. George Marathon, 1999). Or, this was my second fastest marathon, Rock 'n' Roll 1999, where I ran the whole race with a friend's husband. Or, the cold and rain were so bad that Alan and another friend dropped out (LA Marathon 2000) but my friend Linda and I stuck with it, in spite of running with our trash bags for the whole race and finished in 3:33. Or, the Paris Marathon (1998 and 2001). Or, of course, this was the race where Alan and I got married (Tram Road Challenge, 1999).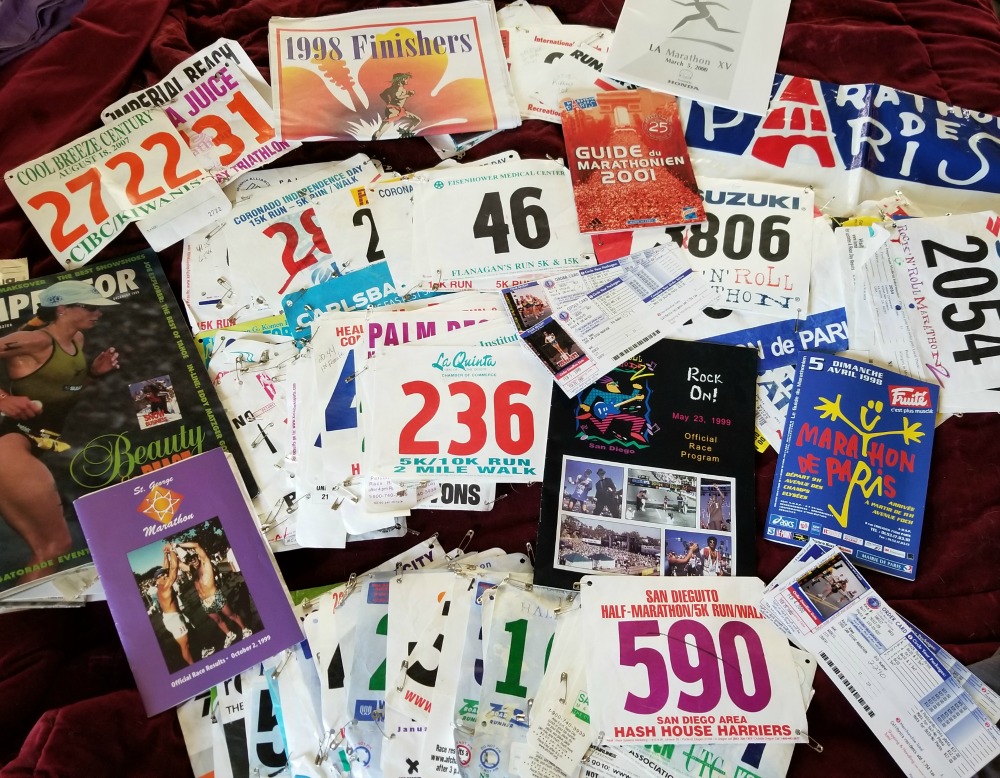 Not only is that drawer filled with old race bibs, it also has old news clippings and results booklets (in the old days they actually sent you books with the race results!). Reading my old running logs from 1996-2000 (before I went digital) reminded me that I was pretty much a badass when I was younger. Toss in some photos and you've got a time-sucker that totally got me off track from my intended goal. For a while at least.

Anyway, after finally focusing on my mission, I separated the half marathon bibs from the rest, put them in order and counted them. I felt that there were some missing, even though I thought that I'd thrown all of them in that drawer, but a search of my Athlinks profile helped me find some more (even though that is missing quite a few races too). Total count: 46 half marathons! There might be one or two more, but that's got to be pretty close. Adding in my 37 marathons, 50 5k's, and about 31 races of other distances I even impressed myself with my total of 164 races (including my two sprint triathlons).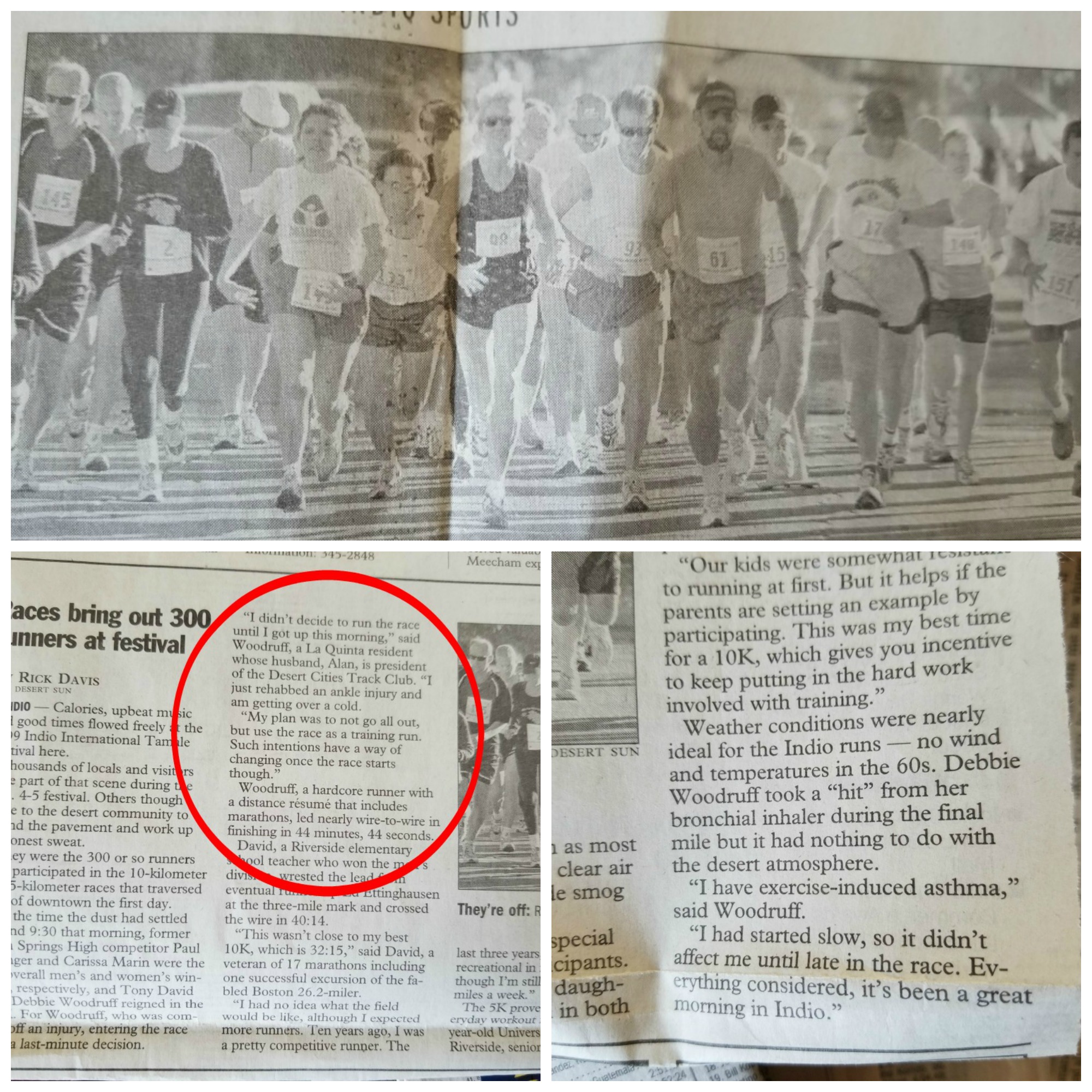 Half Marathons By the Numbers
Total Half Marathons: 46
Fastest Time: 1:33:11 (Palm Springs Half, 2001).
Slowest Time: 2:25 (San Diego Rock 'n' Roll 2016)
Favorite: Hard Choice. Probably La Jolla Half Marathon. So pretty.
Most Challenging: La Jolla Half Marathon. Pretty and challenging. Torrey Pines Hill. Inside the park. 'Nuff said.
Most done: Not surprisingly, the La Jolla Half Marathon with 12! It would probably have been the Palm Springs Half (which moved to Palm Desert a few years ago), but I was the volunteer coordinator for about six years, so I didn't get to run the race. I've also run America's Finest City nine times, but it's been a while even though it would be a runner-up for the favorite designation.
Palm Desert Half Marathon Training Plan
My 47th half marathon will be on February 11, 2018. That leaves me with about 10 weeks to prepare. That's actually plenty of time because I have a good base. I've been running about 25-30 miles a week, up to eight miles at a time, so I'm ready to start adding a little more distance to my long runs.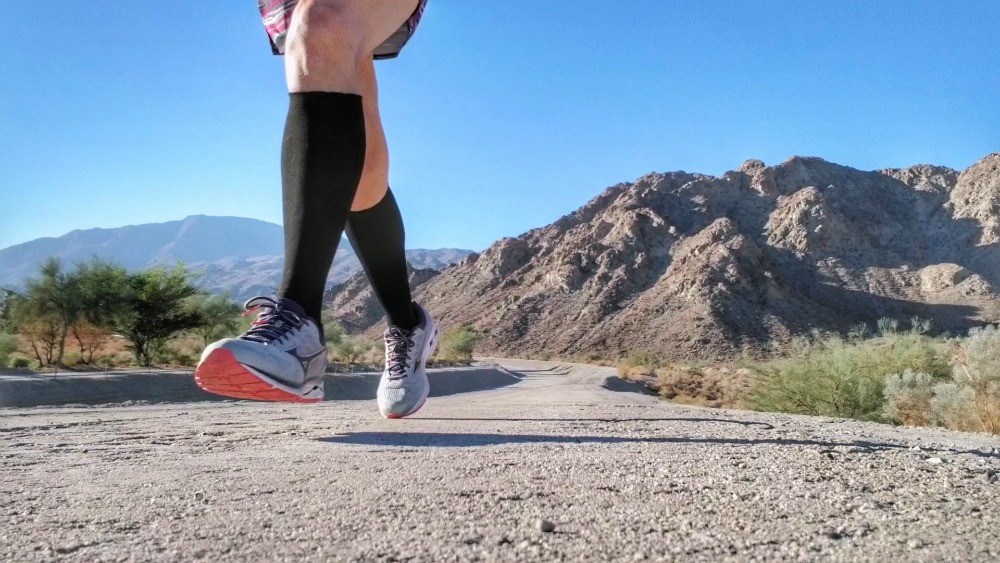 This past week was a bit of a challenge, but shouldn't be a negative overall. I did get in my first speed training, a two-mile tempo workout, which hopefully makes up for skipping my long run on Saturday due to a headache, and only running six miles on Sunday because I still wasn't feeling great. I still got in 21 miles, though, so I'm ready to go.
Here's my Palm Desert Half Marathon training plan in a nutshell. My target workouts will be on Tuesday, Thursday, and Saturday. I will probably do easy runs on Wednesday and Sunday, but I may substitute those days with cross training. As far as my goal time goes, for now I'm going to play that by ear. I'd love to finish in two hours, but it's been a while, so I'm not sure if I have that in me anymore. But I also haven't trained very hard either, so we'll see.
Tuesday: Generally this will be my tempo run or half marathon pace run. On Tuesday I run with Alan, who runs faster than me, so that makes for the perfect opportunity to pick up the pace.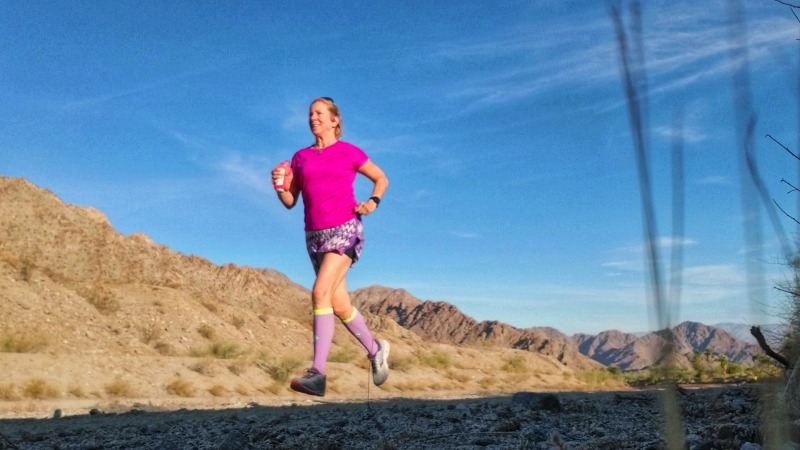 Thursday: I plan to add some interval training, which I usually do on the street instead of the track. I have a quarter mile, half mile, and full mile measured out on a relatively flat and safe street. I haven't done this for a while, so it should be interesting. I might throw in a hill workout from time to time, even though the Palm Desert Half Marathon is pretty flat, because hill workout are so great for strength.
Saturday: Long run day! I will increase by a mile or so a week, which, with an eight-mile base, gives me plenty of time to get to include a couple 12 or 13 miles runs. I'll take a recovery week every few weeks just to give myself a break.
So that's the nuts and bolts of my half marathon training plan. I'll keep you updated as it goes along.
Do you ever indulge in running nostalgia? What's your favorite running or racing memory?
---
Weekly Linkups
My weekly linkups! Please stop by and check out all of the great recipes, workouts, and information that all these awesome bloggers share every week!
Meatless Monday with Sarah and Deborah
Meatless Monday with Annmarie  and Dixya
Tuesdays on the Run with Marcia, Erika, and Patty
Inspire Me Monday with Janice
Wild Workout Wednesday with Annmarie, Jen, and Nicole
The Plant-Based Potluck Party with Deborah
The Running Coaches' Corner with Rachel, Suz, Lora Marie, and Me!
Friday 5 2.0 with Rachel and Lacey and Meranda