I want to talk about my favorite race distance, the half marathon, and why it is perfect for me, and possibly for you too. Plus I'm sharing a half marathon speed workout.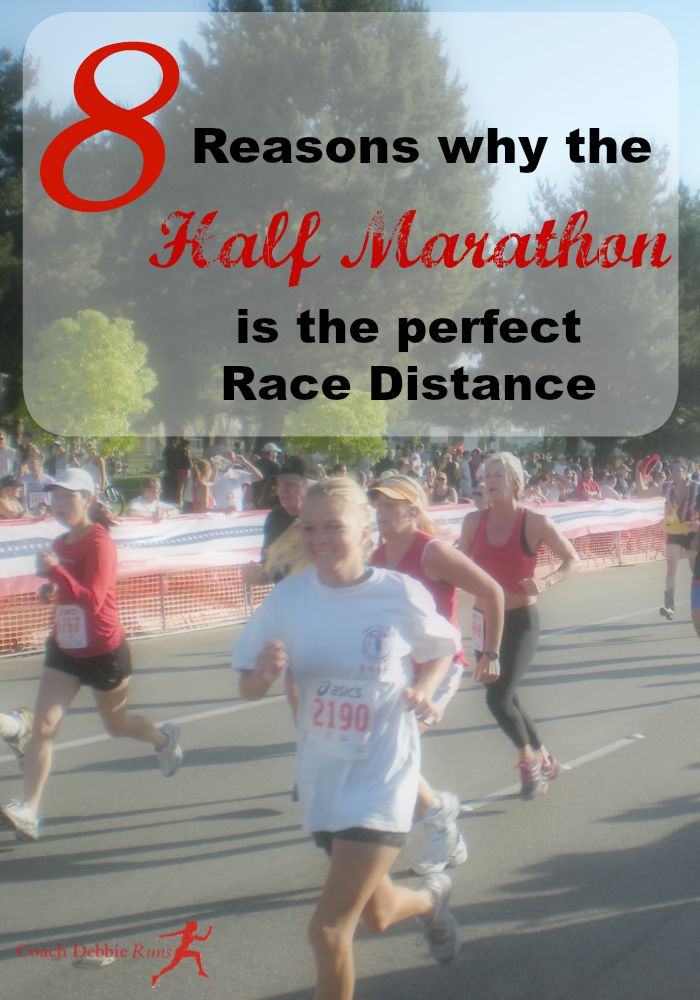 According to Running USA, the half marathon is the fastest growing race distance. In fact, over the last decade, the half marathon has become America's most popular distance in almost every category, by finisher growth, by debut half marathons, and for seven consecutive years, 2006-2012, half marathon finishers grew by 10% or more. Since 2000, the number of half marathon finishers has quadrupled (from 482,000 to 2,046,600 in 2014). And for the first time in history, since 2012, 60% of half marathon finishers are female.
According to Running USA's 2015 survey, the half marathon is the favorite distance of both men and women, and is the distance that most runners  want to enter. In 2014, for the first time in history, over 2 million runners in the U.S. completed a half marathon, a growth of over 40% since 2010.
8 Reasons the Half Marathon is the Perfect Race Distance
This many people can't be wrong! Especially when they agree with me. Here are the reasons that the half marathon is the perfect race distance.
Half marathon training can fit into a busy person's schedule. Unlike a marathon, with runs up to 20 miles and beyond, the training distances for the half are manageable. Depending on one's goals, a person can train for a half marathon running three or four days per week with as little as 20-25 total miles.
A half marathon is a challenging race that requires training and finishing gives a person a great sense of accomplishment.
A new runner can successfully train for a half marathon without as large a risk of injury as with a marathon. While adding on mileage too quickly can lead to injury at any distance, the relatively low mileage needed to train for a first half marathon makes it a lot less risky. Plus, running a half marathon is an obvious first step before jumping to the full 26.2.
Half marathons are great for long time, multi-marathon runners who still love to run, love endurance events, but don't want to or can't run 26.2 anymore.
Marathon training can be all-consuming. Families may feel neglected when you spend a good part of your precious weekend time out on the road, not to mention the several other days per week you're training. There is a lot less time commitment to train for a half marathon.
You still get an awesome finisher's medal.
Whether you're a speedster out for a PR, or prefer to dress up and take pictures, you'll be done within a few hours, can recover quickly and be ready to go dancing in the evening.
No. More. 20. Milers.
So, have I convinced you? If not, consider this. While the price of races has increased for all distances, there are still many smaller half marathons that cost about $60-$70 to enter. Not so the marathon, where you would be hard pressed to find a race that costs less that $100, and many are double that amount.
Half Marathon Speed Workout
If you are ready to start taking your half marathon to the next level, you will need to add some speed training to your training plan. There are two specific types of workouts that will help you get faster at this distance, threshold (or tempo) workouts, which are sustained runs of two to six miles run at your lactate threshold pace, and long interval workouts, generally run on a track, repetitions of 400 to 1600 meters at a faster pace than the tempo run. You will find examples of both types of workouts here.
This speed workout is specific to longer distance races, marathon or half marathon, because of the longer intervals and slightly slower pace. It calls for you to run each interval at a pace relative to your current 10k pace. Haven't run a 10k lately? You can use this calculator to figure it out based on other distances you may have run. Then convert it to pace per mile.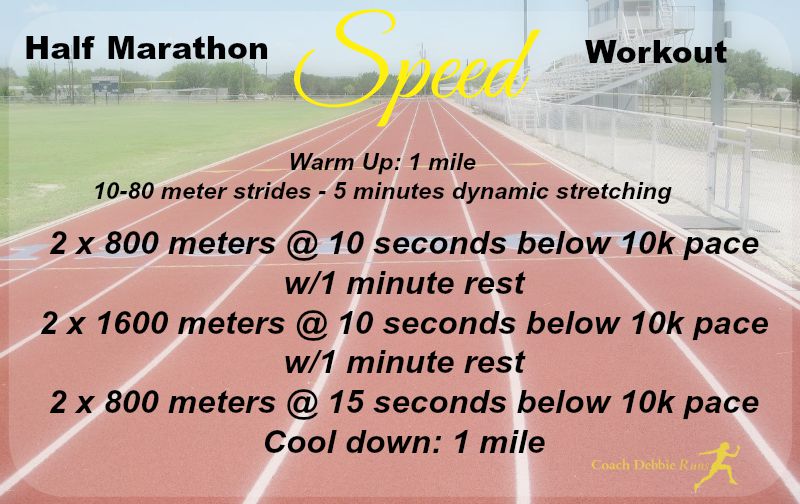 Other things to know: After your warm-up, do some strides to really get those legs moving and the blood flowing.  Do a stride by gradually accelerating to about 85% of your maximum speed, hold that pace for about a third of the total stride distance, then decelerate for the final third. Catch your breath for about a minute, then do the next stride.
Follow the strides with about five minutes of dynamic stretching. This article tells you why and shows some dynamic stretches you can try before you work out.  Save your static stretching for after the workout. Doing them before your workout or race can actually slow you down.
Do you love the half marathon as much as I do? What's next on your racing schedule?
You're not a cookie, why use a cookie cutter training program? For a personal touch click here.
This post has been modified from an article published in 2013 on Live from La Quinta
And Now It's Time for the Running Coaches' Corner!
Loading InLinkz ...
---
Weekly Linkups
My weekly linkups! Please stop by and check out all of the great recipes, workouts, and information that all these awesome bloggers share every week!
Meatless Monday with Sarah and Deborah
Meatless Monday with Annmarie  and Rachel
Inspire Me Monday with Janice
Anything Goes with Marilyn
Wild Workout Wednesday with Annmarie, Michelle, Jen, and Nicole
The Plant Based Potluck Party with Deborah
The Running Coaches' Corner with Rachel, Suz, Lora Marie, and Me!
Giveaway Roundup and Try Out Thursdays with Smitha
The Blogger's Pit Stop with Kathleen, Janice, Julie and Me!
Living a Life of Fitness, Health and Happiness with Jill
Friday Favorites with Heather