Run Strong on a Plant-Based Diet
When we made the decision to become vegetarians, my husband was in the process of training for his first Ironman triathlon. Alan was a little hesitant, but in the end, he trusted that I would make sure that he would be able to get all the nutrients he needed as an athlete on a vegetarian diet.
As it turned out, his trust was well placed and we both discovered that as long as you pay attention to certain details, it isn't hard to run strong on a plant-based diet.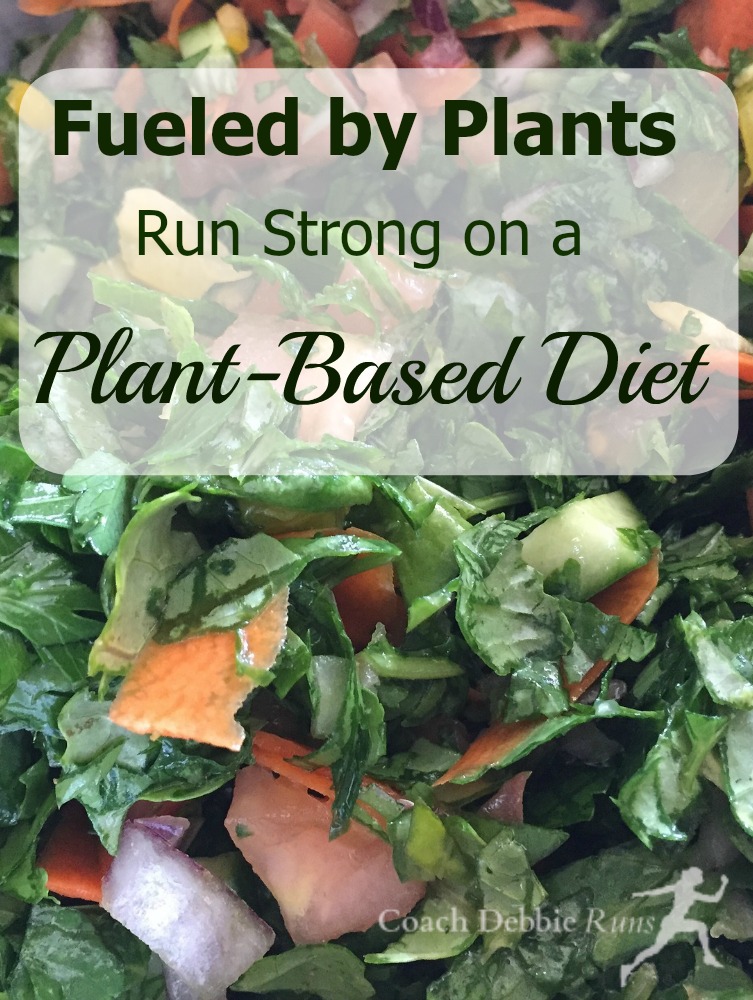 Where Do You Get Your Protein?
Ah, the question most people ask the first vegetarian/vegan they meet. Surprisingly, the answer is "everywhere." It really isn't all that hard. Most food has protein and if you are eating enough calories, you are probably getting enough protein.
Indeed, the need for protein is seriously over-exaggerated in the minds of most Americans. If you ask a random person off the street why humans need meat, chances are he will say, "for the protein." In actuality, we need less than we think. Even for body builders, serious weightlifters, boxers, and endurance athletes, it is not difficult to get plenty of protein on a vegan diet.
We're talking about runners here, though, so how much protein does a runner need to run strong? According to Runner's Connect, it varies depending on where you are in your training cycle. If you are not currently training, you'd need about .8 grams per kilogram of body weight.
Those needs change when you add endurance running into the mix. They suggest that if you are training for a 10k or similar shorter distance, you should up your protein to 1.2 grams of protein per kilogram of body weight to help aid your recovery. Then if you feel that you aren't recovering well, your body may need more so try upping your protein intake to 1.5 grams of protein per kilogram of body weight.
Marathon training breaks down your body more than shorter distances, so you should aim to consume about 1.4 grams of protein per kilogram of body weight to aid in your recovery. Then, if necessary you can increase the level if you feel you need more.
So how much protein do you need? First, do the math. To convert your body weight from pounds to kilograms, divide your weight by 2.2. Then multiply that by 1.2 (or higher, depending on your training) to get the number of grams you need per day.
To use myself as an example, I am currently training for a marathon (which will probably be a half marathon), so I would start my planning at 1.4 grams per kilogram of body weight.  Using the above calculations, I need about 92 grams of protein per day. So, where do I get my protein?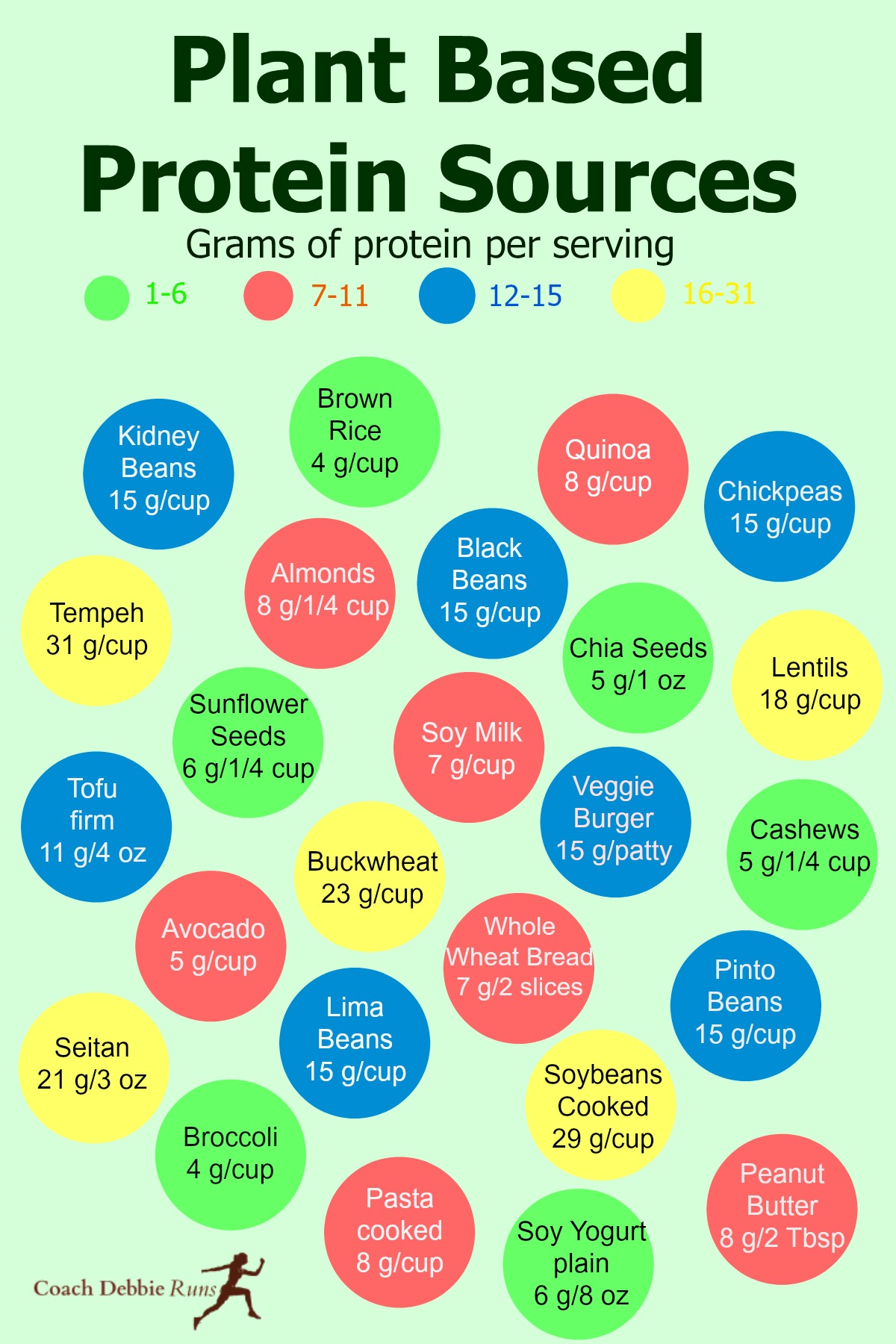 One thing to remember about plant-based protein. Just because it is easy to get enough protein doesn't mean you should just take it for granted. Because plant proteins are absorbed differently than animal sources, you must make sure that to get your protein from a variety of foods. This will also make sure that you get all the essential amino acids. The Vegetarian Resource Guide provides an in-depth look at meeting your protein needs and even offers some sample menus.
Getting Enough (Healthy) Fat
The days of searching for a low-fat diet are long gone for the most part, but many athletes who switch to a plant-based diet may find that it is difficult to eat enough healthy fats. Dietary fat is important for the vegan athlete. It helps to slow the rate of carbohydrate absorption into the blood stream, which helps provide a longer, steadier flow of energy. Fat also helps with the absorption of some fat-soluble vitamins, and some oils, such as flax and hemp, are excellent sources of Omega 3 fatty acids and have other anti-inflammatory qualities, all of which help repair the damage of daily training.
Good sources of fat include avocado, unroasted nuts and seeds, hemp oil, flax oil, and coconut oil. They should be eaten in moderate quantities as part of a healthy plant-based diet.
Other Considerations
There are other things to take into consideration as a plant-based athlete. An animal based diet makes it easy to get certain nutrients, which, while mostly available in a vegan diet, may take a little extra care to ensure that you are getting enough.
Calcium: While it's not true that milk is required to get enough calcium in your diet (in spite of what the dairy industry may say), it is wise to ensure that, as an athlete you are eating plant-based sources of calcium. These include almonds, beans, dark leafy greens such as spinach and kale, and sunflower seeds. Many non-dairy milks are fortified with calcium as well.
Vitamin B-12: While most nutrients can be achieved naturally on a plant-based diet, vitamin B-12 in only obtained through animal sources, so it is wise to supplement this very important vitamin. Vitamin B-12 is responsible for protecting the nervous system and its deficiency can cause permanent damage. Early signs can include tiredness or sluggishness, and tingling in the hands or feet. Not getting vitamin B-12 can eventually cause blindness, deafness, or dementia. While former meat eaters may have enough B-12 in their system to last for years, it is wise to supplement with about 5.6 mcg/day.
Iron: While getting enough iron should be easy on an otherwise balanced plant-based diet, anemia can happen to both vegans and meat eaters who don't take care to eat iron-rich food. These include beans, nuts and nut butters, molasses, apricots, and bran.
In conclusion
While it takes some consideration, it is not difficult to fuel properly and run strong on a plant-based diet. Running is not an excuse to eat poorly, no matter what type of food plan you follow. Your body is a fine-tuned machine and if you treat it as such you will achieve the athletic results that you desire.
Resources
If you'd like more information on how to run strong on a plant-based diet, here are some resources (these are affiliate links).
Thrive: The Vegan Nutrition Guide to Optimal Performance in Sports and Life by Brendan Brazier
Thrive Foods: 200 Plant-Based Recipes for Peak Health by Brendan Brazier
Finding Ultra: Rejecting Middle Age, Becoming One of the World's Fittest Men, and Discovering Myself by Rich Roll
Disclaimer: I am not a registered dietician or a nutritionist. This information is based on my personal experience and research. I'm not making any dietary recommendations. For that, please see an RD.
Now it's time for the Running Coaches' Corner!
Loading InLinkz ...
---
My weekly linkups! Please stop by and check out all of the great recipes, workouts, and information that all these awesome bloggers share every week!
Sunday Blog Hop with Jenn
Meatless Monday with Sarah and Deborah
Meatless Monday with Annmarie 
Inspire Me Monday with Janice
Anything Goes with Marilyn
Bonnie, the Pin Junkie
Tip Tuesday with Debbie in Shape
Wild Workout Wednesday with Annmarie, Michelle, Sarah, and Angelena Marie
Wednesday Wisdom with Nanna's Wisdom
The Running Coaches' Corner with Rachel, Suz, Lora Marie, and Me!
The Blogger's Pit Stop with Kathleen
Let's Get Real with Karen.
Friday Fitness with Jill
Fitness Friday with Miranda